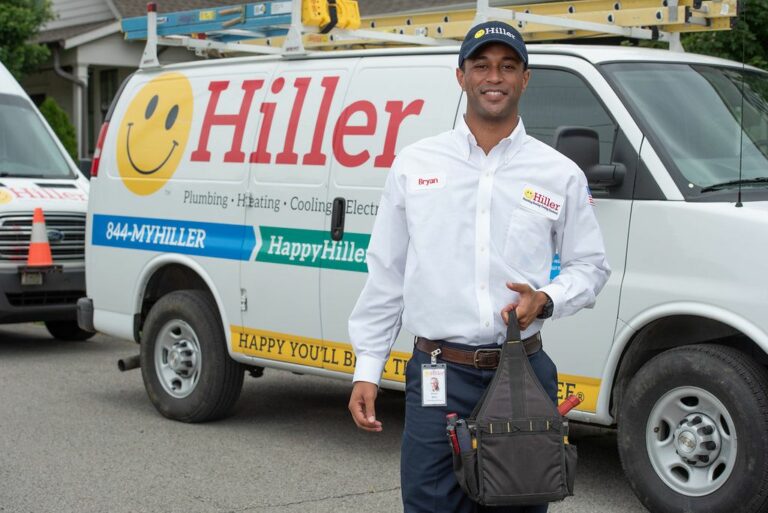 Looking for the best water heater repair or installation solutions?

When it comes to water heater services in Panama City Beach, residents deserve nothing short of excellence, and that's precisely what Happy Hiller delivers!
With a wealth of experience and a team of dedicated professionals, we are your trusted partner for all your hot water heater needs. Our customer-focused approach means we work closely with you to find the best solution to have hot water all year round.
Our commitment to providing expert water heater repair, installation, and maintenance services is unwavering. In fact, we're so confident that if you're not happy with the work we've done, you don't pay a dime!
Experience the difference today by contacting Hiller's team in the Panama City Beach seaside community!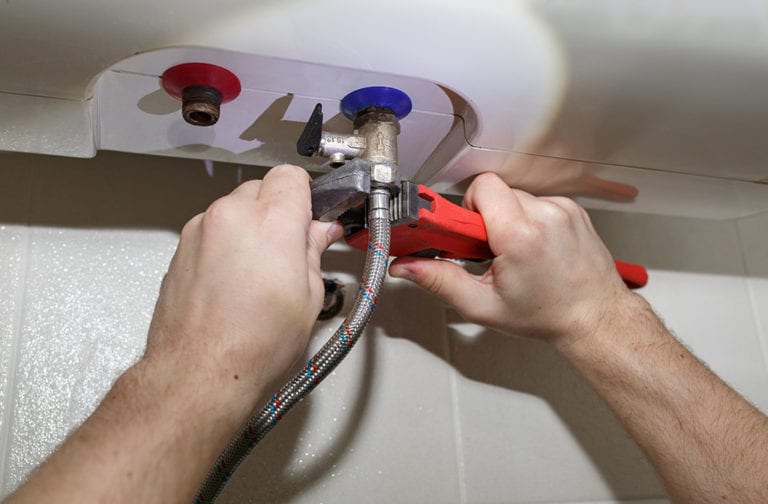 Broken or old water heater? Repair or replace it

Happy Hiller's water heater repair services in Panama City Beach have got you covered with expert insights and reliable solutions.
Look out for these signs of urgent water heater repair or replacement:
If your water heater has been faithfully serving you for over a decade, it might be time to consider a replacement. Older units are more prone to breakdowns and inefficiency.
If the water coming out of your taps has a reddish tint, your water heater's tank might be rusting from the inside. While repair is possible, severe rusting usually signals the need for a replacement.
Loud banging or popping noises when your water heater is in use can indicate a buildup of sediment.
Puddles around your unit or signs of moisture can point to leaks.
If your hot water supply is becoming unpredictable, it could be due to a faulty thermostat or heating element.
If your water heater can be repaired, we'll get the job done quickly and efficiently; and if a replacement is a better option, we'll be honest and transparent about it.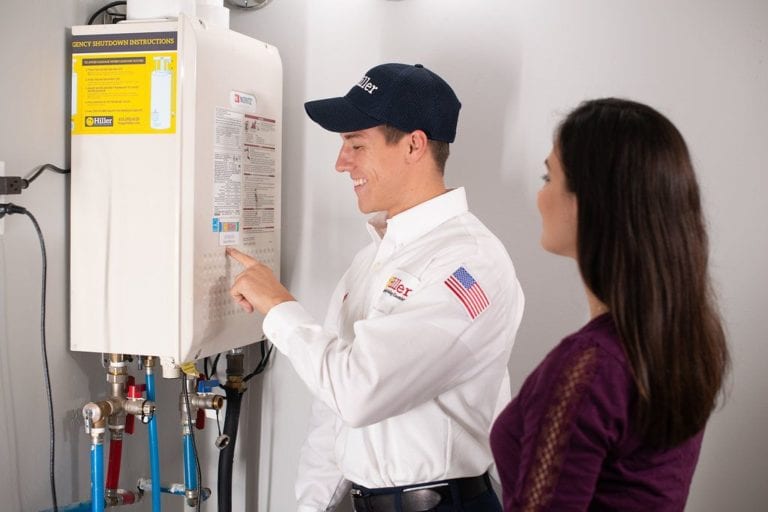 Expert water heater installation advisors

Looking to upgrade your water heater? Happy Hiller provides top-tier water heater installation services in Panama City Beach and the surrounding areas. Whether you're seeking a traditional hot water heater or considering the efficiency of a tankless water heater installation, our experts have you covered.
Our experts will assess your home, discuss your options, and recommend the best water heater for your case. We'll work with you to find a convenient water heater installation date that fits your schedule, and If you have an old unit, we'll safely remove and dispose of it.
We offer a range of water heater options, including tankless water heater installation and electric hot water heater installation. Contact Happy Hiller today to schedule your water heater installation and experience the comfort we bring to Panama City Beach residents!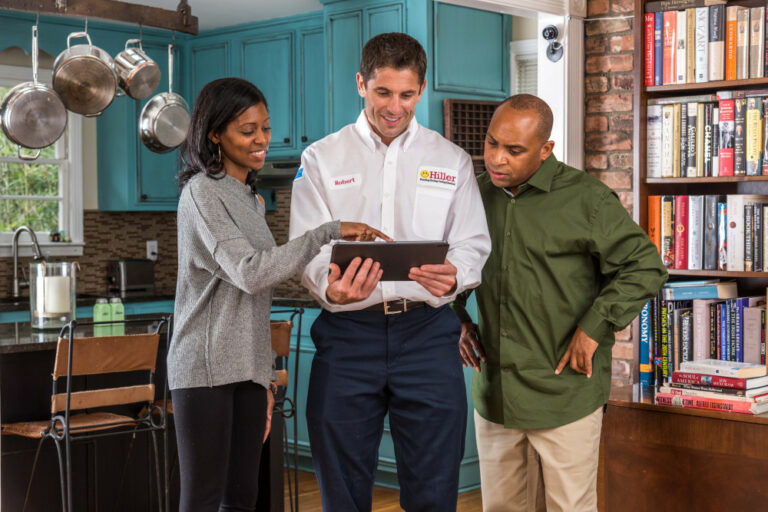 Water heater maintenance for top performance

Just like any other appliance, your water heater needs regular attention to keep it performing at its best. Let's dive into why servicing your water heater matters and how Happy Hiller's expert technicians can help.
Efficiency: Regular maintenance helps your water heater operate efficiently, saving you money on energy bills.
Longevity: Well-maintained water heaters tend to have longer lifespans, delaying the need for costly replacements.
Performance: Properly maintained water heaters provide consistent hot water, avoiding sudden breakdowns.
We recommend scheduling a thorough water heater maintenance service at least once a year. Our skilled technicians can help with that. They have years of experience in water heater repair, installation, and maintenance, and will ensure that every aspect of your unit is examined, from the thermostat to the pressure relief valve.
Trust Happy Hiller to identify any potential issues and keep your hot water heater in optimal condition in Panama City Beach.
These are the types of water heaters we service

At Happy Hiller in Panama City Beach, we know that different homes have different needs. That's why we offer comprehensive services for various types of water heaters.

Traditional vs. tankless water heaters

Traditional tank water heaters typically have lower upfront costs and many households are already accustomed to using them, Although, they store a finite amount of hot water, which can be depleted during high-demand periods. Also, they continuously heat and reheat water, leading to higher energy bills.
On the other hand, tankless water heaters never run out of hot water. They can be more costly upfront, but as they heat water on demand, that leads to energy savings in the near future. Be mindful that tankless water heater Installation can be more complex, so we recommend relying on Hiller's experts for handling it.

Electric water heaters vs. gas water heaters

Electric heaters are often easier and less expensive to install than gas heaters. They are more eco-friendly, as no combustion means no risk of gas emissions, but have slower recovery times. We can help you with your electric hot water heater installation should you find this solution the best fit for your home.
Gas heaters, on the contrary, typically have faster recovery times, providing hot water more quickly. And because gas is often cheaper than electricity, that means lower operating costs. However, gas heaters come with a risk of gas leaks or emissions and installation may be costlier due to gas line requirements. Luckily, at Happy Hiller, we are experts in water heater installation and you won't have to worry about any risks.
Contact us today to ensure a consistent supply of hot water in your Panama City Beach home!
Why choose Happy Hiller for water heater repair, installation, or maintenance in Panama City Beach?

As a part of the Panama City Beach community, we understand the unique needs of our neighbors. Our services are tailored to the local climate, ensuring your hot water heater performs optimally year-round.
Whether it's water heater repair, water heater installation, or maintenance, we offer a comprehensive range of services. From traditional water heaters to cutting-edge tankless options, we've got you covered.
We value your time, and that's why our team works diligently to provide efficient and reliable water heater replacement services. If you're not completely satisfied, you won't pay a dime!
Remember, when you choose Happy Hiller, you're choosing a team that cares about your comfort, convenience, and peace of mind. Contact us today and experience the excellence that sets us apart. Say goodbye to cold water and hello to uninterrupted hot showers!
Daily Promotion
50% Off Water Descaler with Purchase of a Whole-Home Water System
Purchase a Whole-Home Water Filtration & get a Descaler System for HALF OFF on us!
Get Promotion
---
Daily Promotion
True Transparency Pricing
Most Home Service Companies Use the Same Pricing Structure. But Not Us.
Get Promotion
Panama City Beach Water Heater Repair: FAQ
The lifespan of a water heater can vary depending on factors like the type of heater and how well it's maintained. On average, traditional tank water heaters tend to last around 8 to 12 years, while a tankless water heater installation can last up to 20 years or more with proper care.
Selecting the right size is crucial for consistent hot water supply. Our skilled technicians can help determine your home's needs based on the number of occupants and usage patterns. This ensures you have the perfect balance between efficiency and performance.
Traditional tank water heaters store and heat water in a tank, providing a reservoir of hot water. Tankless water heaters, on the other hand, heat water directly as it flows through the unit, offering on-demand hot water without the need for storage.
Tankless water heaters are known for their high energy efficiency because they only heat water when needed, eliminating standby heat loss. Traditional tank water heaters, while effective, may have slightly lower energy efficiency due to heat loss from the storage tank.
Safety is paramount when it comes to water heaters. Gas-powered heaters need proper ventilation to prevent carbon monoxide buildup. In this case, an electric hot water heater installation may be preferred, as it eliminates the risk of gas leaks. Regular maintenance by our experts ensures your system is safe and functioning correctly, minimizing any potential risks.
Water heater installation involves complex plumbing and potentially gas connections. It's recommended to hire a professional to ensure correct installation, which prevents leaks, gas hazards, and ensures optimal performance.
Water heaters can face issues like sediment buildup, leaks, thermostat malfunctions, and pressure valve problems. Our technicians are skilled at diagnosing and providing water heater repair services to solve these issues promptly, restoring your hot water supply.
Why Choose Happy Hiller?
Care is Our Core ValueTM
Certified Professional Technicians
Family Owned and Operated Since 1990
Happy You'll Be
Or The Service Is Free™
Welcome to Happy Hiller
Friendly service. Certified Technicians. Your problem, solved.
Happy Hiller is the premier Plumbing, Heating & Cooling and Electric service experts. We proudly serve parts of Florida, Tennessee, Kentucky and Alabama. Whether you need emergency services or preventive maintenance, it's all guaranteed. The best techs. The friendliest service. 100% satisfaction.
Learn More
Ruud
Reliable Top 10
Contractors

Nashville Business
Journal Top 25 Fastest Growing
Private Companies

Nashville Business
Journal Best in Business
Award

Nashville Business
Journal Most Admired CEOs
& Their Companies

Nashville
Business Journal
Fast 50
Happy Hiller Offers Water Heater Services 24/7
Experience round-the-clock hot water heater services with Happy Hiller! Our experts are ready to provide water heater repair solutions day or night.
Plumbing, Heating & AC Repair and Electrical Services
Our confident service technicians will provide you with the solution for any home plumbing, heating, cooling, or electrical problem. Let us show you how we can make you a happy Hiller customer. Contact your trusted, licensed technician in Panama City Beach today.
Plumbing
With Hiller, no plumbing repair or service ever needs to become a big deal.
Call Hiller today, and let our friendly professionals keep your home or business flowing smoothly.
Learn More
Heating & Air Conditioning
Feeling the proverbial heat because of a faulty heating and cooling system?
Reset circuit breaker, remove plugged filter, AC repair, furnace repair, replace line set insulation, install thermostat batteries, clean permanent filler & more!
Learn More