Burst Pipe? Drain Cleaning? Call the Top Plumbing Company in the Area!

When plumbing issues arise, they can escalate quickly, potentially causing major damage and inconvenience. In Panama City Beach, plumbing services play an even more crucial role due to the unique challenges presented by the coastal environment.
Luckily for you, Happy Hiller's team of skilled plumbers is adept at handling a wide range of commercial and residential tasks. Whether it's addressing a pesky leak, tackling a stubborn clog, or conducting a complex repair, we have you covered. You can also expect an unwavering commitment to transparency, providing clear and upfront pricing for our services, with no hidden fees.
Finally, when you have an unexpected issue, we offer 24-hour emergency plumber services, ready to address any crisis that may arise. Whether it's a sewer line issue, drain cleaning, or repair, our plumbing contractors are just a call away!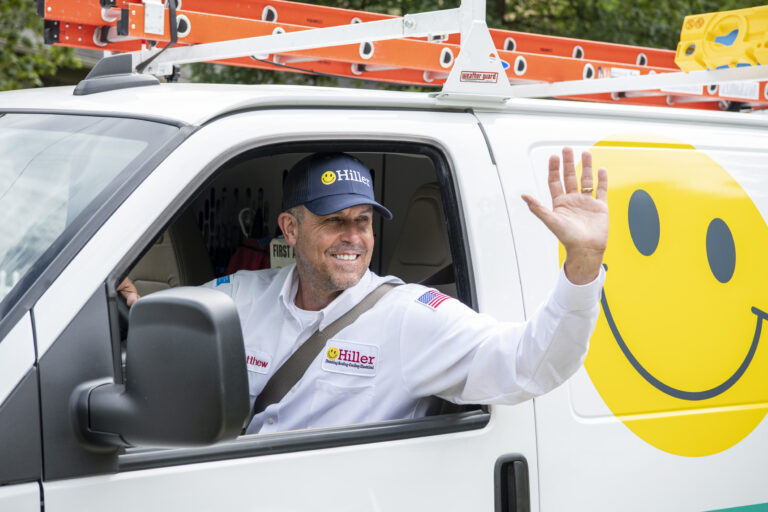 Trained In-House, You Can Trust the Plumbers at Hiller

Happy Hiller's trusted plumbing contractors are the backbone of our quality service. With years of experience under their belts, our skilled plumbers can handle a diverse range of issues, whether for residential or commercial properties.
What sets us apart is our dedication to professionalism and expertise. Our commitment to staying at the forefront of the industry is reflected in the training at our own in-house trade school. This ensures that our technicians are equipped with the latest skills and knowledge, allowing them to tackle even the most complex challenges. We never use residential or commercial plumbing subcontractors, but only dispatch our own certified professionals.
Rest assured that our certified technicians are not only skilled but also uphold the highest standards of professionalism. Our rigorous background checks and drug tests ensure that our plumbers are not only well-qualified but also trustworthy. Whether you're dealing with a burst pipe, a stubborn drain clog, or any other issue, our trusted plumbing contractors stand ready to provide swift and effective solutions.
At Happy Hiller, we're the plumbing company dedicated to ensuring your peace of mind. Rest assured, whether for residential or commercial plumbing, you are always in capable hands!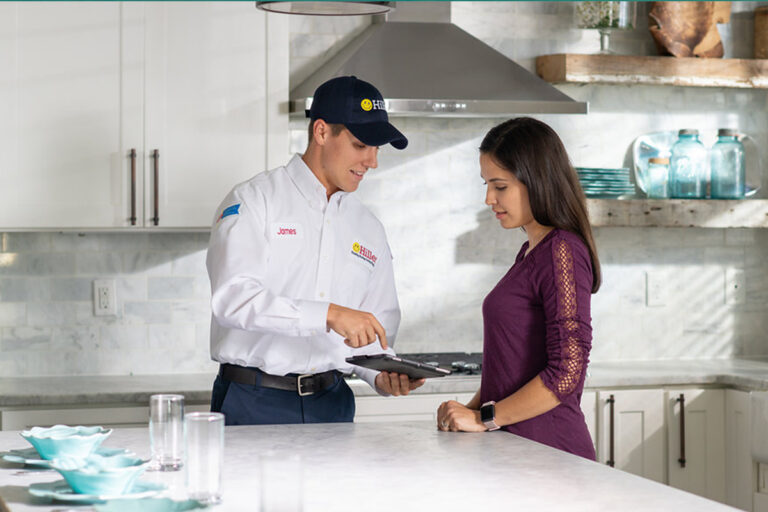 Our Comprehensive Plumbing Services

Our plumbing company brings comprehensive solutions to the heart of Panama City Beach. Hiller's expert residential and commercial plumbers are equipped to ensure that all properties receive top-notch care.
Plumber services: From installations to repairs and maintenance, our skilled plumbers have you covered. We provide professional solutions that stand the test of time.
Drain cleaning: Stubborn clogs and sewer line issues are no match for our efficient drain cleaning services. We swiftly clear away blockages, keeping your system running smoothly.
Emergency plumbers: Plumbing emergencies can strike at any moment. That's why we're here 24/7, ready to respond to your urgent calls for immediate assistance. Count on us to be your reliable emergency plumber.
Water treatment systems: We offer treatment system installations to ensure that your water quality is maintained at the highest standards.
Whether you're facing a minor repair or a major installation, at Happy Hiller we're the trusted plumbing contractors for all your needs in the area.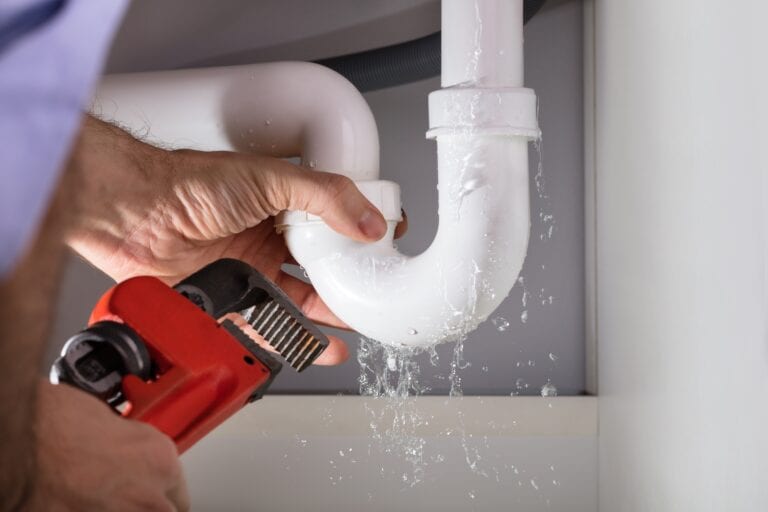 Commercial and Residential Plumbing Solutions in Panama City Beach
At Happy Hiller, we are aware that plumbing needs vary between homes and businesses. Our experienced residential and commercial plumbers provide tailored solutions to ensure that your systems function flawlessly.
Our commercial plumbers are experienced in meeting the unique demands of businesses, whether it's a bustling restaurant, a retail store, or an office space. Our services include, but are not limited to:
Burst pipe repair
Commercial drain cleaning
Water line services
24/7 availability to minimize downtime
Additionally, you can be sure we won't employ commercial plumbing subcontractors, only our best in-house trained plumbers to ensure the best quality service.
Our residential plumbing services are tailored to ensure the safety and comfort of your family. Some of our solutions include:
Residential plumbing maintenance
Toilet installation and repairs
Water heater services
Whether you're a Panama City Beach homeowner or a business owner, our plumbing contractors deliver reliable and effective solutions.
Cutting-Edge Solutions and Emergency Plumbers Always On Call

Happy Hiller's plumbing contractors bring innovation and expertise to every service call, ensuring that our Panama City Beach customers receive the finest solutions available.
Our plumbers employ cutting-edge methods and equipment to tackle issues with precision. From hydro-jetting to clear stubborn clogs, to video inspections that reveal hidden problems, and enzyme injections for effective drain maintenance, we leverage technology for effective and lasting solutions.
Additionally, our 24-hour emergency plumber services provide swift responses to mitigate damage and restore functionality. We understand the urgency of these situations, and our experienced plumbing contractors will assist you anytime, day or night.
We stand by a simple promise: delivering quality plumbing services that meet the highest standards. Our plumbers undergo rigorous training and are equipped with the latest knowledge. Moreover, we're so confident in our services that we offer the "Happy You'll Be or the Service is Free" guarantee. Simply put, if you're not happy with the result, you don't pay a dime!
Why Choose Happy Hiller As Your Plumbing Company?

When it comes to Panama City Beach plumbers, Happy Hiller is the team to call!
Our plumbing contractors deal with a wide range of challenges, from routine maintenance to complex repairs. No matter the time of day, you can rely on Happy Hiller to respond swiftly with our emergency plumber services.
We cover everything, from drain cleaning to pipe relining, ensuring there's a solution for your unique needs. We handle both commercial plumber solutions and residential plumbing projects with equal dedication, and our customer-centric approach ensures that your concerns are heard and your expectations are met.
And because we know that unexpected plumbing expenses can be a concern, we've partnered with GreenSky financing to provide convenient payment options. This way you can address essential repairs without worry, with fast credit decisions and no prepayment penalties.
Choose Happy Hiller in Panama City Beach, the plumbing company you can trust. Our expertise, reliability, versatility, customer-centric approach, and financial flexibility make us the ideal choice for your projects. Here, your satisfaction is not just a goal – it's a guarantee!
Daily Promotion
True Transparency Pricing
Most Home Service Companies Use the Same Pricing Structure. But Not Us.
Get Promotion
---
Daily Promotion
50% Off Water Descaler with Purchase of a Whole-Home Water System
Purchase a Whole-Home Water Filtration & get a Descaler System for HALF OFF on us!
Get Promotion
Have a Question?
Regular plumbing inspections are essential to catch potential issues before they become major problems. It's recommended to schedule a professional inspection annually with a reputable plumbing company. This proactive approach can save you from costly repairs down the line.
Upgrading to energy-efficient fixtures not only helps conserve water but also reduces your utility bills. With modern technologies like low-flow toilets, you can contribute to a greener environment while enjoying financial savings. Call your trusted plumbing company for more information.
To ensure balanced pressure, it's advisable to check for any clogs in faucets, showerheads, or pipes. If the problem persists, consult a plumbing contractor in the Panama City area for a thorough assessment.
In case of a burst pipe or significant water leak, follow these steps:
Turn off the main supply to prevent further damage.
Open faucets to relieve pressure.
Call an emergency plumber immediately to repair the issue.
For plumbing emergencies in the Panama City Beach area, call the team at Happy Hiller. With plumbing contractors on hand 24/7, we're here when you need us!
Absolutely! Here are some tips:
Avoid pouring grease down drains.
Use drain screens to prevent debris from clogging pipes.
Regularly have a plumber inspect faucets and pipes for leaks.
To improve system efficiency:
Install energy-efficient fixtures.
Insulate pipes to prevent heat loss.
Address leaks promptly.
Schedule maintenance with a professional plumbing company, like Happy Hiller.
Yes, indeed. You can opt for low-flow fixtures, rainwater harvesting systems, and greywater recycling to reduce wastage and promote sustainable living. If you're interested in eco-friendly systems for your home or business, Happy Hiller's residential plumbing contractors can help!
Backflow preventers safeguard your water supply from contamination. They prevent reverse flow, which can carry pollutants into your clean water lines. If you are wondering if a backflow preventer is a good choice for your home or business, give us a call for an inspection.
Common sewer line issues include clogs, tree root intrusion, and corrosion. Our team can perform video inspections to identify the problem and recommend appropriate solutions like hydro-jetting or trenchless repairs.
Selecting fixtures depends on your usage and preferences. Consult with a plumber to choose fixtures that suit your needs.Proper installation is essential to ensure efficient performance, so it's recommended to call a plumbing company with their own certified technicians, instead of a company that relies on residential or commercial plumbing subcontractors.
The best way to detect leaks is by checking your water meter when no water is being used. If the meter reading changes, there's a leak. Fix leaks by having a certified plumber tighten connections or replace faulty parts.
To keep your water lines in good shape, regularly inspect them for signs of corrosion, leaks, or discoloration. If you notice any issues, contact a professional residential or commercial plumber to assess and repair the problem.
Common garbage disposal problems include clogs and jammed blades. Run cold water while using the disposal and avoid putting hard or fibrous items down the drain. If you need further assistance, call an expert plumbing company like Happy Hiller for a replacement or repair.
Absolutely! We provide comprehensive services for both residential and commercial clients. Our certified plumbers are well-equipped to handle the unique needs of Panama City businesses. Rest assured, our technicians are trained in-house to ensure top quality; we don't employ commercial plumbing subcontractors.
Why Choose Happy Hiller?
Care is Our Core ValueTM
Certified Professional Technicians
Family Owned and Operated Since 1990
Happy You'll Be
Or The Service Is Free™
Welcome to Happy Hiller
Friendly service. Certified Technicians. Your problem, solved.
Happy Hiller is the premier Plumbing and HVAC service experts. We proudly serve parts of Tennessee, Kentucky, Alabama and Florida. Whether you need emergency services or preventive maintenance, it's all guaranteed. The best techs. The friendliest service. 100% satisfaction.
Learn More
Ruud
Reliable Top 10
Contractors

Nashville Business
Journal Top 25 Fastest Growing
Private Companies

Nashville Business
Journal Best in Business
Award

Nashville Business
Journal Most Admired CEOs
& Their Companies

Nashville
Business Journal
Fast 50
Happy Hiller Offers Plumbing Services 24/7
Experience round-the-clock plumbing services with Happy Hiller! We are available 24/7 for emergency plumber solutions.