Water Heater Installation
Plumbing Services
Find a Hiller Location Near You
Find a Hiller Location Near You
Although you probably don't think about it much, you depend on your water heater for many household tasks. So when the time comes to pick a new one, you want to make sure you get a product that will meet the needs of your home and serve you well for many years to come. With so many options out there, however, it can be difficult to figure out which model would be best for that purpose.
Water Heater Options
The first thing you'll have to decide when looking at hot water heaters is what type of fuel source you want yours to use. Most water heaters are designed to work with electricity, gas or oil. So you need to know about the availability of these in your area as well as the relative cost of each in order to make an informed decision.
You'll also need to decide whether you want a traditional tank water heater or a tankless model. Tankless water heaters are a relatively new entrant into the market, but they work quite well for most homeowners. Unlike traditional water heaters that keep a tankful of hot water ready for whenever you need it, tankless water heaters only heat the water when you turn on the tap.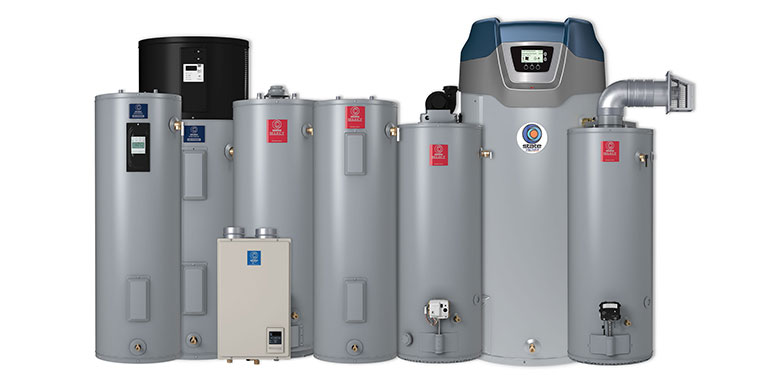 They do this by running the water across a series of heating elements and then directly to your faucet. In this way, you can have hot water whenever you need it without paying to heat a full tank 24 hours a day.
If hot water is in particularly high demand in your household, you may need to install multiple tankless water heaters or opt for a traditional tank model.
Water Heater Efficiency & Sizing
Once you've settled on the type of water heater you want, you must also determine how big it needs to be to accommodate your household needs. To do this, you'll want to figure out approximately how much hot water you're likely to use at peak time in your home and then get a water heater with a tank just slightly larger than that. A professional can calculate this amount in a way that will make clear what systems are viable options for each individual situation.
You don't want to simply get the biggest water heater available, as this may be more than you need and you'll still pay to keep the entire tank hot all of the time. On the other hand, you don't want to purchase a tank that's too small and may run out of hot water constantly when you need it.
When picking out a water heater, pay attention to the energy efficiency rating of the models you're considering. Especially if you choose a model with a large tank, your energy bills can really add up over time. Picking a model with good energy efficiency ratings, even if you pay more for it up front, is sure to save you a significant amount over the life of the unit.
Water Heater Additions/Maintenance
Without proper care, your water heater can't provide steady hot water for showers, washing clothes or dishes. While inconsistent hot water starts as a moderate inconvenience, it can quickly become a chronic impediment to your quality of life.
When you have a new water heater installed, the quality of the water heater you select is only half of what it takes to provide a great finished result. The other aspect of this result is, of course, the installation itself.
A high-quality water heater installation can take a middle-of-the-road water heater and allow it to perform at its peak efficiency and longevity, while a poor quality water heater installation can cause even the best water heater to operate inefficiently and have a shorter-than-expected lifespan. To achieve this high-quality installation requires the right tools and the right experience.
How long can a hot water heater installation take?
As with any home repair project, water heater replacement is largely dependent on the individual characteristics of the home in which it is being installed. If everything goes according to plan, though, you can expect the entire process to take from 2-3 hours.
Keep in mind, however, that as a trusted water heater contractor, our most important goal when working on your project is to do it correctly, instead of quickly. To be sure, we don't want to take up any more of your time than we need to, but we also don't want to rush through things and end up causing a problem down the road. Since an incorrectly installed water heater carries with it risks for both fire and water damage, we take our job very seriously.
For a traditional water heater with a tank, the process involves removal, installation, and setup. Removal of a water heater requires the power source to be disconnected and the tank to be completely drained. Then, the large and heavy unit must be twisted and turned until it can be maneuvered out of your home. After that, the new water heater can be brought in and maneuvered into place. Finally, the water and power connections will be made, the unit will be filled, and all systems will be thoroughly tested.
The amount of time this process takes depends on many factors. One of these factors is the power source of the water heater. If the unit runs on electricity, disconnecting the power source from the old water heater and connecting it to the new one will likely be slightly faster than with a gas or oil-burning unit. This is because the flow of energy is easier to regulate with an electric connection, plus the pilot light has to be properly ignited with a gas connection. Our experienced contractors are able to handle any power source in a timely manner, however.
What About Tankless?
Tankless water heaters continue to increase in popularity as people learn more about their energy-saving and hot water-providing benefits. In most cases, though, installing a tankless water heater will require a fairly involved installation process that will likely take much longer than a traditional water heater. This is largely due to the increased amount of energy required to operate a tankless heater when it's in use.
Higher energy usage may sound contrary to what's often-promoted as a tankless water heater's best feature. While it's true that a tankless water heater ultimately uses less energy over time since it's not having to keep 40-80 gallons of water hot 24/7, it requires a lot of energy in short bursts to flash the water to the required temperature as soon as it comes in from the supply line.
In your specific case, this may require a larger gas line or a much larger electric supply than what is currently running to your water heater location. Additionally, in the case of a gas unit, this extra energy infusion may require the unit to be vented differently than your current water heater, resulting in potential duct and roof work that wouldn't be required with a traditional water heater. Plus, many tankless units, even those that run on gas, require an electrical connection to operate, which may require an additional supply line to be installed.
This isn't to say that a tankless water heater isn't a good product to utilize. A properly installed tankless heater can certainly save a large amount of energy over a traditional water heater. Plus, you can enjoy essentially unlimited amounts of hot water. At the same time, we want you to be aware of unexpected installation aspects you could face if you choose a tankless heater so you're not caught off guard. Once power and water supply issues are addressed, a tankless water heater is fairly straightforward to install and is certainly much easier to maneuver into place.
Water Heater Installation You Can Trust
As mentioned, installing a new water heater of any type requires expertise in electrical, gas, and plumbing. That's why we work hard to maintain the most up-to-date knowledge of state-of-the-art products and techniques, to ensure we're performing each installation the absolute best way, every time. Additionally, we take pride in sharing our knowledge with you, the customer.
We want you to know exactly what we're doing as we do it, both so you can be informed during the installation process and so you can properly maintain and understand your unit after it's installed.
If you're tired of constantly running out of hot water, don't hesitate to contact Hiller soon!