You may not often stop to consider its role in your home, but you depend on your home's water heater for many tasks. When the time comes to pick a new one, make sure you choose a product that meets your home's needs and serves you for many years to come.
Depending on your home, you may have more options for water heaters than you might expect. In addition, technology has changed significantly over the years. Fuel source, size, and type of water heater can impact not just your initial cost, but energy and water costs as well. If you have questions about which type of water heater might work best for your home,
contact Hiller today
.
Types of Water Heaters
The two main details to consider when purchasing a new water heater are type of fuel and whether to purchase a traditional tank water heater or a tankless option.
Your home's age, construction, and layout will determine which fuel is most ideal for your situation. Most water heaters use electricity, gas, or oil. Each fuel source has its pros and cons, and availability may also vary based on your area.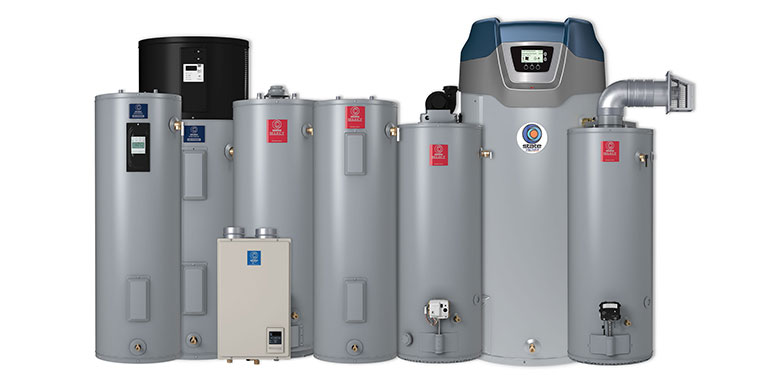 In addition to fuel source, you'll want to decide on whether to choose a traditional tank water heater or a tankless option. Tankless water heaters are relatively new, but they work quite well for many homeowners. Unlike traditional water heaters, which keep a tankful of hot water ready for it when you need it, tankless models only heat water when you turn on the tap.
Tankless water heaters run water across a series of heating elements and then directly to your faucet. Some of the benefits of tankless models include increased energy efficiency and reduced water use. For households where hot water is in high demand, you may need either multiple tankless models or opt for a traditional model.
Water Heater Efficiency and Sizing
With fuel and model type selected, the next step is figuring out the water heater's size. There's no simple way to do this, but the best method involves determining how much hot water you'll use at a peak time in your home. Afterward, choose a model that is just slightly larger than that. Not sure? A professional can help calculate this amount in a way that makes sense which system is the best for each individual situation.
You should not just buy the biggest water heater available. It may end up being more than you need, and you'll just end up paying more in energy costs to keep unused water hot all the time. On the other hand, running out of hot water isn't great. If you purchase a tank that's too small, you'll run out constantly when you need it.
Pay attention to energy efficiency, too. Models with large tanks can really add to your energy bill over time, negating any cost savings from choosing a cheaper model. Choose a model with good energy efficiency ratings, and you could save you a significant amount of money over the life of the water heater. 
Water Heater Additions and Maintenance
Your water heater requires regular maintenance, just like the rest of your plumbing fixtures. Without proper care, it can't provide steady hot water for showers, washing clothes, or doing the dishes. Inconsistent hot water may start as a moderate inconvenience, but it can quickly become a chronic impediment to your quality of life.
Even the best water heater will become inefficient if improperly installed. To expect the best quality, you'll want to hire someone with the right tools and the proper experience.
How long can a hot water heater installation take?
Water heater replacement can vary by several factors, but generally speaking the process takes between two and three hours.
As a trusted water heater contractor, our most important goal is to install your water heater correctly instead of quickly. An incorrectly installed water heater could raise the risk of both fire and water damage; for that reason, we take our job seriously.
Traditional tank installation involves removing the original tank, installing the new one, and setting everything up. The power source must be disconnected and the tank completely drained. This large, heavy unit must then be twisted and turned to be maneuvered out of your home. The new water heater will then be brought in and installed. After the unit fills, we will thoroughly test all systems.
Depending on your power source, new elements may need to be added, or outlets installed. Electric water heaters tend to have faster installation than gas or oil-burning units due to the efficiency of their heating elements.
Contact Hiller for water heater installation you can trust.
Installing a new water heater requires expertise in electrical work, gas, and plumbing. At Hiller, we work hard to maintain up-to-date knowledge of state-of-the-art products and techniques. This ensures we perform each installation the right way every single time. We take pride in sharing our knowledge with you, the customer, and are happy to answer any questions you may have.
If running out of hot water is a constant problem in your home, or your water heater is beginning to show signs of age, contact Hiller to schedule your new water heater installation today!