Electrical Panel Upgrades and Replacement
Improve the safety of your home and avoid potential hazards from improperly wired or overloaded circuits by upgrading to a new electrical panel.

Electrical Panel Upgrades / Replacement
Do you have an outdated circuit breaker in your home? You will probably need to have that replaced. A lot of older homes have outdated circuit panels, and these need to be updated to meet local codes. If you aren't sure whether or not you need a replacement, or you have other questions or concerns about your circuit breaker panel, call us any time. Our certified electricians can handle any type of circuit breaker panel replacement need.
Here is how it will improve your home:
Improve the level of electrical safety within the home
Avoid potential hazards from improperly wired (flickering/ dimmering lights) or overloaded circuits (tripped breakers)
Improves system reliability by distributing more power to your home
Eliminate worry of a dangerous faulty panel
Ensures code compliance and proper labeling of circuits
Best supports the latest appliances and home entertainment equipment
Circuit Breaker Repair
Most circuit breaker panels that need repairs often will most likely need to be replaced. But you should always call a certified electrician to check it out so that you get a full assessment of your circuit breaker panel and other electrical components. It could be the wiring that needs to be replaced, or there may be another problem that needs to be resolved. Regardless, make sure to contact us to get an experience technician out today.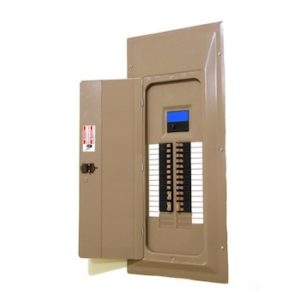 Did you know?
The average lifespan of an electrical panel is 25 years. After that time you expose yourself to potential electrical dangers by overloading your system with the latest electrical equipment.
How do You Know When You Need to Upgrade Your Electrical Panel?
The electrical panel is also known as the breaker box, fuse box or circuit box. There are several signs that you may notice if you need to upgrade your electrical panel.
Water Damage
If your electrical panel has suffered water damage, then it is time to upgrade it. For example, rust is one sign of water damage. You may also notice puddles of water around the electrical panel. This can create a major fire hazard.
Mouse Droppings
Mice are little creatures, but they can do a lot of damage! Coming in through the cracks and crevices of your home, mice can eat away at the wires. That is why you may notice that some of your outlets are not working. You may also notice flickering lights, which can be a sign of a fire hazard.
Damaged Wires
If you notice a burning smell, then your wires have likely been damaged. You may also notice marks on the wall. Don't ignore this, because it is a sign that your circuit is overloaded!
Old Age
The age is something that you will need to consider when deciding whether you need to replace it. An electrical panel typically lasts about 20 years. Wire naturally deteriorates with the natural aging process. That is why you will need to have your electrical panel replaced after two decades.
Why You Should Always Call A Professional When Upgrading Your Electrical Panel
It is a good idea to call a professional anytime that you are in need of any type of electrical service.
You may get shocked by electricity if you attempt to upgrade the electrical panel yourself. You may not install it correctly. If the electrical panel is not installed correctly, then you may have electrical problems. You may also increase the risk of a fire.
There are times when it makes sense to go the DIY route, but upgrading an electrical panel is not one of those times! Give us a call when you need electrical panel upgrades or replacement, or you just want to make sure your current electrical wiring is safe.