Plumbing Services
Find a Hiller Location Near You
Find a Hiller Location Near You
Drain Pipe Cleaner Services
A clogged drain takes a toll on daily life. People count on the sinks and drains in their kitchen and bathrooms to properly perform so that we can clean our hands, face and teeth, or wash dishes and clear food waste. You never seem to realize how much you rely on drains until they are out of order. If your water will not drain, or is draining slowly, there is a clog in need of simple plumbing repair. Don't wait on these types of repairs; a clog will not unclog itself.
If your drain gets so clogged that a plunger won't clear the way, don't immediately resort to the use of chemicals. Chemical drain cleaners may clear the blockage, but they also eat away at the lining of your pipes. Instead, call in a professional who has the tools and experience to get the clog cleared.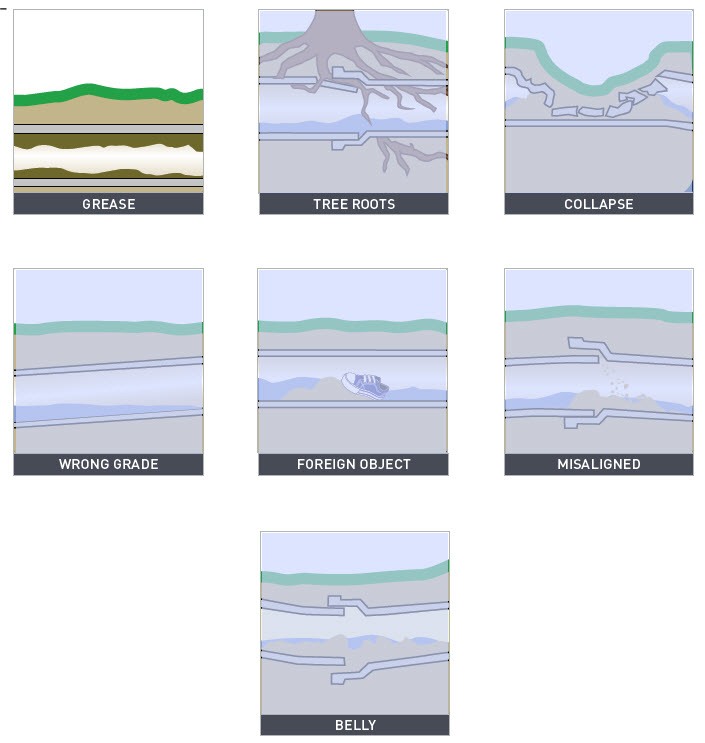 A pipe snake or video inspection can be used to find and remove the clog directly. Sometimes, drains simply need to be cleaned – this is a service we provide as well, giving you the peace of mind that there is nothing in there slowly developing into a major clog.
Because of the advancements in video inspection technology, our professional plumbers are able to investigate and locate the source of most sewage and drainage issues before they get worse.
First, we insert a small, fiber optic video line into your drains; this gives us a complete view of the inside of your sewer and water lines.
Then we carefully examine the entire system to check for potential issues or to locate a known issue. This technology allows us to find hidden problems that can only be detected with a camera.
 Finally, once our technicians pinpoint the cause of the problem, we will provide our professional advice to help you choose the most cost-effective repair or replacement.
Video scans are also one of the most effective ways to locate roots that have damaged your sewage and drainage system without digging up your yard. Once we've tried other methods, such as snaking, to unclog drains, we will thoroughly inspect the lines to make sure there are no other issues. This also helps us determine the overall condition of your plumbing system so that we can make recommendations for a system replacement if necessary.
How Do You Know If There's A Problem?
Sometimes problems with your pipes are obvious, and other times it may begin as a small issue. You may not always experience a complete blockage in the pipe. Drain problems can be as subtle as a slower draining pipe, or even an odor. For example, you may notice that your tub isn't draining as quickly as it used to, or it may even allow water to fill up the tub when you shower.  Don't ignore the small problems because, over the course of time, they can turn into larger issues that can cost much more to fix. Any change in the way your pipes are working or smelling should be a signal to have a professional plumber come to inspect your pipes to find the source of the problem before it can progress. One of the best ways to ensure that you avoid issues as much as possible is to have regular plumbing maintenance.  Never Use Chemical Drain Cleaners! If you notice a slow draining pipe or you have a complete clog, you should always avoid using Drano or other similar products. The primary concern with these products is safety. Many people are injured by these chemicals each year because they are corrosive and can cause damage to the skin and eyes.
Order Happy Drain(TM) Drainpipe and Septic Treatment
Many drain cleaners are full of harmful acids and toxic chemicals. Happy Drain™ Drainpipe and Septic Treatment is a family-safe, enzyme-based opener that can permanently eliminate pipe buildup.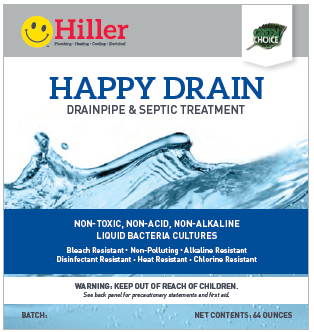 It's a revolutionary approach to grease waste elimination. This microbiological breakthrough allows bacteria to naturally digest and degrade waste — even in the presence of bleach, quatemary disinfectants, chlorinated dishwash and alkaline cleaners, which inhibit the performance of most products on the market. This outstanding product has the remarkable ability to withstand intermittent high temperatures (up to 180°F) and the high alkalinity from cleaning products. It utilizes the natural ability of unique bacterial strains to degrade the solid waste that accumulates in grease traps and drains.