Electrical Services in Memphis, TN
We should all know to be careful when dealing with electricity. There are many reasons for this caution, from avoiding electrical shock to preventing fire due to improper electrical installation. Instead of taking the chance with any of these outcomes of handling electrical work yourself, you can turn to the professional electricians in Memphis for high quality electrical services. 
Our licensed electricians at Hiller have the experience to back up their abilities for any commercial and residential electrical service. Your needs could range from system upgrades to comply with safety requirements to installing a whole home energy generator. Whatever your need for our electrical services and repair, we will be able to provide it in a timely manner. 

Memphis Commercial Electrician Services
If you have a broken elevator, flickering lights or an exterior light that is broken, or even more serious electrical issues- don't do it yourself, just give Hiller Plumbing, Heating, Cooling and Electrical a call and we'll be happy to help you.
Hiller offers commercial businesses a variety of services, and we specialize in lighting contracts. We can install, repair and maintain any light fixture you have as well as provide timely and honest service. We offer carbon monoxide and smoke detector maintenance and installation too, and can fix any code violations for conference rooms or classrooms, among many other things!
Memphis Residential Electrician Services
We know that electrical issues can be frustrating and even scary! Fitting time into your schedule to call for technician to come out and fix it can be a hassle if you don't call the right people who will honor your time- and that's why you should call Hiller- we arrive on time at the time you've chosen, so you don't have any other things to worry about, and we get the job done fast.
Among the repairs for electrical needs that we offer, we also offer installations of smart home devices, high-quality smoke detectors, and so much more so that your family can stay healthy and safe- as well as up to date with new technology. We can install new circuit panels so that you new appliances work smoothly with your electrical circuits as well to cut down on any electrical issues in the future!
Resolve Electrical Safety Concerns
Don't take the risk of letting electrical concerns fall by the wayside. Trust the team of electricians at Hiller to ensure safety in your Memphis home. Many electrical issues pose a safety hazard, with electrocution and electrical fire being the main concerns. However, you won't have to worry because, at Hiller, we make your safety our number one priority. Our Memphis electricians provide the right electric service to ensure every possible electrical safety concern is resolved. 
Common concerns stem from having plugs being warm to the touch, the absence of any ground fault circuit interrupters, and a lack of surge protection. Every one of these safety issues could put you in danger of an outcome like electrocution. Our electricians know exactly how to handle these situations and every one similar to them. We will come out to perform an inspection on your home in Memphis if you suspect anything that may involve your safety is wrong. Whether our actions will involve making sure your home is fully-grounded, replacing the wiring, or replacing smoke alarms that are non-functional or over 10 years old, we always take the best actions towards a safer house for you and those you live with. 
Ensure Your System Meets Your Electricity Needs
We demand a lot from our electrical systems. This isn't necessarily a bad thing, but with the AC, the smart speakers, all the lights and fans throughout the house, the microwave, the TV, the computer, a Memphis home often can't keep up. Your home, however, absolutely should be able to meet all your electricity needs, whatever those are. The professional electricians at Hiller can ensure this. 
One sign your circuit breaker can't keep up with the demand is if it's frequently tripping. If the lights flicker, this is a sign that appliances are using up too much power. We can get your electrical systems up to speed to meet the demand. This might mean completely replacing the circuit breaker to upgrade it with a better one or we may have to install more outlets so that you are not so reliant on an extensive amount of extension cords. Any of these tasks to get electricity up to the level of your demand are simple for our electricians to handle. 
We could also secure your electricity needs are met during times when the utility provider might fail you. With a whole home energy generator, you never have to do without your demand for electricity being met. Trust our qualified electricians to install one of these backup generators, and your electricity will be covered through any situation.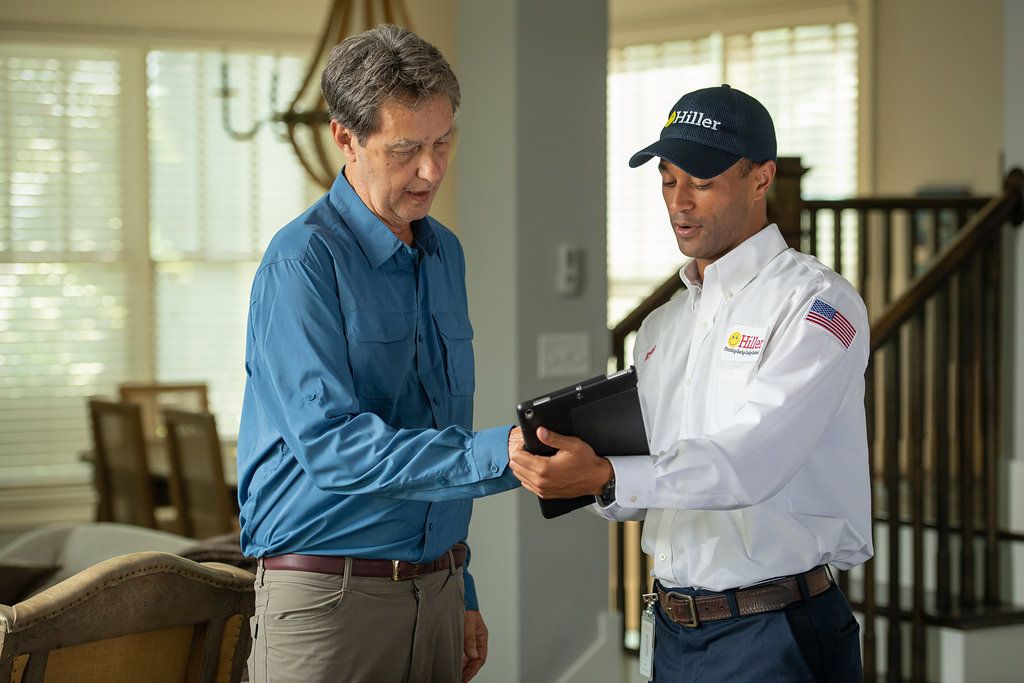 Electrical Repairs or Replacement
Whenever you need our Memphis electrical team, we'll be there for you. We understand that real electrical emergencies are a possibility, and that these must always be taken care of as soon as possible. You may need a repair for many reasons, aging and water damage being common causes for urgent electrician attention. Luckily, neither an older home nor situations of true damage to the electrical systems is too much of a challenge for the electrician experts of Hiller. 
So, don't worry if you find signs of these issues in your Memphis home. Our team can be there promptly to provide the repair or replacement that you need. We offer emergency repair service for the electrical system on a 24/7 basis. You shouldn't have to wait for something of importance relating to your building's electricity to get fixed. Neglecting the repair can actually be an issue of safety. That's why we make sure to always be available for these emergencies, 24/7.
Reliable Electrical Contractors in Memphis
If you need an electrical company's services today, don't hesitate to turn to Hiller. Our skilled electricians are qualified to take on any concern of electricity you may have. Bring those concerns up to us with a phone call and we'll help you address them through our quality electrical services. Get in touch today!