NOBODY is eager and happy to call a plumber for a stopped up kitchen drain. That said, this experience was OK. James, our Hiller team technician, called ahead ... Read More
NOBODY is eager and happy to call a plumber for a stopped up kitchen drain. That said, this experience was OK. James, our Hiller team technician, called ahead and arrived on time. He explained what he was going to do and set about doing it. I have never before seen a PVC pipe from the inside. When he was done we discussed what he had found and possible next steps. He demanded payment. Good job. Good work well done. FIVE stars!! Close
Outstanding service and professionalism. AC went out at 4:30 PM on a Friday night. They were here Saturday by noon and there was no weekend rates in effect. Pr... Read More
Outstanding service and professionalism. AC went out at 4:30 PM on a Friday night. They were here Saturday by noon and there was no weekend rates in effect. Prices were extremely reasonable, and the technician Spencer was extremely courteous and did an excellent job explaining what caused the problem and what he did to fix it. Close
Jared was great! He arrived much earlier than we expected, thankfully. He was very professional and extremely helpful. We had a water leak in the yard and he... Read More
Jared was great! He arrived much earlier than we expected, thankfully. He was very professional and extremely helpful. We had a water leak in the yard and he diagnosed it and cured it all very effectively. Very helpful! Close
We had an a/c unit installed in our shed this past weekend. We are first time customers. I was extremely impressed with both Joseph Fox and Dean Covington.... Read More
We had an a/c unit installed in our shed this past weekend. We are first time customers. I was extremely impressed with both Joseph Fox and Dean Covington. They were very knowledgeable, professional and did a fantastic job. As a result we will be using Hiller for our house needs going forward. Thank you both for a job well done! Close
We called and they came in a reasonable amount of time. The first technician assessed the problem and showed us pictures of what was wrong. He was very friend... Read More
We called and they came in a reasonable amount of time. The first technician assessed the problem and showed us pictures of what was wrong. He was very friendly and knowledgeable. He called the Project Manager, Brandon, and he helped us strategize and worked with us to get a new unit. He was very kind, he saw that we had no air downstairs, so he brought a mobile unit until we got the unit in. The guys who came and installed the unit were friendly and efficient. Close
I had lost power in part of my house after a tree fell and took down the power line. Well replaced power line and still no power in two rooms. Natalie Church wa... Read More
I had lost power in part of my house after a tree fell and took down the power line. Well replaced power line and still no power in two rooms. Natalie Church was great. She did her job and did it well. She was a joy to talk to and I will definitely be a repeat customer in the future. Close
First time using Hiller and I could not be more complimentary. They were at our house within an hour after first being called on a Saturday. Jared was excellent... Read More
First time using Hiller and I could not be more complimentary. They were at our house within an hour after first being called on a Saturday. Jared was excellent. He was friendly, competent and wanted to make sure the job was not only done, but done right. He and Hiller went above and beyond and I'm happy to recommend them in the future to anyone. Close
Hiller was quick to respond when my air conditioning unit went out. The tech that came out was great! He diagnosed the issue in 15 minutes and had fixed it unde... Read More
Hiller was quick to respond when my air conditioning unit went out. The tech that came out was great! He diagnosed the issue in 15 minutes and had fixed it under an hour. Very professional. Close
I called Hiller when I discovered our water heater leaking on Sunday morning. A quick call to Hiller got us worked into the emergency schedule. Aaron Kalina wen... Read More
I called Hiller when I discovered our water heater leaking on Sunday morning. A quick call to Hiller got us worked into the emergency schedule. Aaron Kalina went above and beyond to address our hot water needs, explain the features of our new unit and get it installed in time for dinner. Thanks again Aaron! Close
Yesterday (a Sunday) Aaron arrived and worked diligently to fix our broken water line. He worked and reworked the pipes and fittings until he was satisfied. H... Read More
Yesterday (a Sunday) Aaron arrived and worked diligently to fix our broken water line. He worked and reworked the pipes and fittings until he was satisfied. He explained what he was doing throughout the task and offered tips to help us prevent this type of break from recurring. We appreciate Aaron's professionalism and skill. We will call and request him the next time we have a plumbing issue! Close
We had an AC malfunction creating a bad leak at my 98 year old father's home. Ron came out on Wednesday evening 45 minutes after I called for a temporary fix ... Read More
We had an AC malfunction creating a bad leak at my 98 year old father's home. Ron came out on Wednesday evening 45 minutes after I called for a temporary fix and fixed the problem the next day. The experience was 5 star all around. I can't tell you how much I appreciated the help and kindness! Ron is perfect. Close
We had our HVAC system replaced and couldn't be happier. From the first inspection to the final install, every team member who came to the door was friendly and... Read More
We had our HVAC system replaced and couldn't be happier. From the first inspection to the final install, every team member who came to the door was friendly and professional, and their work was great. A special thanks to Quintin Busher who managed the project. He was super helpful and responsive to any of my questions. Thanks everyone! Close
Fantastic company. Responsive, keeps you aware of appointments, travel time, photos of service technician coming to your home. Professional employees, friendly,... Read More
Fantastic company. Responsive, keeps you aware of appointments, travel time, photos of service technician coming to your home. Professional employees, friendly, courteous. "Quez" and Colin were great and made this stressful situation (lightening strike), less stressful. Thank you for everything and I HIGHLY recommend this company!! Close
For the second time now Hiller has saved me after hours! My AC went out and Charley Fox at the Knoxville office saved me and had a technician out ASAP even walk... Read More
For the second time now Hiller has saved me after hours! My AC went out and Charley Fox at the Knoxville office saved me and had a technician out ASAP even walked through a couple troubleshooting steps with me on the phone to make sure we had the best diagnosis to speed up the repair! Could speak any more highly of them! Thanks Hiller! Close
Quez and Colin did a great job in replacing the vent fan in my bathroom. They diagnosed an issue with my attic fan, and they were able to resolve it, too. I s... Read More
Quez and Colin did a great job in replacing the vent fan in my bathroom. They diagnosed an issue with my attic fan, and they were able to resolve it, too. I so appreciate Hiller and all of their services and their professional technicians. Close
I am a member and use Hiller and have for 8 years. I have had a couple issues but not about the service they give me. They are always prompt and they don't ... Read More
I am a member and use Hiller and have for 8 years. I have had a couple issues but not about the service they give me. They are always prompt and they don't waste time getting to my issues. Today I had Manny and he was very professional although he is a plumber he checked an issue I was having with a couple plug-ins and even called Hiller when he couldn't find issue and got me scheduled with an electrician to come check it. I have found they go beyond to help. Close
Highly recommend! Same day quote for a new HVAC system and when I called back over the weekend Brian called me back on a Sunday just to schedule for the followi... Read More
Highly recommend! Same day quote for a new HVAC system and when I called back over the weekend Brian called me back on a Sunday just to schedule for the following Tuesday! The 2 men that came to install were very respectful and professional HIGHLY HIGHLY RECOMMENDED Close
Tom replaced my blower motor in my unit and he made the process less cumbersome. I was able to rely on him to give me accurate and honest feedback about the ent... Read More
Tom replaced my blower motor in my unit and he made the process less cumbersome. I was able to rely on him to give me accurate and honest feedback about the entire process. He was clear about the things he did and did not have control over and he was empathetic to my situation. Thanks, Tom, you are very much appreciated! Close
Xavious Johnson was amazing. He was very patient, and quick. He was amazing helping my wife while at work and made a stressful time very comfortable! I would ... Read More
Xavious Johnson was amazing. He was very patient, and quick. He was amazing helping my wife while at work and made a stressful time very comfortable! I would suggest him to anyone! And a big thank you for the squishy for my daughter. She loves to help and that was a very awesome thing. Close
Nicholas Owens is great! He was very informative and figured out our issue. He was also very kind and respectful throughout our entire interaction. I would defi... Read More
Nicholas Owens is great! He was very informative and figured out our issue. He was also very kind and respectful throughout our entire interaction. I would definitely recommend Hiller and Nicolas! Close
Unfortunately I had a 2-ton unit go bad recently. Austin Irby was very professional and did an excellent job diagnosing the problem. He then had me setup the ne... Read More
Unfortunately I had a 2-ton unit go bad recently. Austin Irby was very professional and did an excellent job diagnosing the problem. He then had me setup the next day with a visit from Shannon Fish to quote me on a new unit. I had 3 companies come give me estimates and Shannon was by far the most professional and thorough. Finally, installation of the new unit was done by lead installer Joseph Fox (assist from Dean). Both did an excellent job on the installation/test. Overall, working with Hiller was an excellent experience. Close
We're Hiller Club members for years now. Recently, we had our annual plumbing checkup and had a slow drain in the main bath. After a bill over $283 dollars the ... Read More
We're Hiller Club members for years now. Recently, we had our annual plumbing checkup and had a slow drain in the main bath. After a bill over $283 dollars the drain actually flows slower than before they "fixed it." Had to call someone else who actually took the time to correct the problem. Sad customer who's out twice the cost. Update: I have amended my review (from one star to 4) due to a timely response and a full refund promised by Hiller Plumbing. I'm feeling much happier now, and I plan to continue my Happy Hiller Club membership. Close
We've called Hiller a few times over the last few years and they have been fantastic every time! Their service folks are super professional, fast, and have he... Read More
We've called Hiller a few times over the last few years and they have been fantastic every time! Their service folks are super professional, fast, and have helped us understand the ins and outs of our issues. They understand the situation is usually unpleasant. This most recent call for us was for our A/C going out. They got us in diagnosed and a new unit installed in less than a week. By the way, if you're looking for a new unit, you should talk to Quintin Busher. He's great and he'll make sure you're taken care of! Thanks, Hiller! Close
Jared was great! Very informative and gave me all my options and price points on how I wanted to go about fixing my water heater. Service was done in a timely m... Read More
Jared was great! Very informative and gave me all my options and price points on how I wanted to go about fixing my water heater. Service was done in a timely manner. Very satisfied overall! Close
From start to finish this company was great! The project manager Shannon never tried to over sell or push upgrades that we weren't comfortable with. The techs... Read More
From start to finish this company was great! The project manager Shannon never tried to over sell or push upgrades that we weren't comfortable with. The techs that installed the unit were friendly and great with our dogs. The plumber was quick and polite. All around, couldn't recommend this company enough. 10/10 Close
It was really easy to get an appointment scheduled and they worked around my schedule, which was so appreciated! Spencer arrived on time and did a great job of ... Read More
It was really easy to get an appointment scheduled and they worked around my schedule, which was so appreciated! Spencer arrived on time and did a great job of fixing the issue. 100% will recommend and would use again in the future! Close
The whole process of replacing our AC unit and duct work has been a breeze from start to finish. It was very easy to get in contact and schedule the services. E... Read More
The whole process of replacing our AC unit and duct work has been a breeze from start to finish. It was very easy to get in contact and schedule the services. Everyone I met was very professional and polite. We really had a great experience with this company and plan to use them again soon for another project! Close
Jarrett was outstanding! Not only did he repair the leak in our crawl space. He photographed the damage. Set up the company to make repairs to the wood joists. ... Read More
Jarrett was outstanding! Not only did he repair the leak in our crawl space. He photographed the damage. Set up the company to make repairs to the wood joists. Holler will have a project manager come out and give us an estimate to replace the 63 years old copper pipes. Happy to be a Happy Hiller customer! Close
Amazing client care from start to finish. We had an issue with our plumbing around 8-9pm and I called hoping to get someone out but figured it would be next day... Read More
Amazing client care from start to finish. We had an issue with our plumbing around 8-9pm and I called hoping to get someone out but figured it would be next day service. They had a plumbing professional at my house within the hour and got us taken care of. The client care was amazing, took every detail & actually listened and the technician was very prompt, knowledgeable & kind. Really appreciate each person I dealt with being very professional & able to come out so late!!! Close
My husband accidently dropped his wedding band off his nightstand which flew into the floor AC vent. We called Hiller company and they sent out an exceptional p... Read More
My husband accidently dropped his wedding band off his nightstand which flew into the floor AC vent. We called Hiller company and they sent out an exceptional person, Spencer. He worked diligently to get my husband's wedding band and was successful in getting it out of the AC vent. Would use Hiller again for any other work that we may need at our home. They were on time and clean and very professional! Thank you Close
They came within hours, on a holiday weekend, to fix a major water main leak another plumbing company had been unable to repair. They gave an honest assessment ... Read More
They came within hours, on a holiday weekend, to fix a major water main leak another plumbing company had been unable to repair. They gave an honest assessment of the problem, their recommended solution, and arranged a quick appointment to remedy things. They also provided a temporary solution to get my water back on until they could do the final work. So very thankful for Hiller Plumbing! Close
Electrical lighting upgrade and repair. The technician, Jacob, determined the ballast for my kitchen light fixture had burned out. He told me my options (replac... Read More
Electrical lighting upgrade and repair. The technician, Jacob, determined the ballast for my kitchen light fixture had burned out. He told me my options (replace the ballast or upgrade to an LED) and explained the cost for each. He accomplished the repair immediately and departed an hour after arrival. Friendly, knowledgeable, and efficient. I am very happy with this service. Close
We used Hiller for a total home repipe and they took a lot of care with the process. We are super happy with the end results and while we do have some dry wall ... Read More
We used Hiller for a total home repipe and they took a lot of care with the process. We are super happy with the end results and while we do have some dry wall repair they definitely did great to make straight lines to make repairs easy! We had Austin, Charlie, and Q come out and they did such a great job. My clean up was very minimal and I could tell they took great care with everything which I appreciated. I have two small daughters so keeping a clean home is important to me. I am so grateful to be a "happy Hiller" and would recommend them for plumbing services AND HVAC. Close
I have used Hiller Plumbing & Electrical quite a few times this year, starting with the installation of a water filtration system to now having my sink uninstal... Read More
I have used Hiller Plumbing & Electrical quite a few times this year, starting with the installation of a water filtration system to now having my sink uninstalled and reinstalled and in between fixing a few leaks and checking over the general plumbing as well as electrical outlets in my house. Throughout all of it, a couple of glitches arose, but they more than made up for them. I am totally impressed with their professionalism and wanting to make sure everything was perfect and just the way I wanted it! The Customer Service is amazing and the workers are professional, capable, and friendly. I couldn't be happier! Close
The technician Jacob was excellent. He was courteous, knowledgeable and did an outstanding job in a timely manner. I was taken aback when charged a $99.00 fee f... Read More
The technician Jacob was excellent. He was courteous, knowledgeable and did an outstanding job in a timely manner. I was taken aback when charged a $99.00 fee for Non Truck Stock Sourcing (which I described to them with a picture of the switch when scheduling) and $25.50 for Non Truck Stock Material and $99.00 Switch or receptacle replacement for a grand total of $223.50 for the job of replacement of a light switch. The services were quite expensive. Close
Excellent response in emergency and Jack was professional and efficient. The charge of $179 to flip a lever on my cutoff valve in a space that was approachable... Read More
Excellent response in emergency and Jack was professional and efficient. The charge of $179 to flip a lever on my cutoff valve in a space that was approachable on foot (no crawling around to get to it) was outrageous but I had no choice. I will forever resent that charge but all else was the usual good service and reasonable repair charges for a work-in call for a Saturday emergency. Now that I know where and what it is I will turn the intake off myself if the need ever arises. Close
Our AC stopped cooling in the middle of the night. I contacted Hiller the next morning. Haleigh was extremely helpful in getting us scheduled for same day repai... Read More
Our AC stopped cooling in the middle of the night. I contacted Hiller the next morning. Haleigh was extremely helpful in getting us scheduled for same day repair. Lance got here earlier than expected and immediately found what the issue was. He was very professional, courteous and efficient. He didn't leave until he made sure the capacitor he replaced completely solved our issue. I highly recommend Hiller and will definitely be using them again in the future! Close
Ryan was great! He was on time, diagnosed the issue quickly and took his time while fixing. He explained everything along the way and even told us about Hiller'... Read More
Ryan was great! He was on time, diagnosed the issue quickly and took his time while fixing. He explained everything along the way and even told us about Hiller's tune up service. Simply because of Ryan's concierge level service, we will use Hiller going forward. Pricing was very affordable and saved us the pain of having to self diagnose and fix! Thank you, Ryan and Hiller! Close
Woke up in the morning to find out I had no hot water. Thinking my pilot light was out, I went up into my attic where my hot water heater is located to relight ... Read More
Woke up in the morning to find out I had no hot water. Thinking my pilot light was out, I went up into my attic where my hot water heater is located to relight the pilot. To my surprise, not only was the pilot light out, but I had standing water in my drip pan and a flowing leak from my temperature relief valve. Knowing I needed immediate help, I scheduled an appointment with Hiller online around 7:30 AM, and by 1:00 PM, William Gough arrived at my home to assess the situation. He quickly identified my water pressure was extremely high (120 PSI) and explained I needed to get it fixed immediately, not only to solve my water heater issue, but to prevent any further water related damage that could occur with that high level of pressure. He mentioned he could schedule a new heater to be installed if I desired it, but thought it might be possible to flush it and get it back into working order instead of replacing it, especially once I had my water pressure issue taken care of. He scheduled his team to come out to further evaluate and perform the required services. Later that day, Frank Croce and Chad arrived at my home earlier than their scheduled time. Upon further inspection, Frank found that water and sediment had already damaged the water heater insulation and its bottom (see photos), and he recommended a full replacement - he and Chad could do the flush and repair on it, but I would be on borrowed time before it started leaking again. I took Frank's advice and went ahead with replacing the water heater. Frank and Chad immediately got to work on installing my new water heater, as well as replacing my pressure regulating valve on my main water line downstairs to solve my water pressure issue. Within a few hours, they had me all fixed up (see photos of new water heater and PRV). I now have 60 PSI water pressure, hot water, and most importantly no leaks! Frank, Chad, and William were an absolute pleasure to work with and I truly appreciate all of their help. I'm extra appreciative because I understand working in a hot attic is not easy or comfortable, and not once did they complain about it even though they had every right to. All of these gentlemen went above and beyond the call of duty and deserve recognition for it. As a first time customer of Hiller, I was extremely impressed and will most certainly be calling on them for other services in the future. I hope Frank, Chad, and William will be the ones helping me again as well. Thank you, Team Hiller! Close
They are so professional and nice. Came out first estimate gave cost amount up front Decided to go with Hiller on Friday and have new unit completed on Wed. T... Read More
They are so professional and nice. Came out first estimate gave cost amount up front Decided to go with Hiller on Friday and have new unit completed on Wed. These people are awesome Both techs Shannon and Darrell were so nice along with being very informational. Love these people ? will always recommend them to my own friends family and customers. Thank you guys Close
Hiller was fantastic to work with. Joseph was top notch. He was early for the appointment. He diagnosed my problem in a few minutes. Left to pick up supplies an... Read More
Hiller was fantastic to work with. Joseph was top notch. He was early for the appointment. He diagnosed my problem in a few minutes. Left to pick up supplies and within an hour was back installing my new hot water heater. High quality work. I will definitely call Hiller again for any other future problems. Close
This is the first time I have done business with Hiller but will NOT be the last. I've had to have my heating and A/C completely replaced. Hiller to the resc... Read More
This is the first time I have done business with Hiller but will NOT be the last. I've had to have my heating and A/C completely replaced. Hiller to the rescue !!! They came, checked the situation and within 3 days, completed the installation. I was in contact with so many different people and I want to name each one because they each made it possible to get this done. There was Alex, Charlie, Dustin, Logan and Darren and not to forget all the woman who talked to me on the phone. They all were wonderful and the customer service is outstanding. If you want excellent service just call Hiller. Oh and don't forget to join the Happy Hiller Club, you'll be glad you did. Close
I had my first experience with this Hiller location today 2/11/21. Leland the Hvac Tech who responded could not have been any more pleasant to deal with. He is ... Read More
I had my first experience with this Hiller location today 2/11/21. Leland the Hvac Tech who responded could not have been any more pleasant to deal with. He is very knowledgeable in his field. Also an excellent communicator. He is a great ambassador for his company. I look forward to my next encounter. The annual contract for maintenance is unbeatable. Will recommend to all I can. Many thanks and Kudos on a job done well Close
Technician, Tommy, was extremely professional and knowledgeable about the installation and operation of a much-needed hot water circulating pump. He redid sever... Read More
Technician, Tommy, was extremely professional and knowledgeable about the installation and operation of a much-needed hot water circulating pump. He redid several aspects of the existing plumbing ensuring a successful and purposeful install. He fully explained the need, cost, options, etc without employing any pressure tactics. Very refreshing to works so diligently for a customer. His integrity, honesty, and ethics will undoubtedly lead me to use Holler in the future and, if possible, Tommy as the visiting technician. Close
Late evening call for to overflowing toilets at my rental property. Mainline paper blockage. Paul came out quickly and gave me a thorough explanation of his ins... Read More
Late evening call for to overflowing toilets at my rental property. Mainline paper blockage. Paul came out quickly and gave me a thorough explanation of his inspection and repair. He was personable and helpful and told me all costs upfront and explained everything thoroughly. Totally grateful for his prompt response and professional help. Close
We have David and Jason come out to our house today. They were both wonderful and professional as well as educational! They were able to diagnose our problem qu... Read More
We have David and Jason come out to our house today. They were both wonderful and professional as well as educational! They were able to diagnose our problem quickly and get it fixed fast. I am so grateful to both of them and the professionalism and kindness they showed us while being in our home. I would highly recommend them and will definitely call and request them when we have issues in the future. Close
Hiller was my first call when the attic A/C was dripping water down through the duct work. They got to us same day and were prompt and professional. Lance was a... Read More
Hiller was my first call when the attic A/C was dripping water down through the duct work. They got to us same day and were prompt and professional. Lance was an awesome technician. Polite, professional and thorough. I appreciate that he took the time to educate me on how to prevent this from happening again. Hiller earned my business as my go-to. Great Work! Close
Hiller Drain Cleaning and Repair
Do you happen to be in the market for a reputable drain cleaning and repair company in Knoxville?  With over 40 years of plumbing experience, Hiller's drain cleaning and repair team has what you are looking for. Our highly qualified and board-certified technicians are on hand and ready to help you solve your drainage issues. Hiller's plumbers are licensed, using the best tools and technology to remedy your drain problems. 
Our goal at Hiller is to ensure that our valued customers have free-flowing and draining sinks and tubs throughout your homes. Should a clogged drain arise, Hiller is at your service. There is no clog or slow draining sink that is too difficult for our team to fix. Sometimes your drain can accidentally be stuffed with way too much food, or build up over time resulting in a clogged drain or slow a slow draining sink or bathtub. Hiller's drain cleaning and repair team is ready for your call to clean or repair your drainage system.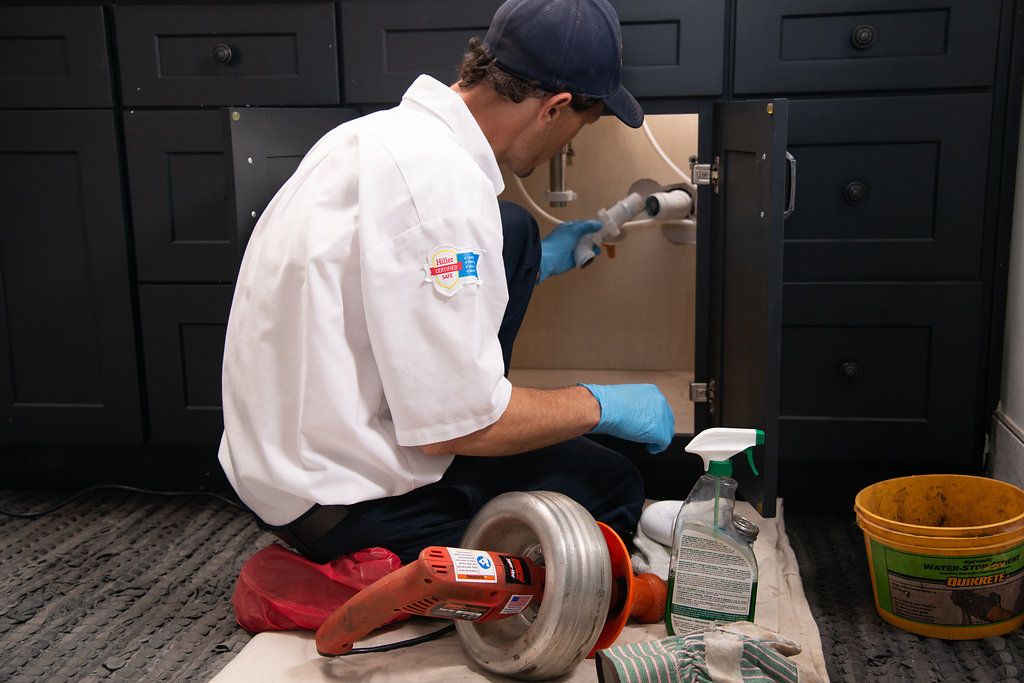 Have a Drain In Need of Cleaning?
There are several steps you can take to clean your drains or unclog your sinks. Simply running hot water after you use your sinks or drains often helps keep them a bit more clear and free of debris. Hiller kindly asks that you not use harmful chemicals in your drains, sinks, or tubs to unclog your pipes. Chemicals used for unclogging drains tend to strip and erode your pipes, eventually resulting in an early replacement or unnecessary repairs to your water and sewage systems pipes and drains. 
At Hiller, our drain cleaning and repair experts will always attempt the best way to extract the draining problem first. Should the drainage issue be bigger or more complicated than originally thought, our technician will always consult you first, and go with the solution that fits your budget.
Hiller Drain Cleaning Services
Staying one step ahead of the issues that come along with every water and septic draining system is a good way to save money and time. There are simple steps you can take when using your sinks and drains that can help you to keep your drains from frequently clogging or slowly draining. Running hot water after every use is a small and easy way to keep grease and debris from building up. Another simple tip is to keep a clean plunger under your sink or by your drains. When it comes time for a professional drain cleaning, Hiller is here for you. 
Whether you would like all of your drains cleared at one time, or you need us to come and unclog your drain, our team of experts is on hand at Hiller Plumbing, Heating, Cooling and Electrical in Knoxville. An unpleasant odor coming from your sink doesn't mean the worst. Hiller is happy to clean your drains and clear the odor away from your sink for you. We take particular steps to inspect your drains and get them flowing again. We begin by inserting a fiber-optic camera into your drains to see what we can in your water and sewer lines. We will discuss with you what we find to be the best move forward for your budget and to ensure that your water and sewage system is working as it should.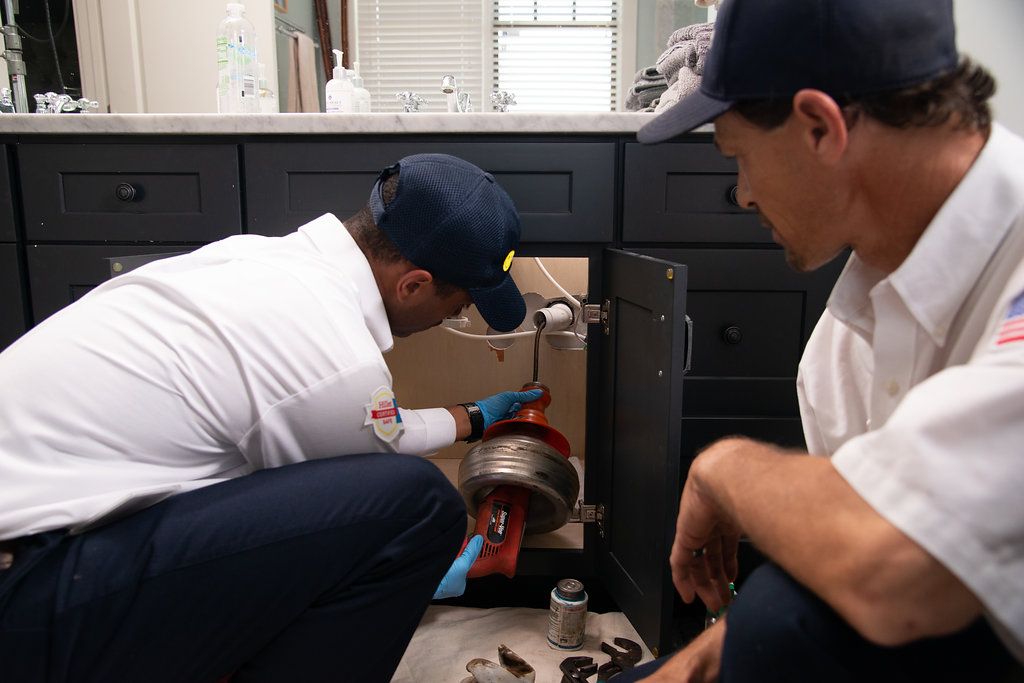 Hiller Drain Repair and Maintenance Services
By scheduling regular maintenance services on your drainage system, you are potentially saving yourself a lot of money in the long run. Most likely also preventing a bigger problem, such as a flood or clogging that requires professional services. Our highly trained technicians inspect your drains and then give you the best possible recommendation before going forward. By regularly cleaning and maintaining your drains, without using harsh chemicals, you are prolonging the life and bettering the function of your drains and pipes. Should it come time for a repair of your draining system, our highly trained and qualified technicians at Hiller in Knoxville are ready for your call. 
By improving the flow of your drains and pipes, you are prolonging the life of your water and sewage system, ultimately saving you money that could be used for more important things around the house. With regularly scheduled cleaning and maintenance, you are improving the quality of flow in your plumbing and drains around your home. At Hiller, our drain cleaning and repair team is here to ensure that your drains are flowing and not slow.
Call Hiller Today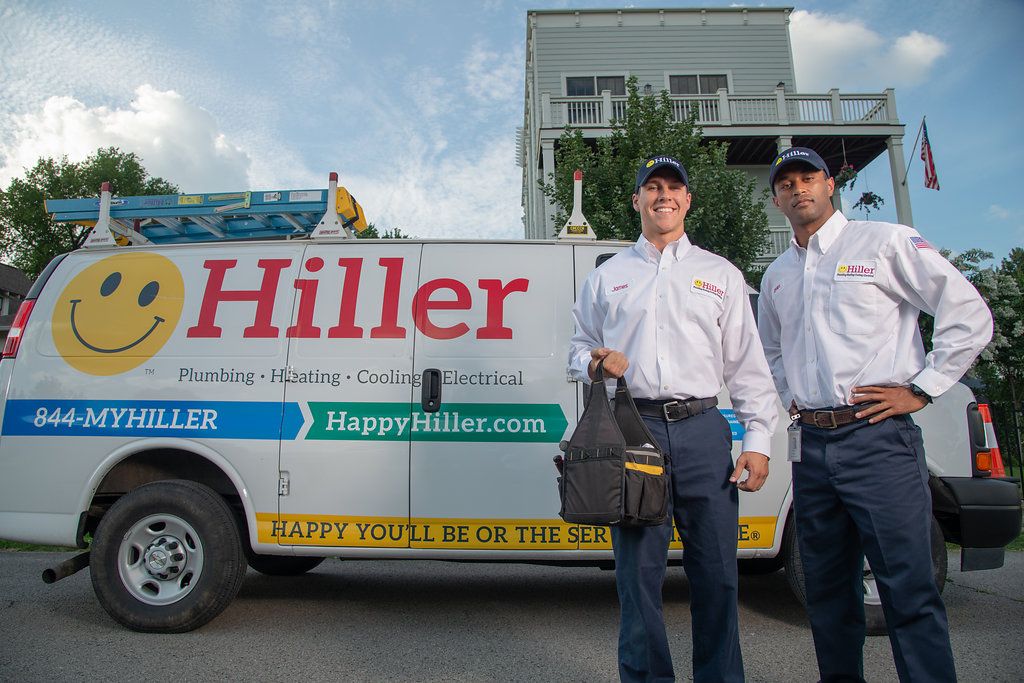 If you require emergency drain repair or plumbing, Hiller's drain repair team is here for you. Our team of licensed and certified plumbers is just a phone call away. Whether you need immediate service, or you would simply like to schedule an appointment for a drain cleaning or repair, Hiller is ready for you. 
Our 24/7 plumbing and repair options make it easier for you to avoid long wait times on major clogs or floods. We are also always available to schedule regular maintenance or repair services for your water and sewage systems. Give us a call today at Hiller Plumbing, Heating, Cooling and Electrical in Knoxville to schedule an appointment.
Knoxville Plumbing, HVAC & Electrical Services

(865) 602-7707

5507 Ball Camp Pike
Knoxville, TN 37921
Expert Plumbers In Knoxville, TN