The Top Plumbing Services in the Cleveland Area
Welcome to Happy Hiller, the premier choice for unrivaled residential or commercial plumbers in Cleveland! We're committed to delivering excellent plumbing service, ensuring flawless system performance and your complete satisfaction.
When you trust our plumbers, you invest in a reliable, worry-free plumbing experience. How do we maintain such high standards? Our unwavering commitment to core values allows us to consistently provide top-tier residential and commercial plumbing solutions, including garbage disposal installation, toilet installation, faucet repair, pipe relining, and trenchless sewer repair.
Want to delve deeper into how our expert residential plumbing repair team keeps your pipes in perfect shape? Check out our blog post about understanding your plumbing system!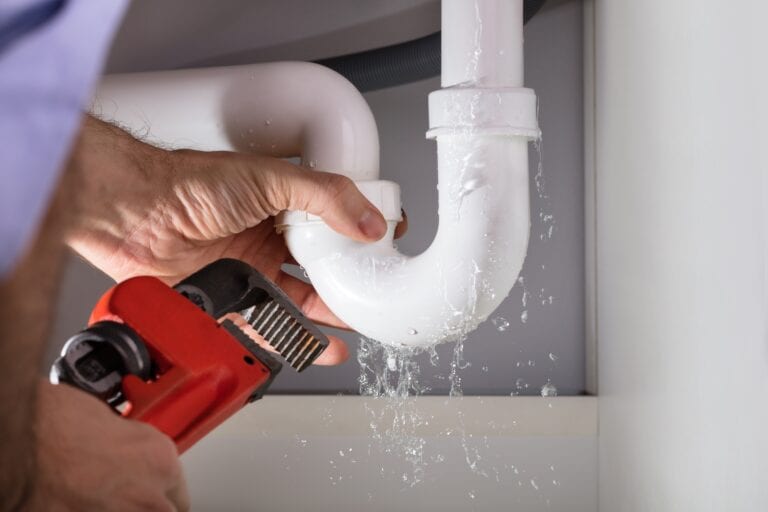 Plumbing Services Committed to Excellence

We prioritize excellence in residential and commercial plumbing services in Cleveland.
Whether it's a minor issue or a major project, our experienced residential and commercial plumbers pay meticulous attention to every detail. From plumbing fixture installation to plumbing fixture replacement, garbage disposal repair, backflow preventer replacement, faucet installation, or faucet repair, or plumbers handle it all.
Whether you're a homeowner dealing with a pesky leak or a business in need of extensive plumbing repairs, rely on us for robust, efficient, and long-lasting solutions. When you're unsure about fixing common plumbing issues, our knowledgeable residential plumbing specialists are here to help. Experience the Happy Hiller difference today!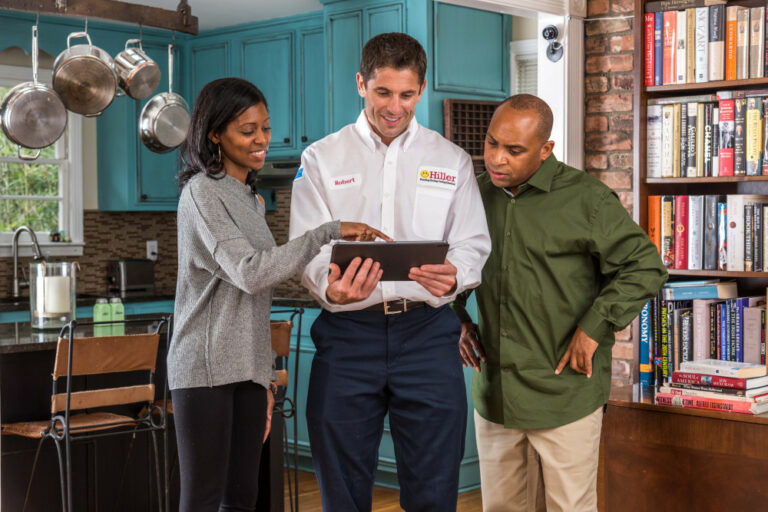 Your Flawless Faucet Installation and Repair Solutions
Dripping faucets can quickly become a costly concern if left unaddressed. Our commercial plumbers and residential plumbing service experts specialize in delivering impeccable faucet repair and faucet installation. We understand the significance of a properly functioning faucet – it impacts not only water efficiency but also the smooth operation of your daily tasks.
Our skilled plumbers promptly address your faucet repair needs with swift, tidy, and precise solutions. If you're considering a new faucet installation, we're here to assist you in selecting the best options for your space. For more insights on avoiding common plumbing pitfalls, feel free to explore our informative blog.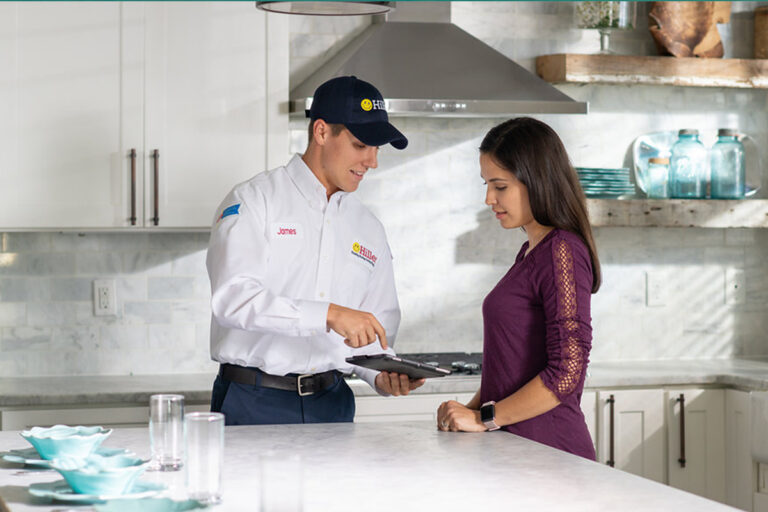 The Power of an Effective Garbage Disposal Installation
From garbage disposal repair to garbage disposal installation, our plumbers in Cleveland are trained to keep your kitchen running smoothly. A dependable garbage disposal system is vital for maintaining a pristine and sanitary kitchen, minimizing food waste and eliminating unwanted odors.
Hiller's team of experienced residential plumbing repair experts and proficient commercial plumbers provide prompt solutions for all your garbage disposal repair needs, guaranteeing uninterrupted culinary adventures. Whether you're grappling with a stubborn clog or in need of a brand new system, we are the trusted experts you can count on.
And don't forget to peruse our valuable tips for managing your plumbing during the summer to ensure a trouble-free system throughout the year!
Preventing the Need of Sewer Line Repairs
The complexities of sewer line installation and maintenance can be overwhelming. However, there's no need to worry because our skilled sewer repair or sewer line installation solutions are here to foster a healthy and hygienic environment for you. A well-maintained sewer system is essential for a happy home, averting unpleasant situations and facilitating effective waste disposal.
If you're unsure about the appropriate time to seek assistance from a professional residential or commercial plumber, refer to our blog post on when to call a plumber for a clogged toilet. Rest assured, Happy Hiller is dedicated to ensuring smooth flow in your Cleveland sewer lines!
Sump pump installation: Your defense against basement flooding

Sump pump repair and installation are vital solutions provided by Happy Hiller's plumbers. A dependable sump pump installation as your primary safeguard against basement flooding, shielding your home from water damage and potential loss in property value.
The importance of sump pump installation cannot be emphasized enough—they keep your basement dry and your property secure. You can rely on our commercial and residential plumbing services to deliver expert sump pump repair solutions, ensuring your complete protection when heavy rains descend.
Toilet installation troubles? We've got you covered!

Happy Hiller provides efficient toilet installation for a comfortable and convenient bathroom experience. And that's not all; our residential and commercial plumbers specialize in trenchless sewer repair as well as backflow preventer installation, repair, and replacement to ensure the seamless operation of your plumbing system.
Remember, a proper toilet installation is not just about convenience – it's crucial for maintaining a hygienic living environment.
Avoiding backflow preventer repair or plumbing fixture replacement

For your home's water supply in Cleveland, backflow preventer repair, replacement, and installation are crucial. Happy Hiller provides expert plumbers skilled in backflow preventer installation to make sure your water remains clean and free from potential contamination. Also, our technicians are ready to conduct backflow preventer repair and backflow preventer replacement if needed.
We excel in more than just backflow preventer installation and related services. Our expertise includes plumbing fixture installation and replacement to enhance functionality and aesthetics. Trust us for efficient water line installation ensuring seamless water flow, and benefit from our expert water treatment services for improved water safety and taste. At Happy Hiller, we prioritize your plumbing needs with dedication and professionalism.

Why Choose Happy Hiller for Your Residential and Commercial Plumbing in Cleveland?
Why choose our residential or commercial plumbers? Let's break it down for you.
Unparalleled Expertise: Our highly skilled plumbers are proficient in addressing any commercial or residential issue with precision and efficiency, whether it's pipe relining, toilet installations, faucet repairs, water line installation, or trenchless sewer repair.
Reliable and Trustworthy: Customer satisfaction is our top priority, and you can rely on us to deliver dependable and trustworthy plumbing service every time.
Prompt and Efficient: Plumbing problems can disrupt your daily routine. That's why we strive to provide prompt and efficient plumbing repair and residential plumbing services, from sump pump repair to plumbing fixture replacement, ensuring quick resolution to minimize inconvenience.
At Happy Hiller, we take the time to listen to your concerns, communicate clearly, and customize every solution to meet your specific requirements, whether it's water treatment services, backflow preventer replacement, faucet installation, or plumbing fixture installation. Choose our plumbers for all your residential or commercial plumbing repair needs in Cleveland!
Daily Promotion
Enjoy Half-Off Select Items with New Select HVAC Systems
Upgrade to Select New HVAC Systems and enjoy 50% off select items on us!
Get Promotion
---
Daily Promotion
True Transparency Pricing
Most Home Service Companies Use the Same Pricing Structure. But Not Us.
Get Promotion
Everything About Plumbing Services in Cleveland
Yes! Happy Hiller offers superior faucet repair or faucet installation for residential and commercial properties in Cleveland. Our knowledgeable plumbers ensure flawless faucet function in every case, from home kitchens to commercial restrooms.
We provide reliable plumbing services with prompt responses and the latest techniques to keep water flowing efficiently.
We offer excellent sink repair or sink installation for various product types. Our expert plumbers possess extensive knowledge and ensure optimal functionality for every sink, including undermount and pedestal styles.
As a trusted provider of commercial and residential plumbing repair, we prioritize delivering superior solutions tailored to your requirements. Whether it's a simple sink repair or a new sink installation, our dedicated team of residential and commercial plumbers is committed to keeping your systems running smoothly.
Mainline reline, or pipe relining, is an innovative plumbing service we provide at Happy Hiller. It involves plumbers creating a new, sturdy pipe inside the existing cracked or damaged sewer pipes. The pipe relining technique is particularly useful when frequent clogs or leaks require a new sewer line installation.
Unlike traditional methods that involve extensive digging, pipe relining offers a less invasive solution. It improves flow and seals cracks, prolonging the lifespan of your sewer system. This makes it a preferred choice for both residential and commercial plumbing repair in maintaining Cleveland's sewer lines.
Signs that indicate the need for a new sink installation include decreased water volume, persistent backing up despite multiple sink repairs, visible physical damage, and rust on the tap. When these signs arise, a replacement is a wiser choice than attempting further sink repairs.
We offer various options for sink installation, tailored to different requirements. The top-mount style is an easy-to-install option, ideal for laminate countertops. Under-mount units, installed beneath the countertop, are compatible with solid-surface, stone, and quartz countertops. Apron-fronts, also known as farmhouse sinks, feature an appealing front panel and can be under-mount or top-mount sink installations. Lastly, tile-in options seamlessly blend with tile countertops, providing a sleek appearance. With Happy Hiller's skilled sink repair and sink installation services, maintaining a functional and stylish home is effortless.
Why Choose Happy Hiller?
Care is Our Core ValueTM
Certified Professional Technicians
Family Owned and Operated Since 1990
Happy You'll Be
Or The Service Is Free™
Welcome to Happy Hiller
Friendly service. Certified Technicians. Your problem, solved.
Happy Hiller is the premier Plumbing, Heating & Cooling and Electric service experts. We proudly serve parts of Tennessee, Kentucky and Alabama. Whether you need emergency services or preventive maintenance, it's all guaranteed. The best techs. The friendliest service. 100% satisfaction.
Learn More
Ruud
Reliable Top 10
Contractors

Nashville Business
Journal Top 25 Fastest Growing
Private Companies

Nashville Business
Journal Best in Business
Award

Nashville Business
Journal Most Admired CEOs
& Their Companies

Nashville
Business Journal
Fast 50
Happy Hiller Offers Plumbing Services 24/7
Residential or commercial plumbing emergencies can happen at any time. Whether it's a Saturday night or any other time, there's no need for you to wait until Monday to address your plumbing repair needs. Call our emergency plumbing service right away!