Birmingham's Trusted Water Heater Experts
When it comes to water heater service in Birmingham, AL, at Hiller we're the experts you can lean on. Our seasoned team boasts expertise in diverse water heaters – be it gas water heater repair, specific gas water heater maintenance, or a broader water heater maintenance.
Our commitment to this community is unwavering. Transparent pricing, flexible financing, and a guarantee that sets us apart from other water heater repair services: If you're not happy with our service, you owe us nothing.
Day or night, we're on standby to make sure you never run out of hot water. And for those who join our exclusive Club? Priority scheduling, tempting repair discounts, and more to ensure your water heater runs smoothly.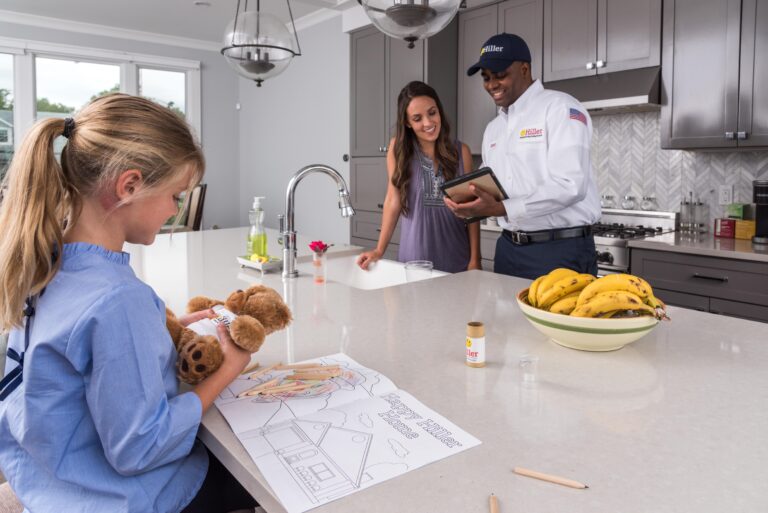 Experts in Water Heater Repair & Maintenance
Whether it's the ever-reliable gas water heater or another hot water heater variant, we've got a comprehensive range of solutions in Birmingham: gas water heater repair, gas water heater maintenance, water heater repair, or general water heater services.
Our technicians are akin to water heater detectives – spotting potential issues, checking the vital components, ensuring no leaks, and adjusting settings just right. If you notice any of these signs it might be time to contact us for a water heater repair service:
Inconsistent water temperature
Discolored or rusty water
Unusual noises
Water leak
Low water pressure
Bad odor
Increased utility bills
With our prompt, adept, and steadfast specialized solutions like gas water heater maintenance, and general water heater service, you can count on that soothing hot shower whenever you need it.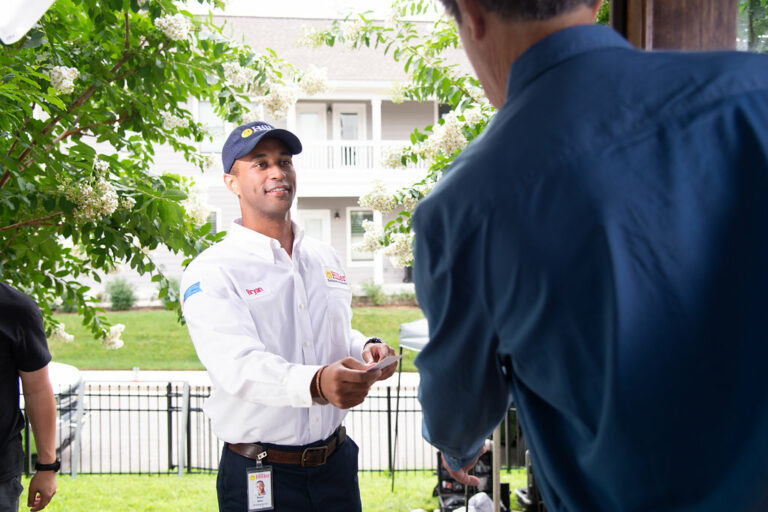 Why Choose Hiller for Water Heater Repair?
From routine water heater maintenance to more pressing gas water heater repair, consider Hiller your ever-dependable contractors. Our experience ensures your home gets uninterrupted hot water, any time of the year.
With attractive financing options, our Happy You'll Be promise, and exclusive perks for our club members, we're your full-service solution for any water heater service.
Hot water heater repair emergencies don't check the clock, and neither do we. Be it the quiet of midnight or the bustle of noon, we're available around the clock for solving an urgent gas water heater repair or scheduling a gas water heater maintenance, among other services.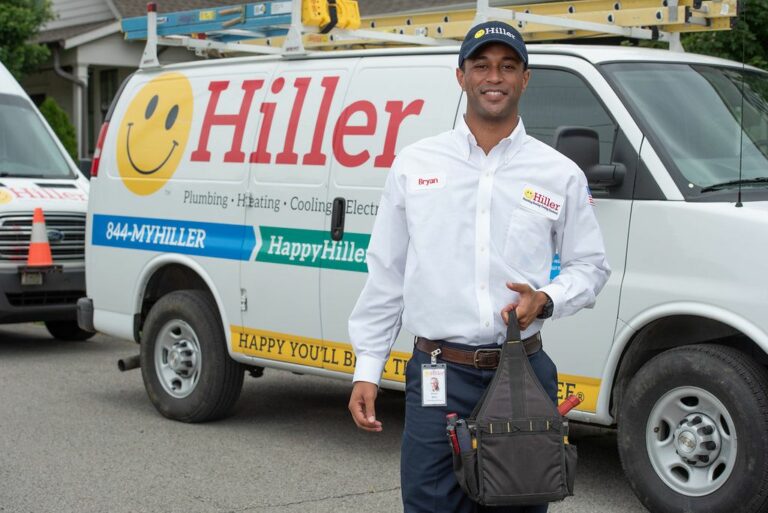 Our Water Heater Maintenance Services
Regular maintenance isn't a checkbox; it's the heartbeat of a long-lasting water heater. With our top-tier water heater maintenance and the Happy You'll Be Guarantee, you're ensured a winter of comfort and warmth.
Membership has its privileges – including priority scheduling for water heater services, exclusive discounts, and valuable replacement credits. Steer clear of unforeseen water heater repairs by joining the Happy Hiller Club!
Guarantees & Emergency Water Heater Services
Our "Happy You'll Be or the Service is Free" guarantee is a testament to how much we value your satisfaction. If you are unhappy with our service, you won't pay a dime! And if you have any questions we'll be at your doorstep within 24 hours, ready to repair or replace any failing product within the first two years.
Thanks to our collaboration with GreenSky financing, we facilitate quick credit decisions and flexible plans, so you can get the best water heater services, when you need them, on terms that suit you.
We know that a malfunctioning water heater doesn't follow the 9-to-5, and neither do we. Our doors are always open, and our emergency water heater service is as prompt as it gets.
Tankless Water Heater Plumbers You Can Rely On
Tankless water heaters, often called 'on-demand heaters,' instantly heat water as it flows through without needing a storage tank. Not only are they efficient space savers, but they're also friendlier on your utility bills.
However, like all gadgets, they might hiccup occasionally, needing a tankless water heater repair service. Common issues include mineral buildup or ignition problems.
That's where our specialized tankless water heater plumbers come into play. They'll ensure your system runs effortlessly with their expertise in tankless water heaters repair and related services in the Birmingham area.
Whether it's a small hiccup in the system or you're setting up your first on-demand heater, our reliable tankless water heater plumbers have your back!
Daily Promotion
$99 Drain Cleaning Special
We'll safely remove clogs and debris, so your water flows freely.
Get Promotion
---
Daily Promotion
Fall Clean Up Sale - Clean Water
Get a whole-home water filtration system and descaler for just $6,499!
Get Promotion
Frequently Asked Questions about Water Heater Repair in Birmingham
If your water heater shows signs such as inconsistent water temperature, unusual noises, water discoloration, or bad odor, it's a clear indication you might need water heater repair. Don't fret; just give us a call. We're here to help.
Yes, we have extensive experience and expertise in repairing both electric and gas water heaters. Regardless of the type, our skilled technicians are equipped to handle all kinds of water heater repairs or any water heater service you might need, including gas water heater repair and gas water heater maintenance.
The cost of water heater repairs or any water heater service can vary based on the issue and water heater type. But here at Hiller, we believe in clarity. Our pricing is transparent, and with our easy financing options, we aim to bring warmth to Birmingham homes without the stress.
Absolutely. Hiller is dedicated to Birmingham, providing 24/7 emergency water heater repair services. Rain or shine, day or night, we're here to ensure your home stays warm and you have hot water.
Regular tank flushes, keeping an eye on the pressure relief valve, and giving the anode a once-over can work wonders. And with a membership in the Happy Hiller Club, we offer exclusive perks to ensure your heater stays humming perfectly.
If your water heater is beyond repair, do not panic. We'll walk with you through your next steps, ensuring you're equipped with the best solution tailored just for you.
What truly distinguishes Hiller is our unwavering commitment to our community. Our "Happy You'll Be or the Service is Free" guarantee, ever-ready emergency services, and the exclusive perks of the Happy Hiller Club all reflect our dedication to Birmingham and its neighboring areas.
A water heater is an umbrella term for those trusty devices that heat and store water for home use. Gas water heaters specifically use natural gas or propane. They need periodic gas water heater maintenance to operate safely. Now, the tankless water heater, often serviced by our expert tankless water heater plumbers, heats water as it flows, with no need of storage. This often translates to energy savings. However, like their traditional counterparts, tankless systems can face issues and might require tankless water heater repair. Regardless of the kind, all heaters benefit from regular maintenance for optimal performance. And if you're ever in a dilemma about which to pick, just give us a call. We're here to guide you.
Why Choose Happy Hiller?
Care is Our Core ValueTM
Certified Professional Technicians
Family Owned and Operated Since 1990
Happy You'll Be
Or The Service Is Free™
Welcome to Happy Hiller
Friendly service. Certified Technicians. Your problem, solved.
Happy Hiller is the premier Plumbing, Heating & Cooling and Electric service experts. We proudly serve parts of Tennessee, Kentucky and Alabama. Whether you need emergency services or preventive maintenance, it's all guaranteed. The best techs. The friendliest service. 100% satisfaction.
Learn More
Ruud
Reliable Top 10
Contractors

Nashville Business
Journal Top 25 Fastest Growing
Private Companies

Nashville Business
Journal Best in Business
Award

Nashville Business
Journal Most Admired CEOs
& Their Companies

Nashville
Business Journal
Fast 50
Hiller Offers Water Heater Repair Services 24/7
We understand sometimes hot water heater repairs can turn into an emergency, so we are available 24/7 all year round for traditional and tankless water heater repair services.
Plumbing, Heating & AC Services
Our confident service technicians will provide you with the solution for any home plumbing, heating or cooling problem. Let us show you how we can make you a happy Hiller customer. Contact your trusted, licensed technician in Birmingham today.
Plumbing
With Hiller, no plumbing repair or service ever needs to become a big deal.
Drain and sewer services, water heater repair, drain cleaning, video pipe inspection, repiping services, leak detection, water treatment and more!
Learn More
Heating & Air Conditioning
Feeling the proverbial heat because of a faulty heating and cooling system?
Reset circuit breaker, remove plugged filter, AC repair, furnace repair, replace line set insulation, install thermostat batteries, clean permanent filler & more!
Learn More