Don't Let the Cold Get You, We Are Birmingham's Furnace Repair Specialists!
When it comes to residential furnace repair in Birmingham, AL, we at Happy Hiller are your trusted experts. With unwavering dedication to expert furnace services, we are here to ensure your home stays warm and comfortable.
Whether you require a simple fix or a more complex solution, our team of experienced professionals is equipped with the knowledge and skills needed to address any furnace repair issue promptly and efficiently. We also specialize in gas furnace repair, the most common among homes, providing you with reliable solutions to keep your home warm and cozy.
When you choose Happy Hiller to repair a furnace in Birmingham, you're choosing a team that values your comfort and satisfaction above all else. And with round-the-clock furnace service professionals on hand, we offer prompt service calls, ensuring that your furnace issues are addressed as quickly as possible!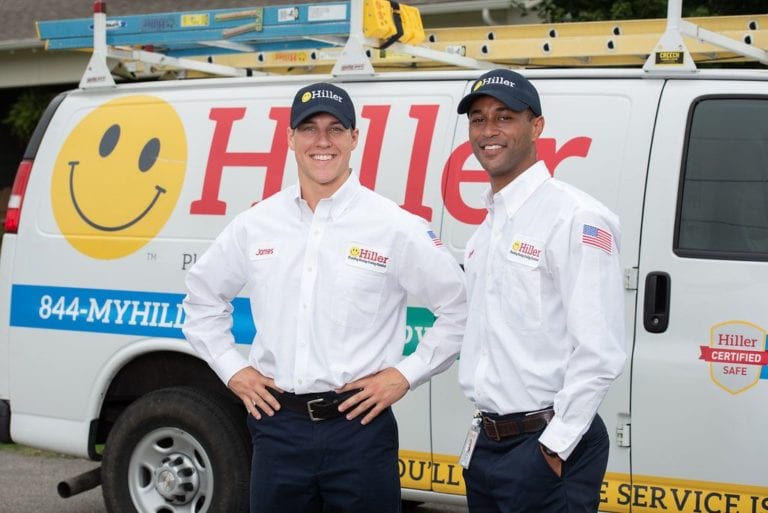 Trusted and Reliable Furnace Service
Your furnace works hard to keep you cozy indoors during the cold Birmingham winters, which is why regular furnace service is a necessity. Furnace service and maintenance ensures that your furnace operates at peak efficiency, providing consistent warmth throughout your home.
With over 40 years of experience serving Birmingham and the surrounding areas, Happy Hiller is your trusted partner for all of your furnace repair needs. We also offer comprehensive furnace maintenance services that cover everything from routine check-ups to more complex repairs.
In a city where temperatures can be extreme, we prioritize energy efficiency when we repair your furnace. Our furnace service not only keeps you warm but also helps you save on energy bills, and helps to prevent future issues.
Whether it's an emergency service or scheduled furnace maintenance, Happy Hiller is just a call away. Count on us to keep your furnace running smoothly, so you can enjoy a cozy and comfortable home no matter what the weather brings!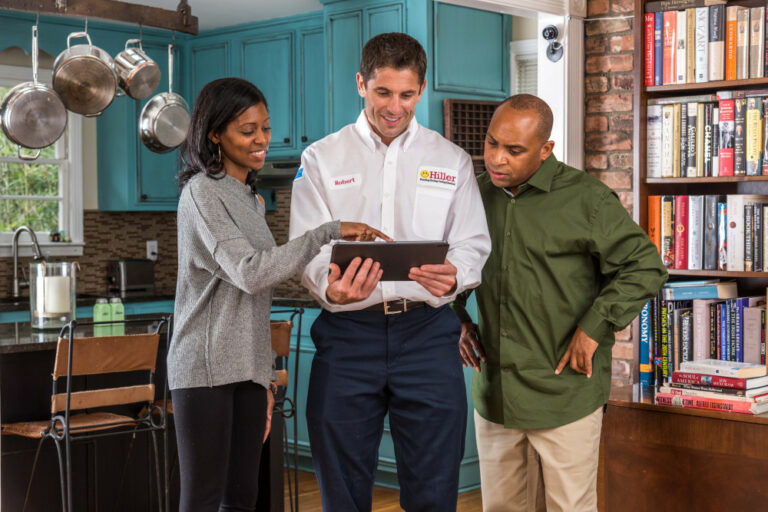 Our Residential Furnace Repair Solutions
At Happy Hiller, your comfort is our top priority.
Our expert team offers a range of services, from furnace repair to comprehensive furnace maintenance. Our contractors are trained in-house and are well-versed in servicing various types of furnaces, including gas furnace repair, and we take pride in providing the highest standard of service. At Happy Hiller our service is guaranteed – if you're not happy with your result, you don't pay!
When you need someone to repair your furnace, it's not always at a convenient time. That's why our furnace repair service is available round the clock. Whether it's a sudden breakdown or a minor repair, you can rely on us to restore warmth to your home promptly.
So, contact Happy Hiller for all your residential furnace maintenance and repair needs. We're just a phone call away!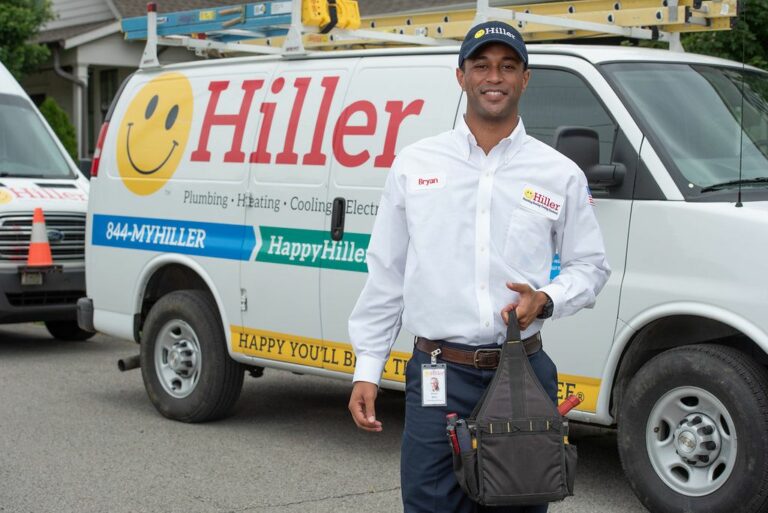 Furnace Tune-Up and Cleaning That Ensure Safety
We are your trusted partner in keeping your Birmingham home warm and safe from unexpected furnace repair. Rest assured, our furnace cleaning and furnace tune-up services are the keys to a cozy winter.
Our furnace cleaning ensures that your system is running smoothly, reducing the risk of unexpected breakdowns and potential safety hazards. But it's not just about safety; it's also about efficiency. Regular furnace tune-ups keep your furnace in peak condition, meaning it uses less energy to keep your home warm. That translates to savings on your energy bills.
Yes, furnace tune-up can be a hassle. That's why we have convenient financing options. Fast credit decisions, no prepayment penalties – it's all about making essential furnace cleaning and other furnace services accessible when you need them most.
And if you join the Happy Hiller Club, you get priority scheduling for furnace tune-up, discounts on furnace repairs, and more. It's our way of saying thank you for choosing us as your furnace cleaning service provider.
So, when it comes to furnace cleaning and furnace tune-ups, think Happy Hiller. We're here to keep your home safe, warm, and wallet-friendly.
Call Birmingham's Gas Furnace Repair Experts!
In Birmingham, when the chilly winds sweep through, there's one name that stands out for your gas furnace repair needs—Happy Hiller. We understand the unique demands when it comes to gas furnace repair, and we're here to ensure your home stays warm and cozy all year round.
During the winter, a malfunctioning gas furnace can quickly turn your home into an icebox. But fear not, for we know gas furnace repair like no other. Whether it's a minor glitch or a major breakdown, our expert technicians have the skills and knowledge to diagnose and repair your furnace promptly.
When you choose Hiller for your gas furnace repair, you're choosing a partner dedicated to keeping your Birmingham home warm and comfortable. With award-winning furnace service and commitment to transparent pricing, you can count on the team at Happy Hiller.
Don't let a malfunctioning gas furnace leave you in the cold. Experience the difference with Happy Hiller, your trusted gas furnace repair specialist in Birmingham, AL.
What To Expect From Happy Hiller's Furnace Repair Service
When they choose Happy Hiller for residential furnace repair service in Birmingham, homeowners get a seamless and worry-free experience. Here's our breakdown:
Easy scheduling: We know furnace issues can be stressful, so we've made scheduling a furnace service call a breeze. We'll work around your schedule to find the most convenient time for your home furnace services.
Expert technicians: Our skilled pros will arrive at your doorstep fully equipped to repair your furnace problem.
Thorough inspection: We start with a comprehensive inspection of your furnace to pinpoint the issue accurately. This step ensures we don't just treat the symptoms, but fix the root cause.
Clear explanations: No technical jargon here. We explain the issue in plain language, so you understand the issue and exactly what needs to be done to repair your furnace.
Transparent pricing: You'll receive a detailed, upfront estimate of the repair costs, with no hidden fees.
Financing options: Unexpected furnace repairs can strain your budget. That's why we offer flexible financing options to make the process more manageable for you, with no prepayment penalties and friendly customer service.
Swift furnace repair: Once you give us the green light, we get to work immediately. Our goal is to restore your furnace's functionality as quickly as possible.
Happy You'll Be Guarantee: If you're not satisfied with our residential furnace services, we'll make it right or you don't pay.
Maintenance recommendations: To prevent future issues, we'll provide you with furnace maintenance recommendations, like our Happy Hiller Club plans.
Friendly service: Throughout the process, you'll experience our friendly and courteous service. We don't just repair a furnace; we're building lasting relationships with our Birmingham neighbors.
Choosing Happy Hiller for your furnace repair service means choosing peace of mind. We're here to keep your home warm and your worries at bay. Give us a call today!
Daily Promotion
Fall Clean Up Sale - BOGO Tune-up
When you purchase an HVAC Tune-Up, we'll give you your next one FREE!
Get Promotion
---
Daily Promotion
Our Biggest Sale Ever on Select HVAC Systems
Purchase a New HVAC System & Receive Up to $2,600 OFF!
Get Promotion
Have a Question About Furnace Service?
If you notice any of the following signs, you may need someone to repair your furnace:
Inconsistent heating or hot and cold spots in your home.
Unusual noises like banging, squealing, or rattling coming from the furnace.
A sudden increase in your energy bills without an apparent reason.
Difficulty in starting or frequent cycling on and off.
A yellow or flickering burner flame instead of a steady blue one.
We recommend scheduling furnace maintenance at least once a year, ideally before the colder months. Proper furnace tune-up and furnace cleaning also ensure your unit operates efficiently and helps catch potential issues on time, saving you from a costly furnace repair down the road.
A furnace repair may be covered by a warranty, depending on the age and brand of your furnace. If you need to repair your furnace, it's essential to review its warranty terms to understand what may be covered. Our technicians can also help you navigate any warranty-related questions.
At Happy Hiller, we understand that furnace issues can happen at any time. That's why we offer emergency furnace repair services in Birmingham and the surrounding areas. You can count on us to respond promptly to your urgent heating needs.
Our professionals are highly trained and licensed to perform furnace repair and service in Birmingham. In fact, we make all of our technicians go through our own in-house trade school courses to ensure they are up to date with the latest technologies and trends for residential furnace services. We prioritize safety and expertise to ensure your furnace is always in capable hands.
At Happy Hiller, we set ourselves apart with:
Exceptional customer service.
Skilled, licensed, in-house-trained technicians.
Transparent pricing with no hidden fees.
A commitment to your satisfaction with our "Happy You'll Be" guarantee.
While you can perform some basic furnace maintenance tasks like changing the filter or simple furnace cleaning, it's best to leave comprehensive maintenance to professionals. DIY attempts can lead to safety risks and may not address underlying issues effectively. Complex tasks like furnace tune-up should be left to certified technicians.
To enhance your furnace's energy efficiency:
Schedule regular furnace maintenance to keep it running optimally.
Book a yearly furnace tune-up to enhance your unit's lifespan.
Seal any drafts in your home to prevent heat loss.
Upgrade to a programmable thermostat to manage heating more efficiently.
Ensure proper insulation in your home.
Yes, we offer furnace maintenance plans and service contracts tailored to your furnace's needs through our Happy Hiller Club. These plans ensure your furnace receives regular check-ups, maintenance, and furnace cleaning, prolonging its lifespan and efficiency.
Why Choose Happy Hiller?
Care is Our Core ValueTM
Certified Professional Technicians
Family Owned and Operated Since 1990
Happy You'll Be
Or The Service Is Free™
Welcome to Happy Hiller
Friendly service. Certified Technicians. Your problem, solved.
Happy Hiller is the premier Plumbing, Heating & Cooling and Electric service experts. We proudly serve parts of Tennessee, Kentucky and Alabama. Whether you need emergency services or preventive maintenance, it's all guaranteed. The best techs. The friendliest service. 100% satisfaction.
Learn More
Ruud
Reliable Top 10
Contractors

Nashville Business
Journal Top 25 Fastest Growing
Private Companies

Nashville Business
Journal Best in Business
Award

Nashville Business
Journal Most Admired CEOs
& Their Companies

Nashville
Business Journal
Fast 50
Happy Hiller Offers Furnace Services 24/7
When your furnace falters, trust Happy Hiller for round-the-clock furnace service in Birmingham, AL. We're your reliable choice for all your heating needs.
Plumbing, Heating & AC Services
Our confident service technicians will provide you with the solution for any home plumbing, heating or cooling problem. Let us show you how we can make you a happy Hiller customer. Contact your trusted, licensed technician in Birmingham today.
Plumbing
With Hiller, no plumbing repair or service ever needs to become a big deal.
Drain and sewer services, water heater repair, drain cleaning, video pipe inspection, repiping services, leak detection, water treatment and more!
Learn More
Heating & Air Conditioning
Feeling the proverbial heat because of a faulty heating and cooling system?
Reset circuit breaker, remove plugged filter, AC repair, furnace repair, replace line set insulation, install thermostat batteries, clean permanent filler & more!
Learn More