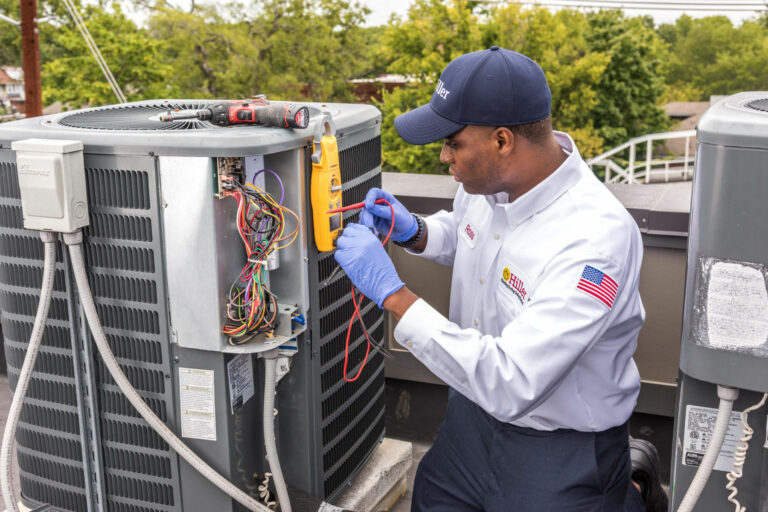 Experience Happy Hiller's Exceptional HVAC Repair Services!
At Happy Hiller, we understand the importance of a well-functioning HVAC system in Florida's climate. That's why we offer a comprehensive range of services in the Panama City and Panama City Beach areas, including residential and commercial HVAC repair, preventative maintenance, and emergency services. We work hard to exceed your expectations and keep your air conditioning system running smoothly year-round.
With our HVAC repair services and all the services we offer, our commitment to professionalism, integrity, and technical expertise sets us apart from the competition. With True Transparency Pricing, we provide clear and concise estimates, ensuring you know exactly what you're paying for. Plus, our 100% Satisfaction Guarantee means you can trust us to deliver outstanding service every time.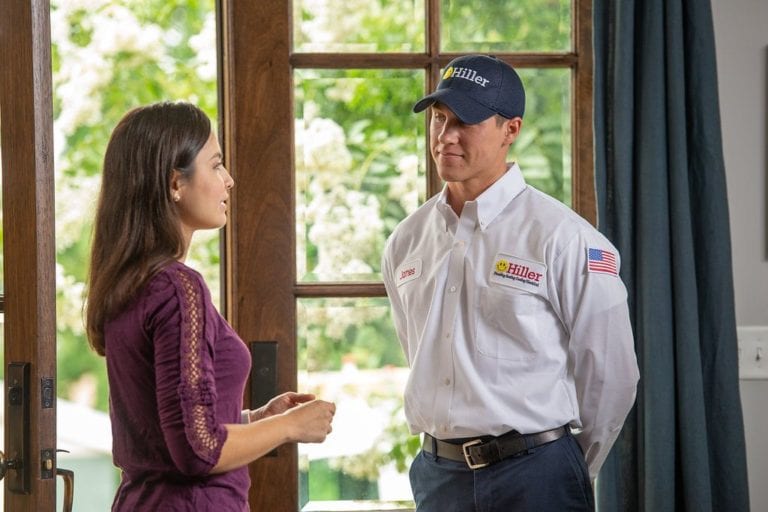 Why Choose Us?
Selecting the right HVAC repair company in Panama City and Panama City Beach is crucial to ensuring the comfort and safety of your home or business. Here's why Happy Hiller stands out as your best choice:
Our technicians are highly trained and certified, ensuring that they have the knowledge and skills to tackle any HVAC repair or maintenance job.
We stand behind our work, offering a "Happy You'll Be or the Service is Free™" guarantee. If you're not satisfied, we'll make it right.
We believe in honesty and trust, which is why our pricing is transparent and straightforward, with no hidden fees or surprises.
We take pride in giving back to the communities we serve, making a positive impact through our Core 5 values that prioritize customers, employees, company, communities, and vendors.
With our Happy Hiller Club, you can enjoy membership perks like seasonal tune-ups, priority scheduling, and additional discounts.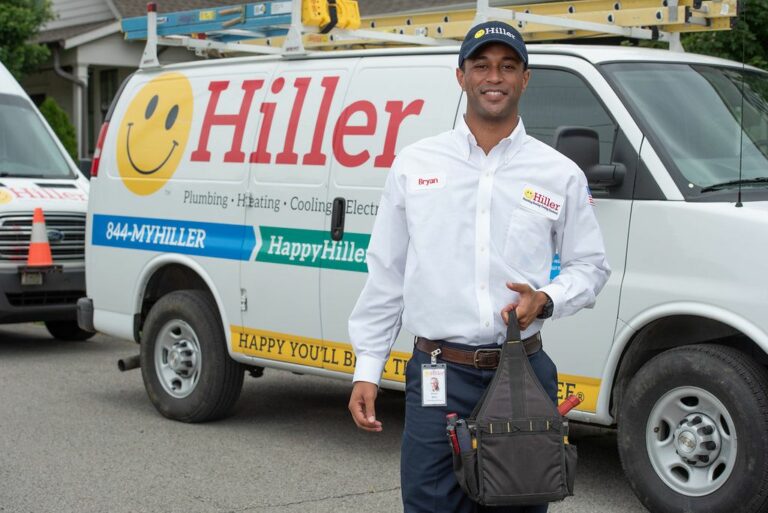 Residential HVAC Repair Services for Your Home's Comfort
To ensure you have a comfortable and safe home environment, we offer top-notch residential HVAC repair services for any heating and cooling issue in Panama City and Panama City Beach, such as:
Air Conditioning System Repair: To keep your home cool during the hot Florida summers.
Heating System Repair: To ensure that your home stays warm and cozy during cooler months.
Ductless Mini-Split Systems: For homes without ductwork or those looking for a more energy-efficient solution.
Indoor Air Quality: We care about the air you breathe, so we provide services to improve your home's indoor air quality, including whole-home dehumidifiers and air filtration systems.
Wi-Fi and Learning Thermostats: We help you save energy and maintain optimal temperature control in your home.
Preventative Maintenance: This is crucial to extending the life of your residential HVAC system and avoiding costly repairs.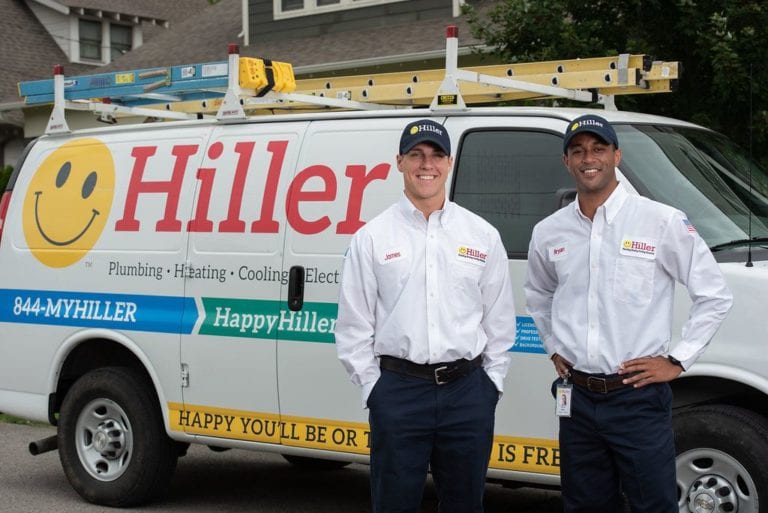 Expert Commercial HVAC Repair for Any Business
As a business owner, you know that a broken commercial HVAC system can lead to discomfort, lost productivity, and lost revenue. That's why Happy Hiller provides not only residential services, but also comprehensive commercial HVAC repairs and maintenance in Panama City and the Bay County area.
To keep your workspace comfortable, we offer:
Repair and maintenance services for commercial HVAC systems, heaters, and furnaces for any size building.
Commercial air conditioning repair and maintenance services, including optimization of energy-efficient units like ductless mini-splits.
Regular follow-up plans to ensure that your commercial HVAC system stays running smoothly.
Optimization of air filtration systems to maintain a pleasant and healthy environment for your employees and customers.
The Importance of Proper Maintenance for Your HVAC System
A well-maintained HVAC system is essential for ensuring your home or business stays comfortable and energy-efficient throughout the year. We believe that regular maintenance is key to preventing unexpected breakdowns and costly repairs. Here are some tips and services we offer to help you maintain your residential or commercial HVAC system in optimal conditions, taking into account the Panama City and Panama City Beach area's climate:
Schedule Routine Tune-ups: This includes cleaning and checking components, lubricating moving parts, and ensuring proper refrigerant levels.
Replace Air Filters Regularly: Dirty air filters restrict airflow and decrease your system's efficiency. We recommend replacing or cleaning them every 1-3 months, depending on your usage and environment.
Check and Clean Outdoor Units: Remove any debris, leaves, or dirt from around your outdoor AC or heat pump unit to ensure proper airflow and prevent potential issues.
Seal and Insulate Ductwork: Properly sealed and insulated ducts can improve your residential or commercial HVAC system's efficiency and help maintain a consistent temperature throughout your home.
Install a Programmable Thermostat: Upgrade to a Wi-Fi or learning thermostat for precise temperature control and energy savings.
Monitor Indoor Air Quality: Consider investing in air purifiers, whole-home dehumidifiers, or additional filtration systems to improve the air quality in your home and reduce strain on your HVAC system.
Emergency? Our HVAC Repair Services Are Available 24/7
At Happy Hiller, we understand that HVAC repair emergencies can happen at any time, which is why we offer 24/7 emergency HVAC repair and installation services in the Panama City and Panama City Beach area.
When you choose Happy Hiller for your emergency HVAC repair needs, you can expect rapid response from our team. We know that time is of the essence during an emergency, so we are always on standby, ready to provide prompt assistance when you need it most.
Our technicians are trained to diagnose and fix a wide range of HVAC problems, ensuring that your system is up and running as quickly as possible. We'll treat your home as if it were our own and ensure a friendly and professional service experience every time.
Don't let an HVAC repair emergency disrupt your life. Trust Happy Hiller to provide fast, reliable, and professional 24/7 emergency HVAC repair services in Panama City and Bay County. Call us today for assistance!
Daily Promotion
Fall Clean Up Sale - BOGO Tune-up
When you purchase an HVAC Tune-Up, we'll give you your next one FREE!
Get Promotion
---
Daily Promotion
Fall Clean Up Sale - Clean Air
Indoor air is often 2-5 times more contaminated than outdoor air!
Get Promotion
Common HVAC Repair Questions From Panama City and Panama City Beach Homeowners
Determining whether your HVAC system needs repair or replacement can be tricky. Look out for signs such as increased energy bills, inconsistent temperatures, strange noises, or frequent repairs. If you're unsure, our experienced residential HVAC repair technicians in Panama City Beach can assess your system and provide expert recommendations to ensure optimal performance and efficiency.
Yes, all of our Happy Hiller technicians are certified and insured. We ensure that our team members have the necessary expertise and training to provide top-quality HVAC repair services in Panama City and Bay County. Our technicians will always show up drug and alcohol-free, with their shoes covered, and will leave your home cleaner than when they arrived. Their professionalism and experience guarantee exceptional work for your residential or commercial HVAC needs.
We understand the importance of prompt HVAC repair services, especially in Panama City's climate. You can always schedule an appointment with us quickly and easily, often on the same day or within 24 hours. For emergency HVAC repair situations, we provide 24/7 service to ensure your comfort and peace of mind.
Yes, Happy Hiller offers comprehensive maintenance plans for HVAC systems in the Panama City Beach area. Our maintenance plans include routine checkups, seasonal tune-ups, and priority scheduling for our members. Also, by joining the Happy Hiller Club, you can enjoy all the perks of membership, ensuring your HVAC system remains in top condition and operates efficiently all year round.
We stand by our HVAC repair services in Panama City with our "Happy You'll Be, or the Service is Free!" guarantee. We offer a 100% satisfaction guarantee on all our work, ensuring that both our residential and commercial customers receive top-quality service and results. If you're not completely satisfied with our HVAC repair services, we'll do everything we can to make it right. Additionally, we provide equipment and fixture guarantees. If something fails within normal use during the first year, we'll replace it free of charge!
Why Choose Happy Hiller?
Care is Our Core ValueTM
Certified Professional Technicians
Family Owned and Operated Since 1990
Happy You'll Be
Or The Service Is Free™
Welcome to Happy Hiller
Friendly service. Certified Technicians. Your problem, solved.
Happy Hiller is the premier Plumbing, Heating & Cooling and Electric service experts. We proudly serve parts of Tennessee, Kentucky and Alabama. Whether you need emergency services or preventive maintenance, it's all guaranteed. The best techs. The friendliest service. 100% satisfaction.
Learn More
Ruud
Reliable Top 10
Contractors

Nashville Business
Journal Top 25 Fastest Growing
Private Companies

Nashville Business
Journal Best in Business
Award

Nashville Business
Journal Most Admired CEOs
& Their Companies

Nashville
Business Journal
Fast 50
Happy Hiller Offers HVAC Repair Services 24/7
When it comes to HVAC repair, you want a team you can trust. Happy Hiller has been providing exceptional service for over 30 years, with a commitment to customer satisfaction. We're available 24/7 to handle any HVAC emergency in Panama City.
The Heating, Ventilation, and Air Conditioning System Experts
We take pride in the HVAC service offered in Panama City Beach. Our team of experienced and skilled technicians are dedicated to providing fast, efficient, and reliable service for any of your home repair needs.
Whether your heating or AC unit needs work or you need to optimize your home's ventilaion and air flow, we have the expertise to get the job done right the first time. With a focus on personal attention, professional ethics, and technical expertise, we strive to exceed your expectations and ensure your satisfaction.
Heating & Air Conditioning
Feeling the proverbial heat because of a faulty heating and cooling system?
If so, contact us to diagnose any problems your heater or AC may be experiencing. Our HVAC company can also ensure your unit is achieving its peak performance with our routine maintenance services, so you can be ready for every season that lies ahead.
Learn More