Does a broken air conditioning system make you feel hot under the collar? If so, don't sweat it; you've come to the right place. Hiller is the most-trusted name for AC repair in Mt. Juliet, TN, and the surrounding areas.
We know a humid home isn't a happy home. When you need air conditioning repair in Mt. Juliet, TN, look to Hiller to turn your frown upside down. Our HVAC technicians are on standby 24/7 to assist you. Contact Hiller's AC repair experts for immediate assistance now.

Signs Your Mt. Juliet Home Needs AC Repair
Has cool air stopped flowing throughout your home? The culprit could be any number of issues. When a Hiller air conditioning technician arrives at your residence, they'll quickly diagnose the problem and immediately begin working on a solution.
You can help ensure even quicker and more accurate assistance whenever you contact us or request an appointment. Simply describe the complication you're having with your AC unit, and tell us the age of your equipment and home.
However, you don't have to wait for your system to suffer a total meltdown before you schedule your appointment. How do you know when you should call for HVAC service? You can be on the lookout for these warning signs that your AC unit requires repair.
Warm air blowing out of the vents

Uneven airflow throughout your home

Inaccurate thermostat readings

Absurdly high electric bills

Pooled liquid or odors around your AC unit

Loud noises, including grinding, rattling, whistling, or buzzing
Our Mt. Juliet air conditioning repair team has encountered and fixed just about every cooling system problem imaginable. So you can rest assured knowing that your AC unit is in good hands. 
Hiller's HVAC service technicians will inspect your system for common issues that cause significant problems before escalating to more complex matters. For example, corroded coils are the cause of nearly 40% of equipment malfunctions, according to CED Engineering. Our Mt. Juliet AC repair team also excels at fixing freon and water leaks, broken thermostats, dirty condensers and filters, and more.
Meet Mt. Juliet's AC Repair Experts
Cooling systems seem to experience problems at the worst possible times. So it's no wonder why panic and anxiety set in when your home's temperature skyrockets in the middle of summer. We've all been there, and it's tempting to try to solve the problem yourself. However, the risks of DIY HVAC repairs are immense.
Thankfully, you won't have to wait for immediate air conditioner repair in Mt. Juliet, TN. Our certified professionals are available to respond to your emergency around the clock. Our highly trained AC repair technicians approach every situation with a positive can-do attitude, leaving you confident that you chose the right team for the job.
There's a reason why we've been the premier Mt. Juliet AC repair company since 1990. Hiller is a family-owned and operated home service company, and we treat every customer as if they are one of our own. Additionally, the dedication put forth by our skilled technicians and staff has helped earn us multiple awards over the years. This includes being named one of Ruud's Top 10 Reliable Contractors.
Plus, our services don't end once your air conditioning unit is running at full speed. We also provide our customers with essential HVAC maintenance tips. These tips will help keep your heating and cooling systems in proper working order.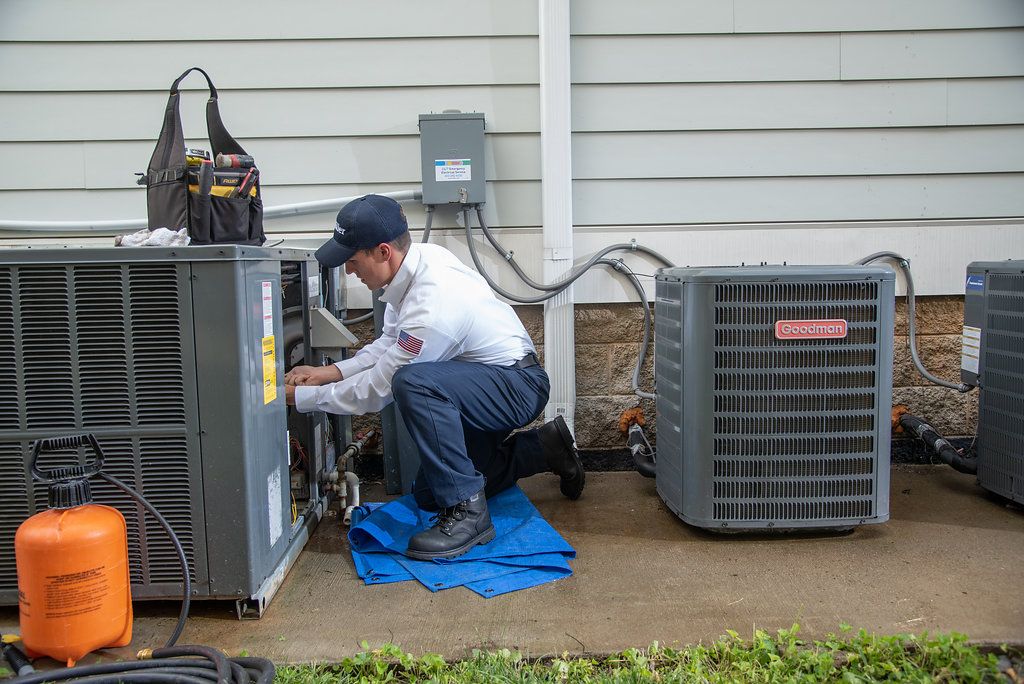 What Sets Us Apart From Other Mt. Juliet Air Conditioner Repair Companies?
Hiller is dedicated to building trust with every customer. We accomplish this through top-notch service that's done right the first time. Additionally, we're always fair and honest, which is why we're proud to promote our True Transparency Pricing model.
We're happy to diagnose your issue free of charge. And unlike other Mt. Juliet AC repair businesses, we never include any hidden charges. Instead, we charge only $199 (plus the cost of parts and materials) for minor HVAC services and $599 (plus the cost of parts and materials) for major HVAC services.
Meanwhile, members of the Happy Hiller Club will enjoy exclusive discounts. This includes 10% off all plumbing, electrical, and AC repair in Mt. Juliet, TN. Plus, you'll get Front-of-the-Line Priority Scheduling, a $100 Annual Replacement Credit Account, and much more.
So next time your HVAC system goes haywire, relax and call Hiller. Our highly trained and certified Mt. Juliet air conditioning repair team will fix it in no time.
Mt. Juliet Plumbing, HVAC & Electrical Services

(615) 292-6110

Mt. Juliet
TN, USA