Your Top Electrical Contractors in Franklin

Happy Hiller stands tall as your preferred Franklin electrical contractors. We are known for trust, reliability, and superior quality. Our residential and commercial electricians cover everything, from being your go-to home ceiling fan installers, to managing complex tasks like electrical panel installation for businesses.
Whether you need a residential electrician or a commercial electrician, rely on Happy Hiller's expertise. We've earned a high-standing reputation for our dedication to quality and customer experience throughout our years of providing reputable electrician service.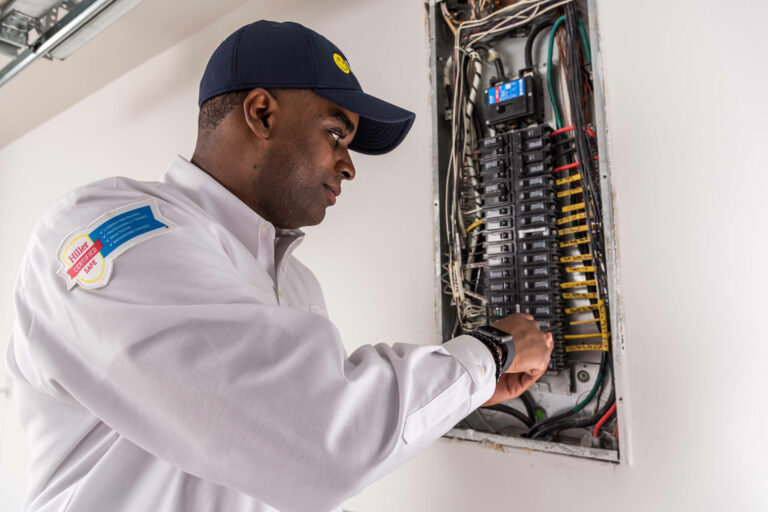 Safe and Transparent Electrical Services

We are THE dedicated electrical contractors in the Franklin area. Our expertise and experience speak for themselves in every service we provide. We prioritize quality, safety, and your satisfaction.
For comprehensive commercial and residential electrical services, like intricate electrical panel upgrades, we maintain our commitment to excellence. Our transparent pricing structure eliminates confusion or hidden costs. With Happy Hiller's electricians, your issues will be solved. Don't just take our word for it, read about 4 things that cause electrical issues and how we address them.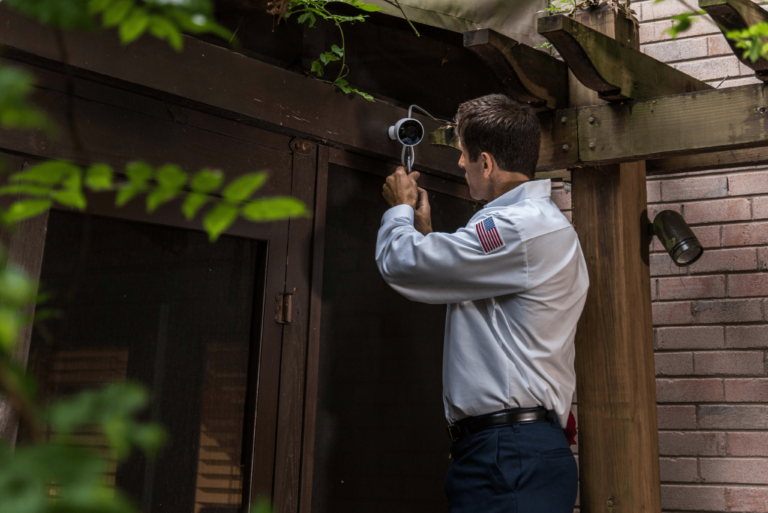 A Wide Range of Efficient Solutions

Happy Hiller' electricians provide comprehensive home and business services to meet your needs. From smoke detector installation to ceiling fan repair, we have you covered. Our skilled electricians handle projects of any size, from small repairs to extensive electrical panel upgrades.
With advanced tools and techniques, we deliver efficient and reliable solutions that last. Stay aware of the warning signs for your system to prevent potential problems.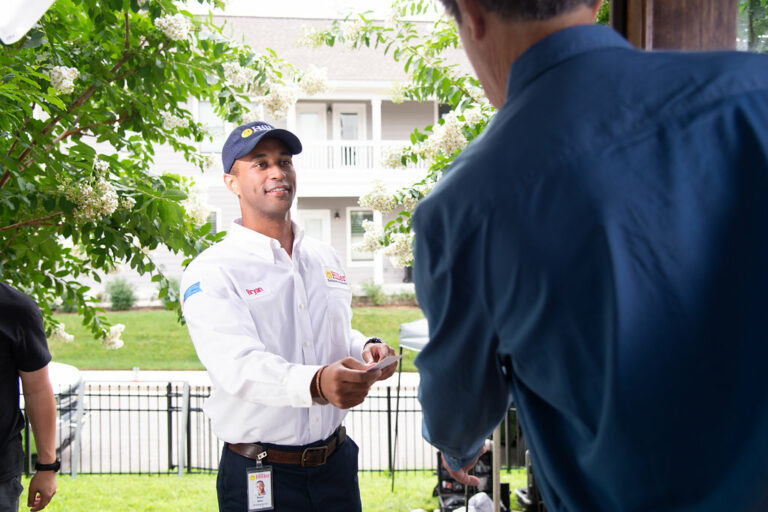 Swift 24-hour Electricians for Any Emergency

When power problems arise, Happy Hiller's electrical contractors are prompt and expert 24-hour electricians.
Our 24-hour electrical service ensures swift and secure resolutions to urgent power problems. From electric panel installation to emergency ceiling fan repair, our electricians troubleshoot efficiently, restoring power and normalcy.
All emergency repairs are carried out by reliable professionals, with transparent pricing and no hidden fees. When facing an electrical emergency, remember to ask yourself: Do you need an emergency electrician? Hiller's 24-hour electricians are here to tackle all those common issues around the clock.
Licensed Professionals Committed to 100% Customer Satisfaction

Hiller's electrical contractors prioritize customer satisfaction. With extensive experience, we offer innovative solutions, like ceiling fan installation and electrical panel installations. Our skilled and licensed electricians prioritize safety with meticulous adherence to a safety checklist.
We provide a wide range of commercial and residential electrical services, ensuring attention to detail and prompt, responsive service. Our electricians' approach is transparent and honest, backed by our promise of "Happy You'll Be or the Service is Free!".

Reliable Residential and Commercial Electricians, One Phone Call Away!

With Happy Hiller's electrical contractors, navigating challenges is made easy. Our fast and efficient commercial and residential electrical services are just a phone call away!
Our reliable and responsive electrical contractors are committed to customer satisfaction. Whether you need an electrical panel upgrade or require expertise in circuit protection, we are here to help.
We serve Franklin with both commercial and residential electrical services, and offer 24-hour electrician assistance for uninterrupted power and safety. We like building lasting relationships based on trust, transparency, and our commitment to your satisfaction.
Call our residential and commercial electricians now to start your journey towards superior solutions with Happy Hiller!
Daily Promotion
Half-Off Transfer Switch with New Whole-Home Generators
Upgrade to a Whole-Home Generator and Receive 50% select items!
Get Promotion
---
Daily Promotion
True Transparency Pricing
Most Home Service Companies Use the Same Pricing Structure. But Not Us.
Get Promotion
What You Need To Know About Our Electrical Services
Yes! As experienced electrical contractors, we offer comprehensive commercial electrical services customized for Franklin businesses. Our skilled commercial electricians handle routine maintenance and intricate installations, ensuring smooth operations for your business.
Safety, efficiency, and customer satisfaction are our priorities, making us the most trusted commercial electricians in Franklin. Contact your local Happy Hiller commercial electrician today for our renowned high-quality and reliable service.
Our 24-hour electrical service presents significant benefits for Franklin residents. With Hiller's 24-hour electricians, expert assistance is always available. Light or dark, our electrical contractors swiftly resolve emergencies within a day, ensuring safety and restoring power. This service is one of many examples of Happy Hiller's commitment to customer satisfaction.
Yes, at Hiller, we go beyond typical electricians. For instance, we specialize in ceiling fan installation services. Our experienced ceiling fan installers ensure secure and energy-efficient setups with meticulous attention to detail.
Our electrical contractors also handle ceiling fan repairs to prolong lifespan and enhance performance. Whether you need a new ceiling fan installation or professional ceiling fan repair, trust Hiller in Franklin for all your fan concerns. We've got you covered!
As your trusted electrical contractors, we emphasize the importance of smoke detectors in Franklin homes and businesses. Smoke detector installation is critical for property and life protection. Professionally installed detectors provide early warning of smoke or fire, allowing for safe evacuation. They are essential in any comprehensive residential service plan.
Choose Hiller's residential or commercial electricians for professional smoke detector installation in Franklin. Remember, safety isn't expensive—it's priceless!
Residential electricians focus on home systems, ensuring safety and functionality for households. Commercial electricians specialize in larger-scale projects, like businesses and offices, addressing complex wiring and power demands. At Happy Hiller, our expert electricians excel in both residential solutions and commercial services, providing tailored solutions for various needs in Franklin.
When hiring a residential electrician in Franklin, TN, consider their expertise, licensing, and experience. Look for reliable professionals like Happy Hiller's electricians, known for their skill, safety practices, and commitment to delivering expert services.
Why Choose Happy Hiller?
Care is Our Core ValueTM
Certified Professional Technicians
Family Owned and Operated Since 1990
Happy You'll Be
Or The Service Is Free™
Welcome to Happy Hiller
Friendly service. Certified Technicians. Your problem, solved.
Happy Hiller is the premier Plumbing, Heating & Cooling and Electric service experts. We proudly serve parts of Tennessee, Kentucky, Alabama and Florida. Whether you need emergency services or preventive maintenance, it's all guaranteed. The best techs. The friendliest service. 100% satisfaction.
Learn More
Ruud
Reliable Top 10
Contractors

Nashville Business
Journal Top 25 Fastest Growing
Private Companies

Nashville Business
Journal Best in Business
Award

Nashville Business
Journal Most Admired CEOs
& Their Companies

Nashville
Business Journal
Fast 50
Happy Hiller Offers Electrical Services 24/7
Electricity failures, more than stressful, can be dangerous, so it is important to fix them as soon as possible. At Happy Hiller we prioritize your safety, that is why we guarantee you that we will reach back to you within 24 hours without exceptions.