Prompt, courteous, knowledgeable, efficient. Called on a Sunday morning and they were on site just a couple hours later. Couldn't ask for better service. J... Read More
Prompt, courteous, knowledgeable, efficient. Called on a Sunday morning and they were on site just a couple hours later. Couldn't ask for better service. Joe took my initial call and was excellent. I received updates via email and text up until the technician arrived. Cody did a great job on site. Great all around! Close
We were very happy with the service provided by Kaylen today. He was extremely professional, polite and knowledgeable. He did a great job, and did high quality ... Read More
We were very happy with the service provided by Kaylen today. He was extremely professional, polite and knowledgeable. He did a great job, and did high quality work. We highly recommend Hiller as a company, and definitely suggest you ask for Kaylen. You will not be disappointed. 5 Stars for sure! Close
Alex was an amazing guy and very professional! He was very clean and cared very much about his work and the job at hand. He was quick but also very thorough! If... Read More
Alex was an amazing guy and very professional! He was very clean and cared very much about his work and the job at hand. He was quick but also very thorough! If I ever have an issue again I will be using Hiller and asking for Alex specifically!! Close
I called Hiller because of a couple of electrical plugs that I was having trouble with and one was lightly smoking on occasions. When I called in the lady I spo... Read More
I called Hiller because of a couple of electrical plugs that I was having trouble with and one was lightly smoking on occasions. When I called in the lady I spoke with was very concerned and very helpful. She got me scheduled immediately. Brian arrived and checked out the outlets and diagnosed the issues fast and promptly. He explained and showed all of the options and pictures to both my wife and I. After we agreed to make the repairs brian got it fixed fast. He left his work area very clean with no issues. Definitely worth 5 stars. We will definitely be using Hiller in the future for all our electrical needs. Thanks again everyone involved. Great job! Close
Cody was our repairman. He was absolutely AWESOME!!! Super polite, very knowledgeable and answered our questions. We received confirmation texts, of when he ... Read More
Cody was our repairman. He was absolutely AWESOME!!! Super polite, very knowledgeable and answered our questions. We received confirmation texts, of when he would be out and when he was on his way. The most amazing customer service ALL AROUND! SUPER IMPRESSED WITH EVERYONE HERE!!!! Close
Hiller is amazing! They always send friendly, knowledgeable techs. They take the time to explain everything and make sure we understand all our options. We turn... Read More
Hiller is amazing! They always send friendly, knowledgeable techs. They take the time to explain everything and make sure we understand all our options. We turned to Hiller after choosing the "other guys" first because they were cheaper and that was a huge mistake! Fortunately we called Hiller to help and they have made everything right and we are Hiller customers for life! Close
Cody did a great job installing a new shower valve in the master shower. I usually do things myself but in this case was a little over my head. He was respectfu... Read More
Cody did a great job installing a new shower valve in the master shower. I usually do things myself but in this case was a little over my head. He was respectful of the property and always wore boot covers while inside. I wouldn't hesitate to call them the next time I get in over my head. Great job. Close
Austin showed up on time with a smile. He was very friendly and courteous. We will definitely use Hiller again. Update 8-12-22 Today Weston & Cade(may be spell... Read More
Austin showed up on time with a smile. He was very friendly and courteous. We will definitely use Hiller again. Update 8-12-22 Today Weston & Cade(may be spelled wrong) upgraded/replaced our circuit breaker. They were amazing, friendly and time conscious with the heat. Still happy with Hiller and will continue to use them. Close
1. I had my whole home repiped by Hiller recently. Johnathan, the project manager, is always a good guy to work with. Chris and Cameron were the techs who did t... Read More
1. I had my whole home repiped by Hiller recently. Johnathan, the project manager, is always a good guy to work with. Chris and Cameron were the techs who did the install and they were fantastic. 2. I have also had general service calls with a few of their guys. They all are great. Alex was particularly awesome. Close
Connor came out and did a thorough inspection of our unit, as well as explained everything to us in detail that he looked at. We thought something was wrong, si... Read More
Connor came out and did a thorough inspection of our unit, as well as explained everything to us in detail that he looked at. We thought something was wrong, since the thermostat didn't seem to be cooling properly at times, but after inspection, he assured us he couldn't find anything wrong. He also went over the remainder of our warranty information for our unit, and helped us understand what to keep an eye on. If we could, we'd have him as our primary technician! He was fantastic, very professional, and had an excellent personality! Close
These guys are awesome! They came out after hours and made sure my house was safe for the night. Came back the next day and worked ALL day to get my electricity... Read More
These guys are awesome! They came out after hours and made sure my house was safe for the night. Came back the next day and worked ALL day to get my electricity back on. Courteous, answered all my questions and just genuinely good guys. Extra special mention to Ryan, Hayden, and Cory. These guys are amazing. Will definitely call again for any other needs. Close
These guys are awesome! They came out after hours and made sure my house was safe for the night. Came back the next day and worked ALL day to get my electricity... Read More
These guys are awesome! They came out after hours and made sure my house was safe for the night. Came back the next day and worked ALL day to get my electricity back on. Courteous, answered all my questions and just genuinely good guys. Extra special mention to Ryan, Hayden, and Cody. These guys are amazing. Will definitely call again for any other needs. Close
My experience with Connor was great he did such an amazing job and explaining what his work was going to consist of and the importance of what he was doing I fe... Read More
My experience with Connor was great he did such an amazing job and explaining what his work was going to consist of and the importance of what he was doing I felt so comfortable talking with him answering all of my nervous questions his personality was over the top he understood what I was trying to explain. I greatly appreciate his time and energy that it took to fix what the issue was. I would most definitely recommend him anytime and I will be calling on him whenever it comes a need. Close
We had a water filtration system installed on our house. Hiller was highly recommended. They were quick to come out. Super friendly and informative. Great exper... Read More
We had a water filtration system installed on our house. Hiller was highly recommended. They were quick to come out. Super friendly and informative. Great experience and product! Close
Whole house re-plumb & water filtration/softener system. Excellent from beginning to end. Technicians were professional, knowledgeable, super helpful, thorough ... Read More
Whole house re-plumb & water filtration/softener system. Excellent from beginning to end. Technicians were professional, knowledgeable, super helpful, thorough & respectful. Will ONLY use Hiller for any future needs. A++++Cody has been out for a few additional needs & is always respectful, friendly & knowledgeable. Hiller is the best & I refer them to all my friends. Close
Yesterday we called and left a message with a company who did our original thermostat install, and they never called back. The receptionist at Hiller was very ... Read More
Yesterday we called and left a message with a company who did our original thermostat install, and they never called back. The receptionist at Hiller was very professional, friendly, and understood our unique scheduling needs. Jordan came to install and let us know before he came. Very helpful and arrived on time. He explained it very thoroughly-even showing us how to save money on our heating/cooling needs for our particular home. We will definitely call Hiller again! Close
Bill with Hiller plumbing came out and helped us take care of a few different things in our home! He called early and offered to stop by before our scheduled ti... Read More
Bill with Hiller plumbing came out and helped us take care of a few different things in our home! He called early and offered to stop by before our scheduled time if we were ready. He was super professional and friendly as I walked him through what needed to be fixed! He went above and beyond and was super efficient with his time. We will definitely be using them again! Close
Bryan and Ryan were my technicians today. I needed an existing ceiling fan removed, and a new chandelier put in its place. Also, one of my outlets wasn't work... Read More
Bryan and Ryan were my technicians today. I needed an existing ceiling fan removed, and a new chandelier put in its place. Also, one of my outlets wasn't working and I needed it repaired. Both men were very professional, knowledgeable and pleasant the whole time they were at my home. They installed the light and fixed the outlet, they explained the process to me, cleaned up after themselves, and delivered an overall, pleasant and successful experience. I will be using Hiller for all my plumbing and electrical needs in the future. I highly recommend. Close
I had called multiple local plumbers that said it would be a week or two before they could come check out a leak I had behind my water heater. I called Hiller a... Read More
I had called multiple local plumbers that said it would be a week or two before they could come check out a leak I had behind my water heater. I called Hiller and they had someone come out the next day. He was very knowledgeable about what to do and the best way to fix it. He was thorough about what it would cost, which was about the range I expected it to be- fair priced. He got the work done quickly and cleaned up after himself. Very polite and professional as well. I was very pleased. Close
Mitchell was wonderful. I wasn't completely sure my heat pump was working properly. He did a thorough analysis and explained the system habits in detail. Help... Read More
Mitchell was wonderful. I wasn't completely sure my heat pump was working properly. He did a thorough analysis and explained the system habits in detail. Helped me with some custom thermostat programming while he was here as well. Very professional and thorough. Always happy with Hiller! Close
On time. Good assessment of the situation. Fair price for good work. They did the work quickly and professionally. Suggest to sign-up for the Happy Hiller Club ... Read More
On time. Good assessment of the situation. Fair price for good work. They did the work quickly and professionally. Suggest to sign-up for the Happy Hiller Club to get regular check-ups on your HVAC units. Highly recommend Hiller! Close
We've used Hiller for a ton of work at our new property...everything from lighting, AC/Heat, water heater, etc. and they did a fantastic job, particularly Bobby... Read More
We've used Hiller for a ton of work at our new property...everything from lighting, AC/Heat, water heater, etc. and they did a fantastic job, particularly Bobby the electrician who was able to install an awesome outdoor light system built into trees. We live in a forest and at night it was basically black outside and now our front property area and back property are all lit up beautifully. They even got us a street light by our front gate entrance as well being in the process of installing an automatic gate opener. All of it was pricey, but I don't mind paying for quality, licensed technicians, having a warranty on the work and peace of mind knowing it was done right. Close
Water was leaking out of our water service box at the road. I decided to call Hiller. It was late morning when I called, the lady on the phone fit us in for an ... Read More
Water was leaking out of our water service box at the road. I decided to call Hiller. It was late morning when I called, the lady on the phone fit us in for an appointment. The technician Robert actually was several hours early. I was quoted 2 prices, one with them digging it out, one with us digging it out. To save money this close to Christmas, we decided to dig. We scheduled a second appointment for him to return, which gave me time to dig. Monday morning, I get a phone call and a text, saying he's on his way, early into my 10:00-12:00 window. He gets there and within an hour or so, we have water again. I would highly recommend them. Everyone I dealt with was really nice, and very professional. We will definitely use them again Close
I contacted Hiller on a Sunday evening With AC issues. They were able to get me a service technician out early the following morning by the name Corey. He not o... Read More
I contacted Hiller on a Sunday evening With AC issues. They were able to get me a service technician out early the following morning by the name Corey. He not only got me fixed up he was able to give me a rundown on the condition of my entire system and explain to me what it would be like to replace it. He was very courteous and professional and a pleasure to talk to. I'm happy I called them and would definitely recommend them to friends and family. Close
Electrical Services in Columbia, TN
Electricity is the backbone for many of our modern conveniences. It helps us heat and cool our homes, cook our food, and enjoy all kinds of leisure activities around the home. For businesses, electricity is usually vital for keeping all kinds of important equipment running and connected. Despite how widespread our reliance on electricity is, not many people know how to handle it, so when something goes wrong with your electrical system, it's time to rely on the professionals.
In terms of both safety and craftsmanship, working with the Columbia electrical team from Hiller is an ideal way to handle any repairs, maintenance, or updates for your electrical system. We employ expert, licensed electricians with years of experience that know how to safely and effectively assess and resolve any issue you might be facing.

Columbia Commercial Electrician Services
We understand that your business has many needs when it comes to electricity, and we also know that if something goes wrong, it can drastically impact your workday, productivity and even revenue. That's why we're proud to offer a variety of commercial services to the Columbia area.
Hiller is here for you with whatever wiring, lighting or other electrical needs you may have. From elevator repair to just installing some new exterior lighting, we are dedicated to providing you with fast and friendly service that you can trust. 
We know that your time is valuable, that's why we're never late. You pick a time and we'll be there so you can get back to work, and whatever issue arises can get solved as fast as possible to not disrupt your day any further. 
Columbia Residential Electrician Services
Hiller offers a wide variety of electrical services to the Columbia area because we want to be the ones you call when you're in need of electrical service instead of doing it yourself. DIY'ing your electrical issues or installation is  a recipe for disaster, and can cause harm to your home, your applicanances or even yourself or a family member. 
Whether you're wanting to upgrade the technology in your home with a new smart device like a doorbell camera or home security system, or just want to install dimmer lights in your house or exterior lights for your patio, Hiller has got you covered and will be there at whatever time you choose to install or repair your devices quickly. 
Resolve Electrical Safety Concerns
While all the services we offer have their own complexities, electrical work is often the least DIY friendly. Not only is there the safety concern of handling the different electrical currents and wires that run all throughout your home, but electrical systems tend to be more tightly interwoven than other parts of your home or business. 
Flipping breakers or cutting the wrong wire might cause issues all the way on the other side of the house, and understanding which types of fixtures work with which kinds of wires and so on can take years of experience to fully understand.
Our team at Hiller puts safety first for any and all electrical jobs we handle. Don't run the risk of overloading your new appliance or sparking wires, and don't risk your health handling dangerous currents. Alert our professional electricians to any concerns you have as soon as they come up. Qualified electricians in Columbia will be able to assess your situation and provide a number of solutions or resolve the issue for you around the clock.
Ensure Your System Meets Your Electricity Needs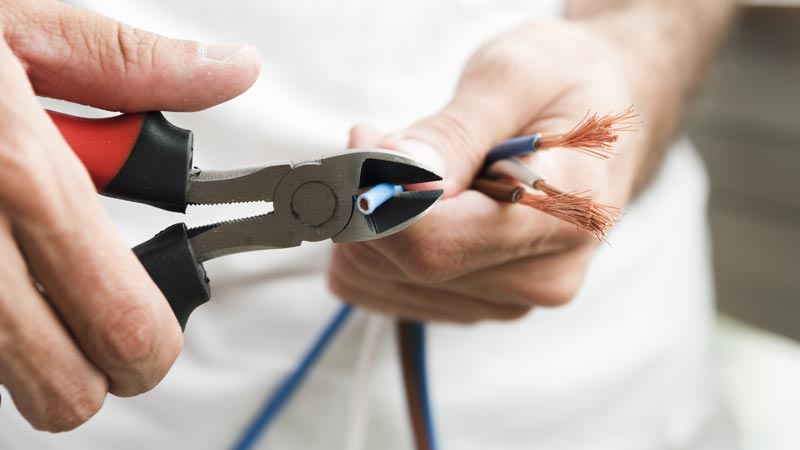 Even in gas-powered homes, a good deal of our appliances and energy come from electrical systems. With so much of our house tied into the same grid, it's not unusual to have times where bad wiring, overloaded breakers, or other issues can cause a dip in efficiency. That usually means a much higher energy bill or lights flickering, and in extreme cases, overloaded systems shutting down and blown fuses.

When you notice anything electrical acting up in your house, it's time to give Hiller's Columbia electricians a call. With a team of professional electricians on hand to help repair or upgrade your electrical systems, we can help ensure that you're getting the most out of your home or business. 
Don't let system strain and bad wiring keep you from enjoying the full extent of your residence. Whether you're looking for a few extra outlets or an entire overhaul for an outdated wiring system, we're here to help. Keep your lights on and your electronics running when you need them most with Hiller's professional electrical repair services.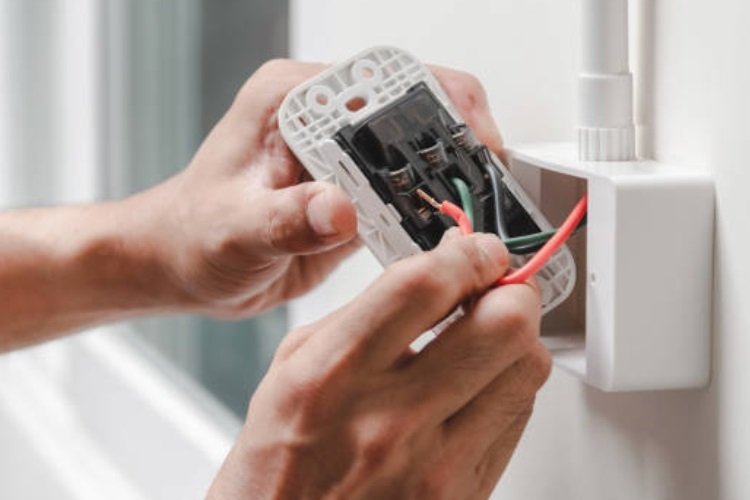 Electrical Repairs or Replacement
For those looking to remodel or add on to their home, our team of licensed electricians can help you plan, replace outdated electrical components, and install new fixtures or wiring across a flexible range of scenarios. If you're looking for clean, high-quality electrical installations or upgrades, we've got you covered. Hiller's team takes every precaution necessary to ensure that your new electrical system is installed according to all relevant building codes and safety standards.

The Columbia electrical team at Hiller can help you every step of the way. Years of experience and licensed, on the job training means that each of our electricians is equipped to explain, install, repair, and maintain any electrical component you might need for your home or business.

Again, don't risk your safety, and don't make expensive mistakes trying to handle the electricity that runs through your home. We understand that the last thing anyone wants is to come home to lights out or find your restaurant's freezer with no power, but safety and getting the job done right come before anything else.
Contact the Hiller Electrical Team Today
Make things simple and call Hiller whenever there's electrical work to be done. With 24/7 availability, we can get you set up with an appointment or dispatch an emergency repair service whenever you need it. Rely on us for fast, quality support and high-quality electrical services from licensed electricians.
Columbia Plumbing, HVAC & Electrical Services

(931) 381-2413

2555 Pulaski Hwy
Columbia, TN 38401
Other Columbia Plumbing, HVAC & Electrical Services