Don't Struggle Anymore: We Have A Top Electrician Coming Your Way!

Cleveland, we've got you covered! Happy Hiller is here to solve all your electrical troubles with our trusted services. As your go-to electrical contractors, we take pride in delivering the best solutions for both regular and emergency electrician needs. Whether it's electrical panel installation or urgent commercial rewiring, we've got you covered.
Our licensed electricians are experienced professionals who bring top-tier expertise right to your doorstep. Your peace of mind is our priority. With Happy Hiller, you're not just getting an electrical service. You're choosing unwavering quality, dedication to your satisfaction, and the ultimate convenience.
Don't wait any longer—resolve your electrical issues today with Happy Hiller, Cleveland's trusted source for licensed electricians.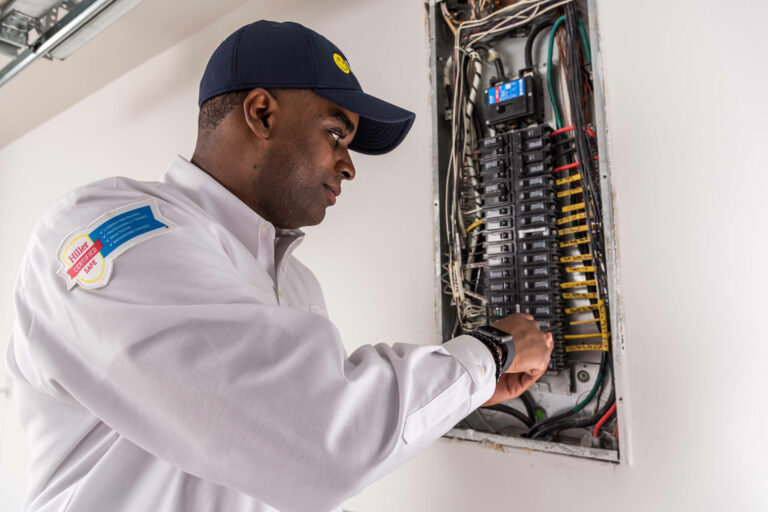 Your Go-to Residential Electrician Services

As your trusted residential electricians in Cleveland, Happy Hiller offers a wide range of electrical services. From ceiling fan installation and ceiling fan repair, to comprehensive lighting installation and rewiring projects, we have you covered. Our expertise also extends to electrical panel installation, upgrades, and swift electrical repairs.
Our electrical contractors are highly skilled professionals who approach the most complex lighting installation or ceiling fan replacement projects with meticulous precision and a strong emphasis on safety. We prioritize efficiency and provide personalized service, ensuring tailored solutions for every homeowner.
Need a reliable emergency electrician for your home? Choose Happy Hiller. We are dedicated to illuminating your homes with our exceptional electrical services!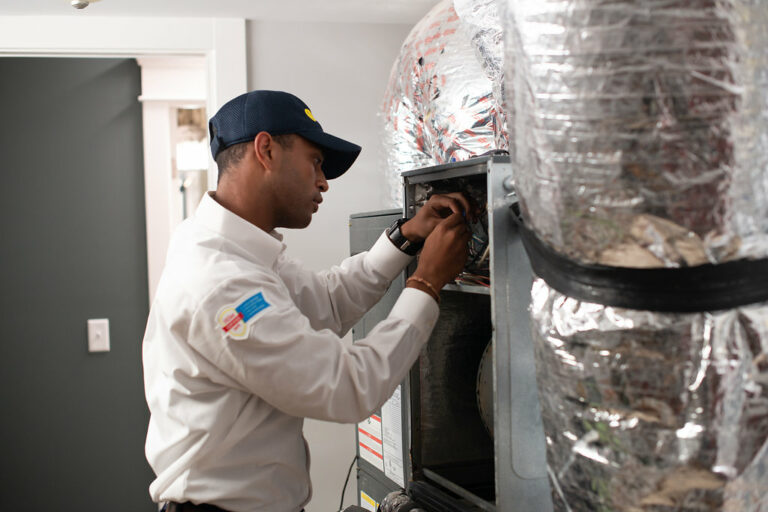 Reliable Commercial Electrical Contractors
Happy Hiller's commercial electrical contractors are experts in handling all your commercial electrician service needs. With extensive knowledge in electrical system design, we excel at executing complex projects such as commercial rewiring services. We're also skilled in performing timely power-ups, including electrical panel upgrades for your business.
As experienced commercial electricians, we understand the importance of keeping your operations running smoothly with minimal downtime. We are committed to energy efficiency and compliance, meeting the high standards expected of businesses in Cleveland. Our goal is to create a safe and efficient electrical environment for your establishments, delivering exceptional service that exceeds expectations.
Whether you require commercial rewiring, or a service involving multiple lighting installations, or an emergency electrician for electrical repairs in your office, you can count on Happy Hiller to provide comprehensive solutions!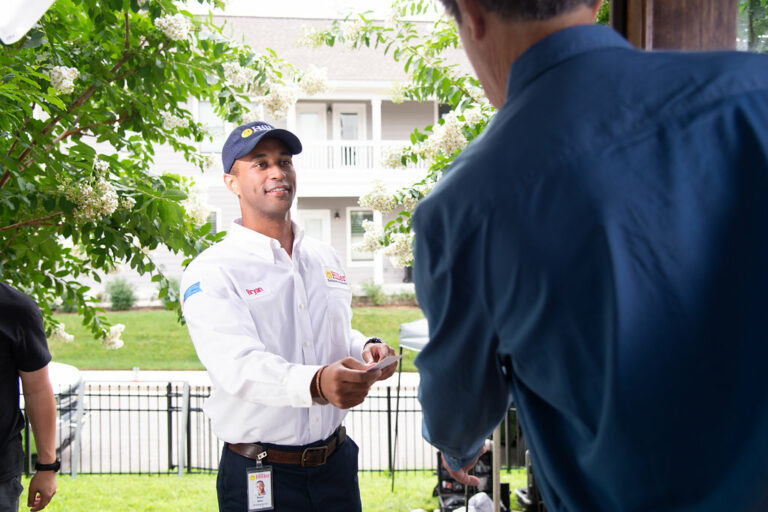 24/7 Electricians Ready to Assist You
When it comes to urgent electrical repairs, Happy Hiller is your reliable 24/7 emergency electrician service in Cleveland.
Safety is our top priority. Whether it's ceiling fan repair, electrical panel installation, or commercial rewiring, our services strictly adhere to industry safety standards, ensuring a secure electrical system.
Our 24/7 electricians are not only available round-the-clock, but they are also punctual, arriving on time with the right tools and extensive knowledge to efficiently address your electrical issues. From electrical panel replacement to ceiling fan repair, our emergency electricians prioritize getting the job done right within the agreed timeframe, minimizing any disruption to your routine.
What sets us apart is our satisfaction guarantee. We not only provide top-notch electrician services but also offer peace of mind. For years, our guarantee has made customers happy, establishing us as the trusted emergency electrician service in Cleveland for electrical panel replacement, home rewiring, and all other electrical repair needs.
Remember, if you require electrical services in and around Tennessee, just give us a call!
Ceiling Fans & Electrical Panels Installation

Happy Hiller offers essential solutions to enhance the comfort and safety of your Cleveland home. From ceiling fan installations to electrical panel replacements, we excel at a wide range of services.
Our ceiling fan installation process ensures optimal airflow, improving energy efficiency and comfort in your home. However, it's important to keep in mind that ceiling fans have a lifespan that depends on usage and maintenance. If you notice wobbling, noise, or inadequate cooling, it may be time for a ceiling fan replacement.
In addition, our top electricians specialize in electrical panel installations. An updated panel can safely handle the power demands of modern homes, reducing the risk of electrical fires. If you experience flickering lights or frequent circuit breaker trips, it's worth considering an electrical panel replacement.
With our 24/7 electrician services, we provide professional, caring, and efficient solutions to maintain the comfort and safety of your home throughout the year!
Cleveland's Most Trusted Electrical Contractors
At Happy Hiller, we provide the best electrical services in Cleveland. As licensed electricians with years of experience, we offer reliable and efficient solutions for residential and commercial projects. From home electrical panel upgrades to commercial rewiring services, we've got you covered!
We value the uniqueness of each project and listen carefully to your requirements. Our goal is to provide personalized, precise, and pragmatic solutions that meet your needs.
Safety is our top priority. As the trusted residential and commercial electrician services in Cleveland, we strictly adhere to industry standards. Our top electricians are prompt and respect your time. Equipped with the right tools and knowledge, they complete projects efficiently, whether it's a ceiling fan replacement or any electrical repair.
Customer satisfaction is at the heart of our services. We offer friendly and attentive service, addressing your queries promptly. Our aim is to provide a hassle-free experience from start to finish!
Daily Promotion
Enjoy Half-Off Select Items with New Select HVAC Systems
Upgrade to Select New HVAC Systems and enjoy 50% off select items on us!
Get Promotion
---
Daily Promotion
True Transparency Pricing
Most Home Service Companies Use the Same Pricing Structure. But Not Us.
Get Promotion
Everything You Need To Know About Our Electrical Services
Both! At Happy Hiller, we offer both residential and commercial electrician services in Cleveland. Our team of 24/7 electricians is skilled in a wide range of tasks, from ceiling fan installation and electrical panel upgrades for homes, to complex electrical system designs and maintenance, as part of our commercial electrician services.
We understand that every project is unique, which is why we tailor our approach to meet your specific needs. Safety, efficiency, and customer satisfaction are always our top priorities. Whether you're a homeowner in need of electrical repairs or a business in search of comprehensive commercial electrician services, Happy Hiller is the go-to electrical contractor you can rely on.
Absolutely! Happy Hiller is here to deliver top-notch ceiling fan repair services in Cleveland. Our licensed electricians have the expertise to diagnose and resolve various fan-related issues, ensuring your comfort and safety. Whether it's a minor adjustment or a major repair, we've got the skills to get the job done right.
We approach each repair service with professionalism and care, maximizing the lifespan and performance of your ceiling fan. If our experts determine that ceiling fan replacement is a better option for your specific situation, they will provide you with honest advice. Choosing Happy Hiller means choosing peace of mind and satisfaction. Trust us for all your electrical repair needs!
Yes! Happy Hiller is your go-to for professional lighting installation services. Our licensed electricians have the expertise to handle a wide range of lighting projects, from elegant chandeliers to durable outdoor lighting. We know the importance of lighting in creating an inviting and functional space, and we strive to deliver installations that enhance your home or business.
With Happy Hiller, you can expect a seamless and satisfying experience. Our team works diligently to ensure that your lighting fixtures are installed with precision and attention to detail. We also prioritize energy-efficient solutions to help you save on electricity costs. When it comes to lighting installation in Cleveland, you can trust Happy Hiller for top-quality service.
Certainly! Safety is our top priority at Happy Hiller, and we are committed to providing thorough electrical safety inspections for properties in Cleveland. Our 24/7 electricians will conduct a meticulous assessment of your electrical system. With our comprehensive knowledge and expertise, we identify potential issues, ensure compliance with safety standards, and offer recommendations for necessary improvements, such as electrical panel upgrades.
Whether you need the expertise of our residential electricians or commercial electrical contractors, choosing Happy Hiller means you are prioritizing safety, peace of mind, and quality.
Rewiring is essential for properties in Cleveland under certain circumstances. If your property is over 40 years old or if you heavily rely on extension cords for power, it may indicate that the electrical system is outdated and may not meet the demands of modern appliances. Additionally, if your home has ungrounded, two-prong outlets, it's a clear sign of an obsolete electrical system.
At Happy Hiller, our licensed electricians are experienced in assessing and providing customized rewiring solutions for your property. We prioritize safety and efficiency, ensuring that your electrical system meets current standards.
Why Choose Happy Hiller?
Care is Our Core ValueTM
Certified Professional Technicians
Family Owned and Operated Since 1990
Happy You'll Be
Or The Service Is Free™
Welcome to Happy Hiller
Friendly service. Certified Technicians. Your problem, solved.
Happy Hiller is the premier Plumbing, Heating & Cooling and Electric service experts. We proudly serve parts of Tennessee, Kentucky and Alabama. Whether you need emergency services or preventive maintenance, it's all guaranteed. The best techs. The friendliest service. 100% satisfaction.
Learn More
Ruud
Reliable Top 10
Contractors

Nashville Business
Journal Top 25 Fastest Growing
Private Companies

Nashville Business
Journal Best in Business
Award

Nashville Business
Journal Most Admired CEOs
& Their Companies

Nashville
Business Journal
Fast 50
Happy Hiller Offers Electrical Services 24/7
You don't have to deal with stressful, or even unsafe, electrical damages; one of our 24/7 electricians is coming your way, no matter the time or the day of the week.