Expert Plumbing Services in Brentwood

Welcome to Happy Hiller! We provide comprehensive 24-hour plumbing services in Brentwood, including garbage disposal installation, sink repair, and toilet replacement.
Our experienced emergency plumbers prioritize your plumbing system to prevent main plumbing problems that may lead to sewer repairs or new toilet installation. Also, count on us for exceptional sink installation and pipe replacement!
Don't think twice, choose Happy Hiller as your reliable emergency plumber for expert residential and commercial plumbing repair, installation, and maintenance. Here, quality and transparency are guaranteed!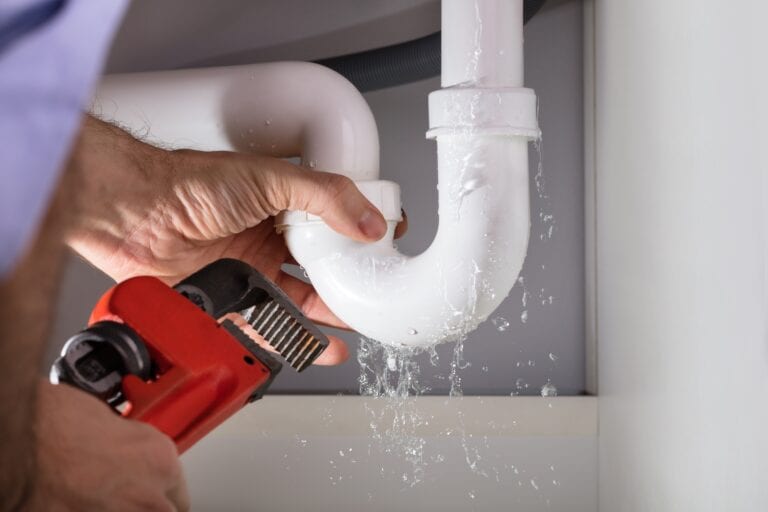 Why Choose Hiller as Your Trusted Plumbing Company?

Indeed, why choose us as your trusted emergency plumbing company? Because our experienced residential and commercial plumbers elevate your experience from just a service call to a partnership.
We're more than 24-hour emergency plumbers; we're your neighbors dedicated to safeguarding your property from constant sewer repairs or toilet replacements. It doesn't matter if you need late night garbage disposal repair or weekend toilet installation, our 24/7 customer support and emergency plumbing services ensure help is just a call away.
We offer punctual and transparent plumbing repair and plumbing maintenance service. All our 24-hour plumbing services come with a satisfaction guarantee. With Hiller, understanding your home's plumbing system is a straightforward affair.
Trust our knowledgeable residential and commercial plumbers for the most complex solutions, like trenchless sewer line installation, and a wide range of plumbing services in Brentwood!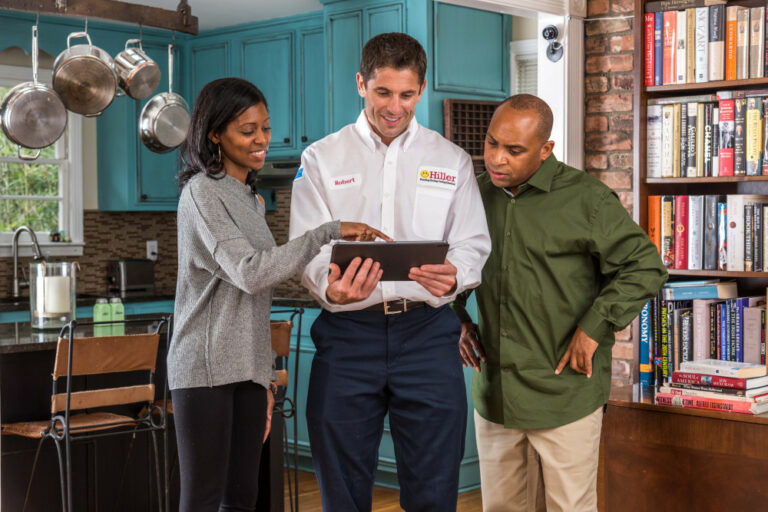 Your Plumbing Solutions for Residential Properties
Happy Hiller's regular and emergency plumbers are here for all your residential plumbing needs. From sink repair to toilet installations, we've got you covered. Our experienced 24-hour plumbers provide reliable home plumbing services to ensure your comfort and peace of mind.
We excel in understanding common sink repair issues and offering prompt solutions. Our services also include preventive plumbing maintenance services to keep your system in top shape.
Whether it's a small plumbing repair or a comprehensive residential plumbing service, such as toilet replacements, we maintain high standards of professionalism and quality. Trust Happy Hiller for your residential plumbing needs today!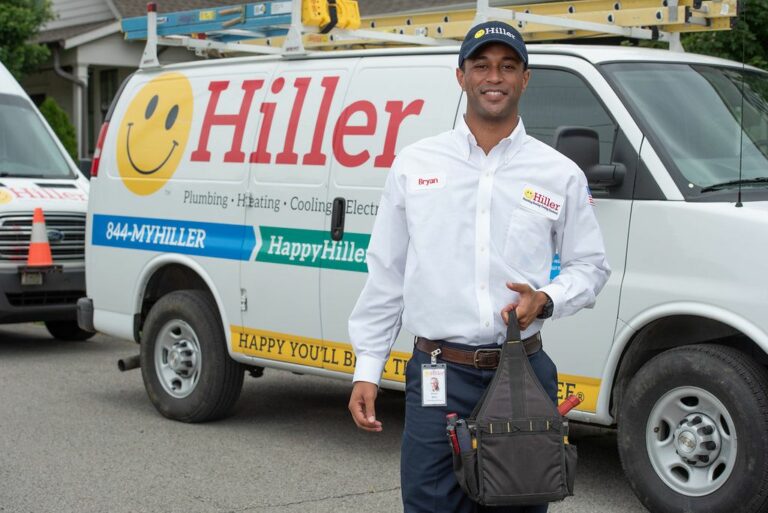 Commercial Plumbing Services Made Simple
Commercial plumbing can be challenging, but Happy Hiller simplifies it in Brentwood. We are adept at catering to the unique needs of our clients, offering a suite of commercial plumbing services designed to ensure the smooth operation of businesses.
Our skilled 24-hour plumbers deliver efficient and reliable service for complex installations and regular plumbing maintenance service. We are versed in everything commercial plumbing, helping your business stay compliant, efficient, and hassle-free.
Additionally, to optimize your workplace and make those plumbing maintenance services count, you can follow our useful bathroom plumbing tips to avoid frequent sink repair or toilet replacements.
Trust Happy Hiller for all your commercial plumbing. Here, professionalism meets unbeatable customer care!
Swift and Reliable 24-Hour Plumber Services

Plumbing mishaps don't always adhere to regular business hours. That's why Happy Hiller is your reliable 24-hour plumber service, ready to respond to emergency plumbing situations promptly. Whether you need late-night sink repair or urgent toilet installation or replacement for your commercial property, we are available round-the-clock to mitigate plumbing emergencies.
Our team of skilled 24-hour emergency plumbers swiftly diagnose and resolve complex plumbing issues, using advanced equipment to prevent further damage. At Hiller, we prioritize your safety and peace of mind, ensuring that every emergency plumbing repair is handled with professionalism.
For a comprehensive guide on what calls for emergency plumbing, explore our resources. Trust Happy Hiller for reliable and effective 24-hour plumbing service in Brentwood.

A Wide Range of Professional Plumber Solutions in Brentwood

Residents of Brentwood can rely on Happy Hiller's professional residential and commercial plumbers from our reputable plumbing company. We handle everything from simple tasks like fixing clogged toilets to complex projects such as trenchless sewer line installations and comprehensive pipe replacements.
Our 24-hour plumbing services include sink installation and repair, toilet replacement, and garbage disposal installation and repair. When it comes to sewer repair, we prioritize precision and efficiency to meet the unique needs of Brentwood homes and businesses.
If you're ready to upgrade your bathroom, our toilet installation and replacement services ensure attention to detail and adherence to industry standards. For emergencies, we offer immediate solutions to minimize damage and restore functionality.
Trust Happy Hiller as your reliable partner in maintaining the integrity of your property's plumbing system. Don't hesitate to reach out when faced with any plumbing concern!
Daily Promotion
True Transparency Pricing
Most Home Service Companies Use the Same Pricing Structure. But Not Us.
Get Promotion
---
Daily Promotion
50% Off Water Descaler with Purchase of a Whole-Home Water System
Purchase a Whole-Home Water Filtration & get a Descaler System for HALF OFF on us!
Get Promotion
About Our Plumbers in Brentwood
Absolutely! Happy Hiller is a trustworthy plumbing company with a team of residential and commercial plumbers who excel at sink installation and repair. Whether it's a small home sink or a large commercial basin, we provide meticulous service to ensure a smooth and functioning plumbing system.
Count on Happy Hiller for exceptional commercial and residential plumbing services in Brentwood. We are here to help with all your sink needs!
For garbage disposal repair, don't ignore unusual noises, frequent resets, unexplained jams, power failures, persistent smells, or sluggish performance. During kitchen renovations, upgrading the disposal is worth considering. If there are leaks, a replacement may be necessary.
Call us at Happy Hiller, your trusted plumbing company in Brentwood, for expert garbage disposal installation and repair services to promptly address these issues.
The pipe replacement duration depends on property size and job specifics. In Brentwood, it can take a couple of days to a week. Smaller residences may take two days, while larger commercial spaces may take a week. Your expert residential and commercial plumbers at Happy Hiller can make the process efficient, reducing downtime and disruption. It's key to enlist reliable plumbing services for a neat and timely pipe replacement.
Absolutely! Hiller provides transparent and caring services to the Brentwood community. For significant projects such as pipe replacement or sink installation projects, we're more than happy to offer free estimates. We know the importance of upfront cost clarity for our customers.
Our reliable and professional home plumbing services aim to make decision-making stress-free. So, whether it's a residential project or a commercial endeavor, don't hesitate to reach out to Happy Hiller for your free estimate today!
Why Choose Happy Hiller?
Care is Our Core ValueTM
Certified Professional Technicians
Family Owned and Operated Since 1990
Happy You'll Be
Or The Service Is Free™
Welcome to Happy Hiller
Friendly service. Certified Technicians. Your problem, solved.
Happy Hiller is the premier Plumbing, Heating & Cooling and Electric service experts. We proudly serve parts of Tennessee, Kentucky and Alabama. Whether you need emergency services or preventive maintenance, it's all guaranteed. The best techs. The friendliest service. 100% satisfaction.
Learn More
Ruud
Reliable Top 10
Contractors

Nashville Business
Journal Top 25 Fastest Growing
Private Companies

Nashville Business
Journal Best in Business
Award

Nashville Business
Journal Most Admired CEOs
& Their Companies

Nashville
Business Journal
Fast 50
Happy Hiller Offers 24-hour Emergency Plumber Services
Happy Hiller is the to-go emergency plumbing repair service in the Brentwood area. Don't hesitate, try the Hiller experience yourself!