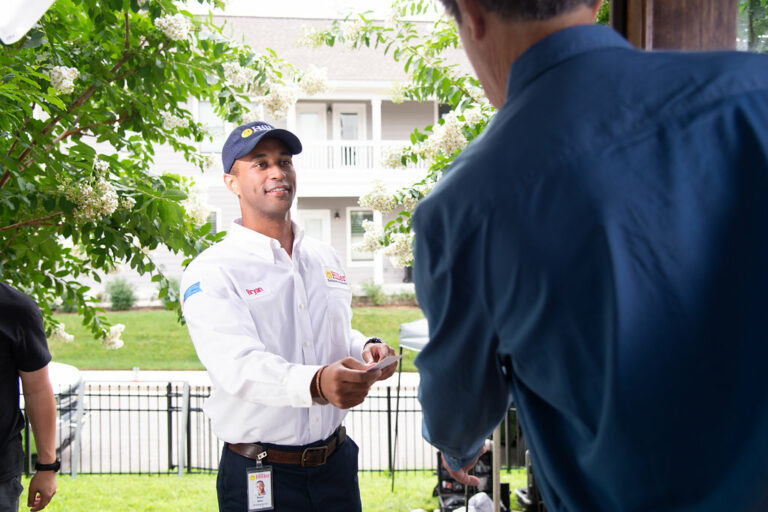 Brentwood's Specialists in All Air Conditioning Services
At Happy Hiller, our specialization goes beyond mere AC repair; we are indeed Brentwood's specialists in all air conditioning services. As you begin your journey with us, we strive to create an experience marked by integrity, exceeding expectations, and a comprehensive approach to air conditioning service.
We know how essential air quality is to your home. Rest assured, your air conditioner is in safe hands with Happy Hiller, where we prioritize both the well-being of our customers and the efficacy of their AC system.
Our uniqueness lies in our pricing model, a refreshing contrast to industry norms. Happy Hiller's True Transparency Pricing ensures no unpleasant surprises – a boon when you require professional air conditioning repair or an AC service. With us, you'll always understand what you're paying for and why.
With Happy Hiller, you don't merely get a repair service; you partner with a provider that genuinely cares about your comfort. By offering itemized costs and discounts on additional tasks, we ensure you receive a comprehensive, affordable, and efficient solution.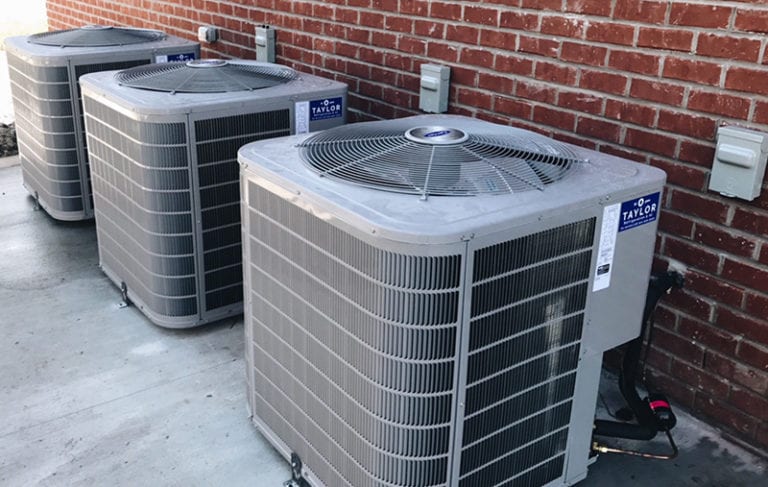 Unparalleled AC Repair Services by Expert Technicians
At Happy Hiller, the professionals who perform your AC service are not just experts, but masters of their craft. Adhering to the highest standards, they display profound knowledge and professionalism, reflected in their exceptional air conditioning repair capabilities.
They are meticulously selected, background-checked, and rigorously trained, guaranteeing you interact with individuals worthy of your trust. Arriving in fully stocked trucks with direct access to a well-stocked warehouse, they come prepared to keep your AC system running at its peak.
Respect for your home is a non-negotiable at Happy Hiller. Technicians wear shoe covers and ensure your home stays as clean, if not cleaner than when they arrived. But we don't stop at tidy; we aim for true happiness. You will receive friendly customer service and premier air conditioning service.
With Happy Hiller, if a repair fails in its first two years under normal use, we fix or replace it free of charge. As we like to call it: Happy You'll Be or the Service is Free!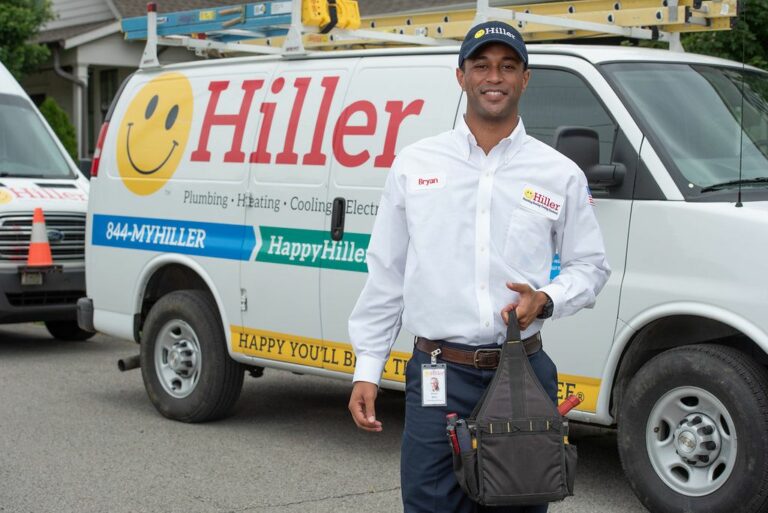 Common Air Conditioning Issues
Inadequate cooling, unexpected noises, reduced airflow, and thermostat glitches are a few signs that your AC service is due. Air conditioning systems in Brentwood can occasionally succumb to common challenges, such as:
Refrigerant leaks: A widespread problem that leads to underperformance, or worse, overcharging, which can harm the environment.
Neglect of adequate upkeep: This can cause premature failure of the compressor or fans.
Electrical control failures: They are common in oversized systems that frequently switch on and off, and could lead to malfunctioning compressors and fans.
Displaced thermostat sensor: This can induce erratic behavior or constant cycling of the air conditioner.
Happy Hiller possesses the skills to diagnose these prevalent issues and deliver effective solutions, ensuring your air conditioning repair needs are met promptly.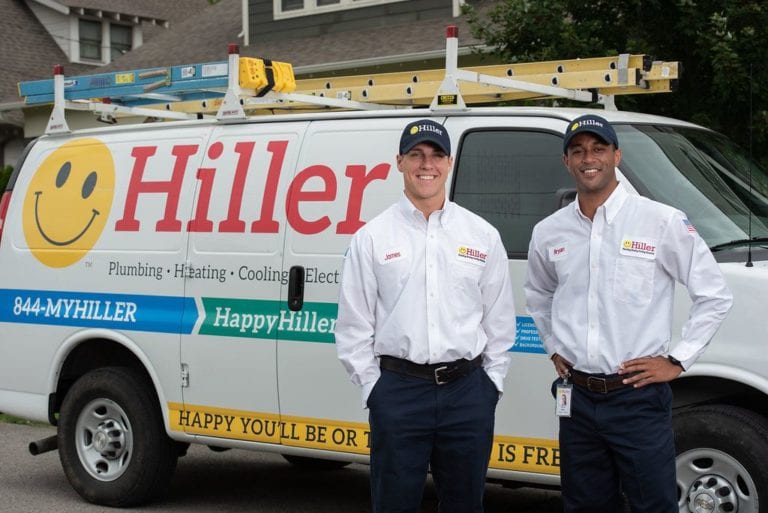 Trust Our Expertise in Air Conditioning Repair Solutions
We offer a wide array of air conditioning services, tailored to address specific needs of Brentwood residents. We specialize in thorough system diagnostics, pinpointing issues that may impact your system's performance
Our experts excel in detecting refrigerant leaks, a common yet critical issue in air conditioning units. Compressor repairs and ductwork fixes are also a part of our extensive offerings, ensuring your system runs smoothly.
Leveraging advanced tools and techniques, we guarantee precise and efficient air conditioning repairs, setting the bar in Brentwood.
We Are Brentwood's Experts in AC Repair
When it comes to AC repairs in Brentwood, residents trust none other than Happy Hiller's certified professionals. Our approach to diagnosing and fixing AC issues is systematic, meticulous, and most importantly, effective. Here's an overview of our process, broken down into simple, easy-to-follow steps:
Power Supply Assessment: Every successful AC repair starts with a solid foundation: the power supply. We make sure your AC unit is getting the stable power it needs to operate efficiently.
Thermostat Functionality Examination: The thermostat is the heart of your AC system. We inspect and calibrate it for optimal performance, ensuring it communicates the right commands to your cooling system.
Airflow Inspection: Next, we turn our attention to the filters. Our goal is to eliminate any airflow obstructions that could compromise your AC's efficiency. We check your air filters and ventilation system to ensure a smooth, unobstructed airflow.
System Inspection: We then conduct a comprehensive system inspection, looking for any visible damages or signs of wear and tear. Our experts are trained to identify even the subtlest signs of potential problems.
Electrical Component Testing: Our technicians test critical electrical components like capacitors and conductors. Should any complex issues arise, we have the expertise to tackle them head-on.
Refrigerant Leak Detection and Level Check: With our advanced diagnostic methods, we detect any leaks. Maintaining the right amount of refrigerant level is key to efficient AC performance.
Preventive Measures Application: Finally, we apply preventive measures to help extend your AC system's lifespan. This includes further calibration of the thermostat and suggestions for maintenance routines.
Your Reliable Air Conditioning Service in Brentwood
In Brentwood, Happy Hiller brings you decades of experience, having stood strong since 1990, with the commitment to make your space comfortable and stress-free.
Why choose us? Our guiding principle is simple: Happy You'll Be or the Service is Free™. Our professionals deliver the highest quality AC service, and if it doesn't meet your expectations, you don't pay a dime.
Our Equipment and Fixture Guarantee is our pledge of quality to you. We combine exceptional service with premium parts for your air conditioning system. Any equipment or fixture installed by us comes with the assurance of optimal performance. Should it falter during normal use in the first year, we undertake its repair or replacement at no cost to you. This guarantee covers everything, from ducts and air conditioners to electrical upgrades and circuit breakers.
As a family-owned business, our goal is your absolute satisfaction. Got any questions or concerns? Reach out to us, and we'll respond within 24 hours with the solution you need.
Choose Happy Hiller for your air conditioning service in Brentwood. We're not just about repair, we actually care!
Daily Promotion
Enjoy Half-Off Select Items with New Select HVAC Systems
Upgrade to Select New HVAC Systems and enjoy 50% off select items on us!
Get Promotion
---
Daily Promotion
True Transparency Pricing
Most Home Service Companies Use the Same Pricing Structure. But Not Us.
Get Promotion
Frequently Asked Questions about AC Repairs
The duration of an air conditioning repair varies widely depending on the nature of the issue at hand. For minor fixes like adjusting the thermostat or changing filters, it could take less than a couple of hours. However, complex issues, such as compressor repairs, could potentially take a few days to resolve completely.
At Happy Hiller, we strive for swift and efficient repair processes to restore the cooling comfort of your Brentwood home as quickly as possible. Our goal is to minimize downtime while ensuring optimal AC service performance.
The cost of air conditioning repairs is influenced by several factors. The type of AC system involved plays a role, as certain models may require specialized parts or techniques. The equipment size and cooling capacity of the unit may also impact the cost, as larger or more complex systems can be more expensive to repair.
The unit's SEER rating, which measures its energy efficiency, can also affect repair costs. Additional installations like humidification systems or ultraviolet air purifiers, if present, can add to repair complexity. Lastly, the condition of ductwork, vents, and control zones can influence the overall repair cost.
Yes, repairing your air conditioning system can indeed boost its energy efficiency. Regular check-ups of filters, coils, and fins are pivotal to the AC's performance.
Even the smallest neglect can lead to a decline in air conditioning performance while increasing energy use. Thus, an appropriately conducted repair can rectify this issue, resulting in an AC system that runs smoother, cools better, and consumes less energy. This can ultimately lead to lower energy bills and a more comfortable environment in your home or office.
Absolutely. Our Brentwood-based AC service possesses extensive experience in managing air conditioning scenarios, which translates to proficiency in dealing with all sorts of air conditioning systems, regardless of brand or model.
This skill set encompasses units from various years, ensuring your vintage or modern system receives the precise care it needs. Our knowledge in air conditioning repair spans an extensive range of units, allowing us to tackle each task with confidence.
Why Choose Happy Hiller?
Care is Our Core ValueTM
Certified Professional Technicians
Family Owned and Operated Since 1990
Happy You'll Be
Or The Service Is Free™
Welcome to Happy Hiller
Friendly service. Certified Technicians. Your problem, solved.
Happy Hiller is the premier Plumbing, Heating & Cooling and Electric service experts. We proudly serve parts of Tennessee, Kentucky, Alabama and Florida. Whether you need emergency services or preventive maintenance, it's all guaranteed. The best techs. The friendliest service. 100% satisfaction.
Learn More
Ruud
Reliable Top 10
Contractors

Nashville Business
Journal Top 25 Fastest Growing
Private Companies

Nashville Business
Journal Best in Business
Award

Nashville Business
Journal Most Admired CEOs
& Their Companies

Nashville
Business Journal
Fast 50
Happy Hiller Offers AC Repair Services 24/7
No matter the time or situation, we will be there to assist you. With Happy Hiller, if your AC breaks during the weekend or in the middle of the night, you'll never have to wait to get help. Call us anytime, any day!
Plumbing, Heating & AC Repair and Electrical Services
Our confident service technicians will provide you with the solution for any home plumbing, heating, cooling, or electrical problem. Let us show you how we can make you a happy Hiller customer. Contact your trusted, licensed technician in Brentwood today.