Introducing the Premier HVAC Company in the Brentwood Area

Happy Hiller proudly takes the lead as the top-rated HVAC company in the Brentwood vicinity. Our commitment to unmatched customer attention, exceptional quality, and, most importantly, a 100% satisfaction guarantee, sets us apart from the competition.
As the largest privately owned home services company in the US, we bring you the expertise of highly skilled and background-checked HVAC contractors who are dedicated to your comfort while respecting your space. With our remarkable one-year guarantee on equipment and fixtures, we assure you of our confidence in our services.
Experience the Happy Hiller difference and enjoy a whole new class of residential and commercial HVAC.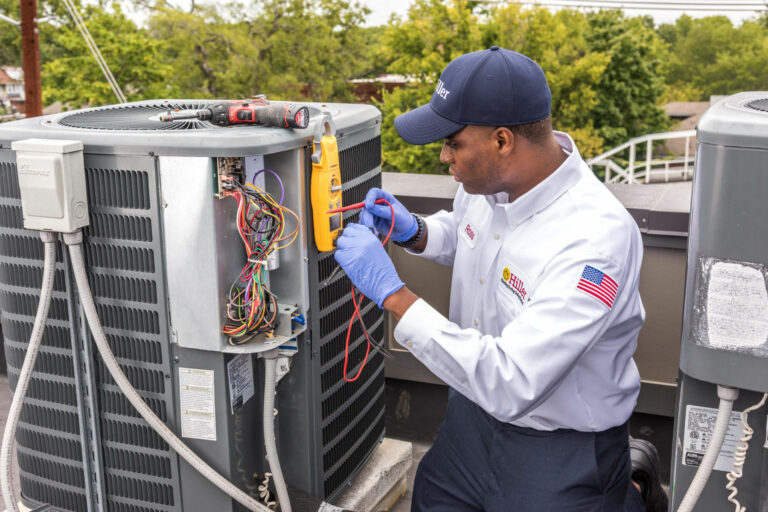 Choosing the Right HVAC Service Provider

When it comes to selecting the right HVAC company in Brentwood, there's more to consider than just immediate availability. A critical factor in your selection process should be the company's experience and expertise.
Happy Hiller's customers consistently laud the company's proactive approach and commitment to solving their HVAC challenges, no matter how complex.
It's also important to choose an HVAC contractor known for prompt and reliable service. When you need your HVAC system to function seamlessly, every minute counts.
With Happy Hiller, you're getting expert, fast and professional help from the best among HVAC companies. That's the Happy Hiller difference!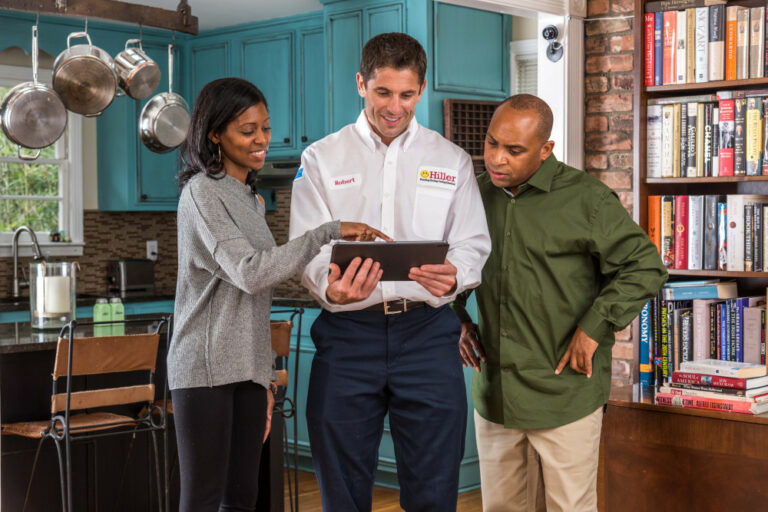 Benefits of Hiring a Professional HVAC Company
Experience the benefits of Happy Hiller's unmatched residential and commercial HVAC services in Brentwood. Our dedicated team ensures enhanced indoor comfort, creating a pleasant environment that surpasses your expectations.
As a distinguished HVAC contractor, we prioritize energy efficiency and cost savings, adding value to your everyday living. We have the experience to make your home or business more comfortable all year long (see: What is zoned HVAC?). With our expertise as a top HVAC company, we'll help you extend the longevity of your systems and enhance indoor air quality.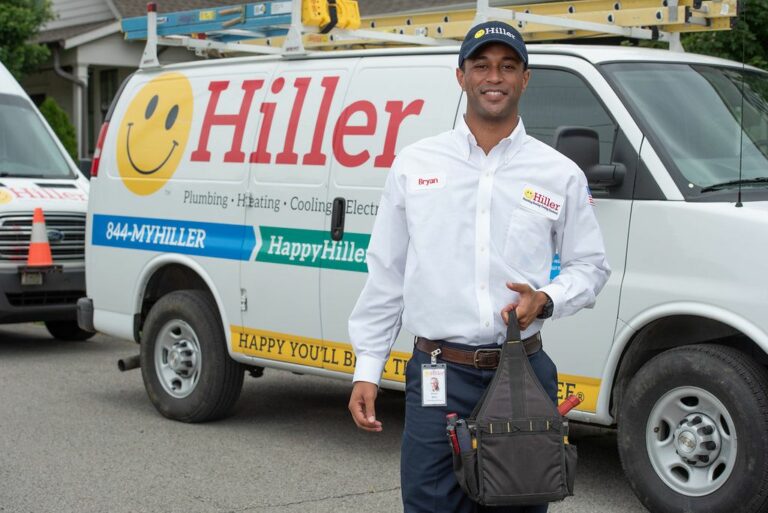 Our Residential HVAC Services in Brentwood
Navigating the realm of residential HVAC in Brentwood, it becomes clear that Happy Hiller stands out because of our commitment to comprehensive, customized, and efficient services.
We rise above other HVAC companies by fostering the health of your system and upgrading your comfort at home, an approach that embodies our goal of ensuring continuous performance of your residential HVAC system.
At Happy Hiller, there is an emphasis on crafting solutions designed with your home in mind. It's not just about comfort; it's about providing a residential HVAC service in Brentwood that understands the uniqueness of every home.
Beyond that, at Happy Hiller we are committed to promoting energy efficiency through our residential HVAC service. This focus allows us to provide a dual benefit: lowering your utility bills and reducing your home's carbon footprint.
Commercial HVAC Services Tailored for Your Business

We take a meticulous approach to cater to your commercial HVAC needs. Our expert team conducts a thorough assessment of your business space, considering factors such as building size, occupancy, and usage patterns. With this insight, we curate HVAC for companies' specific requirements, utilizing advanced technologies and components for peak performance.
Our focus is on maximizing energy efficiency while delivering optimal results. With Happy Hiller, you can expect more than just a service; we provide comprehensive solutions that redefine commercial HVAC standards. Rest assured, we'll bring you only the best in the industry.
Contact Us Today For A Reliable HVAC Contractor in Brentwood!

Are you in Brentwood and in need of a dependable HVAC contractor? Put your trust in Happy Hiller; we bring unmatched professionalism, expertise, and a steadfast dedication to customer satisfaction.
Happy Hiller embodies the qualities of an exceptional residential and commercial HVAC specialist. We are friendly, reliable, responsible, and we always prioritize your satisfaction. With a well-stocked warehouse, we ensure that the necessary parts to maintain your system are always at hand.
We respect your space and pledge to leave your home cleaner than we found it – shoe covers are standard in our uniforms. We promise transparent pricing, top-tier service, and a two-year guarantee on any product or service that fails during normal use. Our 'Happy You'll Be or the Service is Free™' policy ensures your satisfaction, or we return your money.
Contact us at Happy Hiller today – your trusted HVAC contractor in Brentwood!
Daily Promotion
True Transparency Pricing
Most Home Service Companies Use the Same Pricing Structure. But Not Us.
Get Promotion
---
Daily Promotion
50% Off Water Descaler with Purchase of a Whole-Home Water System
Purchase a Whole-Home Water Filtration & get a Descaler System for HALF OFF on us!
Get Promotion
HVAC in Brentwood: Have a Question?
HVAC stands for Heating, Ventilation, and Air Conditioning, representing a collection of comfort technologies utilized in homes and businesses. This system maintains the ideal temperature and humidity, ensuring the air remains comfortable and clean.
A well-maintained system by a professional HVAC company helps keep Brentwood's residences and commercial spaces inviting year-round. Along with temperature regulation, HVAC systems also improve indoor air quality by filtering out pollutants and enhancing ventilation. Above all, HVAC companies prioritize thermal comfort and air purity.
The longevity of a system can fluctuate broadly, typically lasting between 10-25 years. This span depends heavily on the type of heating and cooling system you have, along with the climate conditions where you live.
However, an HVAC system might have a shortened lifespan if it's subjected to undue strain from poor insulation or unwanted airflow. Therefore, choosing the best among HVAC companies to address these factors becomes crucial in maximizing your system's efficiency and lifespan, keeping your Brentwood home comfortable for longer periods.
Absolutely! Enhancing energy efficiency is one of many things that makes Happy Hiller stand out among HVAC companies. One important aspect is ensuring your unit remains free from dust, dirt, and debris.
When these contaminants clog your system, it has to work harder to distribute hot or cold air throughout your Brentwood home, thus reducing its energy efficiency. By opting for a professional HVAC company, you're investing in a cleaner, more efficient system that not only conserves energy but also contributes to a comfortable indoor environment.
Absolutely! As one of the premier HVAC companies in Brentwood, at Happy Hiller we hold our professionals to the highest standards. Every HVAC contractor working with us not only holds the essential credentials, including NATE certification, but also carries an abundance of hands-on experience.
We're serious about ongoing training, ensuring our contractors are always prepared to deliver effective and superior solutions, whether they're working on residential HVAC or commercial HVAC tasks. Choosing Happy Hiller means you're trusting your heating, ventilation, and air conditioning needs to a proficient, committed, and experienced HVAC company.
Why Choose Happy Hiller?
Care is Our Core ValueTM
Certified Professional Technicians
Family Owned and Operated Since 1990
Happy You'll Be
Or The Service Is Free™
Welcome to Happy Hiller
Friendly service. Certified Technicians. Your problem, solved.
Happy Hiller is the premier Plumbing, Heating & Cooling and Electric service experts. We proudly serve parts of Tennessee, Kentucky, Alabama and Florida. Whether you need emergency services or preventive maintenance, it's all guaranteed. The best techs. The friendliest service. 100% satisfaction.
Learn More
Ruud
Reliable Top 10
Contractors

Nashville Business
Journal Top 25 Fastest Growing
Private Companies

Nashville Business
Journal Best in Business
Award

Nashville Business
Journal Most Admired CEOs
& Their Companies

Nashville
Business Journal
Fast 50
Happy Hiller Offers HVAC Services 24/7
There is no reason for you to wait hours, or even days, to get your HVAC unit fixed. We know that emergencies may arise at any time, and this is why we make sure to remain available for you whenever you need us.