Smoke Detectors
When it comes to fire prevention in your home, cutting corners is not an option.

Smoke Detectors
When it comes to staying safe in your home, no device is more crucial than the smoke detector. It's such an important device that you need one in nearly every room of your house. All smoke detectors should be inspected annually and be replaced every 10 years.

No matter if you're a first-time homeowner or have lived in your home for years, properly installing and maintaining the smoke detectors in your home can be the difference between a happy, stress-free home and potential disaster. 
Where should I install smoke alarms?
According to the National Fire Protection Association, smoke detectors should be installed inside and outside each bedroom and on every level of the home, including the basement. On the floors that don't have bedrooms, install your smoke alarms in the living room, near the stairs leading upstairs, or in both places.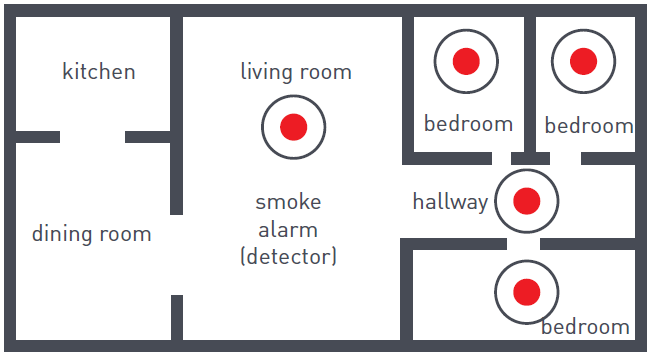 How often should I replace my smoke alarms?
The average life span for smoke detectors is 8 to 10 years. Any longer and you run the risk of your smoke alarm not going off when it should, leading to possible property damage and injury. Of course, during annual checks of your smoke detectors, if you find they don't work or aren't responding properly, it's time for a replacement. The same is also true if you can't remember the last time you updated your smoke detector. 
If you want additional protection, purchase smart detectors that allow you to check the status of your smoke alarm, get real-time alerts if your detector goes off while you're not home, and more. 
Allow Hiller to Install and Replace Your Smoke Detector
Whether you need your current smoke detector inspected or you want to upgrade to a smart smoke detector, Hiller Plumbing, Heating, Cooling & Electrical can help you with both! A trained electrician will visit your home to either inspect or install your new detector. Once your new detector has been installed, we'll walk you through how to use it properly. 
When it comes to fire prevention in your home, cutting corners is not an option. Call or schedule your fire detector inspection or installation online with Hiller today!