Everyone was very friendly and kind throughout the entire process. My heat pump stopped working and I was very thankful that they were actually able to come an... Read More
Everyone was very friendly and kind throughout the entire process. My heat pump stopped working and I was very thankful that they were actually able to come and take a look at it the same day. I called three other companies and all were a multiple day wait. Zach was the technician that fixed the heat pump. Somehow both of the outdoor circuit breakers went bad and needed to be replaced. Zach explained everything he was doing and everything he found. Hiller will be my go to HVAC company in the future. I won't be calling multiple companies again. Hiller will be my first and only call. Close
Really appreciated Hiller sending Shane out the day before Thanksgiving to save the day! We were preparing to host guests for the holiday and our kitchen lights... Read More
Really appreciated Hiller sending Shane out the day before Thanksgiving to save the day! We were preparing to host guests for the holiday and our kitchen lights went out. Shane showed up, found our switches to be faulty, and replaced them that day - all while I was in the space whipping up casseroles and desserts. He was so kind and helpful. Thankful to have such quick and courteous service! Close
The professionalism of this company and technicians is nothing short of amazing! I mean you can track when your technician will arrive at your home. In a text m... Read More
The professionalism of this company and technicians is nothing short of amazing! I mean you can track when your technician will arrive at your home. In a text message you received a photo of the technician. Once he arrive he immediately introduced himself and placed foot protectors on before entering my home. Explains everything, asked if there are any questions and proceeds to do an outSTANDing job. I highly recommend this company and please enroll in one of there three choices of maintenance plans. Close
The receptionist understood my concern and arranged for earlier appointment than scheduled. Garrett came out, took care of the problem, efficiently and quickly,... Read More
The receptionist understood my concern and arranged for earlier appointment than scheduled. Garrett came out, took care of the problem, efficiently and quickly, and the price was as expected, and totally reasonable for the work done. My second time using Hiller and both times were great! Not using anyone else. Thank you!! Close
Jeff was absolutely amazing & so professional! His workmanship was great! Very respectful and so kind! Because of his experience & respectful help I definitely ... Read More
Jeff was absolutely amazing & so professional! His workmanship was great! Very respectful and so kind! Because of his experience & respectful help I definitely will use Hillir again. And the General Manager handled my job perfectly! Thank you again to Jeff!!! Close
Great service. The Tech was early and was very professional. Best thing was that they got me scheduled the next day after calling in with a heater not running a... Read More
Great service. The Tech was early and was very professional. Best thing was that they got me scheduled the next day after calling in with a heater not running and had the part on the truck to get the heater up and running in less than 30 minutes. Much better service than the previous company that serviced my units. Highly recomended. Close
Hiller installed a new HVAC system in my home. Their pricing was super competitive. They had a new open box unit, (because another customer ordered, but changed... Read More
Hiller installed a new HVAC system in my home. Their pricing was super competitive. They had a new open box unit, (because another customer ordered, but changed their mind); hence, we received an exceptional price. I love Hiller provides a photo of the service technician and text updates on the technician's arrival time. Close
I was very pleased with Happy Hiller! I used the online app to schedule on Sunday, and the first available was Tuesday. But On Monday morning I got a call for a... Read More
I was very pleased with Happy Hiller! I used the online app to schedule on Sunday, and the first available was Tuesday. But On Monday morning I got a call for an opening that afternoon! A plumber and his apprentice came on time with plenty of notice, including a picture so I knew who to expect. They diagnosed and fixed the problem within 90 minutes, and they were so nice! They had a good sense of humor, excellent technical skills, and left the space free of debris or mess. The cost was explained and reasonable. It was as good an experience as anyone can expect to have with a malfunctioning toilet! Thanks Steve and Stephen!! Close
Only good things to say about Hiller. They fixed a really difficult leak in some old galvanized pipe in my home. Both John and Steve were professional, knowledg... Read More
Only good things to say about Hiller. They fixed a really difficult leak in some old galvanized pipe in my home. Both John and Steve were professional, knowledgeable and friendly. It even ended up costing less than they originally quoted! They definitely lived up to their great reviews. Close
My AC went out and I had called Hiller just from seeing them around town. The woman I spoke with on the phone was so nice and helpful, she was actually able to ... Read More
My AC went out and I had called Hiller just from seeing them around town. The woman I spoke with on the phone was so nice and helpful, she was actually able to get me a same day visit from a technician. My technician arrived right on the dot at 3pm in the 3-5pm window and he was so respectful and nice. He walked me through everything he was going to do and what it meant. He gave me recommendations for future visits and was very nice! I ended up signing up for the Happy Hiller Club, too. Close
When it comes to all-around service, Hiller stands in a league of its own. From plumbing emergencies to electrical installations, they have consistently demonst... Read More
When it comes to all-around service, Hiller stands in a league of its own. From plumbing emergencies to electrical installations, they have consistently demonstrated a level of professionalism and efficiency that's truly commendable. I recall the Sunday when my basement was flooding due to a collapsed pipe. Hiller was quick to respond and even quicker to devise a plan, fully restoring our water supply in less time than they initially estimated. Their proactive communication was just the icing on the cake, making us feel at ease during an otherwise stressful situation. Moreover, the technicians, especially Allen and Daniel, have been fantastic. On one of the hottest days of the year, Allen was working tirelessly in our attic, not just doing his job but going the extra mile to clean up after. Daniel, meanwhile, was a true problem-solver when it came to identifying and repairing a leak. His patient explanations helped us understand what was being done, making us feel part of the process. I'm equally impressed by the email and call updates I've received throughout my experiences, courtesy of Steven, Scott, and Chris. It's rare to see a company so focused on keeping their customers in the loop. Not to forget technicians like Joshua Cook and Jordan Brown, who not only addressed our immediate concerns but also advised on preventive measures and future upgrades. Last but not least, the customer service from start to finish has been nothing short of amazing. The convenience of online scheduling and real-time updates (kudos to Nicole and Chanel for their professionalism) made each service call feel like a well-orchestrated performance. If you're in need of professional, timely, and courteous service, I can't recommend Hiller enough. With a team that's committed to exceeding expectations, they're the only ones I'll be calling for future home service needs. Thank you, Hiller, for being a company that genuinely cares about its customers. Looking forward to my next exceptional experience with you. Close
I've never had a bad experience with Hiller. This appt was no different. Everyone was very professional, knowledgeable, friendly and kind and also very helpfu... Read More
I've never had a bad experience with Hiller. This appt was no different. Everyone was very professional, knowledgeable, friendly and kind and also very helpful. They explained what was needed in detail and the process of it all. They answered all of my questions and left me feeling secure in me decision of using them. They finished the job in half the time they allotted themselves. Highly recommend. Close
Steven, Scott and Chris have been professional and responsive in our generator project. Chris is great at keeping us updated via email, calls and site visits. S... Read More
Steven, Scott and Chris have been professional and responsive in our generator project. Chris is great at keeping us updated via email, calls and site visits. Steven and Scott were experts in inspecting and completing the install another company botched. We are so glad to have contacted Hiller and happily recommend them to everyone! Close
Hiller was great. Through every step of the process each representative was professional, knowledgeable, and had a great attitude. They were committed to fixing... Read More
Hiller was great. Through every step of the process each representative was professional, knowledgeable, and had a great attitude. They were committed to fixing the problem and didn't finish until it was complete. Customer service and quality of work was above my expectations. Levi did a great job and had the best attitude and work ethic that I have seen in a long time. They will be the only one I call next time. Close
2nd time using Hiller after a great first experience. I had a dishwasher installed. The experience was excellent with Daniel. He was incredibly kind, knowled... Read More
2nd time using Hiller after a great first experience. I had a dishwasher installed. The experience was excellent with Daniel. He was incredibly kind, knowledgeable, and prompt. We live in an older house, which makes projects more challenging than anticipated, and he knocked it out of the park like a pro! Highly recommended and will certainly use Hiller again in the future! Close
When my hot water heater went out, I wasn't sure who to call for help. I'm so happy I called Hiller. Jordan Brown was the technician who installed my new on... Read More
When my hot water heater went out, I wasn't sure who to call for help. I'm so happy I called Hiller. Jordan Brown was the technician who installed my new one, and he was stellar! Arrived right on time, was super kind, answered all of our questions, and made us feel so much better about the situation. He installed our new tank within a few hours! He was really a pleasure to work with, and I'm thankful Hiller and Jordan were able to help at a moment's notice. Close
Jason and Sophie were the technicians that resolved my electrical issue. They were professional, courteous and very knowledgeable. I especially liked the way Ja... Read More
Jason and Sophie were the technicians that resolved my electrical issue. They were professional, courteous and very knowledgeable. I especially liked the way Jason handled the situation, identifying "user error" as the cause; but he did not make me feel silly! Great customer service and I highly recommend this team of Hiller experts. Close
On Sunday, 8.20.23, we had to call Hiller due to plumbing problems...basement flooding out every time water was being used. They came out and discovered The cas... Read More
On Sunday, 8.20.23, we had to call Hiller due to plumbing problems...basement flooding out every time water was being used. They came out and discovered The cast iron pipe collapsed under the stairs in front of the house & said they could come back Monday morning to fix it but we could be without water for 48hrs. They arrived Monday morning around 10am and was completely finished by 3:30pm & we were able to use water! They are always very nice and respectful and do a wonderful job! Close
Great experience. Even though it was a weekend, from my original call to customer service and talking with Nicole who was professional, courteous, empathetic an... Read More
Great experience. Even though it was a weekend, from my original call to customer service and talking with Nicole who was professional, courteous, empathetic and very thorough. Then Chanel(sp) also professional and courteous kept me informed on arrival status. The tech Daniel took his time, identified where the leak was and then explained what steps he would take to repair. Overall experience was excellent! Close
Awesome service. I've not had a tuneup as good as what they did today. Proof? My AC ran one hour LESS while bring the house down to night time temperature. V... Read More
Awesome service. I've not had a tuneup as good as what they did today. Proof? My AC ran one hour LESS while bring the house down to night time temperature. Very impressive and a huge money saver. Thanks to the tech Jesse. Close
Hiller is always perfect! Good service is not cheap but they make sure you pay a fair price! They are always out early and stay late! We only trust them with ou... Read More
Hiller is always perfect! Good service is not cheap but they make sure you pay a fair price! They are always out early and stay late! We only trust them with our electrical, hvac and plumbing. Most recently we have them move our entire electrical to bring us up to code and prepare for a garage addition. Chris, Ronnie and his team rocked it! Close
I scheduled them to replace a $25 tub spout and they charged me $229. I felt this was too high. However, after speaking with their customer care manager he was ... Read More
I scheduled them to replace a $25 tub spout and they charged me $229. I felt this was too high. However, after speaking with their customer care manager he was able to adjust the amount to my satisfaction. Great job all around! Close
Parker and the Hiller Team were great. Had the perfect balance of service and sales + he talked me through system specifics so I had a better understanding of h... Read More
Parker and the Hiller Team were great. Had the perfect balance of service and sales + he talked me through system specifics so I had a better understanding of how everything worked. Signed up for the annual HVAC servicing program to ensure we continue to receive the same customer care in the future. Close
Hiller was able to schedule an electrician quickly to come out to fix damage that was done by an installer that was out to supposedly install a dishwasher. The ... Read More
Hiller was able to schedule an electrician quickly to come out to fix damage that was done by an installer that was out to supposedly install a dishwasher. The electrician came out, arrived early with my permission, did the work quickly and was very thorough in the work that he did and explained everything that he did so that I would understand it and could guide the person who would come out next to finish the installation. I recommend Hiller with no reservations, they were professional, worth the money, friendly, and thorough, and now I'm not worried about my house burning down while I'm sleeping. Close
I have been a club member for years. The plumbers and HVAC techs have always been professional and very helpful with any issues I may have. They will explain wh... Read More
I have been a club member for years. The plumbers and HVAC techs have always been professional and very helpful with any issues I may have. They will explain what needs to be done and answer all my questions. They have always been good about scheduling and getting to my home in an emergency. Thanks Hiller. Close
Allen, our technician, was amazing! One of the hottest days of the year, he was crawling around in our attic, trying to install new LED lights in our exam room.... Read More
Allen, our technician, was amazing! One of the hottest days of the year, he was crawling around in our attic, trying to install new LED lights in our exam room. He was courteous and made great suggestions for efficiency. Best of all, he cleaned up every scrap of dust and material, and took the old broken equipment with him For disposal. Good move Hiller on hiring Allen! Close
They were wonderful and I would highly recommend. Scheduling online was easy. They even called to let me know the technician was running a little behind and wo... Read More
They were wonderful and I would highly recommend. Scheduling online was easy. They even called to let me know the technician was running a little behind and would arrive at the later end of the window given. I thought that was above and beyond given the fact he did arrive within the window. Jordan was nice, professional, and immediately identified my issue and had it fixed fast. Every step of my interaction with Hiller was excellent. Thank you for fixing my leaking toilet! Close
I had two toilets which were hard to flush. One had a broken handle. The fellas from Hiller were professional and took care of the issue. I have great flushing ... Read More
I had two toilets which were hard to flush. One had a broken handle. The fellas from Hiller were professional and took care of the issue. I have great flushing toilets again. I was able to get an appointment right away too. I had guests coming the next day so I was so happy they were able to help me Close
I have had hiller do several jobs for me over the past several months. The work, for the most part, has been good. The technicians have been professional. My on... Read More
I have had hiller do several jobs for me over the past several months. The work, for the most part, has been good. The technicians have been professional. My only gripe was my most recent work done. My AC stopped working and was holding water in the basement. The first technician came out, said the condensate pipe was clogged, and flushed the system. I was charged a little over 200. This worked…for less than 12 hours. I called again and a different tech came back out. He stated that the pump was broken. This was replaced, and I was charged 650 dollars. I was a little annoyed that less than 12 hours before, I paid a substantial sum, for it to not be the permanent solution. When I questioned tech #2 about this, he stated that while he understood the frustration, it was non negotiable. Decent companies should say, hey we missed the real problem initially, let's work with you on the second price, or refund the first. Don't expect this from hiller. Overall, good work, kind staff, just unwilling to admit their mistakes. EDIT: 6/29/23 13:26 Hiller reached out quickly to resolve this issue with me. They have agreed to refund the initial visit that was unsuccessful. Honestly, I'm impressed. Will be changing my review to 5/5. Close
I have used Hiller for annual maintenance and little surprises that are a part of owning a home for many years. After getting several bids to replace two HVAC ... Read More
I have used Hiller for annual maintenance and little surprises that are a part of owning a home for many years. After getting several bids to replace two HVAC units we decided to go with Hiller. From working with Micah, the project lead, on the size of the units to the pricing, to the installation we were very pleased with the process. The team arrived shortly before 8, they were professional and took the time to go to each HVAC unit explaining exactly what needed to be done. Unfortunately we needed vent rerouting - which that interaction validated the installation team and project lead reviewed the install before they arrived. Every time I had a question Alex or Zach would explain in detail the component or what they were doing. Once they were finished they cleaned up the outside area, garage and attic. Start to finish 8am-4:00 … (for 2 units). Alex, Zach and the two other installers were excellent! Close
Our tankless hot water heater developed a leak from one of the lines and was dripping on the ground every time hot water was used in the house. I went to make a... Read More
Our tankless hot water heater developed a leak from one of the lines and was dripping on the ground every time hot water was used in the house. I went to make an appointment and was able to find and opening the next morning. Very simple to schedule service using their website and was able to upload a video of our leak in action. The technician arrived on time and I was given a heads up with tracking information to know when to expect help. He was very courteous and quickly diagnosed our problem and offered a solution. He worked quickly and did not make any mess. He even offered to check out other problems around the house to avoid having an additional house call. Overall extremely pleased with the speed of service, quality of work, professionalism and we'll highly recommend them. Thanks Dylan and Hiller! Close
Chris from Hiller showed up on time, was extremely professional and completed a wonderful job in Lebanon, TN for one of my job sites. He was able to come out th... Read More
Chris from Hiller showed up on time, was extremely professional and completed a wonderful job in Lebanon, TN for one of my job sites. He was able to come out the same day I put in the request and installed a new service and weather head at this said property! I will most definitely recommend Hiller to anyone that has any electrical needs! Thank you so much for a job well done! Close
I have been a customer of Hiller for a few years now. They always provide great service and are always professional. I found a major leak in my water heater a f... Read More
I have been a customer of Hiller for a few years now. They always provide great service and are always professional. I found a major leak in my water heater a few days ago. Jennifer K provided phenomenal service and was informative. The project turned out to be rather time consuming but she was very thorough throughout the process to ensure I had the best outcome. I was extremely impressed by her. If I had any plumbing needs in the future, I will be requesting her. Close
Excellent work! Not only did the technicians do a great job replacing a bunch of old cast iron and lead piping - including the main stack (old and new pictured)... Read More
Excellent work! Not only did the technicians do a great job replacing a bunch of old cast iron and lead piping - including the main stack (old and new pictured) - they also walked me through their plans beforehand, complications and solutions throughout, and the all various components of the replacement/repair afterwards. This was a really big job, but the replacements/repairs were done efficiently and function perfectly. Well done! Close
Garrett was outstanding! And the three other gentlemen were outstanding as well. If all your employees are as great as this crew, then you have the best workfo... Read More
Garrett was outstanding! And the three other gentlemen were outstanding as well. If all your employees are as great as this crew, then you have the best workforce in America. Very impressive! Superior customer service and quality workmanship. Keep up the good work. Close
I called Hiller this evening and they were very responsive. The lady that I spoke with was very informative and respectful. She set me up with an electrician ri... Read More
I called Hiller this evening and they were very responsive. The lady that I spoke with was very informative and respectful. She set me up with an electrician right away. Brian came out and got the issue taken care of very quickly. He explained and showed my wife and I the issue with our electrical and even explained the issues very thoroughly. I will definitely be using Hiller for all my electrical issues in the future. Thanks again Brian! You were awesome! Close
The technician was able to come earlier than expected which was great because the problems were affecting my ability to work since I work from home. Once diagno... Read More
The technician was able to come earlier than expected which was great because the problems were affecting my ability to work since I work from home. Once diagnosed he was able to explain what occurred to cause the problems in a way that made sense, and he explained the cost for any work needed prior to starting any repairs. I will definitely use Hiller in the future over others I have used in the past. Close
Josh was fantastic. He diagnosed and corrected the problem quickly. Hiller did a great job of letting us know when he would arrive. Josh was very patient. It wa... Read More
Josh was fantastic. He diagnosed and corrected the problem quickly. Hiller did a great job of letting us know when he would arrive. Josh was very patient. It was important to him that our sink was working properly and the repair was complete. Close
James arrived promptly at 5 PM, diagnosed our issue right away, and had a new hot water heater installed the very same night. I was really impressed with the qu... Read More
James arrived promptly at 5 PM, diagnosed our issue right away, and had a new hot water heater installed the very same night. I was really impressed with the quality of work and his customer service. I highly recommend Hiller if you need work done quick and well. Close
My toilet broke early Saturday morning. I immediately began calling plumbers but either no one answered or I was told it would be Tuesday. I called Hiller and w... Read More
My toilet broke early Saturday morning. I immediately began calling plumbers but either no one answered or I was told it would be Tuesday. I called Hiller and was right away speaking with someone who was kind, polite, and determined to help me. She arranged for me to be a work-in on Sunday and gave me details of what to expect. Sunday morning early I received a call from Hiller with another nice lady telling me the tech was on his way. Daniel soon arrived and was so kind and nice. He quickly found the problem and soon corrected it. He was pleasant the entire time and had me at ease. He explained every question. I was very pleasantly surprised with this entire experience from initial call to completion of service. I have already recommended them to family and friends. Close
I have been a member of the Happy Hiller Club for several years. Recently my AC stopped blowing cold air and it got pretty toasty inside the house. I called the... Read More
I have been a member of the Happy Hiller Club for several years. Recently my AC stopped blowing cold air and it got pretty toasty inside the house. I called the office and spoke to Aubry. She directed me to turn off my unit and then scheduled me for a technician visit the next morning at 8am. I was so relieved! No one wants AC issues in Nashville in the summer. Ben Kelley arrived right on time, diagnosed the problem and fixed me up. The house was cool in no time. These guys are life savers!! Close
Totally professional from beginning to end. Website is great, scheduling was easy and it let me upload a video of the problem so the techs were prepared when th... Read More
Totally professional from beginning to end. Website is great, scheduling was easy and it let me upload a video of the problem so the techs were prepared when they got here. Two techs showed up which was impressive. They kept us updated, got the job done, and cleaned up the whole area where they worked. Price was very reasonable. First class job. Close
The plumbers installed a new water heater and showed me what had happened to my old water heater (damage from electrical wiring burn out). They worked diligentl... Read More
The plumbers installed a new water heater and showed me what had happened to my old water heater (damage from electrical wiring burn out). They worked diligently and cleaned up after the instillation was complete. The electricians installed the wiring for the new water heater. I greatly appreciated the electricians and the work they completed. They explained every step to me and reviewed the work before they left and cleaned up. I had a lot of questions regarding options for future electrical work and they took the time to explain each option to me. I was very happy with the plumbers and electricians work. Their attitude was professional and warm. Close
I'm overjoyed at the services provided by Hiller! They tend to be pricey but very competent. I had an excellent experience with them installing a standby gene... Read More
I'm overjoyed at the services provided by Hiller! They tend to be pricey but very competent. I had an excellent experience with them installing a standby generator right before the last snow storm. The team arrived on time, was totally professional, and did an outstanding job. I am a Happy Hiller Club member and utilize the full spectrum of services there. Close
We had a plumbing emergency on a Sunday and Hiller was the only plumbing service (out of 3 that we called) that responded immediately to our phone call. While w... Read More
We had a plumbing emergency on a Sunday and Hiller was the only plumbing service (out of 3 that we called) that responded immediately to our phone call. While we had to wait several hours for an available technician, when one became available we were kept very well informed on his estimated arrival. He (Garrett Hall) was extremely pleasant, courteous, and explained what he was doing to resolve our problem. He had us back in business in a short amount of time. We've never used Hiller before this, but they have our business now! Close
Amazingly prompt after-hours service provided by gracious, caring, professional and competent individuals. Zach came to service AC unit, and promptly diagnosed... Read More
Amazingly prompt after-hours service provided by gracious, caring, professional and competent individuals. Zach came to service AC unit, and promptly diagnosed the problem as electrical. Scott came shortly after to repair and replace exterior electrical panel and my air conditioning was restored for the evening which was especially critical for the comfort and well being of elderly visiting mother. Everything about this organization and their employees is startling and refreshing to see. The two men who made quick work of my needed repairs in the midst of intense heat at night came in clean trucks and attire. I don't know how these gentlemen are able to maintain such clean and unwrinkled white Hiller shirts both upon arrival and after finishing the job. I wonder, do they change clothing after each job? Also, the systems Hiller uses with text messaging to let me know that technicians are on the way is amazing. I am truly happy. Thank you Hiller. Close
I was very happy with the service. Hiller was able to come out the same day I called them. I had leaking under the sink. The faucet and most likely the plumbin... Read More
I was very happy with the service. Hiller was able to come out the same day I called them. I had leaking under the sink. The faucet and most likely the plumbing to the sink had not been replace in 56 years. Everything was taken care of in 2 hours at a very reasonable price. Second time I have used their services and have been very pleased both times. Close
The Hiller team is absolutely outstanding! I unfortunately had to replace both by HVAC units and I truly felt like their only customer. Responsive, friendly, kn... Read More
The Hiller team is absolutely outstanding! I unfortunately had to replace both by HVAC units and I truly felt like their only customer. Responsive, friendly, knowledgeable, and they helped me every step of the way. I had the best experience possible from the tech to the project manager to the install team they were all amazing. Customer Service at it's best. I would highly recommend. Close
This company is amazing! I highly recommend Hiller! I have used them several times and They always go above and beyond to fix any issue I might have. Including ... Read More
This company is amazing! I highly recommend Hiller! I have used them several times and They always go above and beyond to fix any issue I might have. Including extra repairs and taking time to run to a store to buy more parts. I recently received help from their repairman babes Garret. He was great and went out of his way! They are also very kind and that makes the experience even greater! Close
First time using Hiller. Customer service was amazing! Our service tech David Barron was very professional and went above and beyond to get our couple of jobs d... Read More
First time using Hiller. Customer service was amazing! Our service tech David Barron was very professional and went above and beyond to get our couple of jobs done! The upfront pricing was a nice touch. Also the use of technology as far as keeping us up to date and informed was above and beyond what I expected! Will definitely use them again! Close
Matthew S. Is the absolute best. He was so kind and courteous and professional. He also took extra time to install a faucet that wasn't originally in the work... Read More
Matthew S. Is the absolute best. He was so kind and courteous and professional. He also took extra time to install a faucet that wasn't originally in the work order information. He was so generous with his time. I am so glad Hiller sent him to my house today. I would recommend him to everyone. I hope Hiller will give him a bonus because his service was impeccable! Thanks Matthew!! Close
Aug 19, 2021 Micah Soto did a good job. Courteous and efficient. Scheduling was a problem with this visit as Hiller rescheduled once, then the tech was 45 min l... Read More
Aug 19, 2021 Micah Soto did a good job. Courteous and efficient. Scheduling was a problem with this visit as Hiller rescheduled once, then the tech was 45 min late. Hope this does not happen in the future. April 2021 Tech was on time and courteous. Tune up completed with no issues. Needed electrical work done. Work done right and suggested a couple of other things which were done at a reasonable price Close
We had the heat go out when the outside temp was 20 degrees. They made a special trip to accommodate us the same day even though we were not a customer before t... Read More
We had the heat go out when the outside temp was 20 degrees. They made a special trip to accommodate us the same day even though we were not a customer before this. We had a senior and a 2 year old so we really appreciate the service and know we can sleep well tonight. The service man was incredible and spent time to tell us exactly what the problem was and how it would be fixed. Excellent Customer service and I would recommend this company to anyone needing service. Close
Matthew was perfect! Not only did Hiller get some one to me the same day, but he arrived right at the beginning of the time frame they gave. He was compassionat... Read More
Matthew was perfect! Not only did Hiller get some one to me the same day, but he arrived right at the beginning of the time frame they gave. He was compassionate and explained everything to me in layman's terms. He consistently let me know about the charges before he did the repairs, and he even went the extra mile. I was wary of using Hiller since I hadn't used them before, and I'd had a terrible experience with another large company. He made me feel comfortable as a female homeowner, and I never felt like he was trying to take advantage of my lack of plumbing knowledge as I've had happen In the past. The whole experience was pleasant and cost effective. I'll definitely use them again. Thank y'all so much for restoring my faith in these types of service calls! Close
Very pleased! Replaced three toilets. John and his helper were great. Everything turned out better than I expected. A year ago my old, broken, hot water heater... Read More
Very pleased! Replaced three toilets. John and his helper were great. Everything turned out better than I expected. A year ago my old, broken, hot water heater was replaced. Thomas, the technician, was knowledgeable, polite and a good listener. All jobs look terrific. I am very happy to have Hiller work at my home and would be pleased to have them back again. Highly recommended. Thanks! Close
My experience with Hiller was incredibly seamless from start to finish. I called in the morning after discovering my water heater was leaking. They did not have... Read More
My experience with Hiller was incredibly seamless from start to finish. I called in the morning after discovering my water heater was leaking. They did not have an open appointment for a few days, but the agent called around and was able to work me in for a same-day replacement! Everyone was pleasant to work with and the technicians were very professional and kind. The work is quality, labor is reasonably priced and they leave you feeling like they will take care of you for years to come. Happy with Hiller for sure! Close
Nick and his assistant Matt did an amazing job! They stayed for 10 hours making sure the job was completely done right. Great company from start to finish. Ther... Read More
Nick and his assistant Matt did an amazing job! They stayed for 10 hours making sure the job was completely done right. Great company from start to finish. There were no hidden fees or anything to be worried about. I finally have air that cools down in minutes! Definitely my #1 place to call and recommend! Thanks Nick! Close
In Nashville, just about everyone relies on electricity for their daily activities. But we're not all electricians. When something is wrong, getting hands on with the electrical components of our homes would certainly be the wrong move. Before risking electrical shock trying to upgrade your electrical panel or repair another essential part of the system, go to the professionals. Hiller's Nashville electricians are always available to you. 
The Hiller electrical team has the experience and expertise to keep your home functioning smoothly through any electrical problems that may arise. Our electricians will ensure everything is working properly and up-to-date, that your safety against electrical shock or house fire is protected, and that all electrical repair gets taken care with professional precision. Their years of experience in electrical work will carry into getting you an excellent result on the tasks you need of them. No longer will these electrical concerns have to be your concern. 

Nashville Commercial Electrician Services
Hiller Plumbing, Heating, Cooling and Electrical knows how important your time is, and we also know how frustrating a wiring or lighting issue can be. We strive to be there for you when you need us, which is why we offer our services 24/7, so that when a problem strikes, we can be right there to help you fix it. You choose the time, and our certified technicians will be there right away.
Hiller offers the Nashville area many types of commercial electrical services, including repair and installation of lights, smoke and carbon monoxide detectors and more!  From elevator repairs to making sure your building is up to code, we've got your business covered. When you want some new lights installed or need to fix a sparking outlet, just give us a call any time of the day or night.
Nashville Residential Electrician Services
We know how frustrating it can be to have a sudden situation come up where you need a repair. Whether its flickering lights or a sparking outlet, it can be a worrisome time. Hiller is here to ease those worries for you, and can have a technician out to inspect and repair any day of the year, 24/7/365- even on holidays!
Aside from our electrical lighting and wiring repairs, we also offer installations of lighting, smart home devices, carbon monoxide and smoke detectors and so much more! We want you to feel comfortable in your home, and we'd be happy to help you decide which is best for you. 
If you're looking for some new exterior lighting, need an outlet repaired or just want a fun and safe new smart home device, just give Hiller a call and we can make sure we get a technician out to your home at any time you choose!
Resolve Electrical Safety Concerns
The core of our performance of electrical work in Nashville homes is always the absolute safety of the residents. An outdated system or even electrical problems that have arisen only recently can put you at real risk. Our Nashville electricians can keep an issue with electrical components from endangering the safety of you, your family members, or your customers. Careful electrical work can protect from the possible dangers posed by electricity. 
You may especially have a problem if your older home has two prongs, your plugs are warm to the touch, you don't have ground fault circuit interrupters, you're lacking surge protection, or your smoke alarms are out of date. These can all pose serious safety concerns if not addressed soon by a certified electrician. The Hiller electrical team ensures the safety of those in the greater Nashville area by resolving these issues and more. Don't put your safety at risk by neglecting to receive high quality electrical services. 
Ensure Your System Meets Your Electricity Needs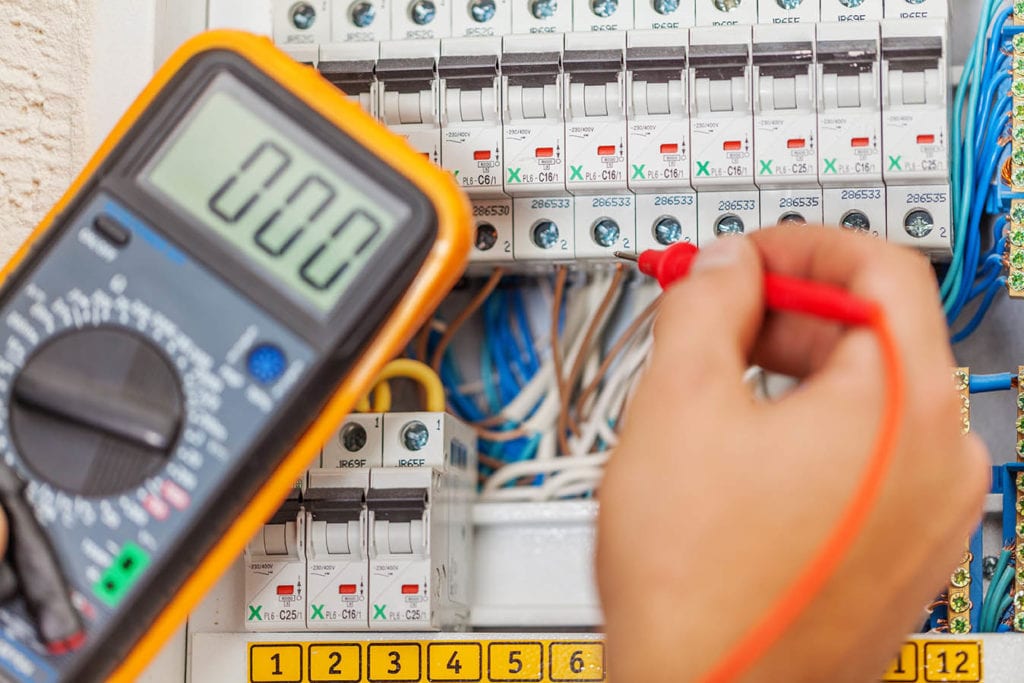 You would most likely consider a threat to your safety to be an immediate upgrade of a situation to electrical emergency. A loss of power could, for many people, also bring on the same electrical emergency panic. We use electricity constantly within our homes and offices to the point where we don't even believe ourselves capable of getting our daily tasks completed if that constant stream of electricity isn't there. Even if your electricity just isn't keeping up, it can feel disastrous. 
You don't have to worry about an electrical system that doesn't absolutely meet your needs though. If you're seeing flickering lights or if the limited amounts of outlets are driving you to fill the house with extension cords, be assured that there is a way to make sure you always efficiently receive the electricity you need. With a visit from our professional electricians in Nashville, TN, you can get all the electrical work needed to make sure your electricity needs are subsequently met. 
We can even protect you against complete power loss as a result of extreme weather conditions or another failure on the part of the municipal power grid. With a whole house backup generator, you never have to worry about losing access to the electricity you need. Hiller's electricians will help you obtain this electrical insurance, from making the decision of which backup generator to get to completing the installation. Meeting your demands for electricity can be ensured with our electrical services. 

Electrical Repairs or Replacement
No matter when you need us, Hiller will be there. Electrical problems can come up at any time, which is why we offer our emergency electrical service on a 24/7 basis as well. You often can't wait to get that electrical repair or replacement. When rust or other signs of water damage are found on electrical components, when wiring is chewed up or damaged some other way, or when anything at all seems off with the electrical system, waiting is simply too risky. Even the lights not working could be a sign of a serious electrical problem that could have you at risk for electrical fire. 
Hiller doesn't make you wait for these important electrical service matters. If you have an urgent need for electrical repair, no matter when it comes up, expect our prompt arrival for emergency electrical service. Our 24 hour electricians make sure you get repair or replacement when it's most needed. The entire electrical team makes sure you can always count on Hiller for electrical needs, whether that's repair, replacement, upgrade, or a new installation.
Contact the Hiller Electrical Team Today
Whatever you need for us, all you have to do is get in touch. The professional electricians that bring you Hiller's expertise will always be there when you need their electrical services. Have any questions? Let us know how we can help you. Getting expert electrical services from Hiller only takes one phone call. 
Nashville Plumbing, HVAC & Electrical Services

(615) 292-6110

915 Murfreesboro Pike
Nashville, TN 37217
Nashville Electrician Services
Other Nashville Plumbing, HVAC & Electrical Services