Our tech John Johnson was awesome! He diagnosed our AC problem pretty quickly and now it's blowing ice cold air. He also allowed my 3 year old to tag along and ... Read More
Our tech John Johnson was awesome! He diagnosed our AC problem pretty quickly and now it's blowing ice cold air. He also allowed my 3 year old to tag along and answered any question she had with a smile. He even gave her a squishy toy when he left! He explained to me everything that he did and what he recommended from here on out. He is outstanding! Thank you so much! Close
I couldn't be more pleased with the customer service and hvac maintenance service I received from Hiller. Samuel, the technician I had, was courteous, friendl... Read More
I couldn't be more pleased with the customer service and hvac maintenance service I received from Hiller. Samuel, the technician I had, was courteous, friendly and professional. I valued getting customer service calls confirming my appointment, and text messages with photos of the technician so I knew who to expect. I'm glad I called Hiller and will be recommending their services to others in the future as well. Thank you. Close
They are professional and very knowledgeable! They answered all of our questions and addressed all of our concerns. We will definitely be using them for all of ... Read More
They are professional and very knowledgeable! They answered all of our questions and addressed all of our concerns. We will definitely be using them for all of our electric and plumbing repairs. Highly recommend! Close
Awesome! Can't say enough about the service from Hiller. My Plumber, Matt, was extremely professional, courteous, and took care of everything! Can't wait... Read More
Awesome! Can't say enough about the service from Hiller. My Plumber, Matt, was extremely professional, courteous, and took care of everything! Can't wait to get my camper parked. So thankful to have this handled. Highly recommend, and will be calling back for any future needs. Thanks Hiller! Thanks Matt! Close
We had a major water leak & the entire staff was wonderful! A lady got us worked into the schedule and the guy came out and got us fixed up for the time being. ... Read More
We had a major water leak & the entire staff was wonderful! A lady got us worked into the schedule and the guy came out and got us fixed up for the time being. A project manager even came out to give us pricing on all new water pipes. Super fast, friendly and extremely helpful! We appreciate you and are very satisfied with your service. Close
They fixed my clogged up kitchen sink pipe. Emily was very kind and professional with the yes sir. She fixed it like a champ and made this family very happy. Sh... Read More
They fixed my clogged up kitchen sink pipe. Emily was very kind and professional with the yes sir. She fixed it like a champ and made this family very happy. She deserves a good raise. I highly recommend Hillard plumbing. They get it fixed and won't break the bank. Hillard is #1 Close
Fast service!!! Love the call from tech and text with picture and name of who I would have at my home. Arrived at beginning of time window and was very fast at ... Read More
Fast service!!! Love the call from tech and text with picture and name of who I would have at my home. Arrived at beginning of time window and was very fast at figuring out the problem and correcting it. Thank you so much Emily and Hiller of Dickson. Will definitely use again and refer to anyone I know needing service. Close
Prompt, professional,courteous; just a bit pricey
Les was great. He determined the problem and gave us options to resolve the issue. He was very professional and understood what needed to be done.
Hiller Water Heater Repair
Have you been taking torturously cold showers because your water heater stopped working or isn't heating your water like it is supposed to? If so, it sounds like it is time to give Hiller's water heater repair and installation team a call.
With over 40 years of experience, our team of experts is on hand to tackle any of your water heating needs in Dickson. Each of our technicians is board certified and licensed plumbers, leaving us with an excellent team.
We don't want our valued customers to start or end their day off without hot water for a nice, long shower. As usual, we don't know what we've got until it's gone. Give Hiller a call and we will have your water heater ready for you to soak in a hot tub of water in no time.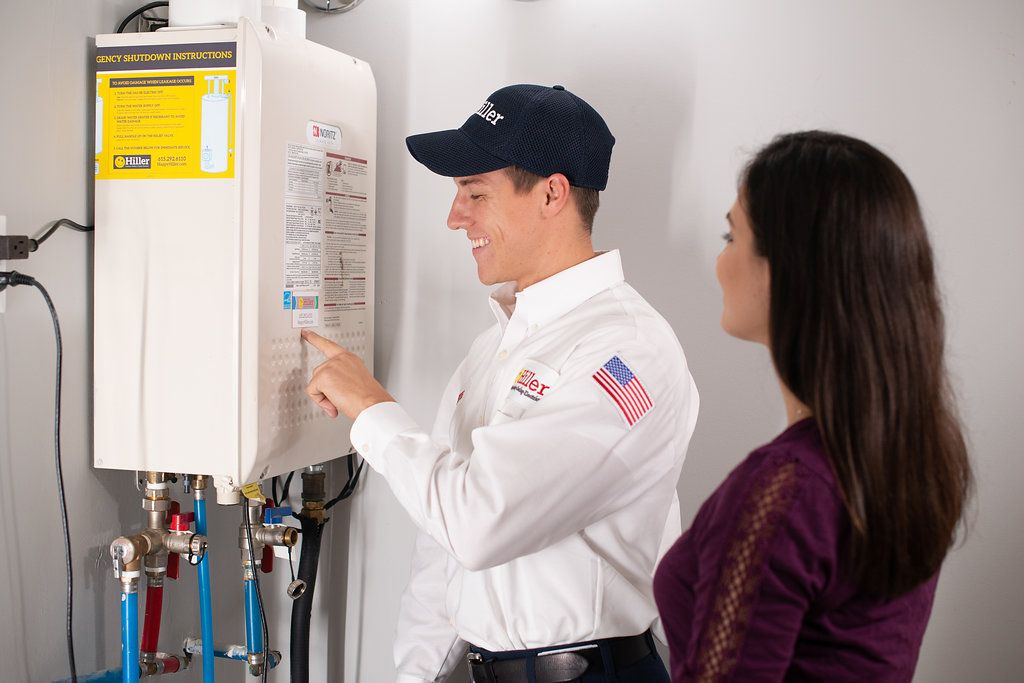 Have A Water Heater In Need Of Repair in Dickson?
When your water heater is not heating up properly, in turn now allowing for proper dishwashing or long hot shower after a hard day of work or play, it is time to contact the professionals.
Your water may be heating up, but it doesn't last as long as usual, or it isn't getting as hot as it normally does. Annoying as it is, sit tight and one of our highly trained experts will have your water heater repaired and ready to heat your water the right way.
If you hear persistent knocking, coming from inside the water heater, that means that there is sedition at the bottom of your water heater and it needs to be properly drained. Or you may notice water dripping from the nozzle, that would mean it is time to call in the professionals.
When you have one or more signs that your water heater needs immediate attention, our water heater repair experts at Hiller will evaluate and repair your appliance as needed. Our water heater repair technicians at Hiller are on hand for repairs in Dickson.
It is always a good idea to call a professional plumber when you first notice that your water heater is not working properly to avoid a larger problem that would end up being more costly.
If it is not something you can safely do yourself, give Hiller's water heater repair team in Dickson a call today.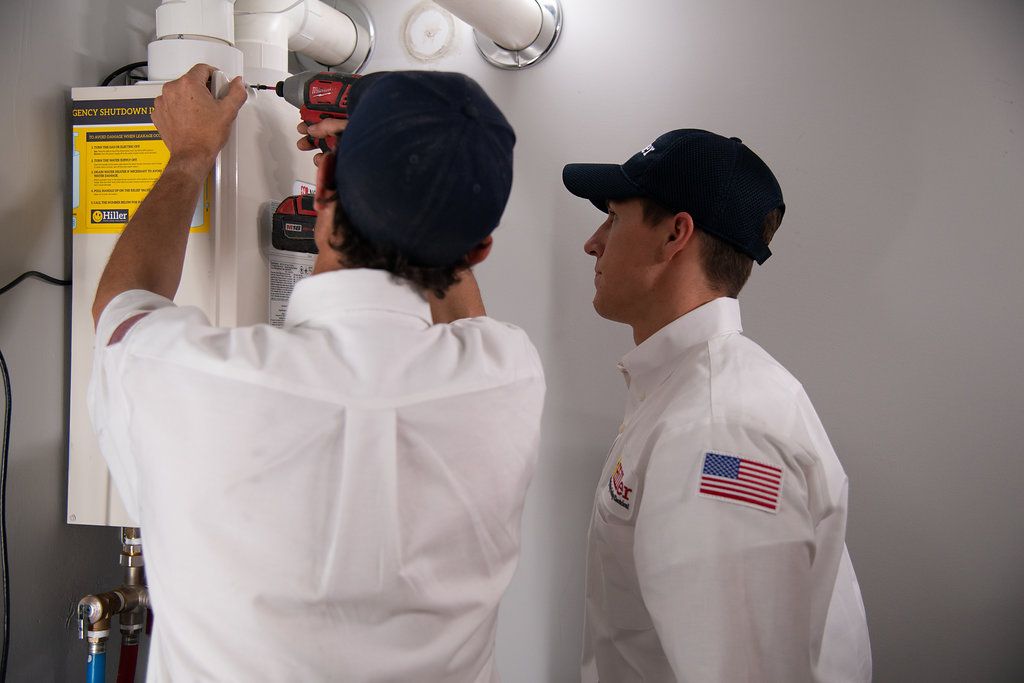 Hiller Water Heater Or Repair Services
Our highly experienced technicians have the skills and fancy tools to evaluate and service and repair any of your water heating appliances.
Should it come time for a new water heater, our experts can install one for you, get it working and producing hot water, and then instruct you on how to use it properly.
We can't think of anything worse than an ice-cold shower on a cold winter night. Hiller has the team on hand to help make sure that you aren't stuck taking cold showers for long. Hiller's water heater repair and installation team are available 24/7 for emergencies and our lines are always open and we are happy to schedule any repairs, maintenance, or installations.
When it comes to household chores, hot water is a necessity for proper sanitation as well as to wash your laundry properly. You don't realize how important hot water is until you no longer have it. Hiller will help you get your hot water flowing again.
All of our technicians are certified, plumbers. While it may seem like a great idea and a money saver to have your neighbor come over and help you try to fix your broken water heater, it should probably be left to the professionals.
By calling Hiller today to repair your water heater, you are most likely saving yourself money, and time cleaning up the mess the neighbor made while trying to help.
Our experts will evaluate your appliance and discuss with you the best plan moving forward and whether it is worth the repair or if it is time for a new water heater. We will always take your time and budget into consideration when giving you our best recommendation.
Whatever you decide, Hiller is here for all of your water heater and plumbing needs.
Contact Hiller Today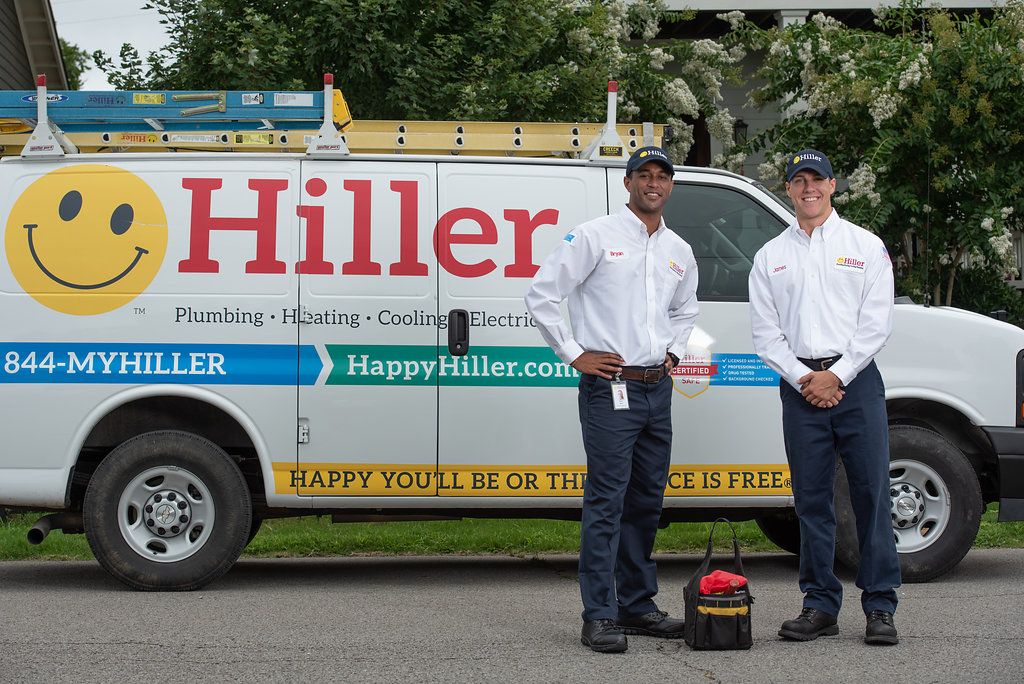 Our water heater repair and installation experts at Hiller are on hand for emergencies and regularly scheduled maintenance and repairs, so you'll no longer have to worry about taking another cold shower or the hot water running out before you can rinse out your shampoo.
Our 24/7 options make it easier for you to avoid long wait times in emergencies. We are also available to schedule regular appointments for maintenance and repairs. Reach out to Hiller's water heater repair team today to schedule an appointment.
Give Hiller a call today!
Dickson Plumbing, HVAC & Electrical Services

(615) 446-4364

1920 TN-46
Dickson, TN 37055
Dickson Plumbing Services