Our tech John Johnson was awesome! He diagnosed our AC problem pretty quickly and now it's blowing ice cold air. He also allowed my 3 year old to tag along and ... Read More
Our tech John Johnson was awesome! He diagnosed our AC problem pretty quickly and now it's blowing ice cold air. He also allowed my 3 year old to tag along and answered any question she had with a smile. He even gave her a squishy toy when he left! He explained to me everything that he did and what he recommended from here on out. He is outstanding! Thank you so much! Close
I couldn't be more pleased with the customer service and hvac maintenance service I received from Hiller. Samuel, the technician I had, was courteous, friendl... Read More
I couldn't be more pleased with the customer service and hvac maintenance service I received from Hiller. Samuel, the technician I had, was courteous, friendly and professional. I valued getting customer service calls confirming my appointment, and text messages with photos of the technician so I knew who to expect. I'm glad I called Hiller and will be recommending their services to others in the future as well. Thank you. Close
They are professional and very knowledgeable! They answered all of our questions and addressed all of our concerns. We will definitely be using them for all of ... Read More
They are professional and very knowledgeable! They answered all of our questions and addressed all of our concerns. We will definitely be using them for all of our electric and plumbing repairs. Highly recommend! Close
Awesome! Can't say enough about the service from Hiller. My Plumber, Matt, was extremely professional, courteous, and took care of everything! Can't wait... Read More
Awesome! Can't say enough about the service from Hiller. My Plumber, Matt, was extremely professional, courteous, and took care of everything! Can't wait to get my camper parked. So thankful to have this handled. Highly recommend, and will be calling back for any future needs. Thanks Hiller! Thanks Matt! Close
We had a major water leak & the entire staff was wonderful! A lady got us worked into the schedule and the guy came out and got us fixed up for the time being. ... Read More
We had a major water leak & the entire staff was wonderful! A lady got us worked into the schedule and the guy came out and got us fixed up for the time being. A project manager even came out to give us pricing on all new water pipes. Super fast, friendly and extremely helpful! We appreciate you and are very satisfied with your service. Close
They fixed my clogged up kitchen sink pipe. Emily was very kind and professional with the yes sir. She fixed it like a champ and made this family very happy. Sh... Read More
They fixed my clogged up kitchen sink pipe. Emily was very kind and professional with the yes sir. She fixed it like a champ and made this family very happy. She deserves a good raise. I highly recommend Hillard plumbing. They get it fixed and won't break the bank. Hillard is #1 Close
Fast service!!! Love the call from tech and text with picture and name of who I would have at my home. Arrived at beginning of time window and was very fast at ... Read More
Fast service!!! Love the call from tech and text with picture and name of who I would have at my home. Arrived at beginning of time window and was very fast at figuring out the problem and correcting it. Thank you so much Emily and Hiller of Dickson. Will definitely use again and refer to anyone I know needing service. Close
Prompt, professional,courteous; just a bit pricey
Les was great. He determined the problem and gave us options to resolve the issue. He was very professional and understood what needed to be done.
If you are looking for a reputable heating repair company with over 30 years of experience in the Dickson area, look no further than Hiller's heater repair team. We have highly trained and qualified experts for all of your heater repair needs, and to keep you toasty and warm during the cold winter months ahead. 
Our goal at Hiller is to make sure that your equipment is running as it should so that you stay toasty and warm in your home, or on the cooler side, whatever is comfortable for you. Whether it is a necessary repair or regular maintenance, our experts will evaluate and service your equipment so that it is producing the right temperature and airflow you have come to expect from your heating system.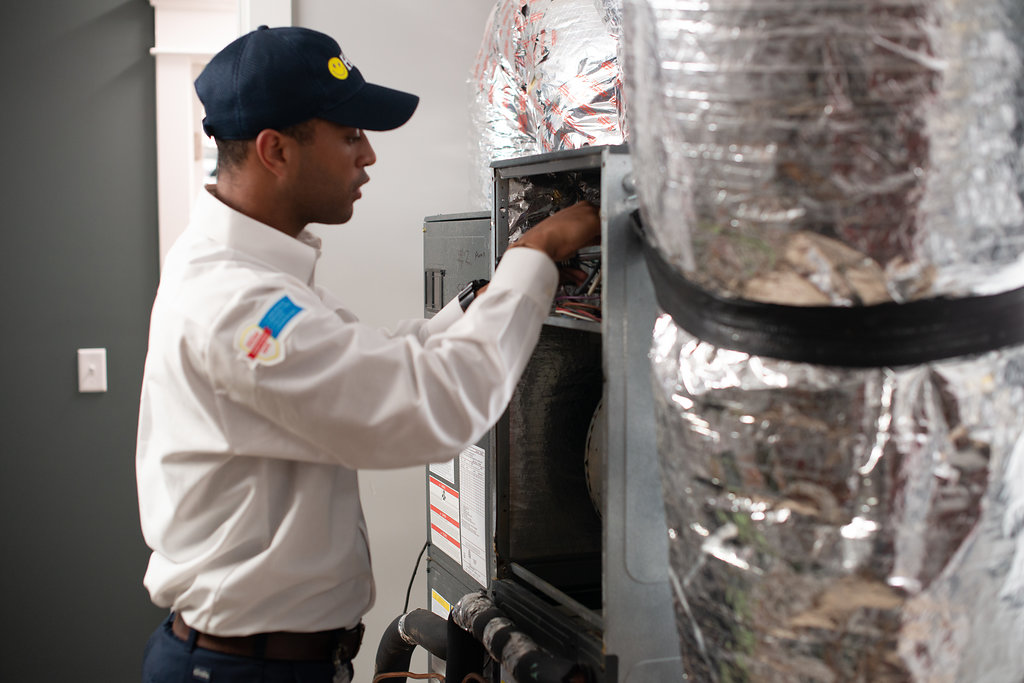 Have a Heater in Need of Repair?
It is completely normal and expected for your heating system to occasionally require a needed repair. By staying on top of this, you not only ensure that your unit continues to work as it should and produce the clean and warm airflow you have gotten used to. If you notice strange noises coming from your unit, or your bill arrived and it is substantially higher than expected, it is time to give Hiller a call to come and evaluate and repair your heating system. From a simple malfunction to a major breakdown, our experts can identify and repair any issue your heater is experiencing. 
Heaters are a lot like the rest of your HVAC systems, so you will want to keep an eye and ear out for similar signs of a malfunction. Should your energy bill seem to be unusually high, or you notice loud or abnormal noises coming from your heater, be sure to give us a call so we can get to work on your heating system, and get you back to being warm and cozy while also avoiding a potential breakdown.
Hiller Heater Maintenance Services
When you schedule regular maintenance on your heating systems, you will be prolonging the life of your existing unit as well as ensuring that the airflow into your home is cleaner and healthier. Major heater repairs can be costly, and the last thing you need is an unexpected bill for replacing or repairing something from a breakdown that could have been avoided with regular maintenance on your heating unit. Our experts on Hiller's heater repair team can help you keep your heating system running up to par, while simultaneously extending the life of your equipment. 
By improving the efficiency of your heater and prolonging the life of your unit, you will be saving a lot of money and headaches over time. Of course, routine maintenance and cleaning of your equipment and filters can also improve the quality of the airflow in your home producing a healthier environment. Hiller will help you keep cozy and warm throughout the colder months of the year in Dickson.
Hiller Heater Installation or Replacement
If you are interested in upgrading your current heating unit, or you are looking to replace your older equipment, Hiller has the professional heater repair team in place to help you make the best choice for your home and your budget. We will consider many factors when it comes to choosing the right replacement heater that will work ideally for you in your home. 
Are you looking to simply upgrade your existing equipment, either as a part of a replacement or a need to improve on your heating unit that is already in place? Our experts will help you when considering many different factors, such as the size of your home, the space it needs to cover, and integrating the new system with the current HVAC system you currently have.  After we help you choose the best replacement unit for you, our team of highly skilled technicians will install your new heating unit, ensure that it is working correctly, and then instruct you on how to best operate and care for your new unit going forward.
Contact Hiller Today
If you require emergency heater repair services or repairs, give Hiller Heater a call today. 
Our 24/7 emergency heater repair options can help you avoid long wait times on major breakdowns or malfunctions. We are always taking calls to set up appointments for standard, non-emergency repairs and services as well. Hiller will be there for you when you need us. 
Dickson Plumbing, HVAC & Electrical Services

(615) 446-4364

1920 TN-46
Dickson, TN 37055
Dickson HVAC Services