Hiller and every person from this company I've had the pleasure to work on my stuff have been professional, courteous, knowledgeable, communicative, and worke... Read More
Hiller and every person from this company I've had the pleasure to work on my stuff have been professional, courteous, knowledgeable, communicative, and worked to ensure my systems work well and properly according to my needs and desires. They always explain what is going on with the system and provide several options to follow for any corrective action. They've always been respectful of my input and suggestions. In my opinion, Hiller should be your first choice for your household systems. Close
Arrived early. Anthony was very professional and did everything possible to fix the very old water lines. He got water back to the house and even gave me a disc... Read More
Arrived early. Anthony was very professional and did everything possible to fix the very old water lines. He got water back to the house and even gave me a discount. I have always recommended Hiller and will continue to do so !! Close
Austin , the plumber who came to our house was extremely professional. He treated his job as if we were his highest priority. He started the job and did not qui... Read More
Austin , the plumber who came to our house was extremely professional. He treated his job as if we were his highest priority. He started the job and did not quit until he finished . I would definitely recommend Hiller Plumbing to take care of any plumbing needs that you may have . They came on time and when they said they would. In fact we were given a call telling us when Austin was on his way . This is the way I want to be treated . We were made to feel appreciated for our business . I will use Hiller for all my plumbing needs. Mark Elliott Close
Had a water line break under my manufactured home while out of town. Raced back and was able to get same day repair. Jeremiah was very professional and showed m... Read More
Had a water line break under my manufactured home while out of town. Raced back and was able to get same day repair. Jeremiah was very professional and showed me everything that needed to be done to prevent a recurrence of the problem. Very happy with the excellent service. Will definitely be using them for all my Plumbing and HVAC needs. Close
It was our first time using Hiller and everyone I spoke with was very nice and helpful. Keith Couch was our tech and he was great. We would not hesitate to use ... Read More
It was our first time using Hiller and everyone I spoke with was very nice and helpful. Keith Couch was our tech and he was great. We would not hesitate to use Hiller again. Thanks for everything. Close
Our AC stopped cooling. Called Hiller and our technician David James came out and took care of the problem right away. We received quick, courteous, and profes... Read More
Our AC stopped cooling. Called Hiller and our technician David James came out and took care of the problem right away. We received quick, courteous, and professional service. Highly recommended. Close
Hiller is TOP SHELF. I called at 3:00 and they were here by 4:00. They tell me who is coming, they even send a picture. The technician is in a perfect uniform, ... Read More
Hiller is TOP SHELF. I called at 3:00 and they were here by 4:00. They tell me who is coming, they even send a picture. The technician is in a perfect uniform, friendly , and professional. The AC was back on in no time. I have lived in Nashville for 7 years and I have used Hiller exclusively for all of my HVAC and electrical work. My neighbors tell me they are expensive and I say that's okay. These guys are top shelf, just like the good margaritas. If you want it done right, right now or close to it,,.. call The Happy Face Truck today! Close
We just had to have a pipe replaced. They were very professional and courteous. They were respectful of our time and responsive with their communication. I'm ... Read More
We just had to have a pipe replaced. They were very professional and courteous. They were respectful of our time and responsive with their communication. I'm incredibly pleased with the service I received. Close
My AC stopped working randomly, and of course it's Tennessee in the summer time, so I had to call someone. The place closest to me couldn't get out until Monday... Read More
My AC stopped working randomly, and of course it's Tennessee in the summer time, so I had to call someone. The place closest to me couldn't get out until Monday, and they also charge twice as much, but I took a chance on Hiller. I called them first thing this morning and they came out with in 2 hours. Both the men were courteous and well prepared, and knowledgeable. I think all of those are important. They got to work immediately trying to locate the problem, which they did, within minutes. Turned out to be a quick fix that only cost me $100, including the visit. I'm definitely grateful ?? they were able to get out and get her fixed so quickly. He even offered me a service plan, that I think I will sign up for next month. They come out and service your unit in the spring and in the Autumn, to get you ready for the harsh summer/ winter. Anyway, I'm definitely giving these guys 5 stars for speed, accuracy, knowledge, price, manners, all that. And one thing I always worry about as a single woman, having to call a maintenance guy of any kind, is safety... I didn't feel like I had to worry about that, even a little bit with them,and that is something that is always a relief. So I definitely recommend ?? these guys!! Close
Our water heater started leaking and the garage started to fill with water. I called Hiller and they were able to send someone within two hours. Alex was very p... Read More
Our water heater started leaking and the garage started to fill with water. I called Hiller and they were able to send someone within two hours. Alex was very professional explained the issue and quickly gave me a quote that was reasonable. The work was completed in 30 minutes. Close
Hiller has always done a great job and been prompt about dealing with any issues head on. I use them exclusively! This visit was as you would expect and the tec... Read More
Hiller has always done a great job and been prompt about dealing with any issues head on. I use them exclusively! This visit was as you would expect and the tech's are super friendly and knowledgeable. What's great about Hiller is if you have a problem with any after they service it, they come back to fix it. That means a lot. Close
With a newborn at home and the A/C going out we needed help! Thankfully Hiller had a Technician here in an hour. He was extremely thorough, very knowledgeable, ... Read More
With a newborn at home and the A/C going out we needed help! Thankfully Hiller had a Technician here in an hour. He was extremely thorough, very knowledgeable, and quickly found the issue and explained it very well. I could have fixed it for much less myself, however, with the AMAZING veteran discount, subscribing to the happy hiller club, it was well worth the price of the repair. Plus, we now have 2 FREE system checks a year, NO emergency service fees, and we are extremely grateful for the help. Close
I'm a happy Hiller customer! I've been using Hiller for HVAC for several years and twice for plumbing repairs. I did have one unhappy experience a few years... Read More
I'm a happy Hiller customer! I've been using Hiller for HVAC for several years and twice for plumbing repairs. I did have one unhappy experience a few years ago but they made it right, very quickly. Outside of that one time I've been completely satisfied and happy with the company and it's service personnel. Close
We just bought a new to us home in Spring Hill and wanted to be sure the heating and air conditioning was working and up to standard. Dave made a few recommenda... Read More
We just bought a new to us home in Spring Hill and wanted to be sure the heating and air conditioning was working and up to standard. Dave made a few recommendations and got us on a plan to have it checked regularly. Both Dave and the technician Lee that came to our house to give us an estimate for a home generator we're very professional and knowledgeable. Close
It's the weekend and our usual local plumbers were on vacation or not available till Monday. Figured the "big box " guys would be open and was lucky to get some... Read More
It's the weekend and our usual local plumbers were on vacation or not available till Monday. Figured the "big box " guys would be open and was lucky to get someone to come by. Replaced our water line chewed up by mice, gave great recommendations on how to avoid the issue and clean up. But the main thing I got from the transaction was the worker himself. Cody made me feel like I was working with a knowledgeable individual, not a huge corporation. Totally changed my mindset on using Hiller and not only will we use them again if need be, I'd request Cody based on his Customer Service. Was also impressed from the start with the receptionist and GPS guided time of arrival once the appointment was confirmed. Close
I could not have asked for someone to work harder to give me as much help and information as they could than Alex did. He was upfront with my bigger issues. I k... Read More
I could not have asked for someone to work harder to give me as much help and information as they could than Alex did. He was upfront with my bigger issues. I knew they existed, but he gave me what options he could. I feel like he helped me understand better wjat i was up against. As always, Hiller has been a great help. I have much more to go thru, but i trust them to help me with these problems. Close
David was knowledgeable about the work he does (I asked Hiller to come out for my heating and AC unit on my townhomes build in 2020) and very kind. He relayed a... Read More
David was knowledgeable about the work he does (I asked Hiller to come out for my heating and AC unit on my townhomes build in 2020) and very kind. He relayed all the info I needed personally, without any confusing terminology, and also uploaded everything to my profile immediately after he left the appt. Close
Contacted well after hours. Was able to make an appointment for first thing the following morning. Very prompt arrival, courteous and professional service. High... Read More
Contacted well after hours. Was able to make an appointment for first thing the following morning. Very prompt arrival, courteous and professional service. Highly recommended! Close
Hiller as always were very professional and provided excellent service. The service tech's name was Keith Couch, he was very courteous and showed up an hour e... Read More
Hiller as always were very professional and provided excellent service. The service tech's name was Keith Couch, he was very courteous and showed up an hour early and repaired my a/c unit. More impressive is the fact that I called in with the issue at 8 am on the 4th of July. Great job Keith and Hiller! Close
I called to schedule an appointment and they were able to come out within an hour. Bryan was great. He was so nice to my dog who wouldn't stop barking the entir... Read More
I called to schedule an appointment and they were able to come out within an hour. Bryan was great. He was so nice to my dog who wouldn't stop barking the entire time and he was professional. He fixed my issue quickly. Really great service. Thank you Close
Can't recommend them enough! Brent did a great job in the sales process, it felt natural and comfortable and went above expectations. Install was smooth and e... Read More
Can't recommend them enough! Brent did a great job in the sales process, it felt natural and comfortable and went above expectations. Install was smooth and easy! Close
Have used this company several times over the past few years. They are always on time, Perform quality work in a timely manner. Highly recommend them for home... Read More
Have used this company several times over the past few years. They are always on time, Perform quality work in a timely manner. Highly recommend them for home services. They really care about you as a customer. Close
We had serious problems that took them two days to repair. They were out the same day we called them. Chris, Steve, and Lee were all wonderful to work with. Wil... Read More
We had serious problems that took them two days to repair. They were out the same day we called them. Chris, Steve, and Lee were all wonderful to work with. Will use them again. Close
As usual, I'm happy with Hiller. I got an appointment same day as I called. The tech was helpful and knowledgeable and fixed the problem. We've used Hiller f... Read More
As usual, I'm happy with Hiller. I got an appointment same day as I called. The tech was helpful and knowledgeable and fixed the problem. We've used Hiller for all our home systems: plumbing, electrical, HVAC. I highly recommend their service. Close
The service man was very good at his job at capping off an old gas line under my home from an old Barbacue grill that was not there anymore. They even took pict... Read More
The service man was very good at his job at capping off an old gas line under my home from an old Barbacue grill that was not there anymore. They even took pictures under my home ( in the crawl space ) to show me the before and after results. Very good work, and they worked very safely. Thankyou, this Company did a great job getting to my home quickly and at a good price too. Close
Prompt, courteous, knowledgeable, efficient. Called on a Sunday morning and they were on site just a couple hours later. Couldn't ask for better service. J... Read More
Prompt, courteous, knowledgeable, efficient. Called on a Sunday morning and they were on site just a couple hours later. Couldn't ask for better service. Joe took my initial call and was excellent. I received updates via email and text up until the technician arrived. Cody did a great job on site. Great all around! Close
We were very happy with the service provided by Kaylen today. He was extremely professional, polite and knowledgeable. He did a great job, and did high quality ... Read More
We were very happy with the service provided by Kaylen today. He was extremely professional, polite and knowledgeable. He did a great job, and did high quality work. We highly recommend Hiller as a company, and definitely suggest you ask for Kaylen. You will not be disappointed. 5 Stars for sure! Close
Alex was an amazing guy and very professional! He was very clean and cared very much about his work and the job at hand. He was quick but also very thorough! If... Read More
Alex was an amazing guy and very professional! He was very clean and cared very much about his work and the job at hand. He was quick but also very thorough! If I ever have an issue again I will be using Hiller and asking for Alex specifically!! Close
I called Hiller because of a couple of electrical plugs that I was having trouble with and one was lightly smoking on occasions. When I called in the lady I spo... Read More
I called Hiller because of a couple of electrical plugs that I was having trouble with and one was lightly smoking on occasions. When I called in the lady I spoke with was very concerned and very helpful. She got me scheduled immediately. Brian arrived and checked out the outlets and diagnosed the issues fast and promptly. He explained and showed all of the options and pictures to both my wife and I. After we agreed to make the repairs brian got it fixed fast. He left his work area very clean with no issues. Definitely worth 5 stars. We will definitely be using Hiller in the future for all our electrical needs. Thanks again everyone involved. Great job! Close
Cody was our repairman. He was absolutely AWESOME!!! Super polite, very knowledgeable and answered our questions. We received confirmation texts, of when he ... Read More
Cody was our repairman. He was absolutely AWESOME!!! Super polite, very knowledgeable and answered our questions. We received confirmation texts, of when he would be out and when he was on his way. The most amazing customer service ALL AROUND! SUPER IMPRESSED WITH EVERYONE HERE!!!! Close
Hiller is amazing! They always send friendly, knowledgeable techs. They take the time to explain everything and make sure we understand all our options. We turn... Read More
Hiller is amazing! They always send friendly, knowledgeable techs. They take the time to explain everything and make sure we understand all our options. We turned to Hiller after choosing the "other guys" first because they were cheaper and that was a huge mistake! Fortunately we called Hiller to help and they have made everything right and we are Hiller customers for life! Close
Cody did a great job installing a new shower valve in the master shower. I usually do things myself but in this case was a little over my head. He was respectfu... Read More
Cody did a great job installing a new shower valve in the master shower. I usually do things myself but in this case was a little over my head. He was respectful of the property and always wore boot covers while inside. I wouldn't hesitate to call them the next time I get in over my head. Great job. Close
Austin showed up on time with a smile. He was very friendly and courteous. We will definitely use Hiller again. Update 8-12-22 Today Weston & Cade(may be spell... Read More
Austin showed up on time with a smile. He was very friendly and courteous. We will definitely use Hiller again. Update 8-12-22 Today Weston & Cade(may be spelled wrong) upgraded/replaced our circuit breaker. They were amazing, friendly and time conscious with the heat. Still happy with Hiller and will continue to use them. Close
1. I had my whole home repiped by Hiller recently. Johnathan, the project manager, is always a good guy to work with. Chris and Cameron were the techs who did t... Read More
1. I had my whole home repiped by Hiller recently. Johnathan, the project manager, is always a good guy to work with. Chris and Cameron were the techs who did the install and they were fantastic. 2. I have also had general service calls with a few of their guys. They all are great. Alex was particularly awesome. Close
Connor came out and did a thorough inspection of our unit, as well as explained everything to us in detail that he looked at. We thought something was wrong, si... Read More
Connor came out and did a thorough inspection of our unit, as well as explained everything to us in detail that he looked at. We thought something was wrong, since the thermostat didn't seem to be cooling properly at times, but after inspection, he assured us he couldn't find anything wrong. He also went over the remainder of our warranty information for our unit, and helped us understand what to keep an eye on. If we could, we'd have him as our primary technician! He was fantastic, very professional, and had an excellent personality! Close
These guys are awesome! They came out after hours and made sure my house was safe for the night. Came back the next day and worked ALL day to get my electricity... Read More
These guys are awesome! They came out after hours and made sure my house was safe for the night. Came back the next day and worked ALL day to get my electricity back on. Courteous, answered all my questions and just genuinely good guys. Extra special mention to Ryan, Hayden, and Cory. These guys are amazing. Will definitely call again for any other needs. Close
These guys are awesome! They came out after hours and made sure my house was safe for the night. Came back the next day and worked ALL day to get my electricity... Read More
These guys are awesome! They came out after hours and made sure my house was safe for the night. Came back the next day and worked ALL day to get my electricity back on. Courteous, answered all my questions and just genuinely good guys. Extra special mention to Ryan, Hayden, and Cody. These guys are amazing. Will definitely call again for any other needs. Close
My experience with Connor was great he did such an amazing job and explaining what his work was going to consist of and the importance of what he was doing I fe... Read More
My experience with Connor was great he did such an amazing job and explaining what his work was going to consist of and the importance of what he was doing I felt so comfortable talking with him answering all of my nervous questions his personality was over the top he understood what I was trying to explain. I greatly appreciate his time and energy that it took to fix what the issue was. I would most definitely recommend him anytime and I will be calling on him whenever it comes a need. Close
We had a water filtration system installed on our house. Hiller was highly recommended. They were quick to come out. Super friendly and informative. Great exper... Read More
We had a water filtration system installed on our house. Hiller was highly recommended. They were quick to come out. Super friendly and informative. Great experience and product! Close
Whole house re-plumb & water filtration/softener system. Excellent from beginning to end. Technicians were professional, knowledgeable, super helpful, thorough ... Read More
Whole house re-plumb & water filtration/softener system. Excellent from beginning to end. Technicians were professional, knowledgeable, super helpful, thorough & respectful. Will ONLY use Hiller for any future needs. A++++Cody has been out for a few additional needs & is always respectful, friendly & knowledgeable. Hiller is the best & I refer them to all my friends. Close
Yesterday we called and left a message with a company who did our original thermostat install, and they never called back. The receptionist at Hiller was very ... Read More
Yesterday we called and left a message with a company who did our original thermostat install, and they never called back. The receptionist at Hiller was very professional, friendly, and understood our unique scheduling needs. Jordan came to install and let us know before he came. Very helpful and arrived on time. He explained it very thoroughly-even showing us how to save money on our heating/cooling needs for our particular home. We will definitely call Hiller again! Close
Bill with Hiller plumbing came out and helped us take care of a few different things in our home! He called early and offered to stop by before our scheduled ti... Read More
Bill with Hiller plumbing came out and helped us take care of a few different things in our home! He called early and offered to stop by before our scheduled time if we were ready. He was super professional and friendly as I walked him through what needed to be fixed! He went above and beyond and was super efficient with his time. We will definitely be using them again! Close
Bryan and Ryan were my technicians today. I needed an existing ceiling fan removed, and a new chandelier put in its place. Also, one of my outlets wasn't work... Read More
Bryan and Ryan were my technicians today. I needed an existing ceiling fan removed, and a new chandelier put in its place. Also, one of my outlets wasn't working and I needed it repaired. Both men were very professional, knowledgeable and pleasant the whole time they were at my home. They installed the light and fixed the outlet, they explained the process to me, cleaned up after themselves, and delivered an overall, pleasant and successful experience. I will be using Hiller for all my plumbing and electrical needs in the future. I highly recommend. Close
I had called multiple local plumbers that said it would be a week or two before they could come check out a leak I had behind my water heater. I called Hiller a... Read More
I had called multiple local plumbers that said it would be a week or two before they could come check out a leak I had behind my water heater. I called Hiller and they had someone come out the next day. He was very knowledgeable about what to do and the best way to fix it. He was thorough about what it would cost, which was about the range I expected it to be- fair priced. He got the work done quickly and cleaned up after himself. Very polite and professional as well. I was very pleased. Close
Mitchell was wonderful. I wasn't completely sure my heat pump was working properly. He did a thorough analysis and explained the system habits in detail. Help... Read More
Mitchell was wonderful. I wasn't completely sure my heat pump was working properly. He did a thorough analysis and explained the system habits in detail. Helped me with some custom thermostat programming while he was here as well. Very professional and thorough. Always happy with Hiller! Close
On time. Good assessment of the situation. Fair price for good work. They did the work quickly and professionally. Suggest to sign-up for the Happy Hiller Club ... Read More
On time. Good assessment of the situation. Fair price for good work. They did the work quickly and professionally. Suggest to sign-up for the Happy Hiller Club to get regular check-ups on your HVAC units. Highly recommend Hiller! Close
We've used Hiller for a ton of work at our new property...everything from lighting, AC/Heat, water heater, etc. and they did a fantastic job, particularly Bobby... Read More
We've used Hiller for a ton of work at our new property...everything from lighting, AC/Heat, water heater, etc. and they did a fantastic job, particularly Bobby the electrician who was able to install an awesome outdoor light system built into trees. We live in a forest and at night it was basically black outside and now our front property area and back property are all lit up beautifully. They even got us a street light by our front gate entrance as well being in the process of installing an automatic gate opener. All of it was pricey, but I don't mind paying for quality, licensed technicians, having a warranty on the work and peace of mind knowing it was done right. Close
Water was leaking out of our water service box at the road. I decided to call Hiller. It was late morning when I called, the lady on the phone fit us in for an ... Read More
Water was leaking out of our water service box at the road. I decided to call Hiller. It was late morning when I called, the lady on the phone fit us in for an appointment. The technician Robert actually was several hours early. I was quoted 2 prices, one with them digging it out, one with us digging it out. To save money this close to Christmas, we decided to dig. We scheduled a second appointment for him to return, which gave me time to dig. Monday morning, I get a phone call and a text, saying he's on his way, early into my 10:00-12:00 window. He gets there and within an hour or so, we have water again. I would highly recommend them. Everyone I dealt with was really nice, and very professional. We will definitely use them again Close
I contacted Hiller on a Sunday evening With AC issues. They were able to get me a service technician out early the following morning by the name Corey. He not o... Read More
I contacted Hiller on a Sunday evening With AC issues. They were able to get me a service technician out early the following morning by the name Corey. He not only got me fixed up he was able to give me a rundown on the condition of my entire system and explain to me what it would be like to replace it. He was very courteous and professional and a pleasure to talk to. I'm happy I called them and would definitely recommend them to friends and family. Close
Hiller Drain Cleaning and Repair Services
Are you in need of a reputable and reliable drain cleaning and repair service? Hiller's drain cleaning and repair services in Columbia have the team and experience to tackle any of your drainage and plumbing problems. With over 40 years of experience, our highly trained technicians are board-certified and licensed and are on standby for all of your plumbing and drainage system needs. Our experts will have your drains clean and flowing in no time at all. Just give Hiller a call.
Our goal at Hiller is to ensure that our valued customers have free-flowing drains and pipes, free of nasty odors and slow draining sinks throughout your homes. Should a clogged drain become an issue that you are not able to fix yourself, Hiller is at your service. Do not worry that the kids stuffed the entire lasagne down the drain, not knowing there is no garbage disposal in place. Our technicians at Hiller will get your drains cleared out and happy to help with any other drainage issues on hand. Hiller's drain cleaning and repair team is ready for all of your plumbing needs.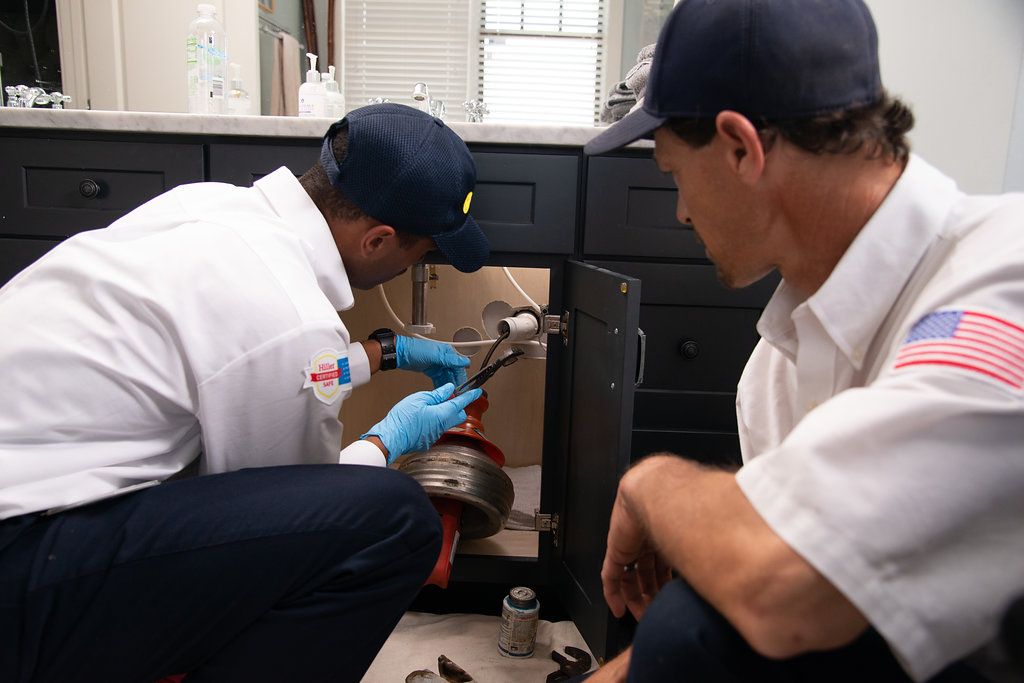 Have A Drain In Need Of Cleaning?
There are several steps that you can take to clean your drains or unclog your sinks. Hiller kindly encourages our valued customers not to use harsh chemicals to unclog or drain your sinks. Chemicals used for this service tend to strip and erode your pipes, eventually resulting in an early replacement or repairs to your water and sewage draining systems.
At Hiller, our drain cleaning and repair experts will always attempt the best route first to extract whatever is causing the draining problem first. Should the issue in your draining system be a larger or more complicated fix than was originally thought, our technician will always consult you first and discuss the best option going forward for your home and pocketbook.
Hiller Drain Cleaning Services
Staying one step ahead in your sinks and drains as far as ensuring your drains always flow free is a great benefit to your water and septic drainage systems as well as your budget. There are simple steps that you can regularly take when using your sinks and drains that can help you to keep your drains from frequently clogging and building up with residue. Simply running hot water after each use is one way to keep grease and debris from quickly building up. Another simple step is to keep a clean plunger under your sinks and near your drains for a quick unclogging before you might need to call in the professionals. Hiller will be here for you when you need us.
Whether you would like all of your drains cleaned at one time, or you need us to come and unclog your drain, our team of drain cleaning and repair experts are always on hand at Hiller in Columbia. An unpleasant odor coming from your sinks doesn't mean the worst, Hiller is happy to clean your drains and clear the odors away. We take particular steps to inspect your drains and get them flowing again. We begin by interesting a tiny fiber-optic camera down your drains to see what we can find that may be obstructing your drainage system. Afterward, we will discuss with you what we find and what would be the best way to proceed ensuring that your water and septic system draining system is clean and clear and flowing as it should be.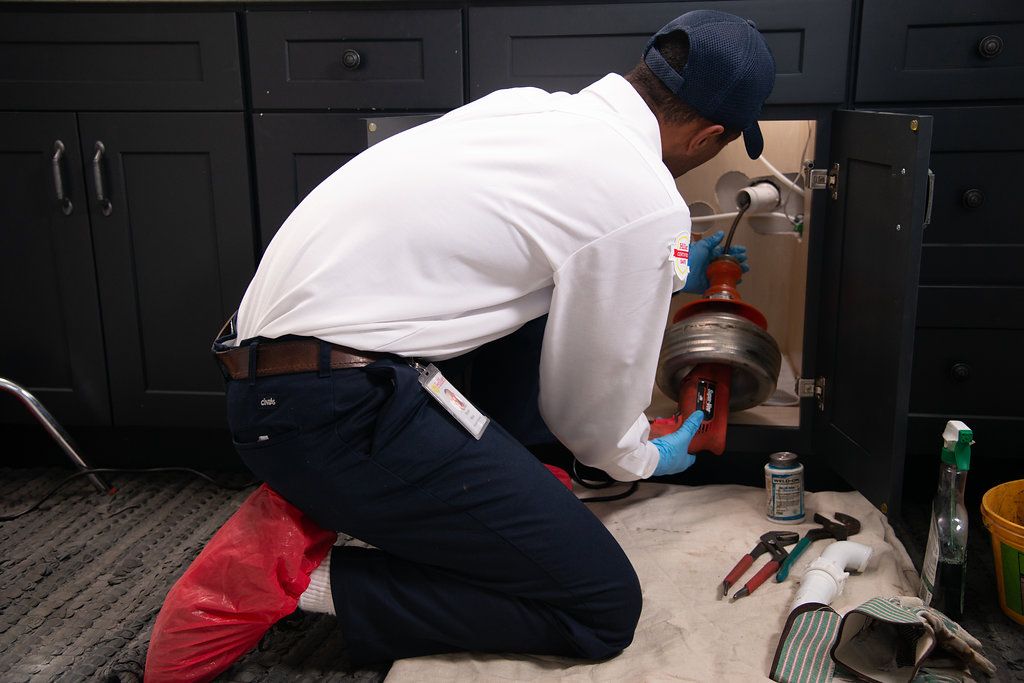 Hiller Drain Repair and Maintenance
When you schedule regular maintenance on your drainage system, you are potentially saving yourself a lot of money in the end. Most likely also preventing a bigger problem, such as flooding or clogging that required professional plumbing services. Our highly trained and experienced technicians will inspect your drains and then give you the best possible recommendation before going forward. By regularly cleaning and maintaining your drains, without using harsh chemicals, you are prolonging the life and bettering the function of your drains and pipes. Should it come time for a repair of your drainage pipes, our highly skilled experts at Hiller in Columbia are ready to help.
By improving the flow of your drains and pipes, you are prolonging the life of your water and septic system, ultimately saving you money that could be used for more important things around the house. With regularly scheduled cleaning and maintenance services, you are improving the quality of flow in your plumbing and drains around your home. At Hiller, we are here to ensure that your drains are flowing strong and not slow.
Give Hiller A Call Today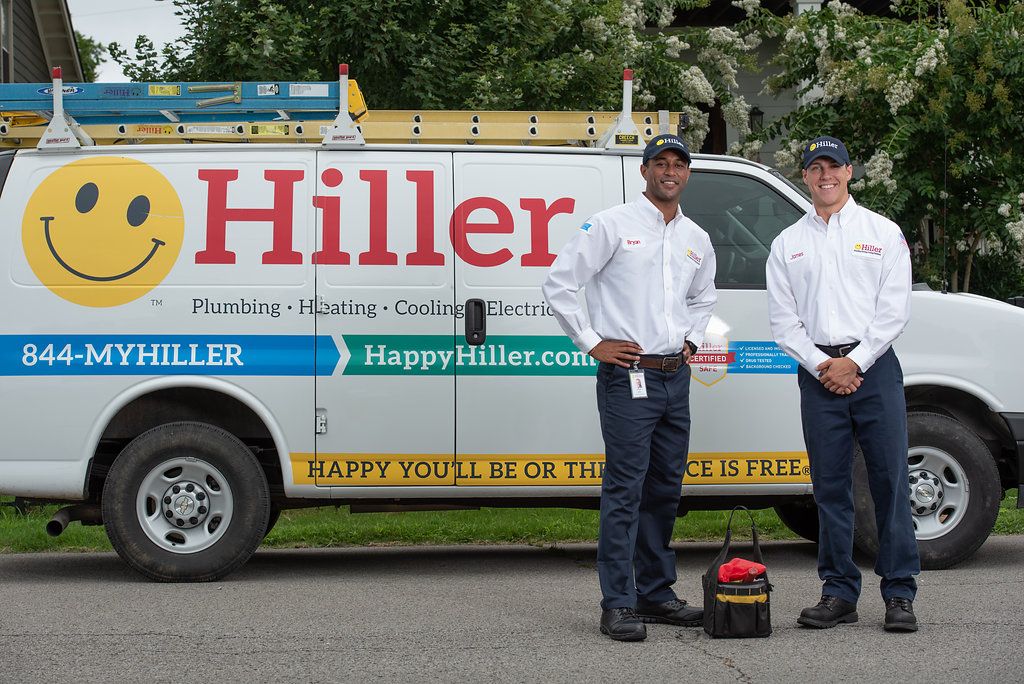 If you need emergency drain and pipe repair, Hiller is here for you. Our team of licensed and certified plumbers is just a phone call away. Whether you need immediate service, or you would simply like to schedule an appointment for a drain cleaning or repair service, Hiller is ready for your call.
Our 24/7 plumbing and repair options make it easier for you to avoid long wait times on major clogs or flooding. We are also always available to schedule regular maintenance, cleaning, or repair services in Columbia. Give us a call today at Hiller Plumbing, Heating, Cooling, and Electrical to schedule an appointment.
Columbia Plumbing, HVAC & Electrical Services

(931) 381-2413

2555 Pulaski Hwy
Columbia, TN 38401
Plumbing Services in Columbia, TN