Looking for the Best HVAC Companies in Cleveland? We're the #1!
When it comes to HVAC, Cleveland trusts Happy Hiller for quality installations, replacements, and maintenance. We're proud to be among the best HVAC companies with our 100% satisfaction guarantee.
Our trustworthy, drug-free contractors uphold strict standards – shoe covers are always worn, and homes are left cleaner post-work. Plus, our equipment and fixture guarantee ensures that if anything fails within the first year, we replace it for free!
Whether it is for regular maintenance of emergency HVAC replacement, give us a call! We're your #1 HVAC company in Cleveland ready to be of service.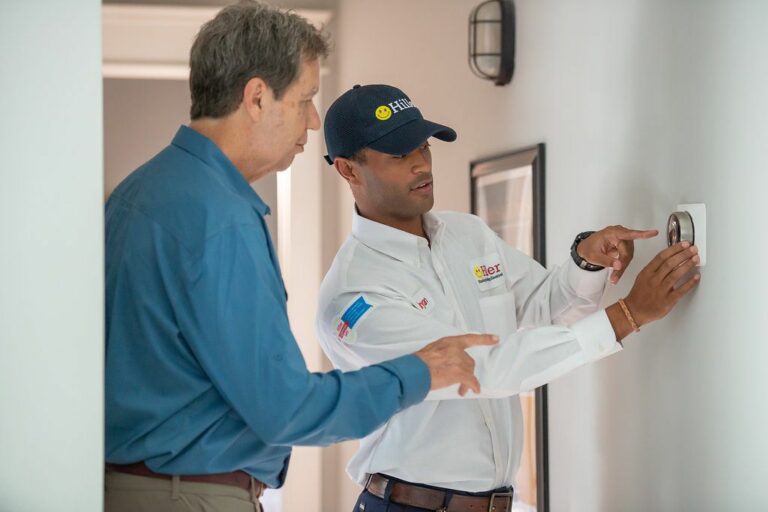 Our Comprehensive HVAC Installation Services

Happy Hiller, one of Cleveland's best HVAC companies, is the trusted choice for comprehensive HVAC installation services that prioritize your comfort, always delivered with professionalism and efficiency.
When you choose us, you're not just receiving a temporary solution, but a dedicated partner committed to providing customized HVAC installation tailored to your specific needs.
We specialize in installing state-of-the-art new systems or delivering effective HVAC replacements for units that no longer meet your home's requirements. Rest assured, you'll experience a new stage of indoor comfort with Happy Hiller.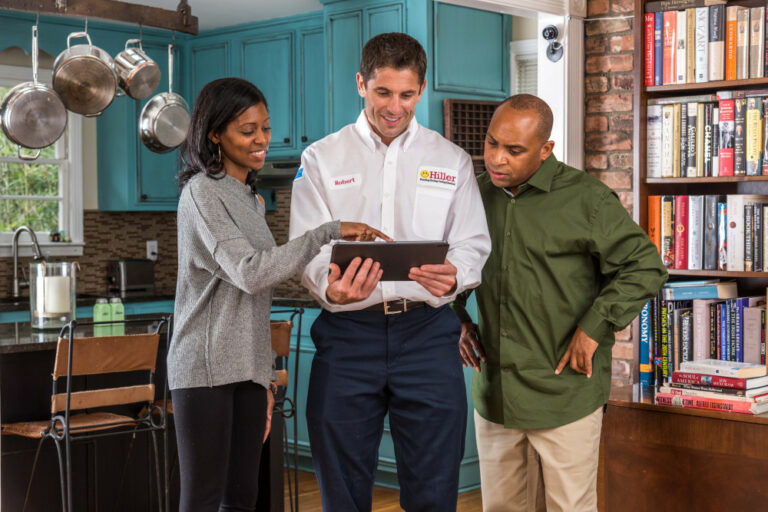 HVAC Replacement or Maintenance for Cost Efficiency
Happy Hiller is the trusted HVAC contractor in Cleveland for all your HVAC needs. Our team conducts thorough evaluations to identify areas in your system that require improvement. Based on our assessment, we determine whether HVAC maintenance or replacement is the most cost-effective solution for your home.
We understand the importance of a reliable and efficient HVAC in ensuring your home's comfort and energy efficiency. If you need a new system, we'll recommend the best solution for your case, especially in the case of an emergency HVAC replacement. Or, if a simple HVAC maintenance service will do the trick, you can count on our expertise to have it done in no time.
As one of the top HVAC companies in the area, we are committed to upholding high standards in HVAC replacement or maintenance, providing you with peace of mind and long-lasting performance.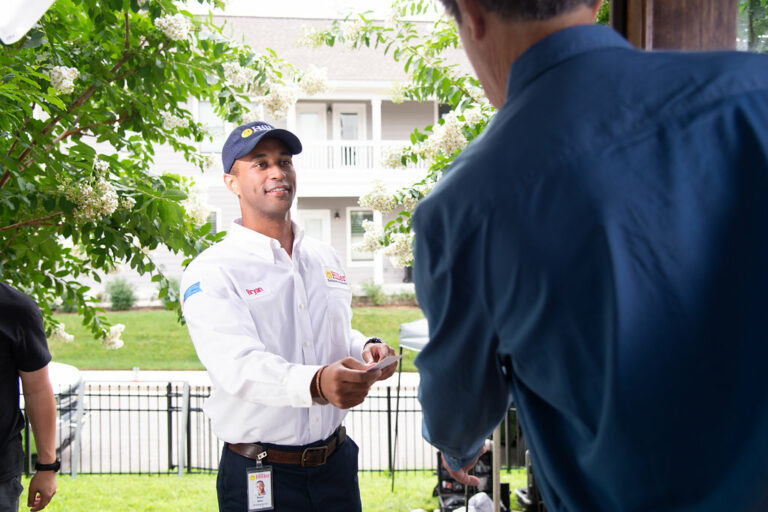 We're Experts in Energy-Saving HVAC Solutions
Achieving optimal comfort while conserving energy is a goal that Happy Hiller can help you accomplish. As leading HVAC contractors in Cleveland, we go beyond mere recommendations by providing comprehensive evaluations of energy usage and efficiency in homes.
Energy efficiency is a huge help for your wallet and the environment. That's why we offer practical energy-saving measures as part of our HVAC installation, replacement, and maintenance solutions. For instance, our expert team can install programmable thermostats and zoning systems, enabling you to have better control over your energy consumption and maximize efficiency.
With Happy Hiller's customized HVAC solutions, not only will you enjoy enhanced comfort, but you'll also see a noticeable reduction in your energy bills.
Need the Right HVAC for Your Home? We'll Help You Choose!
Choosing the best HVAC systems requires a nuanced understanding of factors such as budget, space, personal needs, and the local weather in Cleveland.
The size of your home plays a key role; an under or oversized unit can lead to discomfort and inefficiency. Similarly, Cleveland's unique weather conditions need to be taken into account for optimal HVAC performance.
Consider energy efficiency too, an efficient HVAC system reduces your bills and benefits the environment. Lastly, the unit's capacity should align with your home's requirements, factoring in the number of heat sources, floor level, and sun exposure.
At Happy Hiller, we'll be glad to assist you in making an informed decision. Whether it is an emergency HVAC replacement or just a comfort-oriented upgrade, we're here to help.

Best HVAC Service Guaranteed or You Don't Pay!
At Happy Hiller, your satisfaction is our top priority, and we guarantee it. Consistently rated highly among the best HVAC companies in Cleveland, we take pride in being a leading HVAC contractor, providing unmatched HVAC maintenance, installations, and replacements.
Our commitment to your satisfaction goes beyond exceptional service. We believe in creating a safe and professional environment for our customers. Our background-checked and respectful technicians ensure that your home is treated with the utmost care and respect, especially in emergency HVAC service calls. We strive to leave your home even more comfortable than before our visit.
As part of our commitment to service satisfaction, we've introduced our Happy You'll Be Guarantee. It's not just a benefit, but an essential part of our service. Simply put, if you're not satisfied, you don't pay! Your happiness is our priority.
Whether you need a new system installation or a comprehensive efficiency evaluation, trust Happy Hiller to be your reliable and trusted partner. We're here to exceed your expectations and ensure your ultimate satisfaction!
Daily Promotion
Enjoy Half-Off Select Items with New Select HVAC Systems
Upgrade to Select New HVAC Systems and enjoy 50% off select items on us!
Get Promotion
---
Daily Promotion
True Transparency Pricing
Most Home Service Companies Use the Same Pricing Structure. But Not Us.
Get Promotion
Your Reliable HVAC Contractors: Have a Question?
HVAC, standing for Heating, Ventilation, and Air Conditioning, describes a complete home comfort system. In essence, it's a technology offered by the best HVAC companies in Cleveland and beyond, to facilitate the ideal temperature and air quality in homes and commercial spaces.
An HVAC system does more than just heating and cooling – it ensures optimal ventilation, crucial for healthy air quality. Whether it's an HVAC installation in an old building, maintenance of existing setups, or a total HVAC replacement, the role of HVAC contractors, like those at Happy Hiller, is key to ensuring efficient, comfort-enhancing operations.
In order to maintain the efficiency of your HVAC system, regular filter replacement is crucial. The top HVAC companies recommend changing standard filters every 60 to 90 days. However, for residences in busier areas like Cleveland, additional factors such as air quality, pet ownership, or allergy concerns should be taken into account, and more frequent filter replacement may be necessary.
Additionally, if you have an HVAC installation with special filters, consult with HVAC contractors for specific guidelines. A well-maintained filter not only aids in the longevity of your system but also contributes to providing clean air and ensures optimal HVAC performance.
Cleveland's HVAC systems are advanced and designed to provide an ideal comfort environment while optimizing energy consumption. However, signs of inefficiency could indicate your HVAC installation needs attention. If the precise climate control your system once offered is no longer consistent, it's a warning signal for HVAC maintenance or even emergency HVAC replacement.
Moreover, if you notice a sudden spike in energy consumption, that's a sign of inefficiency. We highly recommend regular HVAC maintenance to keep the system efficient and maintain optimal climate control.
Upgrading to a smart HVAC system in Cleveland offers notable benefits. Primarily, these advanced HVAC installations provide precise climate control, ensuring an ideal comfort environment for everyone in the building.
Additionally, smart HVAC systems are designed for energy efficiency and can achieve savings of up to 20% in energy consumption compared to traditional systems. With Cleveland's top HVAC companies offering smart HVAC replacement solutions, this upgrade is an investment in long-term comfort and energy savings.
Why Choose Happy Hiller?
Care is Our Core ValueTM
Certified Professional Technicians
Family Owned and Operated Since 1990
Happy You'll Be
Or The Service Is Free™
Welcome to Happy Hiller
Friendly service. Certified Technicians. Your problem, solved.
Happy Hiller is the premier Plumbing, Heating & Cooling and Electric service experts. We proudly serve parts of Tennessee, Kentucky and Alabama. Whether you need emergency services or preventive maintenance, it's all guaranteed. The best techs. The friendliest service. 100% satisfaction.
Learn More
Ruud
Reliable Top 10
Contractors

Nashville Business
Journal Top 25 Fastest Growing
Private Companies

Nashville Business
Journal Best in Business
Award

Nashville Business
Journal Most Admired CEOs
& Their Companies

Nashville
Business Journal
Fast 50
Happy Hiller Offers HVAC Services 24/7
What happens when your HVAC breaks in the middle of a warm summer night and you can't wait until the next day to fix it? You give us a call! Our 24/7 services ensure you will always be covered in case of an emergency in the Cleveland area.