Smart Home Installation: 7 Benefits of a Smart Thermostat
Enjoy reading the latest DIY articles and saving money?
Receive our latest helpful hints, tricks and savings, directly to your inbox.
Posted November 12, 2021
There are over 41.3 million smart homes in the United States today. And that trend is projected to grow at an ever-increasing rate: that number is projected to grow to 78 million by 2024. Smart home installations are popular because they give homeowners the ability to control and monitor all aspects of their house — from window shades to fridges and thermostats — using any internet-connected device.  Some installations are simple and inexpensive, like setting up a lamp to turn on and off at your whim. Others, like home surveillance, require more investment and consideration. How can you be sure you're making the right choice?
Read on as we walk you through information about smart home installation devices, smart home thermostats specifically, and the 7 benefits of having your own smart thermostat.
Types of Smart Home Installation Options
Pretty much anything in your home can be made "smart". This is through the addition of a wifi-enabled module. Some examples include:
Blinds
Doorbells
Fire Security
Fridges
Home Security
Lights
Ovens
Sprinklers
Thermostats
TVs
The highest demand for smart home installations is for connected cameras and video doorbells. It is easy to see why: the added feeling of security of being able to keep an eye on your home even when you are not there.
If you're looking to smarten up your home, you can start with something less daunting than home security. Your thermostat can be a good place to start.
The humidity in the American Southeast makes warm-weather feel stickier and cold weather feel much colder. While we cannot control how the weather feels outside our homes, we can control how it feels inside of our homes.
This is where smart thermostats shine. They offer a variety of features that keep your home comfortable, help you manage your energy usage, and save a considerable chunk of money by reducing heating and cooling costs.
We would know − Hiller is a family-owned operation that has been providing plumbing, heating and cooling, and electrical services across Tennessee, Southern Kentucky, and Northern Alabama for over 30 years. We offer a variety of smart gadgets and have a wealth of knowledge on smart home solutions.
What Is a Smart Thermostat?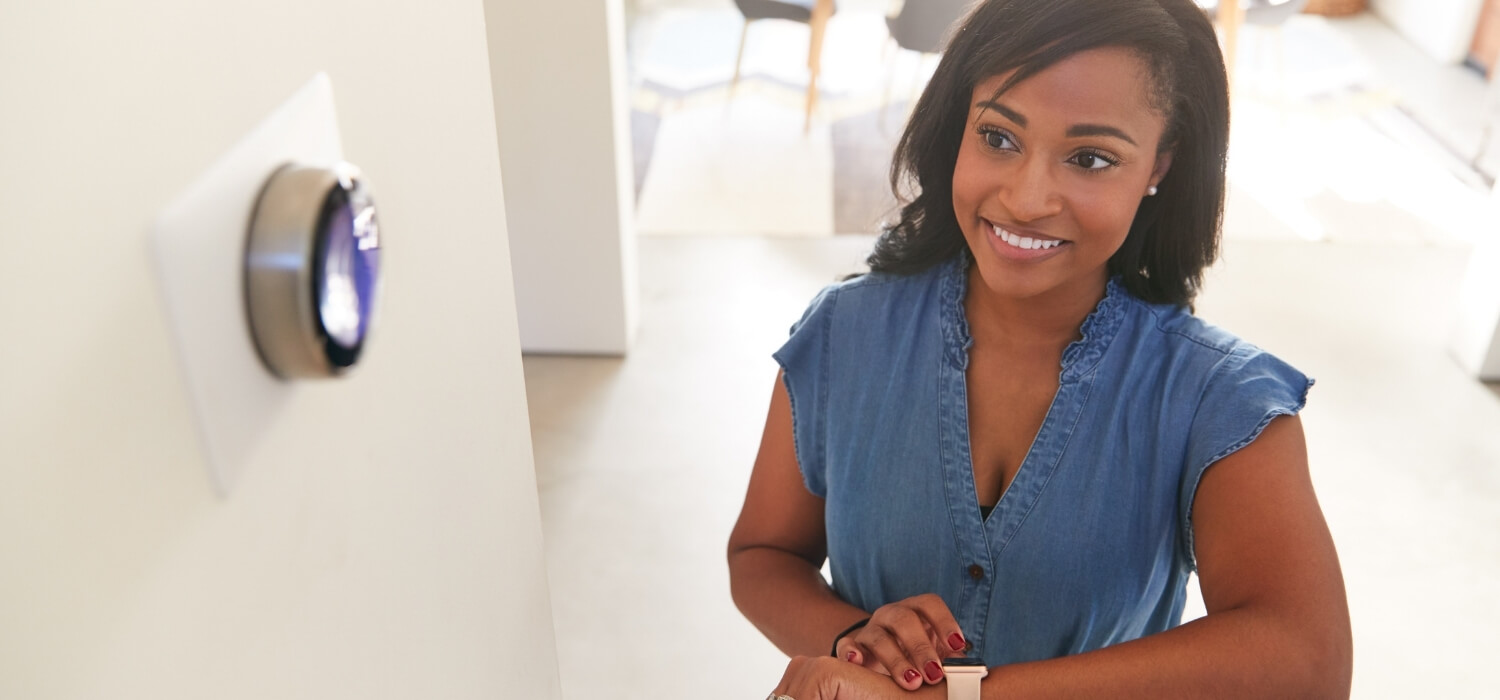 A smart thermostat is a digital, wi-fi-connected thermostat that you can use to control your home's HVAC. It works by plugging into your HVAC system, to allow communication with the thermostat control. Then, through an app that is downloaded to your smartphone, computer, or tablet, you can monitor your energy usage and if needed, adjust your home temperature.
The convenience factor is just one reason why the smart thermostat market in the U.S. was estimated at $508 Million in 2020. Climate concerns, increasing energy prices, and government regulations on energy efficiency are also driving the adoption of smart thermostats in homes.
Different systems work differently: some systems allow you to create automatic and programmable temperature settings based on your schedule and weather conditions. Others employ smart learning models, which require no programming at all.
They track movements to 'learn' what the temperature setting you like, adjusting the temperature as you get closer to your home, and even creating zoned temperature controls.
7 Benefits of Smart Thermostats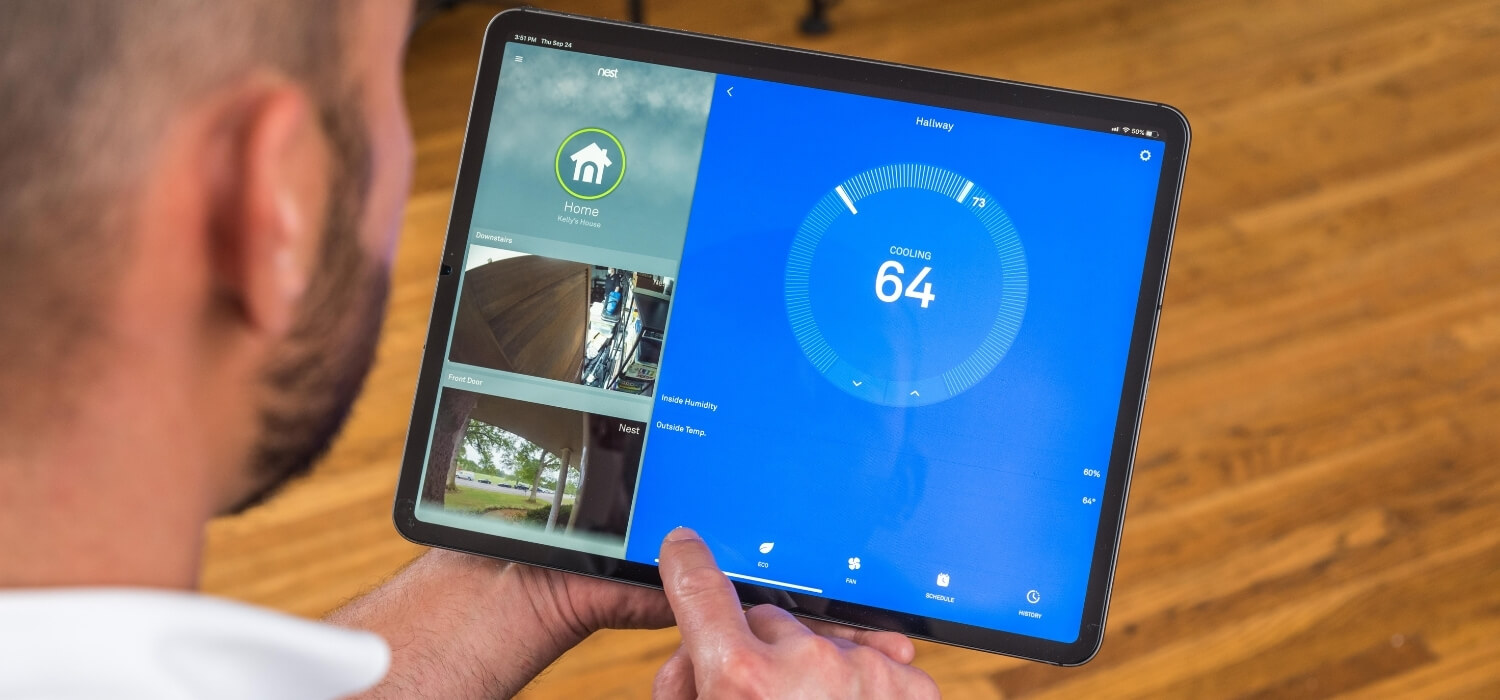 The main appeal of smart thermostats is that they can improve energy usage in your home and decrease your energy bills. They also make household HVAC management more convenient by giving you greater control over your heating and cooling.
It is not surprising to find that 75 percent of the U.S. population has a smart thermostat or wants one.
1. Ease of Use
You may recall the frustration of programming your thermostat's vacation setting. That frustration is one of the feelings that you will never again experience with a smart thermostat.
Unlike regular programmable thermostats without wifi connectivity, smart thermostats are easy to set up and program, with modern touch screens and an intuitive, user-friendly layout. To put it simply: they just work.
2. Remote Access
The downloadable app of a smart thermometer allows you to access your thermostat remotely – anytime, anywhere – so long as you are on a device connected to the internet.
This means you no longer have to run your HVAC all day just keep your home at your most desired temperature, nor do you have to blast it on full the moment that you get home. These methods of getting your house to your preferred temperature waste a lot of energy and increase your heating and cooling costs. You can simply set your home to your preferred temperature whenever you want, warming it up or cooling it down on your way home.
If you find yourself working late in the office, staying out longer than planned, or if you have forgotten to change your HVAC setting after you have set off on vacation, you can adjust the HVAC settings of your home whenever it crosses your mind.
If you do not want to get out of bed because it is a little too cold and you are feeling a little lazy, you can raise the temperature of your room from the warmth of your own bed. This is a whole new level of convenience that consumers like very much.
3. Intuitive and Self-Learning Technology
If you have ever left your HVAC running all day while you were out, you will like geofencing. In simple terms, this is a technology that creates a virtual boundary for your home.
When you leave the boundary, your smart thermostat tells your HVAC that you are not home, turning it off, or putting it in 'out of home' mode. As you approach the boundary, for example, if you are on your way home, it will prompt your HVAC to come on and bring your home to your predetermined temperature before you get into the house.
Some smart thermostats go a little bit further: they employ self-learning systems that use movement detectors to 'see' which parts of a house are active and when. They 'learn' what temperature you like in each part of your house and develop a personalized temperature plan for your home.
They can also sense additional movement in the house. For instance, they can drop the temperature to accommodate a growing number of people during a party. When your guests have left, the smart thermostat will go back to its regularly scheduled programming.
But there is more: smart thermostats can even account for seasonal changes by monitoring the weather. They will cool your home more when a heatwave is coming, or heat it more when a cold snap is setting in.
4. Data About Your Energy Usage
One of the advantages of smart thermostats is the amount of data you can get on your energy usage. Not only is there a wide range of statistical data about how your energy use, but all of it is also easily accessible on any of your internet-connected devices. This going to appeal to those who enjoy meticulous tracking of their gas and electricity usage.
Smart thermostats provide many kinds of reports:
How long it takes to heat your house
When your energy use is the highest
Your energy usage over time
Your energy usage compared to other users
There are weekly and monthly energy reports, as well as real-time tracking of your energy consumption. You can adjust your smart thermostat settings to see immediate effects.
In addition to past and current energy usage over time, many smart thermostats will also make projections on your future energy bill (based on your energy usage to date) and will make recommendations on how to reduce your energy usage.
5. Reduce Your Energy Usage and Costs
Geofencing makes it easy for smart thermostats to reduce your HVAC energy bills by automatically adjusting when no one is home, and starting it up so that you come home to a toasty warm house in the wintertime and a refreshingly cool environment in the summer.
Self-learning systems make your HVAC more cost-efficient with even less effort on your part. By learning your habits, such as when you're in the house and when you wake up, it creating personalized temperature schedules for your home that are far more efficient and less wasteful than keeping all rooms in an entire house at the same temperature.
Smart thermostats also nudge you towards energy-friendly habits, by recommending when to turn down heat or AC and adding gamification elements like rewards badges when you reach new levels of energy efficiency.
How Much Can You Save?
HVAC costs can make up to 60% of a household's monthly energy bill. That is a large chunk of money. So, any reduction in energy consumption makes a sizeable impact on a home's expense.
Smart thermostats can provide consumers energy savings of between 10%-15%. Energy savings do increase with more environmentally friendly measures. So, some manufacturers note that the savings potential can be greater with greater smart capabilities.
6. Monitor Your Vacation Home
You can think of a smart thermostat as a window into your home, particularly if you have a second vacation home. The app will provide you with real-time information about the temperature inside your home.
Some smart thermostats will alert you when the temperature goes above or below a pre-set temperature range, which could indicate a problem with your HVAC system. You could even be notified when the thermostat is disconnected from the wireless network, or in the event of a power outage.
Most importantly, they give you maintenance alerts, such as reminders to change the air filter, so that you stay on schedule and keep your HVAC systems at peak efficiency.
7. A Stylish Addition
Smart thermostats are stylish replacements for clunky-looking traditional thermostats. Many have minimalist, modern designs that blend into a home's décor.
Many of them also work hand in hand with other wifi-enabled smart home devices like Google Home or Amazon Echo, giving you hands-free control of your home environment. You can simply ask Google, Alexa, or any home assistant device to set your heating at a certain temperature, increase or decrease the heating, or check your home temperature.
Smarten Your Home Today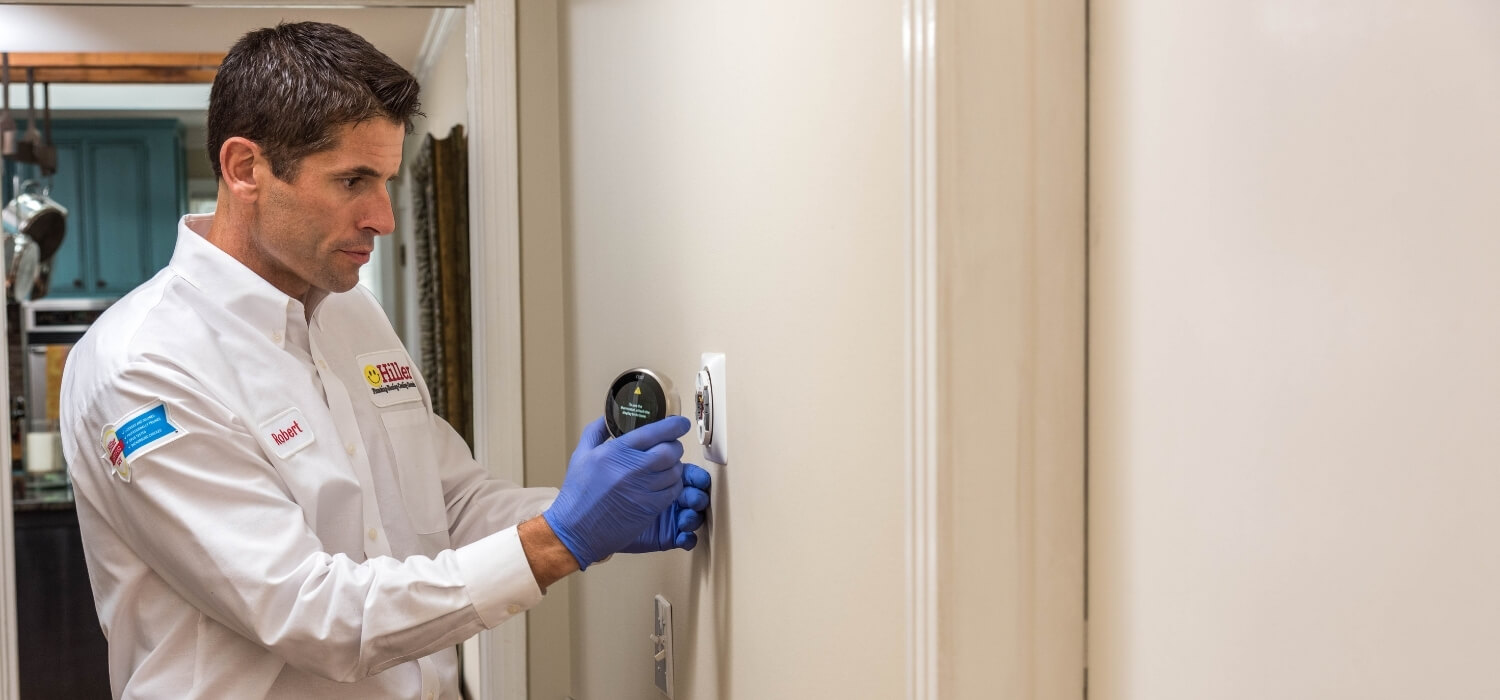 You can start 'smartening' your home with the installation of a smart thermostat. There are lots of benefits to making this change.
Your traditional home HVAC system consists of a central unit in one place in your house. It probably looks utilitarian and sticks out among your home decorations. It is not intuitive and does not react to changing weather, or adjust if you forgot to set vacation temperatures.
Smart thermostats offer a great deal of control and convenience over your HVAC system. You will be able to adjust your HVAC settings with your smart phone wherever you are, whenever you want. Some systems can improve energy efficiency by monitoring your household schedule and weather changes.
Discover Your Smart Thermostat Options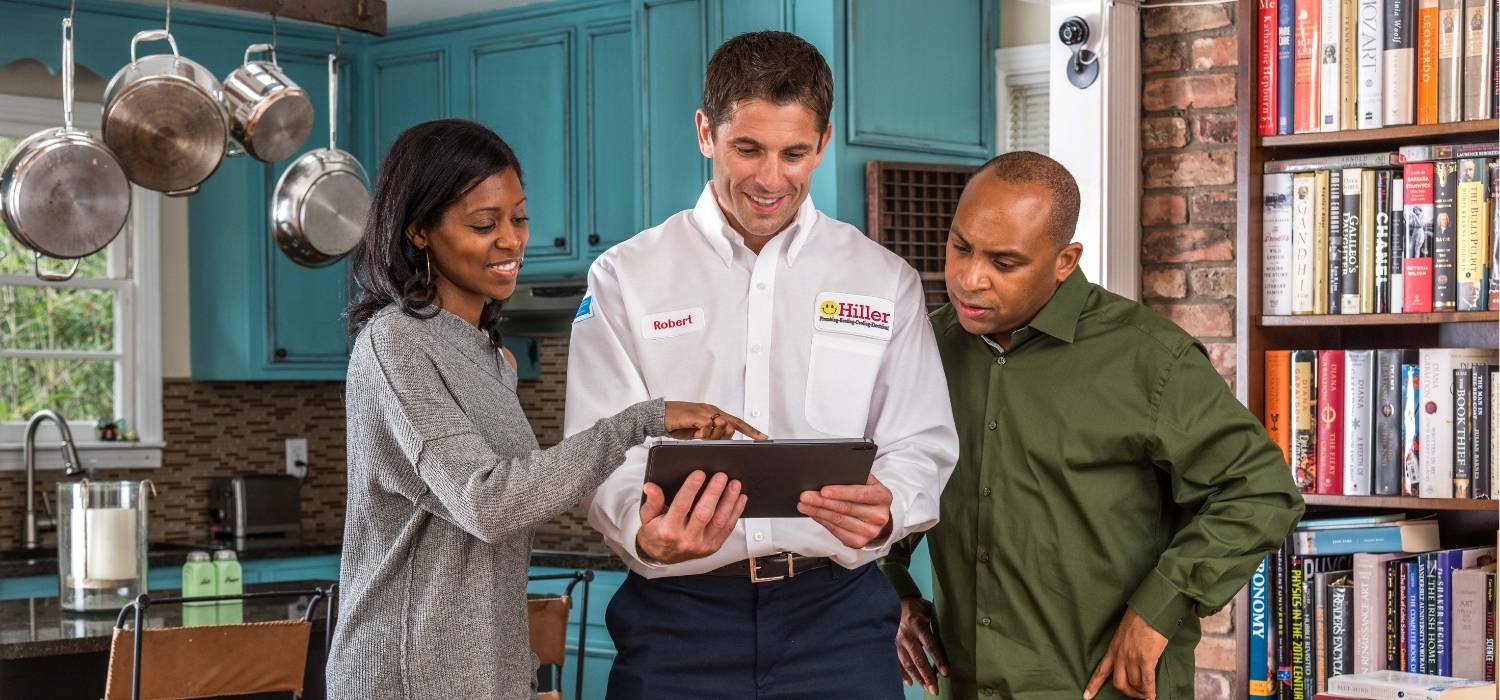 The growing trend of home automation shows that smart home installation systems are becoming ever more popular. They are more efficient and more affordable than before, and they are easy to install and use. Most of all, smart home devices improve the safety and quality of living in your home.
There are many smart thermostat options on the market. It can be difficult to know where to start. Early smart home innovators like Ecobee and Nest are now competing with home industry giants like Honeywell, Emerson Electric, United Technologies.
We can help by recommending the solution that's right for your needs. At Hiller, we want to give you the latest technologies that help us serve you well.
If you're interested in reducing your energy costs and making the most of your home, contact a Hiller specialist in your local branch in Tennessee, Kentucky, or Alabama.
Daily Promotion
FREE UV Light + Electronic Air Cleaner with New Select HVAC Systems
Be in tip top shape for the summer with a new HVAC system, plus FREE UV Light and Electronic Air Cleaner!
Get Promotion