Frozen pipe service. The day before Christmas, I called to get help thawing a pipe to our water heater in our attic. Despite a very busy day, the tech arrived 4... Read More
Frozen pipe service. The day before Christmas, I called to get help thawing a pipe to our water heater in our attic. Despite a very busy day, the tech arrived 45 minutes later and was so pleasant. The pipes were thawed in about 20 minutes and all was well. I was very pleased as we had company arriving with not water coming out of our hot water heater. Definitely will use again to relocate the hot water heater from our article to the garage Close
Joe was amazing! He came out earlier than expected and was super friendly and helpful. We got an estimate of repairs on the spot and will be making an appointme... Read More
Joe was amazing! He came out earlier than expected and was super friendly and helpful. We got an estimate of repairs on the spot and will be making an appointment to have him fix everything. Definitely recommend for their timeliness, expertise and kindness. Close
Hiller is the best company I've found for HVAC and plumbing, and they just stand out generally among any kind of company for service and communication. The proj... Read More
Hiller is the best company I've found for HVAC and plumbing, and they just stand out generally among any kind of company for service and communication. The project manager for replacing my heat and air really went out of her way to explain all my options, instead of just giving a sales pitch, and responded whenever I had questions. I'm glad I called them. The customer service for my plumbing issue was just as helpful and responsive, and the tech went to a lot of trouble to find and fix the problem, when I wasn't sure I could get anyone to show up at all. I usually only write reviews if something is terrible and I feel I ought to warn people, but I was really impressed by Hiller, and I appreciate it. Close
I'd say the first thing I appreciated was not getting ghosted for the work. I'm a quirky person which means maybe you don't have to come back for service ... Read More
I'd say the first thing I appreciated was not getting ghosted for the work. I'm a quirky person which means maybe you don't have to come back for service if you'd like. Hiller came prepared and did a wonderful job. The plumber was knowledgeable and kept my mind at ease for the whole process. I look forward to continued service from this company. Close
Montel was very professional and actually went the extra mile by changing the smoke detector battery and putting moth balls under the house because he saw snake... Read More
Montel was very professional and actually went the extra mile by changing the smoke detector battery and putting moth balls under the house because he saw snake skins under there! Great service! Thanks so much! Close
Fast and very professional. They repaired and replaced part of my leaking main waterline where it entered the house. Didn't take them very long and it looks l... Read More
Fast and very professional. They repaired and replaced part of my leaking main waterline where it entered the house. Didn't take them very long and it looks like it should last a very long time. Hiller charges a bit more than some others but they communicate well and have the best people working for them and most of all, they respond when you call. Close
We used Hiller, after having the worst experience with Shane Elmore plumbing. Shane Elmore was unresponsive and didn't show up when they said they would. They... Read More
We used Hiller, after having the worst experience with Shane Elmore plumbing. Shane Elmore was unresponsive and didn't show up when they said they would. They also had the job marked as finished when the job hadn't even been started. After finally canceling their services I called Hiller. It was nothing but positive from there out. Dispatch was lovely, Jesse, our plumber showed up EARLY and every time there was a text with his picture telling me when he would be at my home. Jesse was efficient and very communicative. He respected our home and did a wonderful job with him and his buddy getting our plumbing completed. I would 100% recommend Hiller, and give my accolades to Jesse for being so wonderful through out the process. What was taking Shane Elmore OVER two weeks, took Hiller TWO DAYS. Thank you! Close
Tech Savyon Howard was very professional, he was very knowledgeable, polite and answered all my questions. He would be someone I would want to take care of my n... Read More
Tech Savyon Howard was very professional, he was very knowledgeable, polite and answered all my questions. He would be someone I would want to take care of my needs again. I am retired and have had hundreds of employees and this young man would be the type of person I would want to work for me. Thank you for sending him today Close
Logan is the best technician :) and I have never had a bad experience with Hiller. They're always here promptly within their 2 hour window, and will call you ... Read More
Logan is the best technician :) and I have never had a bad experience with Hiller. They're always here promptly within their 2 hour window, and will call you in plenty of advance if they're going to be delayed which I've only had happen once. They call you when they're 20-30 minutes away, so you don't have to sit around during the window if you have to run an errand or anything. Hiller is the best. Close
The plumber was very professional. He wore shoe covers in the house. Very nice man. I have additional services that I will need and Hiller was able to point m... Read More
The plumber was very professional. He wore shoe covers in the house. Very nice man. I have additional services that I will need and Hiller was able to point me in the right direction. I am so pleased that Hiller can do plumbing, electric and HVAC. One stop shopping!! Close
Easy scheduling, super friendly and very timely. Very professional. Explained problem and how they were going to fix it. Great group! I will definitely use Hill... Read More
Easy scheduling, super friendly and very timely. Very professional. Explained problem and how they were going to fix it. Great group! I will definitely use Hiller again! Close
The lady who answered the phone was very nice. She explained the service call fee and hourly rate. She made the service scheduled visit at our convenience. Coul... Read More
The lady who answered the phone was very nice. She explained the service call fee and hourly rate. She made the service scheduled visit at our convenience. Could not have been a better experience. Close
Jesse was so knowledgeable and quickly found the problem! An easy fix but one that I wouldn't have found myself. Great price for the service! Would definit... Read More
Jesse was so knowledgeable and quickly found the problem! An easy fix but one that I wouldn't have found myself. Great price for the service! Would definitely use them again! Close
The electrician Jamie was excellent! He explained everything before and during the process and even gave some helpful ideas that we used. I would highly recomme... Read More
The electrician Jamie was excellent! He explained everything before and during the process and even gave some helpful ideas that we used. I would highly recommend him. Close
Once again excellent service. Rod did a great job installing my new garbage disposal. Very knowledgeable and the price was reasonable. Plus love the online appo... Read More
Once again excellent service. Rod did a great job installing my new garbage disposal. Very knowledgeable and the price was reasonable. Plus love the online appointment booking and notification texts. Thank you again!! Close
Called on a weekend, very friendly upon calling and had a repair man at my home within 12 hrs of the call. Very knowledgeable repairman, professional and prompt... Read More
Called on a weekend, very friendly upon calling and had a repair man at my home within 12 hrs of the call. Very knowledgeable repairman, professional and prompt! Would highly recommend! Close
All Technicians that have serviced my home this year were very knowledgeable, efficient and professional. Hard to find those willing to come to Scottsville so ... Read More
All Technicians that have serviced my home this year were very knowledgeable, efficient and professional. Hard to find those willing to come to Scottsville so it is much appreciated Hiller services our area. Close
Very professional! Our tech Sayvon was on time, communicating with us along the way, cleaned up his job site (extra points) and made sure the job was done righ... Read More
Very professional! Our tech Sayvon was on time, communicating with us along the way, cleaned up his job site (extra points) and made sure the job was done right. He was on time and I especially appreciate that they send you a photo of the driver so you know who to expect. I will use them again! Heaven forbid I need it. lol Close
Needed a gas line installed for new range. Hiller was able to provide an assessment and quote within a few days. The technician was professional, wore shoe cove... Read More
Needed a gas line installed for new range. Hiller was able to provide an assessment and quote within a few days. The technician was professional, wore shoe covers to respect my home and provided a straightforward and honest quote. He was courteous and able to answer all my questions. An appointment was made for the install within a week, and the install crew showed up on time. They completed the job with the same level of professionalism and within the estimated time I was quoted. They kept me up to date with developments as they progressed through the install. I had used other plumbers before, and without exception their rates were extravagant to say the least. A shower faucet replacement for example cost $1000 for 40 minutes of labor! Hiller's rates are significantly better and their personnel infinitely more professional. The project cost what I was quoted, no surprises. I would use them in the future and would recommend them in a heartbeat. Give them a shot, you may just be satisfied! Close
The ladies that answer the phone are very professional and helpful, they were able to get a technician in same day after hours to fix my water heater. My techni... Read More
The ladies that answer the phone are very professional and helpful, they were able to get a technician in same day after hours to fix my water heater. My technician Rod Payton was very knowledgeable and friendly. He already knew what the issue was without seeing the leak and came prepared to fixed the problem quickly. Very happy with the service I received today! Close
Electrical Services in Bowling Green, KY
The electricity that powers our homes and businesses in Bowling Green, Kentucky is best placed in the hands of professionals. If you need any sort of electrical work completed, avoid the danger and trust a licensed and experienced electrician to handle the tasks for you. You don't want anything to go wrong with the electrical systems in your home, and Hiller's professional electrical team in Bowling Green can keep you safe and using electricity as you want to with our quality electrical services.
Turn to the experts at Hiller to resolve any electrical concerns. All of our electricians in Bowling Green are licensed, guaranteeing you peace of mind in regards to the quality you will receive in your electrical work. Let us take the trouble of electrifying your home or business out of your hands.

Bowling Green Commercial Electrician Services
When it comes to commercial services, Hiller prides itself in being able to offer the best customer service and fast repairs and installations to get your business back on track after a wiring or lighting issue has occurred. 
Whenever there may be a problem, Hiller's team of certified technicians are here to help, 24/7, even on holidays, so that you can get back to work and not lose any revenue. We also offer repairs for when you have a code violation- we can make sure everything is up to code and safe for you and your employees.
We offer lighting installation and repairs, but also much more! We offer elevator maintenance, carbon monoxide and smoke detector repair and installation, and other electronic appliances and fixtures. So if you're in the market for some new electrical signage or exterior lights, we've got you covered!
Bowling Green Residential Electrician Services
When it comes to home wiring, lighting and other electrical repairs, we know that can be a scary time and that you need the right people that you trust to make sure those repairs are done correctly to prevent any damage to your home. Hiller is a trusted name in electrical repairs, and our professionally trained technicians are here to make sure those repairs and installations get done properly.
We offer lighting, smart home devices, smoke and carbon monoxide installation and much more! We can help you create the safest and best looking home you can imagine. So if you're in the market for some new backyard lighting or need to have your smoke detector or outlets inspected, we've got you covered.
We know that repairs can be needed at any time of the day or night, so we're available 24/7 for any needs you may have. 

Resolve Electrical Safety Concerns
Electrical systems can be the root cause of many threats to one's safety. Frayed electrical wires, sparks shooting out, and improperly following electrical safety regulations during a project can all be very disastrous. If you don't want to risk electrical shock or an electrical fire, put your safety in the hands of Hiller's trustworthy electrical team in Bowling Green, KY.
Our Hiller team always puts safety first when performing any sort of electrical work. If you have an electrical safety concern you would like us to take a look at, just let us know. A qualified electrician in Bowling Green will be right out to ensure the safety of you and your family. From replacing that frayed wiring to ensuring your electrical system is grounded, Hiller electricians will look out for you.
Ensure Your System Meets Your Electricity Needs

Our lives truly are powered by the electricity in our homes and businesses here in Bowling Green, KY. The last thing any of us want to imagine is not having the electrical power needed to wake up to the radio, get work done on our computers, find entertainment with the television, and keep the lights on late into the night. Yet, we may all run into a situation where we're not getting everything we need from our electricity.
If your lights are flickering, your circuit breaker is frequently tripping, or there are any other signs of a deficiency in your electrical system, give the Hiller electricians in Bowling Green a call. Our team of professionals can upgrade the electricity in your building so that you can truly get all that you need out of it. Our Bowling Green electricians may simply install a few more outlets or they may need to completely overhaul your electrical system. No matter what, the Hiller team will grant you the certainty that your electricity will always provide what you need it to. For additional security in continuing electricity, we can even install a whole house generator in your Bowling Green home.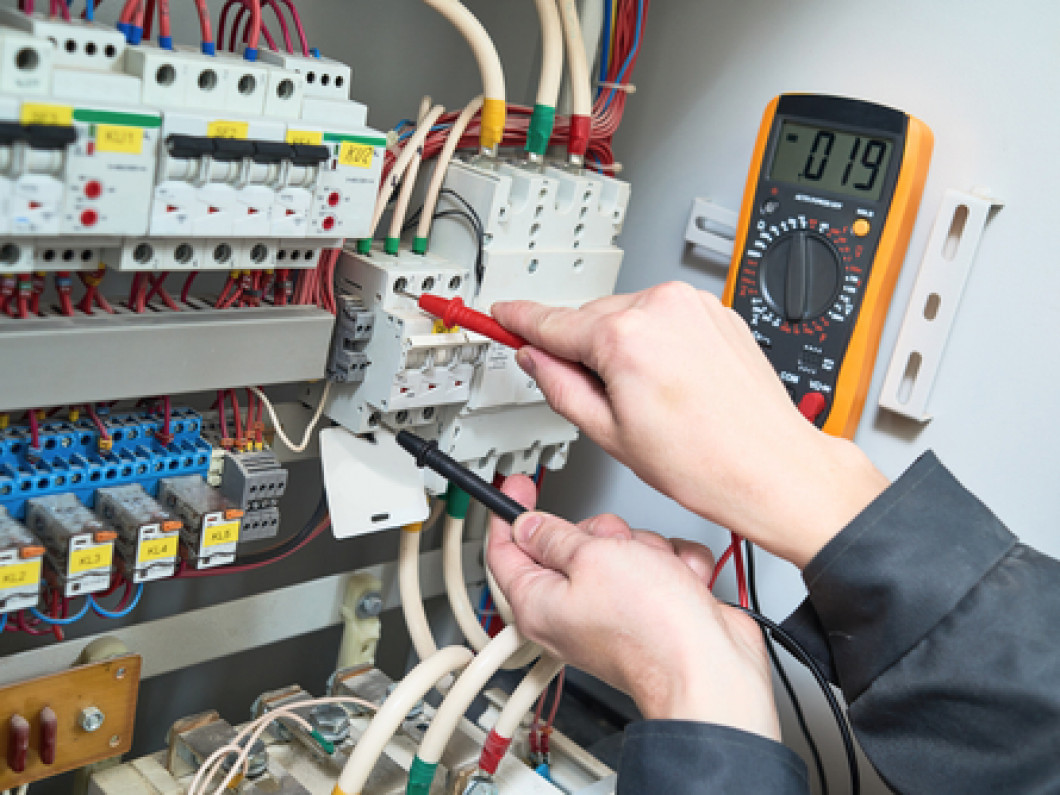 Electrical Repairs or Replacement
Our highly qualified electricians are always available to you for any type of electrical work in Bowling Green, KY. Sometimes, your need for an electrical professional is more urgent, as in the case of necessary repairs or replacement. Hiller's electrical team in Bowling Green is available 24/7 for these emergency repair situations, so you don't have to worry for a single moment when in need of immediate electrical repair. 
The moment you have any electrical concerns, just give our repair team in Bowling Green, KY a call. From damage to the electrical panel or broken light fixtures to an electrical system that you just can't seem to get working again, we have the skill and experience to handle any repair needs you may have. Don't wait and don't try to take care of the electrical repair yourself. 
Only professional licensed electricians can safely handle necessary electrical work. Get the repair you need without sacrificing safety or your electrical system's integrity. The Hiller electrical repair team can be trusted to take care of repairs and replacement any time it's needed in Bowling Green, KY, so you don't need to worry.
Contact the Hiller Electrical Team Today
Whenever there's electrical work to be done in Bowling Green, you can make things simple for yourself and just pick up the phone to call Hiller. Available 24/7 to take your call and get you set up with an appointment for our high-quality electrical services, you can truly rely on us when you need us most. Don't hesitate to get in touch with our team.
Bowling Green Plumbing, HVAC & Electrical Services

(270) 843-6606

2524 Petty Dr
Bowling Green, KY 42103
Bowling Green Electrician Services
Other Bowling Green Plumbing, HVAC & Electrical Services