Birmingham's Trusted HVAC Service Provider
We are your friendly and caring HVAC maintenance and HVAC service expert in Birmingham, AL. Our continuous dedication to learning and community involvement sets us apart, ensuring every client experience is a happy one.
We provide clear, upfront pricing details, making us a trusted partner in all your HVAC maintenance service needs. We also offer flexible financial options making essential services accessible.
We are available 24/7 for assistance with unexpected HVAC service needs, and with our Happy Hiller Club Membership, you can count on priority scheduling and special discounts.
Our confidence in our work is reflected in our unique guarantee, if you are not satisfied with your HVAC maintenance service, you don't pay for it – that's the Hiller promise!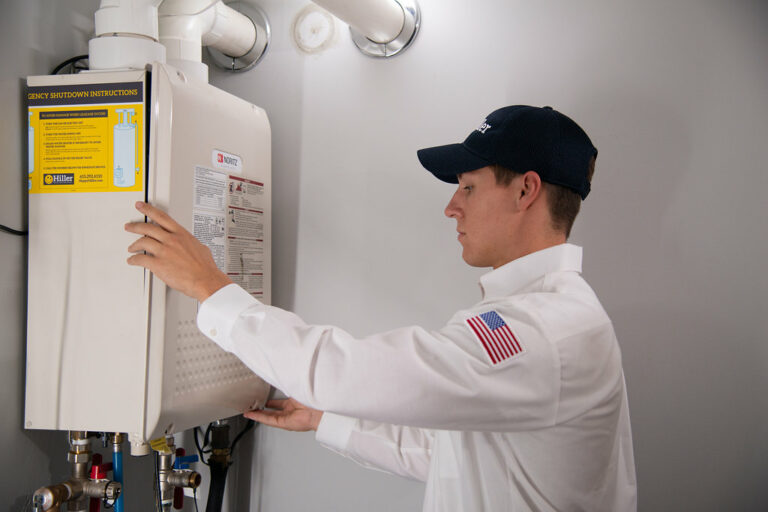 Comprehensive HVAC Maintenance Services
Regular maintenance is crucial to ensure optimal performance. We deliver unparalleled HVAC service, maximizing your system's lifespan and energy efficiency, and preventing any unexpected HVAC emergencies.
Our HVAC maintenance services include:
Systematic Check-ups: Regular inspections to catch potential issues before they escalate.
Efficiency Tuning: Adjusting components for peak performance, enhancing energy efficiency.
Parts Replacement: Swapping out worn elements to keep your system running smoothly.
Our exclusive Happy Hiller Club Membership offers priority scheduling, ensuring your system receives the HVAC maintenance service it deserves.
We have also partnered with GreenSky financing to offer flexible financial options, ensuring essential services are within reach for our Birmingham community members.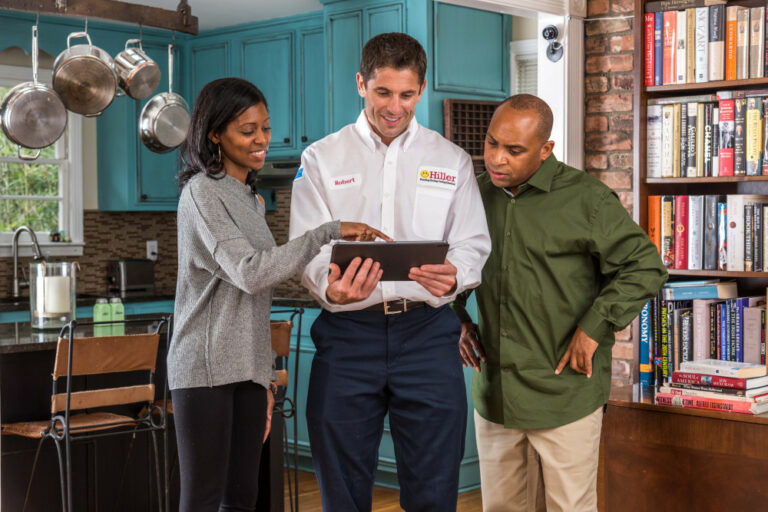 Commercial & Residential HVAC Maintenance
At Hiller, we specialize in both commercial and residential HVAC maintenance services and emphasize preventive care, routine inspections, and efficiency tweaks.
Offering tailored HVAC maintenance to enhance longevity and performance, our residential HVAC maintenance services include:
Air conditioning repair services
Ductless mini-split air conditioning and heating systems
Heating repair
Indoor air quality
HVAC system replacement
Smart thermostats
Whole house dehumidifiers
For commercial HVAC maintenance, we offer comprehensive evaluations, performance optimization, and energy efficiency strategies, as well as regular check-ups and part replacements.
And don't forget! Our residential and commercial HVAC maintenance services always include our commitment to top-notch customer service, backed by our exclusive Happy Hiller Guarantee.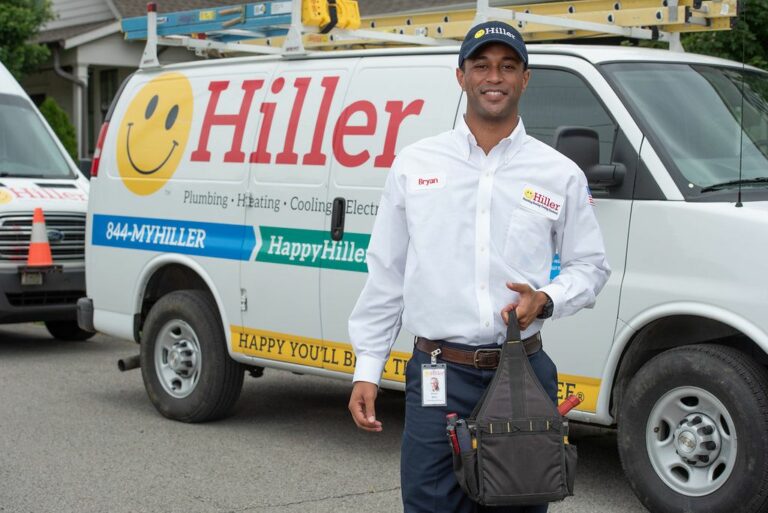 Why Choose Hiller for HVAC Maintenance Service in Birmingham
We are your locally-owned HVAC service company, experts in the local Birmingham climate. Our award-winning team of certified technicians are trustworthy professionals, dedicated to providing quality HVAC maintenance service.
Our comprehensive HVAC services are client-centered, from business and residential HVAC maintenance services to tailored energy-efficient solutions. We also ensure absolute customer satisfaction with our unmatched "Happy You'll Be or the Service is Free" guarantee.
No matter your need, you can rely on Hiller. Choosing us for your HVAC maintenance service means opting for quality-guaranteed, energy-efficient solutions, and commitment to our customers in every interaction.
Signs That Your HVAC System Needs Maintenance
Have you ever felt that your HVAC system is not working as it should, but you don't know if you're right? Here are some signs you shouldn't ignore, unusual noises during operation, thermostat inconsistency, an unexpected rise in utility bills, reduced airflow, or uneven room temperatures.
As Birmingham's trusted HVAC service company, we're not just about quick fixes, we'll help you find long-term solutions and with our HVAC maintenance service, we'll help you maximize the lifespan of your HVAC system.
Don't let those signs become significant problems, schedule a visit online!
Why HVAC Service is Important
Regular HVAC maintenance is crucial to your HVAC system, not only does it reduce the risk of those costly unexpected repairs, but it also increases energy efficiency which translates into saving on electrical bills.
Our expert HVAC maintenance team will recommend regular checkups according to your HVAC system. Regular HVAC maintenance service can expand your unit's lifespan up to 20 years translating into money savings.
We are committed to helping our customers get the most out of their HVAC systems. With our Happy Hiller Club membership, you can enjoy exclusive benefits such as priority scheduling, and discounts on repairs, ensuring a flawless HVAC maintenance service.
Call us for your HVAC system checkup today!
Daily Promotion
Fall Clean Up Sale - BOGO Tune-up
When you purchase an HVAC Tune-Up, we'll give you your next one FREE!
Get Promotion
---
Daily Promotion
Our Biggest Sale Ever on Select HVAC Systems
Purchase a New HVAC System & Receive Up to $2,600 OFF!
Get Promotion
Have a Question?
Consistent HVAC maintenance guarantees that your system runs smoothly. Not only does it improve energy efficiency, but it also extends the life of your system. Plus, with regular check-ups, minor issues get caught before becoming costly problems.
Absolutely! It's pretty simple when you think about it. When your system is running efficiently, thanks to regular HVAC maintenance, it doesn't have to work as hard. This means it uses less energy, which translates to lower energy bills.
Signs to look out for include complete system failure during extreme weather, gas leaks, strange odors, and unusual sounds. If you experience a sudden loss of heating or cooling during severe temperatures, it's best to seek professional assistance immediately to avoid discomfort and potential safety hazards.
Heating, Ventilation, and Air Conditioning, commonly known as HVAC, is a combination of various systems and technologies that work together to regulate temperature, air quality, and airflow in both residential and commercial spaces. HVAC systems play a vital role in ensuring a comfortable and healthy indoor environment all year round.
Ideally, it's good practice to schedule HVAC maintenance at least twice a year – once before summer and once before winter. Regular check-ups ensure your system's ready to handle those peak seasons, keeping you and your family comfortable.
It's important to hire a licensed HVAC technician because they are highly trained and skilled in maintaining, repairing, and installing HVAC systems. This ensures that your system is in good hands, reduces the risk of accidents, and complies with local regulations. In addition, it can lead to better system performance, energy efficiency, and warranty protection, which can save you money in the long term.
Residential HVAC systems are smaller and simpler than commercial systems, which are designed for larger spaces like offices and industrial buildings. Commercial systems have advanced controls and ventilation, and require more frequent maintenance due to their complexity and safety regulations. Because of these differences, it's vital that you choose an HVAC service technician who is experienced in commercial and residential HVAC maintenance, like the techs at Hiller, here in the Birmingham area!
To find a reliable HVAC service company in Birmingham, consider their reputation, experience, licensing, range of services, response time, and customer reviews. Opt for a company with skilled technicians and a commitment to customer satisfaction for quality and reliability.
An HVAC maintenance plan can help you save money by identifying and addressing potential issues before they become costly repairs. HVAC maintenance also will help with improving system efficiency to reduce energy bills and extend the lifespan of your HVAC equipment, preventing the need for premature replacements or unexpected HVAC services.
With a maintenance plan through your local trusted HVAC company, you can save even more, and with regularly scheduled visits, maintenance is a breeze!
Why Choose Happy Hiller?
Care is Our Core ValueTM
Certified Professional Technicians
Family Owned and Operated Since 1990
Happy You'll Be
Or The Service Is Free™
Welcome to Happy Hiller
Friendly service. Certified Technicians. Your problem, solved.
Happy Hiller is the premier Plumbing, Heating & Cooling and Electric service experts. We proudly serve parts of Tennessee, Kentucky and Alabama. Whether you need emergency services or preventive maintenance, it's all guaranteed. The best techs. The friendliest service. 100% satisfaction.
Learn More
Ruud
Reliable Top 10
Contractors

Nashville Business
Journal Top 25 Fastest Growing
Private Companies

Nashville Business
Journal Best in Business
Award

Nashville Business
Journal Most Admired CEOs
& Their Companies

Nashville
Business Journal
Fast 50
Happy Hiller Offers HVAC Service 24/7
We understand that HVAC issues can arise anytime, that's why we offer 24/7 emergency services even during off-hours. Whether you need preventative HVAC maintenance or a more complex HVAC system service, trust the team at Happy Hiller!
Plumbing, Heating & AC Services
Our confident service technicians will provide you with the solution for any home plumbing, heating or cooling problem. Let us show you how we can make you a happy Hiller customer. Contact your trusted, licensed technician in Birmingham today.
Plumbing
With Hiller, no plumbing repair or service ever needs to become a big deal.
Drain and sewer services, water heater repair, drain cleaning, video pipe inspection, repiping services, leak detection, water treatment and more!
Learn More
Heating & Air Conditioning
Feeling the proverbial heat because of a faulty heating and cooling system?
Reset circuit breaker, remove plugged filter, AC repair, furnace repair, replace line set insulation, install thermostat batteries, clean permanent filler & more!
Learn More