Our annual preventative maintenance program prevents breakdowns and failure when you're relying on your generator to keep your home running. Our certified, trusted generator technicians will inspect and clean your entire system – so it can withstand most storms or outages you encounter.
The Importance of Generator Maintenance
We get it, life gets busy. Between juggling work, family, and everything else in between, we tend to overlook some things. It's all too easy for things like generator maintenance to slide to the bottom of your to-do list. Yet, just like your car needs its oil changed, your whole home generator needs a little TLC, too. Why? Regular generator tune-up is your best defense against power outages, ensuring your home stays powered and protected in any weather.
Think of generator maintenance like a wellness checkup for your home's most significant safeguard. When you maintain your generator regularly, you're not just ensuring its longevity, but also the safety of your home and loved ones. An underperforming or failing generator could lead to significant inconveniences, or worse, costly damage to your home. This is where our generator service comes in.
When to Schedule Your Home Generator Maintenance
Now, you're probably asking, "When should I have my home generator maintenance?" Great question! As a rule of thumb, a generator tune-up should happen at least once a year. However, the frequency can vary based on the model, age, and usage of your generator. For generators that run more frequently, we recommend a minimum of an annual check-up.
It's also wise to schedule your generator service before severe weather seasons. This approach ensures your home generator will be up and running when you need it the most. Additionally, keeping an eye out for signs of wear or malfunction, like unusual sounds or decreased performance, can help you identify when it's time for that much-needed maintenance.
Your Choice for Generator Service
At Hiller Plumbing, Heating, Cooling, & Electrical, we believe in powering your peace of mind. This begins with our expert generator maintenance service. Our dedicated team will ensure your generator is in tip-top shape, ready to keep your lights on when the unexpected occurs. From routine check-ups to repairs, you can count on us to provide the highest quality service.
Choosing our generator service means choosing confidence. Confidence in knowing that your home generator maintenance is in the hands of trusted professionals. Confidence in understanding that when the power goes out, your generator won't. Let Hiller be your reliable partner in protecting your home and ensuring your comfort, no matter what Mother Nature throws your way.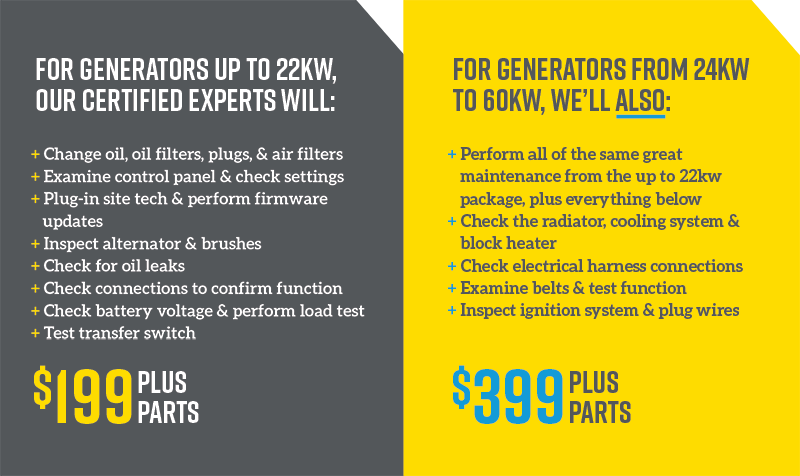 Please call us at 844-694-4553 or fill out the form below to request a highly skilled technician to perform this generator maintenance. Please select your best available date and time below. While we try our best to accommodate all times, there are rare occasions where we will not be able to. Because of this, once you select your date and time, we will contact you after to confirm your appointment.