Jimmy Hiller, Jr. Wins Nashville Business Journal's 2020 "40 Under 40" Award
Enjoy reading the latest DIY articles and saving money?
Receive our latest helpful hints, tricks and savings, directly to your inbox.
Posted August 25, 2020
Jimmy Hiller, Jr. Chief Operating Officer of Hiller Plumbing, Heating, Cooling & Electrical, was recognized with Nashville Business Journal's "40 Under 40" Award this year. This award honors 40 individuals under the age of 40 for their exceptional talents and contributions to the Nashville business community.
On Monday, August 24th, in a virtual ceremony, Nashville Business Journal presented the "40 Under 40" Awards via live announcement to the honorees and their peers. First, nominations for this award were collected from the public. Hiller was then selected from a pool of 500 nominated individuals as a 2020 award winner by an independent panel of previous award recipients.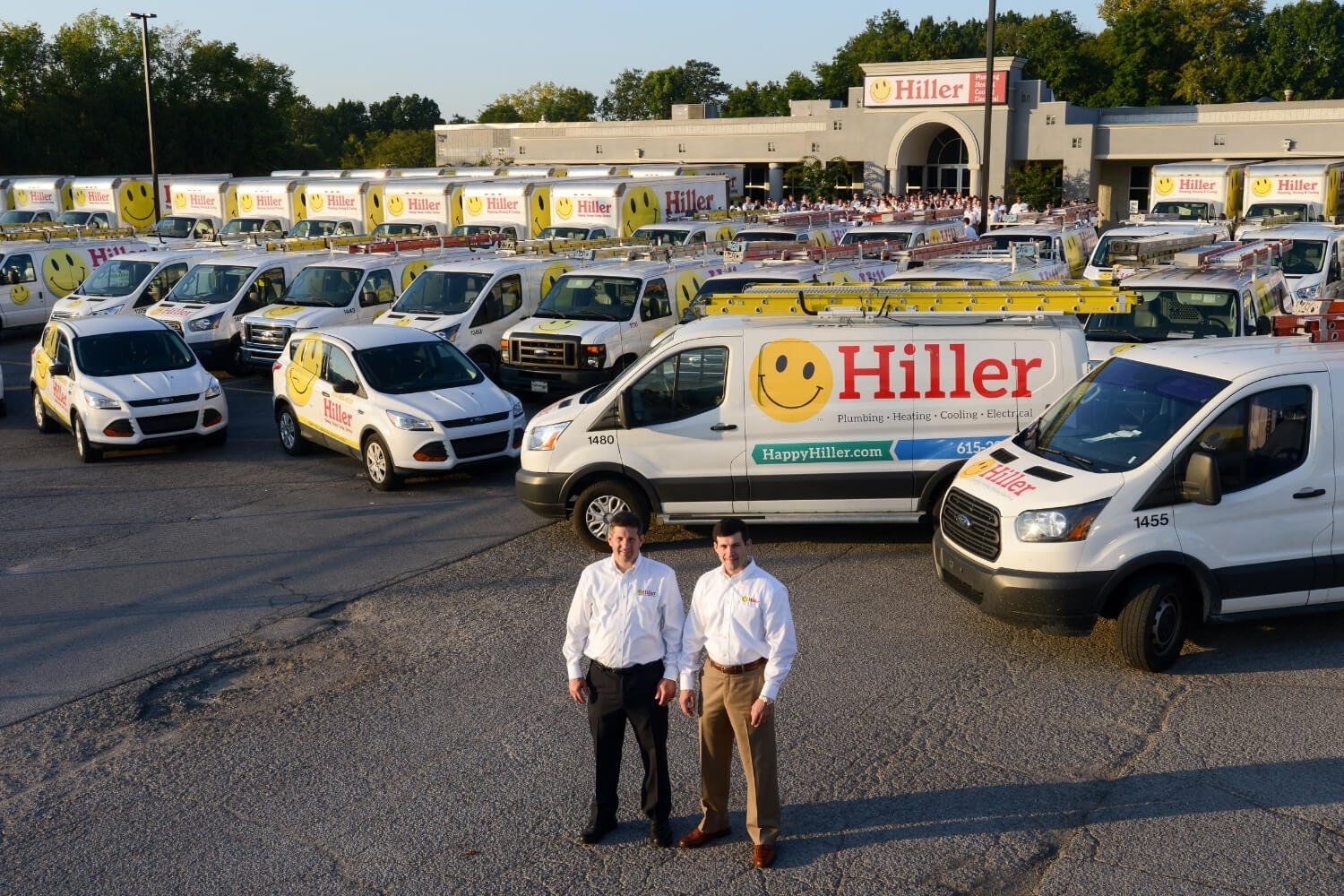 According to the Nashville Business Journal, this award honors "the best and brightest business and community leaders who are making their mark – and promising to do even more – before the age of 40". Hiller, one of the most impactful and seasoned young leaders in the home services industry, exemplifies these qualities.
Hiller developed alongside Hiller Plumbing, Heating, Cooling, and Electrical over the past 25 years, beginning his trade learning as early as ten years of age. During breaks from school, Hiller began assisting with plumbing and HVAC installation alongside seasoned technicians, developing trade skills and experience at much earlier age than most.
Much like the company's trajectory, Jimmy Hiller, Jr.'s roles and contributions within the business have grown rapidly. Since joining the Hiller team full time in 2010, Hiller has been an integral player in the company's success. Under his leadership, various branches transformed into the most profitable locations in the company. By age 29, Hiller was promoted to the General Manager of the largest branch in Nashville, overseeing both day-to-day operations and technician recruitment company-wide.
In his current role as Chief Operating Officer, Hiller runs day-to-day operations and oversees multiple departments for the company, including: commercial services, recruiting, training, human resources, customer service management, marketing, and leadership development. He is responsible for mentoring General Managers, providing development programs for team leaders, field supervisors, and service managers and hosting leadership and best practices seminars.
"It is such an honor to receive this year's '40 Under 40' Award", remarked Jimmy Hiller, Jr. "It is particularly meaningful", he continued, "To receive an award like this from my peers, that acknowledges my contributions thus far to the family business that means so much to me".
Launched in 1990 in Antioch, Tennessee, with a single employee and just $500, Hiller has grown to include over 480 trucks, 13 locations, and more than 580 employees across the southeast.
Hiller Plumbing, Heating, Cooling & Electrical provides residential and commercial service and repair throughout Tennessee, Southern Kentucky, and Northern Alabama. As the homeowner's premier provider of choice with a 100% satisfaction guarantee, Hiller is Tennessee's largest residential and commercial plumbing, heating, air conditioning, and electrical services provider. Hiller, a 12-time honoree to the Inc. 5000 List, recently named to the list of fastest-growing private companies in Middle Tennessee and "Best in Business" from the Nashville Business Journal, employs more than 580 associates, boasts a fleet of 480 "Happy Face" trucks across 13 locations, and has responded to over 1.5 million service calls. For more information about Hiller, visit http://www.happyhiller.com or e-mail press@happyhiller.com.
Daily Promotion
Cash for the Holidays – $500 Visa Gift Card
Purchase a New HVAC System & Receive a $500 Visa Gift Card!
Get Promotion