Hiller Plumbing, Heating, Cooling & Electrical Celebrates Dickson Location with Ribbon Cutting Event
Enjoy reading the latest DIY articles and saving money?
Receive our latest helpful hints, tricks and savings, directly to your inbox.
Posted May 24, 2018
Hiller Plumbing, Heating, Cooling & Electrical (Hiller), the region's premier provider of residential and commercial service and repair, celebrated one of its newest locations in Dickson, TN with a ribbon cutting event and community cookout on Wednesday, May 23, 2018 from 11am until 1pm.
The Dickson location, originally opened in 2014, primarily services Dickson, Humphreys, Perry, Hickman, Cheatham, Houston, Decatur, Williamson, and Benton counties.  In late 2016, Hiller moved to their new location, located at 1920 TN-46 and now boasts 18 experienced heating and air technicians, electricians, and plumbers.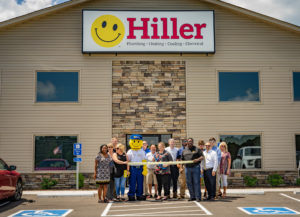 "As a company who backs their work and ensures customer satisfaction, we wanted to offer our exceptional and professional service to more families in our area", remarked Dickson's General Manager, Allyson Lampley. She continued, "We have been able to grow into our new location because we truly care about our community and our customers".
During the event on Wednesday, the Dickson County Chamber of Commerce performed a ribbon cutting on the new location. In addition to a large cookout for employees, guests, and customers, local radio station 1260 AM / WDKN was on site interviewing the Hiller team about their services and programs.
Launched in 1990 out of a duplex in Antioch, Tennessee, with a single employee and just $500, Hiller has grown to include over 480 trucks, 15 locations, and more than 630 employees across the southeast. In the past decade alone, Hiller has experienced over 900% growth in revenue.
Hiller Plumbing, Heating, Cooling & Electrical provides residential and commercial service and repair throughout Tennessee, Southern Kentucky, and Northern Alabama. As the homeowner's premier provider of choice with a 100% satisfaction guarantee, Hiller is Tennessee's largest residential and commercial plumbing, heating, air conditioning, and electrical services provider. Hiller, an 12-time honoree to the Inc. 5000 List, recently named to the list of fastest-growing private companies in Middle Tennessee and "Best in Business" from the Nashville Business Journal, employs more than 630 associates, boasts a fleet of 480 "Happy Face" trucks across 15 locations, and has responded to over 1.4 million service calls.
###
Daily Promotion
Enjoy Half-Off Preventative HVAC Service Tune-Up
Enjoy Half-Off your Heating Tune-Up this month on us!
Get Promotion