Benefits of Landscape Lighting — Exterior Lighting Solutions
Enjoy reading the latest DIY articles and saving money?
Receive our latest helpful hints, tricks and savings, directly to your inbox.
Posted June 1, 2017
There are many reasons why you may want to install or upgrade your outdoor lighting. In addition to increasing your safety and security, landscape lighting is designed specifically for your home to highlight the beautiful areas and increase the value of your home.
Have you ever taken a look at your home at night?
You've spent a lot of time making your yard and home exterior look good, so why hide the view at night? There are several compelling reasons why a homeowner would want to invest in landscape lighting, also known as exterior lighting or outdoor lighting.
Strategically placed lights will highlight your home's architectural features and its beautiful trees and garden. Well-executed outdoor lighting casts your home in the best possible light and adds what realtors refer to as "curb appeal." Outdoor lighting can also add security and value to your home; ensuring a solid return on your investment.
Benefits of Landscape Lighting
We've compiled a list of exterior lighting benefits that might help persuade you into shining a light on your most treasured piece of real estate:
1. Visual Appeal
When installed properly, front and backyard lighting can accentuate the best aspects of your home exterior and surrounding landscape. That new door you just installed, sharp corners lost in the daylight, and intricate architectural details can all be highlighted with strategically placed bullet and wash lights.
Your favorite tree can light the branches and yard below with downlights that emphasize its shape as well as specific areas underneath. Garden walls and other focal points can come to life at night with well, bullet, and flood lights that fill space and emphasize color and texture.
Your home will be more inviting to household members and guests, increasing your use of the outdoor space. A well thought out lighting plan can transform your dark home into a bold, illuminated showplace.
2. Security
A dark home is an attractive target for potential burglars. Landscape lighting is a great deterrent to thieves who thrive under the cover of darkness. Lighting draws attention to a house, which increases the chance of a neighbor or passerby catching a would-be thief in action. Landscape lighting also allows a homeowner or visitor a better view of the area when arriving at night. An illuminated view of the perimeter will help to detect anyone lurking around in the yard.
One often overlooked benefit of landscape lighting is the insurance credit. Your insurance company may offer a discount for increased exterior lighting:
"Reduce your home insurance premiums significantly with exterior lighting, smoke alarms, security systems, deadbolts and other means" (National General Insurance).
You will also receive benefits for never reporting a claim.
3. Safety
Landscape lighting will help with visibility and decrease the chances of your family or guests tripping and falling. Outdoor parties or activities that take place at night can be potentially dangerous with dark areas obscuring uneven paths and cracked sidewalks. A homeowner is liable for any accidents that occur on their property, so strategic illumination of problem areas in your yard can help avoid unfortunate accidents and mishaps.
4. Value
No matter the size or design of your home, landscape lighting can enhance the positives; adding style and dimension. With well-placed bullet or flood lighting, a modest home can emphasize its best features. Light can add a bit of space and dynamic form to an otherwise bland exterior. Landscape lighting increases the value of any home, offering a huge advantage when it comes time to sell the property. A well-lit home is a more attractive one to potential buyers, making any lighting addition both practical and financially responsible.
Exterior lighting consistently ranks among the most desirable characteristics for home buyers in NAHB's annual "What Home Buyers Really Want" survey.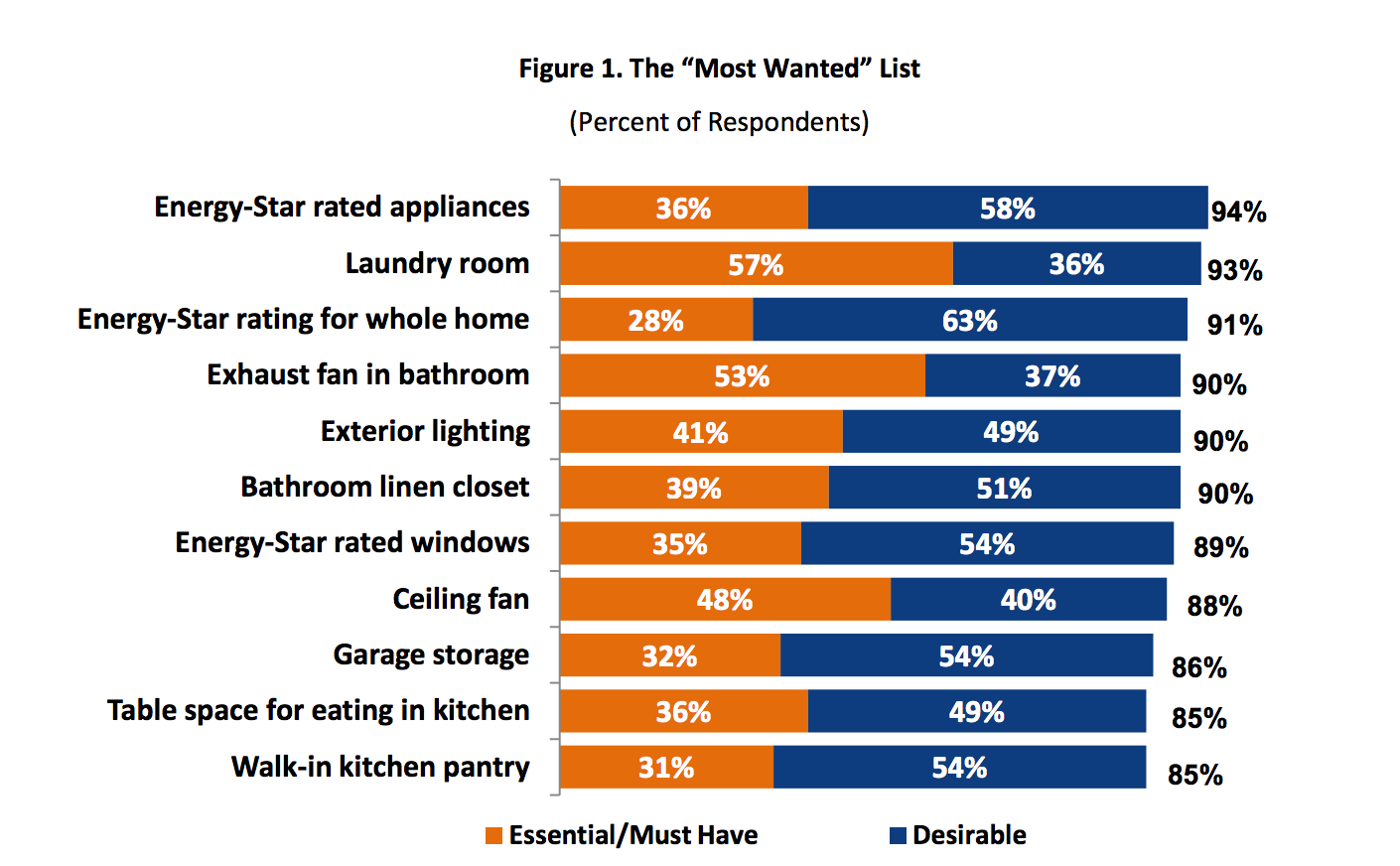 Source: "What Home Buyers Really Want"
Nearly half of those surveyed think exterior lighting is an essential part of the home. Not only that, landscape lighting makes your property look more luxurious and expensive, leading to increased value.
Putting the time and money into a beautiful home and landscape affords to be appreciated day and night. Your home deserves its best light.
Here are a few landscape lighting ideas to let your imagination run wild before meeting with a professional.
Now that you're convinced you should invest in landscape lighting, let Hiller Electrical help you with the specifics. We can meet with you and discuss the best solutions for your budget and your landscape.
Our outdoor lighting specialists will design and install the landscape lighting that will give you all of the above benefits and make sure that your home remains up-to-code.
If you want to lower your energy costs, we can install energy-efficient lights for the design, as well as automatic timers, and motion sensors. We also offer around-the-clock repair service for your lighting.
Daily Promotion
Enjoy Half-Off Preventative HVAC Service Tune-Up
Enjoy Half-Off your Heating Tune-Up this month on us!
Get Promotion