Your Guide To An Electrical Panel Upgrade For Your Home
Enjoy reading the latest DIY articles and saving money?
Receive our latest helpful hints, tricks and savings, directly to your inbox.
Posted August 16, 2019
Have you been considering an electrical panel upgrade for your home? Have you been seeing signs that you need an upgrade? Was an upgrade recommended to you? Are you looking for ways to add value to your home? Are you wondering how much an electrical panel replacement cost for your home?
There are any number of reasons for pondering an electrical service upgrade. Many homes today need them, though, and it's something homeowners tend to put off doing.
So, good for you for starting to think about this!
We'll be discussing the whole process—start to finish—in this article.
What Is an Electrical Panel Upgrade?
Understanding what the electric upgrade process entails is essential, even though a lot of people simply don't know. If you haven't had noticeable problems with your electrical system, you haven't had much incentive to learn about upgrades.
Actually, though, you should know about electrical upgrades and why they are often necessary. Circuits that are faulty or overloaded could be dangerous, and possibly start a fire in your home.
Signs You Need an Electrical Panel Upgrade
Many common electrical issues are linked to a faulty electrical panel since the panel is linked to the entire electrical system. If the panel is malfunctioning, the damage is likely spread throughout the house.
As one electrical contractor put it: "Your electrical panel is like your heart—it's vital to the overall health of your system."
The following sections explain some reasons why you might want to consider an electrical panel upgrade for your home in the near future:
Your Home Still Has a Fuse Box or Your Electrical Panel is Unsafe for Other Reasons
Fuse boxes were the norm for homes through the 1960s, and quite a few homes still have them today. If yours is one of them, the fuse box should be replaced.
It's not that the fuse box is dangerous in and of itself, though it can be pretty inconvenient to have to keep replacing fuses. Rather, it's the various stopgap measures people may have taken over the years to keep the boxes functional.
These include inserting coins and other metal objects into the fuse slots as a way to avoid buying new fuses. Marginally functional, that is—and at great risk.
For both fuse boxes and circuit breakers, you should inspect the electrical panel, checking for things such as:
Whether it is unusually warm or hot
You hear crackling sounds coming from it
You see corrosion or rust on the circuit breakers
Name of the manufacturer
There are still some known faulty panels out there, so check that yours is not one of them. If it is, have it replaced right away. The manufacturers of these panels are Federal Pacific Electric (FPE), Zinsco, and Pushmatic.
If you're concerned that your electrical panel might be a faulty or recalled model installed many years ago, do a search for the manufacturer's name or call your utility company or an electrician to find out for sure.
Circuit Breakers that Often Need to Be Reset
Even if you (or a previous owner) got rid of the old fuse box long ago, the circuit breakers that replaced it might be outdated now too.
If your home was built before, say, 1990, it probably has 100 to 150-amp service, which was fine for meeting most 20th-century home electrical needs. Today, though, the standard is 200 amps.
See the discussion below of the "heavy up" for more on what this means.
Inappropriate Electrical Outlets throughout the House
Look for:
Outlets that are damaged
Outlets with only two prongs, which means they are not grounded and there's a risk of fire or electrocution.
In areas around water, there are no ground fault circuit interrupters (GFCIs). This also can lead to serious injury or even death by electrocution.

Noticeable Signs of Wear and Tear on Your Electrical System
Watch for signs of potential danger from a worn and/or over tapped electrical system; for instance,
Flickering, blinking, or dimming lights
Frequently tripped circuit breakers or blown fuses
Warm or discolored wall plates
Cracking, sizzling, or buzzing from receptacles
Burning order coming from receptacles or wall switches
Mild shock or tingle from appliances, receptacles, or switches
Frequent need to reset circuit breakers.
Appliances that are not running at their full capacity
Utility bills that seem unusually high
You're Planning to Add Something that Uses a Lot of Electricity
This could be a hot tub, an air conditioning system, an electric dryer, or any number of other heavy electricity users.
You're Planning a Major Home Remodel or Addition
Added space takes more electricity—for lighting, air conditioning, even vacuuming—plus any other electricity-connected uses you might have planned for it.
Types of Electrical Panel Upgrades
Upgrading your electrical panel can mean a few different things depending on your home's power needs, the age and power of the existing panel, whether there's damage to the panel, and other factors.
Repair of Individual Circuit Breakers
Yes, it is possible to replace individual circuits; however, we recommend consulting with a licensed electrician before deciding to replace just a single circuit breaker by yourself since there could be other problems underlying its failure.
Panel Replacement (with no accompanying service upgrade)
Reasons why a panel would need to be replaced include:
Water damage
Mouse droppings
Damaged wires
Old age
More often, though, a circuit breaker panel replacement accompanies an all-out service upgrade.
"Heavy-Up"
With all the high-tech gadgets, video technologies, appliances, and other machinery in use today (often, many of them simultaneously), the demands of many households exceed their supply, and a major service upgrade is needed.
Known to those in the industry as a "heavy up," this type of upgrade will equip your home—typically an older home—for today's heavier electrical usage.
"A typical heavy-up is one in which an older house needs to be upgraded from 100 or 150 amp to 200 amp service, which is the standard now."
How Much Does It Cost to Upgrade Electrical Panel?
You may be worried about the cost to an electrical panel upgrade for your home.
And rightly so. Yes, electrical panel upgrades can be expensive. Expect to pay up to $2,000 for the labor, plus more for supplies. It might end up costing even more, depending on what the electrician finds when he really gets into the job.
Previously unknown problems could be discovered while the electrician is doing his work. For example, he might discover ungrounded electrical outlets in the house, a meter or outside mast that needs to be moved or any number of other things.
Remember, there's a lot going on inside your walls that can't be known at the time of the estimate. So once the work starts, it's quite possible that adjustments will be made, especially so that the work done will pass final inspection (see below).
But anything that makes such a difference in the overall safety of your home is worth some money. And this kind of service upgrade takes a lot of materials and time—sometimes days, especially with only one electrician working.
Finding the Right Electrician for the Job
In today's world, checking a companies local reviews on Google or Facebook is one of the best way to find an electrician or any other contractor. Typically a business with a lot of reviews and a high star rating values their reputation and will make sure you are completely taken care of.
Questions to Ask Electricians You're Considering
You should not assume that someone who self-identifies as an electrician actually has the experience and credentials needed to do the job. There are a lot of amateurs out there seeking work these days! So be sure to check them out.
We recommend talking with at least three electricians before hiring. Ask them things such as:
Are you licensed?
Are you insured?
What kind of work do you do most?
What special training/experience do you have for this kind of work?
Can you provide references (for past jobs similar to mine)?
What does your estimate include?
Do I need a permit for the work I'm requesting? Will you obtain it?
Who (all) will perform the work?
When would you be able to do this work?
(How) do you guarantee your services?
Be sure to take notes on their answers. That way, you will have points of comparison for the different candidates and won't lose track of important details between the interview and the hire.
Requesting and Reviewing a Written Estimate
When you receive estimates from the electrician you've interviewed, read the estimates carefully, looking for anything that was overlooked, unusually costly items and so on.
Don't hesitate to ask questions if you think something is off. There could be a good reason or it could be a mistake.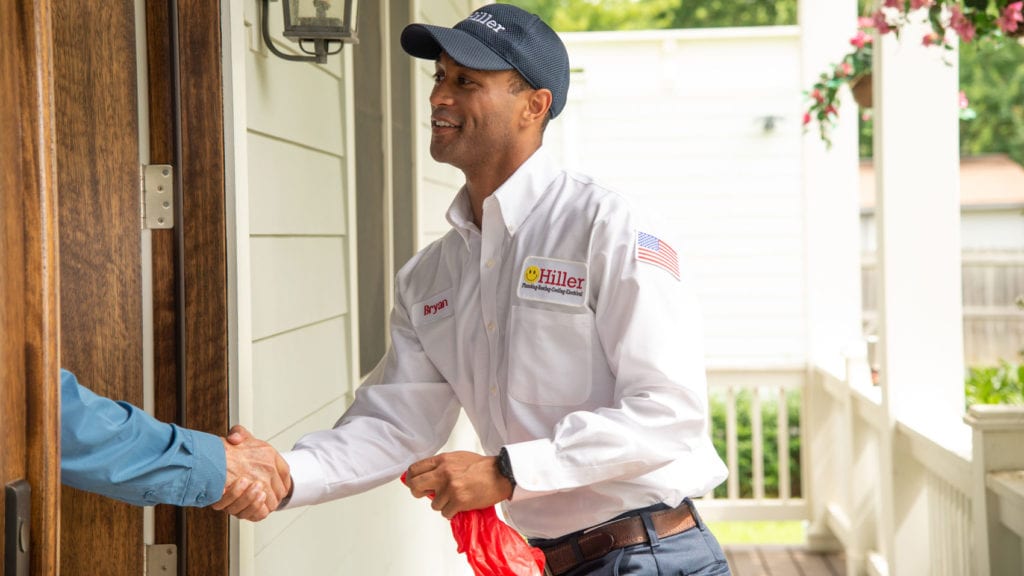 Working with the Electrician
As with any contractor, when working with an electrician, it's important to engage with them and express interest in various aspects of the work.
Not only does this start your relationship on a good foot, but it also shows your respect for the work of the professional you hired and motivates that person to do their best. Don't hesitate to ask about things you really want to know!
Also, walk around and unobtrusively observe the work in process from time to time. As the homeowner, you should understand exactly what is being done.
A Few Questions to Ask After the Work Has Begun
Is everything going as planned? Have there been any surprises?
Now that you've gotten started, do you foresee any changes to your estimated time frame and budget?
Is there anything you need from me at this point?
Preparing Yourself for Having the Work Done
This may sound obvious, but be prepared to have your power turned off throughout much of the job. It might be helpful for you to make a list of everything you rely on regularly that uses electricity. You want to be well prepared.
For example, you might assume you can use a fully charged tablet or laptop computer if there's no power. But if you're planning to work online, remember that the modem also runs on electricity.
If you need Internet connectivity, go to a cafe. But be sure to let the electrician know your plans and when you'll be back. They might need access, for example, to the attic, basement, or garage before you leave.
How Do You Know the Electrician Has Done a Good Job?
The work is done! Now, there are just a few loose ends to tie up.
Is the Electrical System Now up to Code?
When the job has been completed, the electrician's work needs to pass a state inspection to be sure he has done everything that was needed—and did it safely and properly. He will notify an inspector himself when he finishes the job.
This step should be reassuring to you since it's a required check to protect you, your family, and your property. The inspector might point out some small things for the electrician to address, but the vast majority of the work will have been done.
Electricians are used to the inspection process and know how to prepare for it.
What all was Done?
Now that the work has been completed, you need to ask the electrician to give you a guided tour of the work that was done. After all, you have a sparkling new electrical panel. Now you probably want to know how it works.
The Electrical Service Upgrade is Complete
In a way, electrical service upgrades are a double-edged sword. Their effect on overall home value is a neutral one. As The Balance explains, "Getting everything state-of-the-art isn't a bad idea: In certain quarters, that's considered standard, and without it, you could take a hit when selling time comes. Just don't think these upgrades let you mark up the price tag."
Ensuring the future safety of your family and home is really the key point—and the real reason you had the electrical panel upgrade, though, right? And that's no small deal!
Is your electrical panel outdated or damaged? If so, the time has come to replace it. And we hope this article has given you some inspiration to do so.
Give your electrician a call and get things started. And in the meantime, have a follow our  blog for more information on electrical and other home projects you might be considering.
Daily Promotion
Cash for the Holidays – $500 Visa Gift Card
Purchase a New HVAC System & Receive a $500 Visa Gift Card!
Get Promotion