Transition to Trades Celebrates 2nd Anniversary
Enjoy reading the latest DIY articles and saving money?
Receive our latest helpful hints, tricks and savings, directly to your inbox.
Posted June 27, 2018
Transition to Trades, an approved Career Skills Program (CSP) developed by Hiller Plumbing, Heating, Cooling & Electrical and U.S. Army Garrison, Fort Campbell, celebrated its 2ndAnniversary with a open house, luncheon, and graduation ceremony featuring keynote speaker U.S. Congressman Marsha Blackburn on June 22, 2018 from 12pm-5pm.
Transition to Trades, launched on July 5, 2016, allows separating soldiers the opportunity to attend Total Tech trade school (a subsidiary of Hiller, LLC) to learn valuable technical career skills while remaining active duty in the U.S. Army. Total Tech offers a unique approach to technician training through classroom and hands-on laboratory instruction in a 15,000 square foot, state-of-the-art facility. As part of the program, students are guaranteed an employment interview at a Hiller branch location of their choosing. Soldiers desiring to return to their hometowns are provided key industry contact information to aid in employment searches in those respective areas. Through its partnerships with PRAXIS S-10 and PriceFixer.com, a national success college and network for contractors, Transition to Trades has expanded to include national placement opportunities with over 150 contractors across the United States.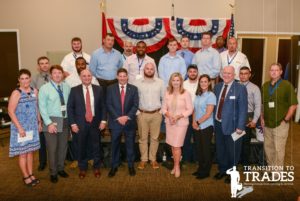 To celebrate the program's achievements, on Friday, June 22, Hiller and Transition to Trades, and Total Tech School hosted an open house and fully-catered luncheon, complete with facility tours, employer networking opportunities, professional headshots, giveaways, radio entertainment, and a silent auction (with proceeds going to Total Tech scholarships). Following the festivities was a graduation ceremony honoring the latest cohort of over 100 program graduates, featuring keynote speaker U.S. Congressman Marsha Blackburn.
"Transition to Trades is life-changing", remarked United States Congressman Marsha Blackburn during the graduation ceremony. "This program offers not only meaningful employment for the veteran, but stability to the families – who we know have also served", she continued. "You transitioning service-members have taken advantage of an incredible opportunity. An opportunity to expand your knowledge and learn critical skills that our communities rely upon."
Since its inception, Transition to Trades has proudly graduated 322 members from the HVAC, Electrical, and Plumbing trades. Of those graduates, 265 soldiers are now employed full-time in the industry, with 91 working full-time at Hiller, and 30 have reenlisted or gone back to further their education. The program has received United States Congressional Recognition and recognition from Tennessee's Governor Haslam for its dedication to providing stable careers for veterans.
"It gives me great satisfaction when I think about the part we have played in assisting these great men and women to enter the trades that have been so good to me," remarked Jimmy Hiller, founder and CEO of Hiller Plumbing, Heating, Cooling & Electrical, and owner of Total Tech School. "The plumbing, heating, cooling, and electrical trades are expected to increase by 21% over the next 4 years", he continued. "At the same time, 22% of the existing workforce will retire, so we have jobs! Who else is better to fill this gap than the hard working, dedicated soldiers of the United States of America?"
Daily Promotion
Cash for the Holidays – $500 Visa Gift Card
Purchase a New HVAC System & Receive a $500 Visa Gift Card!
Get Promotion