Super Bowl Party Checklist | The Host with the Most
Enjoy reading the latest DIY articles and saving money?
Receive our latest helpful hints, tricks and savings, directly to your inbox.
Posted June 1, 2017
Celebrating the Super Bowl is not only an American sports tradition but also an excellent excuse to get all of your friends together for a day of food and fun. It's only once a year, so why not do it right?
Pre-Game
Before the guests arrive, follow these suggestions for being a super host with this Super Bowl Party Checklist.
Set a Budget
We know you want to be super host and run out to buy all of the decorations and several types of chips and dips and beverages. But be honest with yourself about how much you want the party to cost you. You're already being extra gracious by opening up your home; so don't be afraid to ask your guests to pitch in—potluck style.
Friends that can't bring something can still send you some cash through apps like Venmo. You grab the necessities and any decorations you can splurge on, and then delegate what you'll need from there.
Clean Your Place
Remember, the best offense is a good defense. Pick up the clutter, vacuum, and wipe down the tables. Hit the spots where the party will be designated. The TV room, kitchen, and bathroom are the main areas you should focus on.
Don't forget to change your HVAC filter (see: 5 Ways to Improve Indoor Air Quality).
Clean your air grills and registers and make sure they aren't blocked by furniture, rugs, drapery, or anything else. Blocking vents and registers leads to airflow problems, energy loss, and premature breakdowns.
Avoid harsh chemical cleaners that contribute to poor indoor air quality. Click here for natural ways to rid your home of bad smells.
Freshen Up the Bathroom
Stock the bathroom with plenty of toilet paper (single-ply will help reduce the risk of toilet clogs).
Remove any objects that could accidentally fall in the toilet (see: 10 Things You Should Never Flush Down the Toilet).
Empty the trash can.
Leave a clean plunger next to the toilet.
Remove any items from your bathroom and medicine cabinet that you wouldn't like your guests to see or access.
If necessary, place arrow signs in the home to direct your guests to the proper bathroom.
Watch Hiller's Great Moments in Plumbing History



Refresh the Kitchen
Make sure all of the dishes are clean and the dishwasher is emptied.
Do all of the food prep before your guests arrive.
Consider using paper plates and plastic utensils to reduce clean-up times and prevent messes and garbage disposal clogs in the kitchen.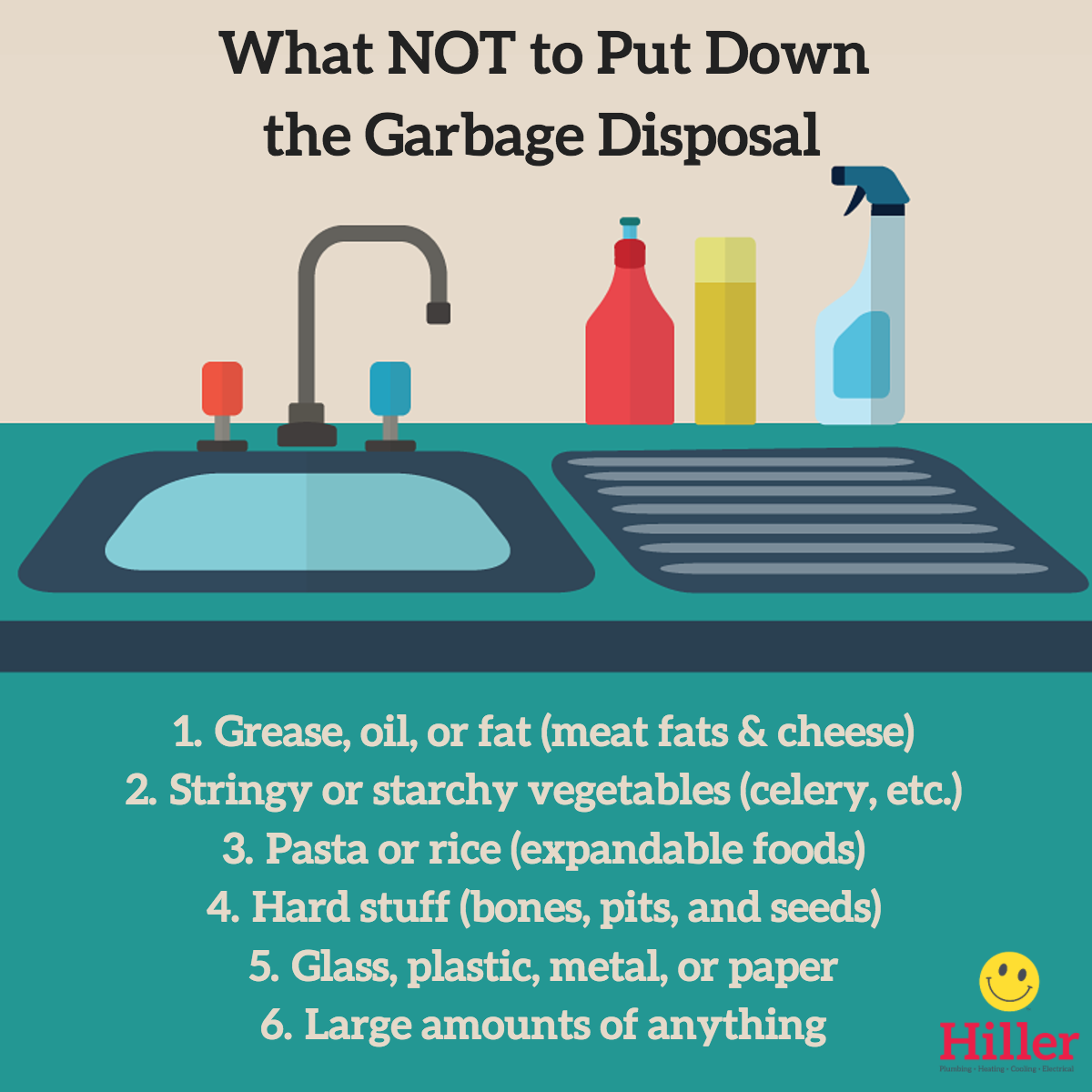 Winter Welcome Tip – Since it's winter, take the extra precaution of clearing away debris and any recent snow coverage from your walkway. Leave the injuries to the football players.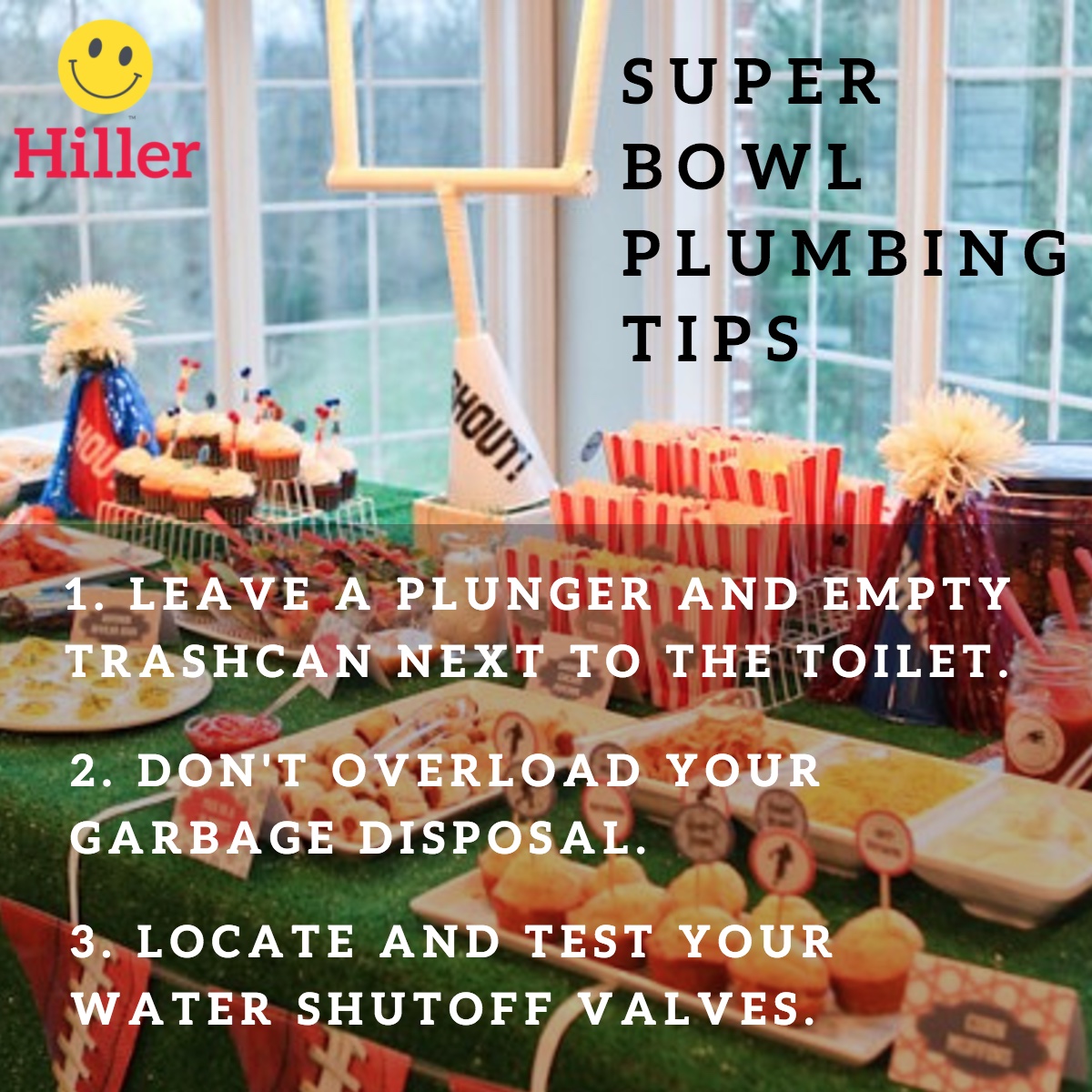 In addition to preventing toilet and garbage disposal clogs, you also want to know where your main water valves are located and how to turn them off in the event of an emergency (see: How to Find and Shut Off Main Water Valve).
More people means more heat. Before your guests arrive, turn the heat down to around 64°. The body heat from your guests will make up the difference.
If your heating system is acting up, call a professional technician to get things working again before game day.
Add Spirit
Decorations are a fun touch to any event. No Super Bowl party would be complete without a few team-colored touches. You may want to consider pom-poms for the cheer section, football-themed napkins, plates and balloons. Whatever décor you add will be appreciated. Click here for some last-minute Super Bowl decoration ideas.
Designate Specific Areas
Create a specific area for food, TV, outside, and kitchen hangouts. If tables and seating are set up, guests will usually get the hint and congregate accordingly.
Organize your food layout so that your guests know where to grab the snacks and the plates. Think of how you'll bring out the appetizers and head into the main course (half time is always a great break for grabbing bigger portions). By planning out a general timeline, you'll be able to keep everyone full and satisfied.
Additionally, you will want to have an area for your guests to put their bags, coats, and other bulky possessions. If you cannot clear out a closet or two, use a clean bed to pile the parkas. We recommend keeping the women's area separate from the men's for easier item retrieval.
We also recommend having an area near the entrance where guests can take off their shoes. Shoes bring in hundreds of thousands of pollutants. It's always a good idea to take off shoes before entering the home to reduce the amount of dirt, moisture, and contaminants that get tracked in, but especially when many people are involved.
Along with designating specific Super Bowl areas, be sure to kid proof if your guests will be bringing their little ones. It's a good idea to follow basic safety precautions, especially in areas that will see a lot of traffic.
If there is a game room, have it organized when the kids arrive, and set up activities to keep them occupied and safe for the football festivities. Click here for a child-proofing guide.
Checking your outlets is part of child proofing and general safety on days when you know you will be using a lot of electricity. Your guests will most likely need to charge their phones, and you may want to increase your outlet availability by unplugging unused lamps or devices. Go over our Electrical Safety Checklist for more information.
If you haven't tested your GFCI (ground fault circuit interrupter) and AFCI (arc fault circuit interrupter) outlets in the last 30 days, now is the time to do so. It's really simple—just follow our instructions.
Get the Grub
The Super Bowl is synonymous with large quantities of American food.
General guideline: make it football themed whenever possible.
Hit the American classics—chips and dip, sandwiches, burgers, hot dogs, pretzels, and veggie platters.
Plan to make some fun football themed desserts or dishes.
Diversify your beverages—kid-friendly and adult beverages.
Ask your guests ahead of time if they have any dietary needs.
For inspiration on how to put a special culinary twist on game-day classics, check out these Super Bowl food guides:
Game Time
The guests are arriving. Here are some things to think about:
Where will the guests put their shoes? Consider a basket or designated shelving near the entrance.
Where will the guests put their coats? Empty out a closet or bedroom.
Is the bathroom clean and stocked? Don't forget the extra toilet paper!
Are the decorations up? Prepare ahead of time.
Are the snacks ready? Create a snack area near the main entertainment.
Are there enough places to sit? Grab chairs from other rooms and ensure everyone can find a place to plop down during the game.
Get Comfy
Finally, and most importantly, treat your guests like family. Yes you'll want to prepare for potential spills and plumbing mishaps, but all in all, if they're comfortable, all the rest should fall into place.
Set up the couch and TV room seating to be extra comfy. Add blankets and pillows when necessary, especially if it's a cold day. If you want to protect your furniture, consider covering them in blankets and throws. You can even throw your larger pillows on the floor for extra seating.
Restock the chip bowls and always be attentive. If your home is clean and prepped, you'll be able to savor the success of the party even if your team loses.
The Basics:
Super bowl decorations
A place to keep drinks cold (buckets and coolers)
Plenty of ice
Beer and bottle openers
Soda and other non-alcoholic drinks of choice
Snacks and what's for lunch?
Plates, bowls, cups, cutlery, and napkins
Serving platters, trays, and bowls
Extra seating
Touchdown!
Happy Super Bowl Sunday!
Daily Promotion
Enjoy Half-Off Preventative HVAC Service Tune-Up
Enjoy Half-Off your Heating Tune-Up this month on us!
Get Promotion