Spring Cleaning Tips to Improve Indoor Air Quality
Enjoy reading the latest DIY articles and saving money?
Receive our latest helpful hints, tricks and savings, directly to your inbox.
Posted June 1, 2017
Annually, people produce checklists and set aside home projects for this very time of year. There may be several things you already have planned for your own home. Whatever your goals, Hiller wants to help!
Here at Hiller, our focus is on the health of your home and family. That's why this blog is dedicated to Spring Cleaning tips that will also improve your Indoor Air Quality or IAQ. IAQ refers to the purity or pollution of the breathable air in your home.
If your home has poor IAQ, your family is more susceptible to contaminants that lead to the cause or worsening of certain allergens and asthma. Other flu-like symptoms of poor IAQ include headache, coughing, nausea, dizziness, and dryness of eyes, nose, and throat.
So throw open the windows! It's time to come out of winter hibernation and spring clean with a purpose: to improve the health of the air your family breathes.
Improve your IAQ this spring
Spring Cleaning is the time to check back in with those places you filed away in the "out of sight, out of mind" category. Below is a list of Spring Cleaning solutions that will leave your home smelling new and your air quality improved.
Clean & think green — When it comes to cleaning products, fragrance = chemicals. In fact, that pine or citrus fresh scent we've come to associate with a clean home is actually just a mask for the chemicals and bacterial transfer underneath. Opt for fragrance-free or unscented products. The last thing you want is to unknowingly pollute the air with the petroleum-based chemicals in the very products you're using to clean with!
New cleaning supplies — Consider vapor steam cleaners and vacuums with a HEPA filter. Vapor steam cleaners disinfect and eliminate bacteria much better than traditional clothes or sponges that can transfer contaminants. Vacuums with a HEPA filter can remove up to 99.7% of allergens in a given space, especially if there is carpet or rugs in the space where there is usually an increase in the likelihood of lurking allergens. These are the most effective cleaning devices to improve indoor air quality.
Air Ducts need love too — Throughout the year airborne allergens are drawn into your HVAC system and settle on the air ducts. Then when the system is turned on, those allergens and contaminants are pushed into your living space and breathed in by you and your family. Professional air duct cleaning is one way to greatly improve the quality of your indoor air. A technician should clean your air ducts approximately every 5 years.
Filters, and not just HVAC — To improve the quality of your air year-round, and especially when you begin to use your air conditioning unit more often in the spring and summer, it's important to be conscious of the last time you changed your HVAC filter. It's recommended to change your filter every 30-90 days. When using the unit consistently, replacements may be necessary more often, and the filter's condition should be checked every 30 days.
There are several filters and screens you can check, clean, install or replace around the home that will improve the quality of its indoor air quality.
HVAC filter
HEPA filters
Dryer lint screens
Vacuum cleaners
Bathroom exhaust fan grilles
Spring is the best time for HVAC repair. You've used the furnace all winter, and it may need a tune-up. It also isn't summer yet, when HVAC technicians are working harder than ever to keep that A/C on blast. To schedule HVAC maintenance this spring before the summer heat wave, contact the professionals at Hiller.
Add Houseplants & Humidifiers
Bring plants indoors — Did you know bringing plants into your home is a natural way of removing toxins from the air? Houseplants are visually uplifting, while also working to filter out air pollutants. According to NASA's Clean Air Study on this matter, titled Interior Landscape Plants for Indoor Air Pollution Abatement, you can achieve noticeable air purification by placing greenery every 100 square feet within any given space.
This same study mentions that about 30% of all new or remodeled buildings had varying degrees of indoor air pollution. Apartments and office units within commercial buildings can also benefit from potting some plants. Houseplants are both beautiful and effective!
Some Suggested air-filtering plants include:
Read more about NASA's favorite plants to combat poor air quality in this article.
Use a humidifier or dehumidifier — Where there's heat, there's moisture. Where there's moisture, there's mildew. The best way to keep mold and mildew growth at bay is to use a humidification system. Humidity levels below 55% should alleviate any irritations you or your family is experiencing, including allergies, dry itchy eyes and skin or even bloody noses. Dry air or moist air is poor air. A whole-home humidification system that works with your HVAC system, or even a stand-alone humidifier, is advantageous in achieving quality breathable air in the home.
Additional Tips:
Buy a vacuum with HEPA filtration
Consider an air purifier
Clean your windows inside and out
Use your vacuum attachments to tackle the walls, the fans, and the cobwebs!
Cleaning isn't the only spring maintenance task. Don't forget things like draining your water heater and inspecting your home for plumbing leaks and signs of water damage. Learn more Spring Home Maintenance Tips.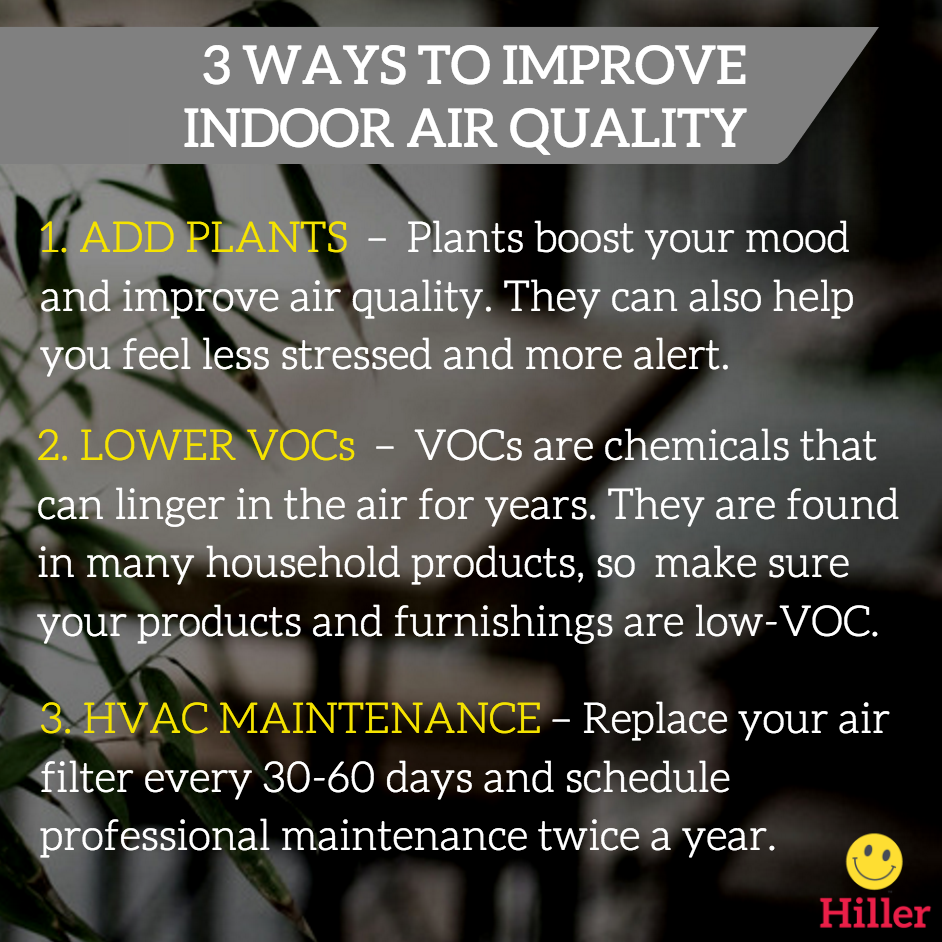 For more information on how to maintain your indoor air quality year round, contact Hiller for a professional Indoor Air Quality evaluation by a certified technician.
Daily Promotion
Enjoy Half-Off Preventative HVAC Service Tune-Up
Enjoy Half-Off your Heating Tune-Up this month on us!
Get Promotion