Valentine's Day Tips for a Romantic Night In
Enjoy reading the latest DIY articles and saving money?
Receive our latest helpful hints, tricks and savings, directly to your inbox.
Posted June 1, 2017
Ah, the time of roses, wine, requited and unrequited love. It's the time of year when we display our love and affection to friends and loved ones.
Sure, many people will say they don't want anything for Valentine's Day. But what they usually mean is that they don't want any giant teddy bears or novelty items of any kind. What she probably does want are flowers, a thoughtful card, and perhaps something unexpected.
You've already sent the Valentine's Day cards and scheduled the flower delivery. But it doesn't feel like enough. Here are some last-minute things you can do to get the home ready for a romantic Valentine's day and evening.
Romantic Valentine's Day at Home
As Valentine's Day draws closer, you should ask yourself if your home is in the proper romantic state. Even if you spend your Valentine's Day away from home, nothing dampens the romantic flame more than coming home to dirty dishes and clothes.
If you want your Valentine's evening to end well, you'll want to make sure you home is clean, your heating system is working, the fridge is stocked, and the flowers are in place.
The Love Prep
Valentine's Day falls on a Tuesday this year so make sure you plan accordingly. If you have children, make sure you schedule a babysitter well in advance. You can also ask a family or trusted friend to take over these responsibilities for you.
Once the tikes are taken care of, you can now focus your energy on the creating the perfect romantic environment for your Valentine's Day and Night. Although there is plenty to do in the town or city, many places will be busy and may not provide the romantic environment you desire.
Instead, we recommend making your home a special romantic place. Even if you do decide to go out for Valentine's Day, nothing is more seductive than a sparkling clean home. So, if you don't normally clean around the house, now is the time to do so.
This doesn't have to be a surprise, but it can be. The main idea is to clean the home so that everything is neat and cozy.
Some cleaning pointers:
Make sure there are no dishes in the sink or dishwasher.
Clean and freshen your garbage disposal.
Clean, fold, and put away all of the laundry.
Change the bedding and make the bed.
Wipe down the entire bathroom, including the floors, toilet, and bathtub.
Don't use a lot of harmful chemical cleaners and aerosol sprays, which adds volatile organic compounds to the air. Look up green, low-VOC cleaning products to use instead, such as Seventh Generation or Mrs. Meyers.
Add some mild-smelling candles (choose scents that you know you'll both enjoy).
Fresh flowers and plants work very well for improving the sights and smells in your home. They also naturally filter the air for better indoor air quality.
If you have time, schedule a professional plumbing, electrical, and HVAC maintenance appointment. This will make sure your drains and pipes are flowing freely, your air is clean and comfortable, and your lighting is on point.
Change the air filter! You should check your air filter very 30 days and wait no longer than 90 days to clean or replace it. Not all filters are created equal. Learn more with our Air Filtration Guide.
Flowers
Giving a woman flowers is the ultimate romantic gesture. It infuses any situation with an old-school charm and glamour that is sorely missing from today's modern romance.
Instead of grabbing a bouquet at your local supermarket, spend the extra time and money to buy and present the flowers in a special way. You may not know this, but there are many layers of meaning that are communicated in the flower arrangement and the way it is presented.
Although much of the language of flowers has been lost, it's nice to revive some old traditions. Use this flower meaning list to communicate the perfect message this Valentine's Day:
Dark red rose: unconscious beauty
White rose: purity, innocence, reverence, silence
Pink rose: grace, happiness, gentleness
Yellow rose: joy, friendship, the promise of a new beginning
Orange rose: desire and enthusiasm
Lavender rose: love at first sight
Coral rose: friendship, modesty, sympathy
If you are looking for a symbol of love that will endure, think about planting a symbol of love in the form of a beautiful tree.
Trees and other shade around your home can reduce your air conditioning costs by 15-50%. Learn more about how to landscape for energy-savings here.
If you aren't ready to plant a tree for Valentine's Day, consider a few houseplants instead. There are many psychological and physiological benefits to houseplants, not to mention the huge boost in indoor air quality.
So, in addition to that bouquet of roses, consider gifting any of the following air-cleaning houseplants (as recommended by NASA):
Dwarf Date Palm
Boston Fern
Kimberley Queen Fern
Spider Plant
Chinese Evergreen
Bamboo Palm
Weeping Fig
Devil's Ivy
Flamingo Lily
Lilyturf
Broadleaf Lady Palm
Barberton Daisy
Cornstalk Dracaena
English Ivy
Variegated Snake Plant
Red-Edged Dracaena
Peace Lily
Florist's Chrysanthemum
These beautiful houseplants will remove toxins from the air naturally. Make them part of your indoor air quality strategy. Just make sure that they are nontoxic to pets and children before purchasing them.
Other things, such as humidity control, proper ventilation, and regular cleaning and HVAC maintenance are also important for maintaining healthy indoor air. 
Gather the Supplies
Once the home is sparkling clean, look around the house for some items that will help you create the perfect romantic atmosphere:
Her favorite pillows and blankets (think warm and fuzzy)
Non-drip candles and tea lights (never leave them unattended!)
Wine and wine glasses
Dinner and favorite snacks
Chocolate or another special treat
Entertainment
Setting the Mood
Alright, so you have cleaned the house and gathered all the supplies you need to set the mood. Now what? This is when your eye for detail has to take charge. Make sure all unnecessary items are put away in drawers, closets and other places.
You want the focus to be on the candles, flowers, and treats. Here are some ideas that can help you create a love lair:
Learn more about mood lighting.
Blanket Fort
Remember those old forts you used to build as a kid? Well, they are even more fun as an adult. It's also a great way to stay warm and show your spontaneous side. If you forgot how to make a blanket fort, you can make up for you shameful seriousness with this WikiHow article on How to Create a Blanket Fort.
Whether or not you choose to make a blanket fort in your home, it's always a romantic idea to choose the softest and plushest blankets and pillows and set them down for a little love nest. Strategically place your pillows for maximum comfort.
Choose the Right Light
Lighting is a crucial element to any romantic atmosphere. Opt for warm light wherever you can to add a feeling a warmth and coziness to the home. Read our Interior Lighting Guide for more tips.
Mason Jar Tea Lights and Candles
If you have a bunch of tea lights and Mason jars, here's an idea. Fill the bottom of your mason jars with seashells, coffee beans, pretty stones, or even water (tea lights float) and strew them around the room for an impressive look. You can also splurge on some fancy candles at your local boutique store.
Setting the Table 
If you are like most people, you have probably never been taught proper dining etiquette. Impress your sweetheart with a proper place setting. Use the image below as a general guideline: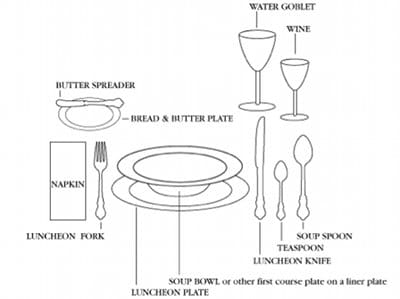 Source: Art of Manliness
Basically, the plate goes in the middle, forks go to the left, spoons and knives on the right. When you are dining, you start with the utensils on the outside and work in. Your water glass should stay in the upper right-hand corner.
And don't forget your manners! That means no chewing with your mouth open, keeping your elbows off the table, and your napkin in your lap.
Lighting the Fire
You don't want a freezing home to freeze your heart. Melt hearts with a cozy home atmosphere. If you have a fireplace, we recommend using that in place of your furnace or heat pump. So pop out the bubbly and light it up. The crackling flames ignite the same in us.
But only do this if you know how to use a fireplace safely and have had a professional fireplace/chimney inspection in the last year. Click here for important heating and fireplace safety tips.
Get Rid of the Phones and Computers
It may seem incredibly hard to put your computers and phones in a different room, but think about doing this for your important night together. Unless you are using your laptop to watch your favorite movie together, all your phones, computers, tablets, and other distracting devices should be put away.
Consider turning them off entirely if you can. You don't want to interrupt a mood that you may never get back with a notification that someone has commented on your photo.
Warming Up the Bedroom
If you have a duvet cover lying around, put your thickest blanket in it for some extra warmth. Layering is key. Make sure you have plenty of comfy blankets on your bed.
If you don't have a hot water bottle or an electric heating pad, you're missing out. Fill a hot water bottle or two and place them in between your sheets before slipping in for the night. You'll wonder why you never did this before.
If you choose the electric heating pad route, make sure it has been tested by an independent testing laboratory, such Underwriters Laboratory (UL). Follow electric heating pad safety tips and never leave them on unattended.
And don't forget about a romantic bubble bath! The extra heat and humidity will also help with the dry, winter air.
Schedule Heating Maintenance
Your HVAC system needs some loving too. Make sure your home is always at the right temperature and comfort level by remembering to schedule heating maintenance every fall. If you don't, you could risk a premature breakdown and avoiding your manufacturer's warranty.
Join the Happy Hiller Club to automate your home maintenance tasks and receive priority service and exclusive deals and discounts.
The Big Day
Even if the clean house isn't a surprise, all of the extra touches will be. Do one quick check before you invite your Valentine into the home that you've been preparing for days.
You don't have to greet them with flowers. They will notice the entire home has been transformed. Consider leaving a beautiful bouquet of flowers in a prime location with a card to be read. The details are entirely up to you. You can wait until after dinner to present the flowers, card, or any other gifts you may have thought of.
Remember, this night is for you and your Valentine. Spend it however you like. That could mean snuggling while you watch your favorite movie, talking, laughing, playing, having a pillow fight. As long as you are together and away from your phones and computers, you should have a great time.
Be Our Valentine! Happy Valentine's Day
Daily Promotion
Enjoy Half-Off Preventative HVAC Service Tune-Up
Enjoy Half-Off your Heating Tune-Up this month on us!
Get Promotion