Pre-Spring Cleaning Checklist
Enjoy reading the latest DIY articles and saving money?
Receive our latest helpful hints, tricks and savings, directly to your inbox.
Posted February 7, 2018
Spring cleaning is a given, but what about pre-spring cleaning? Learn what areas of your home need some TLC before spring arrives.
We've all heard about spring cleaning, but what about pre-spring cleaning? There are tons of areas in and around your home that might need some TLC before spring arrives. Make sure you are prepared for the warmer months with this pre-spring cleaning checklist! Here is a list of the most important areas to prep before spring is here:
1. Gutters and Roof
It's not uncommon for snow or ice to do some damage to your gutters and roof. We recommend getting up there to check for any loose tiles/shingles or noticeable issues that might have been caused by winds or harsh weather. It is also a good idea to clean up any sticks, leaves or debris for the overall health of your roof and gutters.
2. Windows and Doors
Now is a good time to look for any leaks in your windows or doors; your weather-stripping may need to be replaced if you see any holes or gaps. This will significantly help with your AC bill in the warmer months! While you're at it, inspect any window screens for holes bigger than a dime — it might be time to replace it.
3. Landscaping
If you have a sprinkler system, inspect all valves, lines and sprinkler heads. If anything looks questionable, now is the time to fix it. It might also be helpful to check your outside hose faucets and pipes to ensure nothing is cracked from freeze damage. Lastly, if you have any outdoor lighting, check to see if the sensors are still working properly and look for any bulbs that may need to be replaced.
4. HVAC Unit
Did you know that servicing your HVAC unit on a regular basis can help its' overall efficiency and lifespan? Take a few minutes to service your HVAC unit. Clear any debris that may be on or surrounding your unit, and change your air filters. Spend some time making sure that the coils are clean and the fins are straightened out. Our air conditioning maintenance checklist blog should help with more detailed instructions and recommendations.
5. Fire Safety
Test all of your smoke detectors around the house. You might need to replace batteries, then test the alarm to make sure everything is working correctly. Now is a great time to make sure you have a fire extinguisher that works, too.
See these tips on spring home maintenance visually!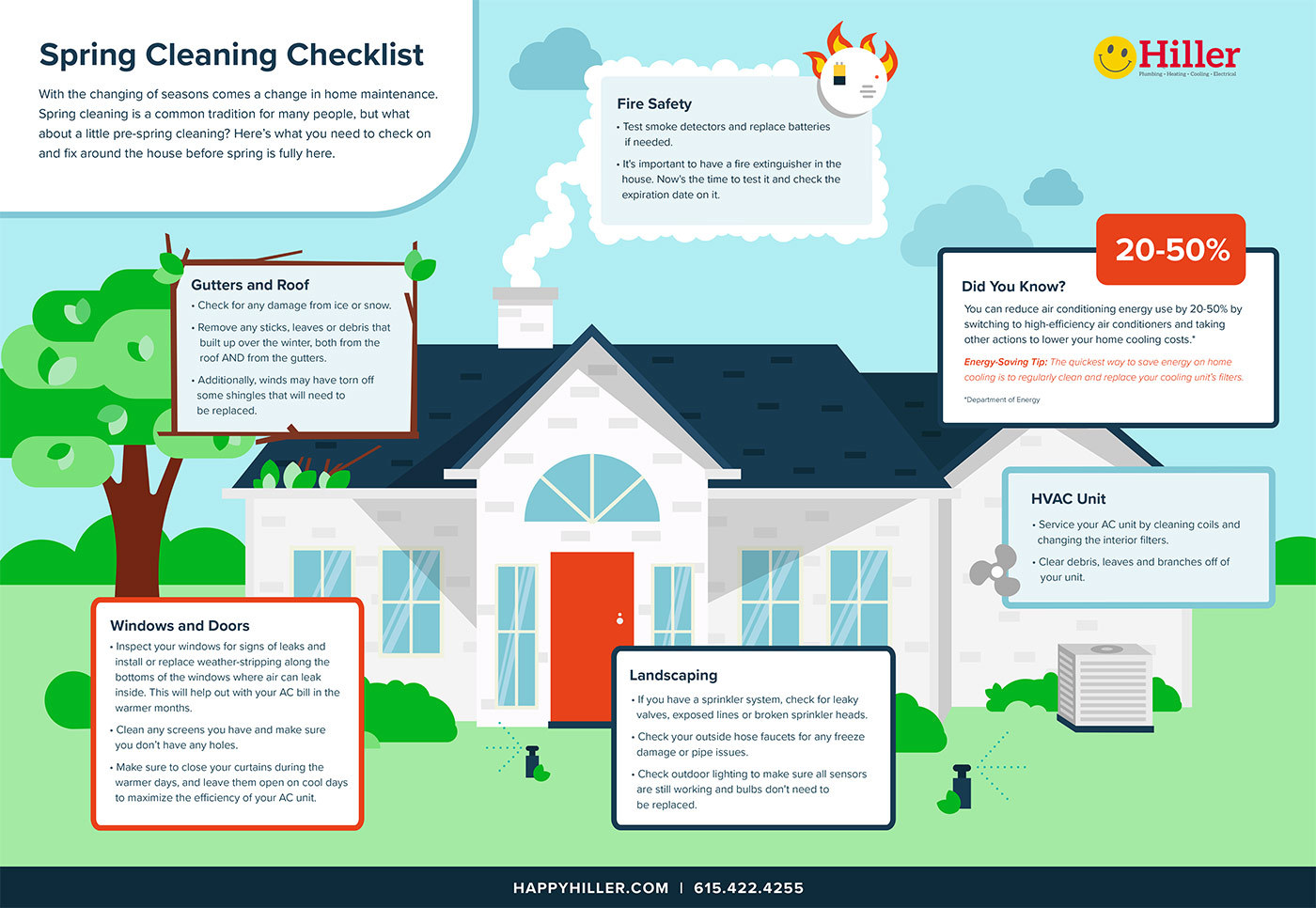 Daily Promotion
Cash for the Holidays – $500 Visa Gift Card
Purchase a New HVAC System & Receive a $500 Visa Gift Card!
Get Promotion