Mood Lighting That Will Save You Money
Enjoy reading the latest DIY articles and saving money?
Receive our latest helpful hints, tricks and savings, directly to your inbox.
Posted November 14, 2017
Creating the right atmosphere with the perfect lighting can be an easy and inexpensive task if you know how to do it right. LED lights have gained popularity in the recent years and can be an ideal option for setting the mood in any room, for any occasion. Check out our tips below on why LED lights are beneficial, and how to use them inside and outside your home!

LED Light Benefits:
LED lights have much more to offer than traditional lighting technologies:
LED lights are approximately 90% more efficient than incandescent light bulbs
They use at least 75% less energy
They last 25 times longer, saving money on your electric bill (Some LED bulbs can last up to 20 years making replacing bulbs a rare occurrence, giving you one less thing to think about)
LED lights also come in different colors and can be dimmed, giving you the option to go for a bold or calm vibe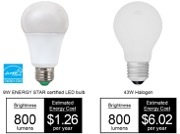 Picture from : Energystar.gov
Dinner Parties
Looking to impress guests or loved ones at your next dinner party? Spruce up your dining table with romantic lighting using LED lights. Cover the lights with a glass cover of your choosing creating the perfect, pleasant atmosphere. Don't worry about messing with candles and wax when you have this easy and quick option instead! Plus, it won't hurt that you'll be saving money, too.
Outdoor Ambiance
Make your outdoor pathways safer and brighter with this affordable option. Use LED lights to softly light a patio area or walkway. A warm, yellow or orange colored light can transform your area into a dreamy area. Or, outfit your deck with LED strips that provide a glowing underlight, complementing the night stars. Discover more in our blog post on landscape lighting.
Kitchen Elegance
Mood lighting can easily be created without a dimmer or even candles! Add some LED strips underneath your upper kitchen cabinets for a soft light that will illuminate your kitchen area. Stick to a soft, white light or switch up the colors depending on the mood and occasion.
Mood lighting doesn't have to be difficult or expensive when you know how to do it right — and LED lights are the perfect solution. Whether it's a large dinner party or just a cozy night at home, these tips and techniques will help you achieve that perfect blend of ambiance and elegance. Not to mention, it is more energy efficient! If you need help with your lighting, give us a call at 844-MYHILLER today.
Daily Promotion
Cash for the Holidays – $500 Visa Gift Card
Purchase a New HVAC System & Receive a $500 Visa Gift Card!
Get Promotion