Jimmy Hiller Honored as Most Admired CEO
Enjoy reading the latest DIY articles and saving money?
Receive our latest helpful hints, tricks and savings, directly to your inbox.
Posted September 11, 2017
Jimmy Hiller Honored with Second Consecutive Most Admired CEO & Their Companies Award
Jimmy Hiller, founder & CEO of Hiller Plumbing, Heating, Cooling & Electrical, named Nashville Business Journal's 2016 "Most Admired CEO" Award Winner for the second consecutive year in the largest employee category. On Tuesday, November 29, at the Most Admired CEO Awards Banquet in Downtown Nashville, the award was presented via live announcement to Jimmy Hiller. Hiller was selected as a finalist from a pool of hundreds of nominations from the public, then voted by his peers as a winner in the 500+ employee size category. This award marks the second consecutive Most Admired CEO Award for Hiller and his company, after winning in the same category in 2015.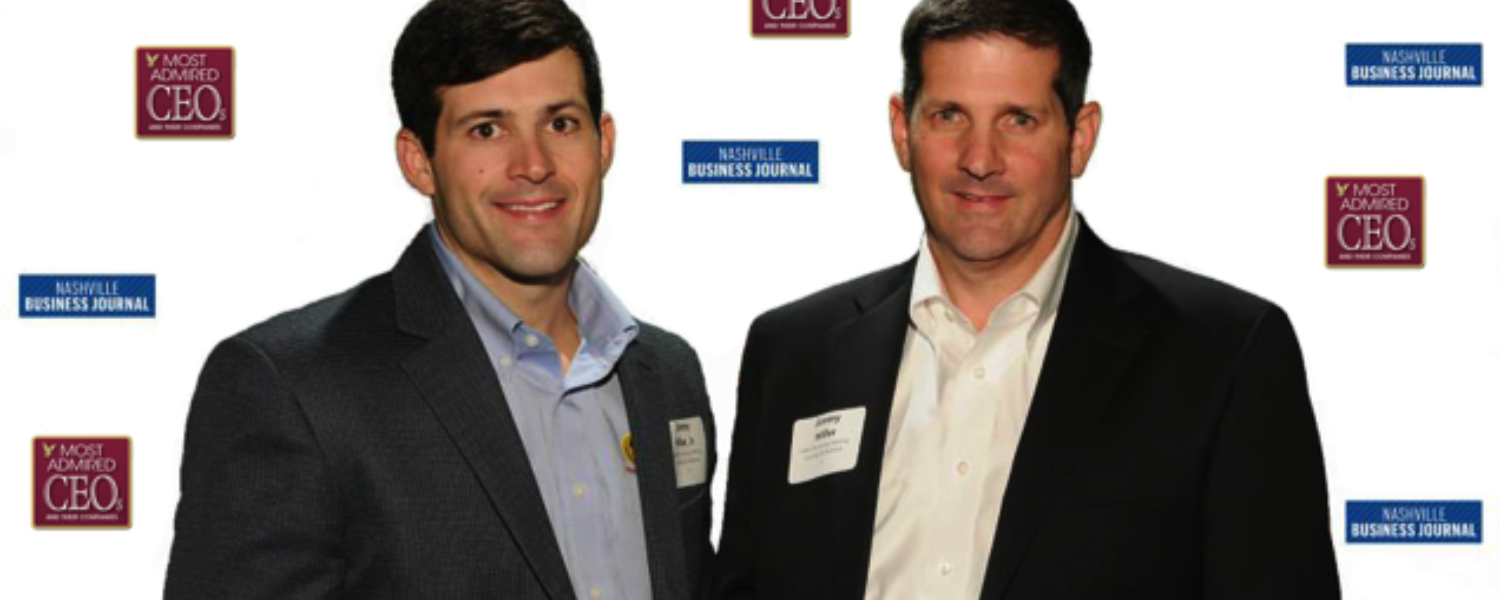 Jimmy Hiller, Jr. and Jimmy Hiller at the Most Admired CEO & Their Companies Banquet The Most Admired CEO and Their Companies Award honors the "business community's most-esteemed CEOs", according to the Nashville Business Journal. Jimmy Hiller was an ideal recipient of this year's award for his unwavering dedication to his employees and the Nashville Business Community.
"At Hiller, we care about our customers, our employees, and our community", said Jimmy Hiller, founder and owner of Hiller Plumbing, Heating, Cooling & Electrical. "So it is especially meaningful", he continued, "When we receive awards like Most Admired CEO and Their Companies – that come from our peers and community – and recognize our efforts".
Launched in 1990 out of a duplex in Antioch, Tennessee, with a single employee and just $500, Hiller has grown to include over 470 trucks, 12 locations, and more than 600 employees across the southeast. Hiller, recently honored by inclusion on the Inc. 5000 List of Fastest-Growing Private Companies in America for the 11th time, has achieved 100% growth over the past 3 years, reporting 2015 annual revenues over 90.2 million dollars.
Hiller Plumbing, Heating, Cooling & Electrical, provides residential and commercial service and repair throughout Tennessee, Southern Kentucky, and Northern Alabama. As the homeowner's premier provider of choice with a 100% satisfaction guarantee, Hiller is Tennessee's largest residential plumbing, heating, air conditioning, and electrical services provider. Hiller, recently named to the list of fastest-growing private companies in Middle Tennessee and "Best in Business" from the Nashville Business Journal, employs more than 600 associates, boasts a fleet of 470 "happy face" trucks across 12 locations, and has responded to over 1.4 million service calls. For more information about Hiller, visit https://happyhiller.com or e-mail press@happyhiller.com.
###
Contact: Rachel Brannon
MediaTree LLC
Phone: +1 (615) 925-3392
Email: rachel@mediatreeadvertising.com
Daily Promotion
Enjoy Half-Off Preventative HVAC Service Tune-Up
Enjoy Half-Off your Heating Tune-Up this month on us!
Get Promotion