Room-by-Room Interior Lighting Guide | Indoor Lighting Tips
Enjoy reading the latest DIY articles and saving money?
Receive our latest helpful hints, tricks and savings, directly to your inbox.
Posted June 1, 2017
Lighting is an often underestimated part of our homes and businesses. Besides having a huge impact on aesthetics and functionality, it can also have profound effects on your mood, emotions, and wellbeing. As the days get shorter and shorter and we approach the darker days of fall and winter, it's important to emphasize just how important our indoor lighting is.
How can you change the light in your home for a happier and more productive you? Fortunately, there is a lot of scientific research on the effects of light that can help with your interior lighting design. Instead of remodeling your home, you may just a need a slight tweaking of your lighting scheme.
Psychological and Physiological Effects of Light
In one study that changed the color and lighting of a schoolroom to be lighter and less intense, children were less fidgety and more well-behaved. "Professor Wohlfarth said the minute amounts of electromagnetic energy that compose light affect one or more of the brain's neurotransmitters, chemicals that carry messages from nerve to nerve and from nerve to muscle" (NYT).
Studies have also been conducted on rats and other mammals that demonstrates the effect light has on melatonin, which has been found to determine the body's output of serotonin, a neurotransmitter that affects mood, behavior, appetite, sleep, memory, and desire.
Whether you want to get a good night's sleep o improve your relationships and productivity at home, an interior lighting change may just be the solution.
Lighting is both an art and a science — it can affect our mood, appetite, and sleep. In order to implement an effective lighting strategy for your home, you will need a professional that fully understands electrical systems and lighting design. Besides the technical knowledge required, the person installing your lighting should also be concerned with mood, aesthetics, safety, and enjoyment.
Unless you are simply replacing your light bulbs, you will want to consult a professional before redesigning your indoor lighting. Putting new fixtures in requires the skills of a professional, which might include running new wiring through walls, installing new fixtures, or adding an additional circuit. If you do decide to install any lighting fixtures yourself, make sure you know exactly what you are doing as it is easy to unintentionally create fire and electrocution hazards.
Whether you make any electrical changes or not, it's important to have all of your DIY electrical projects checked out by a professional during your yearly electrical safety inspection.
In addition to the technical expertise required to install new lighting for your home, a professional will also be able to help you with the design.
Lighting Design Factors:
Size and space
Occupant's age and preference
Ceiling height and shape
Color of walls and furniture
Existing lights and electrical setups
Points of interest, art work, and highlight areas
Traffic patterns
Shadows and reflections
Daylight integrations
Surface characteristics
Color appearance
Lighting controls and distribution
Source, task, and eye geometry
Economics and energy efficiency
Spatial perceptions
Level of illumination (lux)
Psychological and physiological factors
Electrical codes, documentation, and specifications
Although we can give you some general guidelines for how to light the different rooms in your home, every home is different and requires specialized attention. Take this guide as a starting point, but remember that you will probably need to consult with a professional in order to get your space exactly how you want it.
Remember, that color is also a huge contributor to your psychological and physiological states. The color of your rooms combined with the color temperature of your lighting can mean the difference between feeling sluggish and depressed or lively and optimistic.
Lighting Design Layers
Most lighting designers think in terms of three main lighting categories:
1. General or Ambient Lighting
These are called "general" or "ambient" because they are simply used to make an interior space visible. They provide general lighting for a space and are sometimes used to refer to natural, or existing light. Think of general/ambient light as natural light combined with light coming from normal room lights.
2. Task Lighting
Task lighting is directed lighting toward a specific area to give more detail to objects and provide safe passage. Any close-range work such as cooking, sewing, drawing, and writing should have task lighting—enough to see a flaws in canvas and clothing.
Accent lighting is used to "accentuate" features and add visual interest to an object or area. It's the extra special something that makes people go "oooh" and "aaahh." Use accent lights to add drama and change the mood of a room.
Lighting Fixture Types
It can be useful to sort lighting fixture types into a couple main categories to make your lighting design a little easier:
1. Surface Lights
Surface-mounted fixtures are visible and are usually flush against the ceiling or wall. They are most commonly used in entryways, hallways, and bedrooms.
2. Pendant Lights
Pendant fixtures hang down from the ceiling by a cord, cable, or chain. They are usually found in dining rooms and kitchens, especially in home with higher ceilings.
3. Recessed Lights
Recessed lighting is hidden away, usually in a ceiling cavity, so you can't see the light source directly. This type of indirect lighting, usually in the form of downlight/potlights, can be used effectively in any room of the home. Just be careful not to go overboard as you want a variety of light sources and types
4. Track Lights
Track lighting can provide a lot of flexible lighting options. There are multiple bulbs on one track, with multiple circuits and voltages. You can choose to have them suspended from the ceiling like pendant lights or surface-mounted, like surface light. The variety of finished, colors, and styles can be overwhelming, so speak with a lighting professional before making a final decision.
5. Portable Lights
Portable lights are just what you would expect them to be — portable. They are usually plugged into an electrical outlet by their cord, however, battery-operated portable fixtures are becoming more and more popular. Portable lights are typically uses for desks and bedside tables. You can sometimes achieve the look you are looking for by adding some floor lamps to the area. The key to lighting design is to have a variety of fixtures, color temperatures, and styles.
We aren't focusing on landscape (or outdoor) lighting in this article, but you should know that they are a whole other category in itself. Landscape lighting encompasses bullet lights, flood lights, motion sensors, deck lighting, security lighting, and well and wash lights. From landscape lighting to security lighting, Hiller Electrical can handle all aspects of outdoor lighting installation, maintenance, and repair.
Use the following diagrams as a guide for the different light fixtures' shape and type: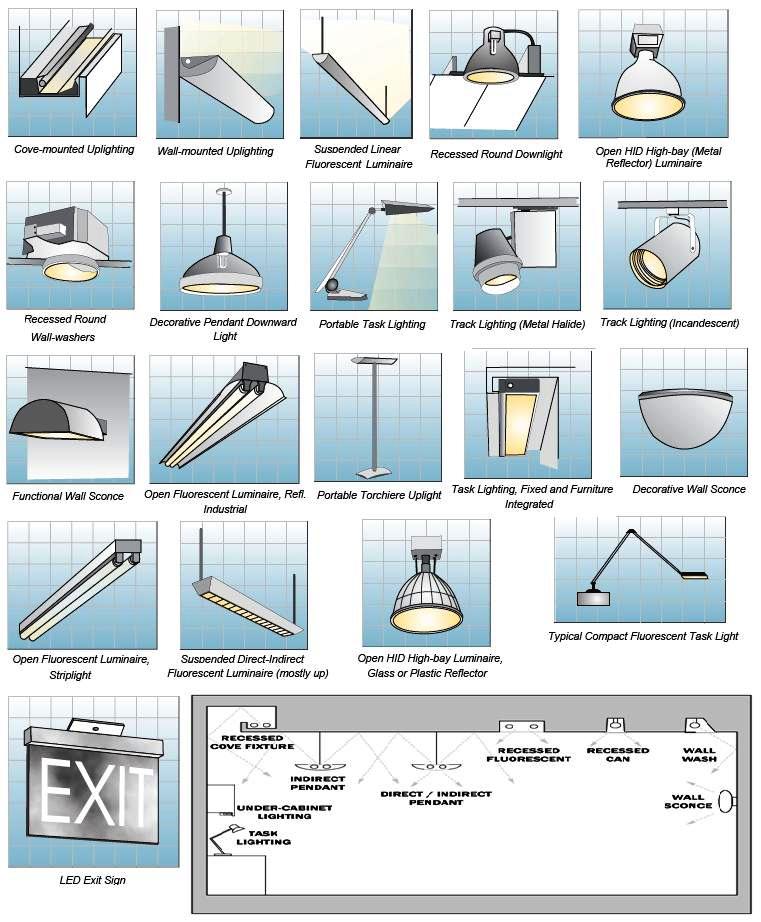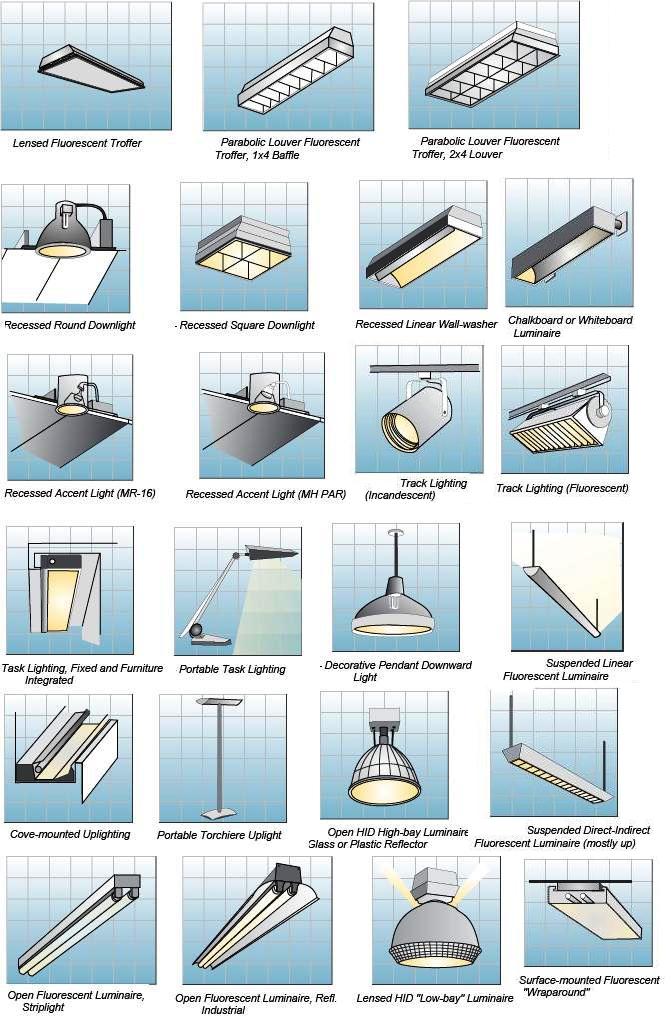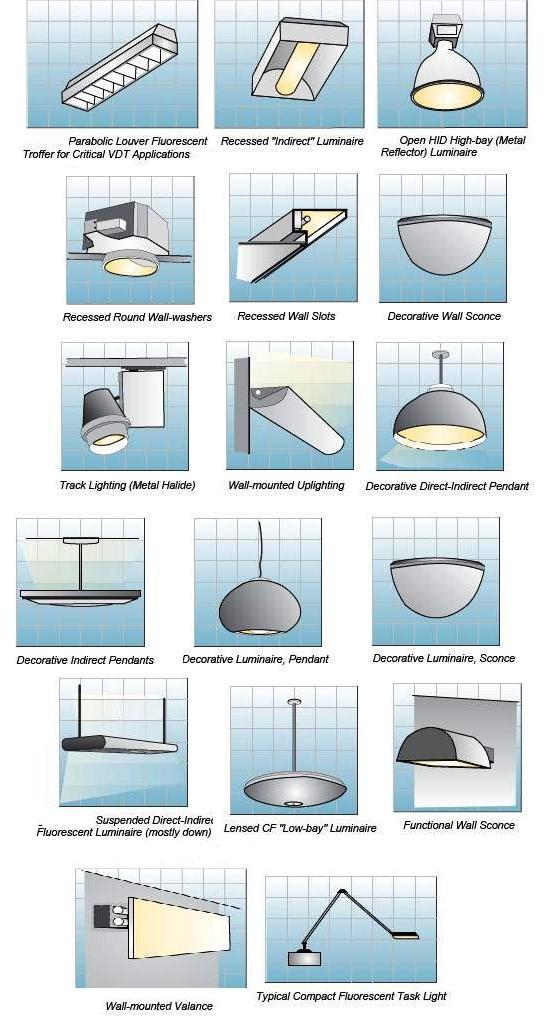 Source: electrical-knowhow.com
Light Bulb Types
Learn which light bulb goes into what lighting fixture with this diagram, provided by PG&E: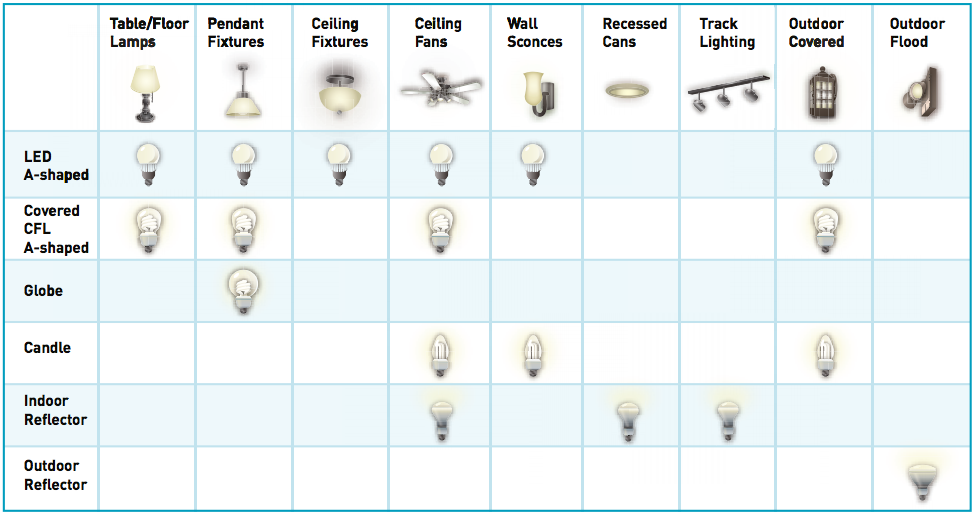 You can save a lot of money and energy by switching your incandescent lights with dimmable CFLs and LEDs, however, CFLs are not recommended for motion sensor devices. You can save even more by purchasing light fixtures that are specifically designed for LED and CFL bulbs.
Learn more about LEDs from ENERGY STAR.
Use the diagram below to compare different types of light bulbs and lamps: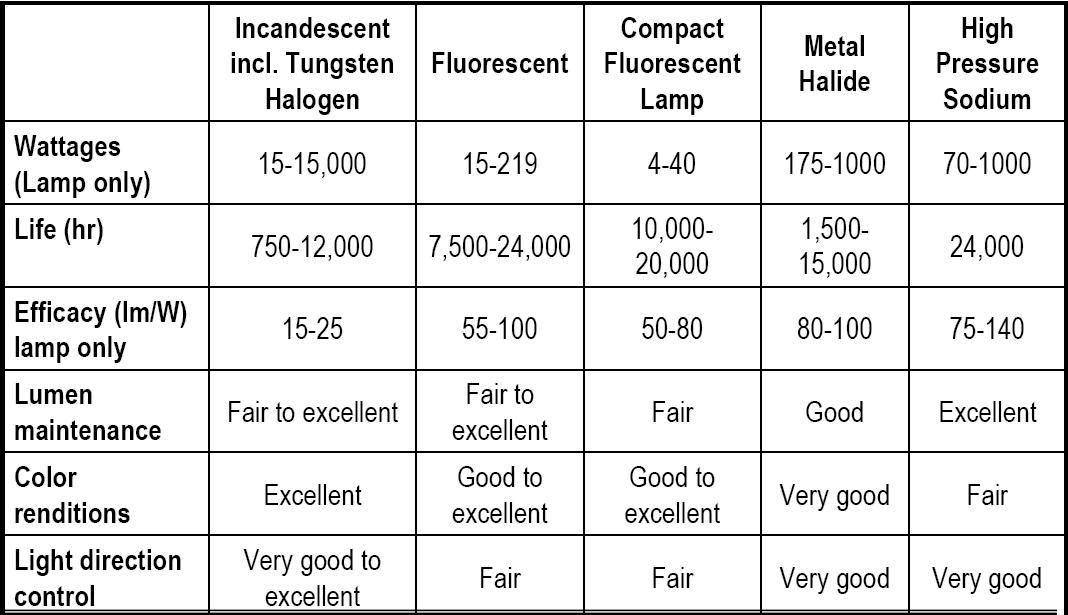 Source: electrical-knowhow.com
Color Temperature
CCT (Correlated Color Temperature) is the measure of the light's color appearance. Light tends to fall into three different categories (all measured in Kelvin):
Light color is measured on the Kelvin (K) scale. Lower numbers mean the light appears yellowish, and higher numbers mean the light is whiter or bluer.
It's important to take into consideration the color temperature of your lights. Consult the images below to find the color temperature of your choice:
Source: donanimhaber.com
The scale shows the warmest colors at the bottom and the coolest colors at the top; naturally, the natural colors will fall in the middle.
When shopping for light bulbs, you will probably notice these labels: soft white (2700K – 3000K), bright white/cool white (3500K – 4100K), and daylight (5000K – 6500K). Make sure you choosing the right color temperature bulb for your needs:
WARM LIGHT:

Adds a warm, cozy feel to the room, best for bedrooms and living rooms.

NEUTRAL LIGHT:

The whiter light is best for areas that require energy and focus, such as the kitchens, bathrooms, garages, and utility rooms.

COOL LIGHT:

This bright, blueish/whitish light is most similar to noon on a sunny day. This type of lighting is great for reading, projects, and other hobbies. Cooler light is better for areas where you need extra attention to detail, such as bathrooms and kitchens.
Room-by-Room Interior Lighting Guide
A functional and decorative lighting scheme will almost always feature some combination of three basic layers:
Overhead/General Lighting
Task Lighting
Accent Lighting
You will want different types of lighting depending on the room and its role. Are you trying to relax or focus? Do you want to highlight specific features of the room or are simply looking to light up the entire space evenly? Usually, your rooms will take some sort of combination or ambient, accent, and task lights.
Entry ways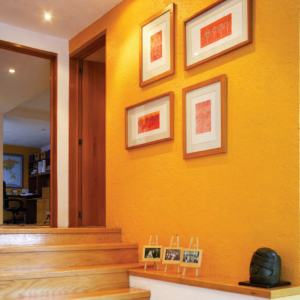 Source: contechlighting.com
You should have the entry ways and hallways well-lit for family members and guests. The lighting should ensure safe passage from your entry to other areas of your home. Ceiling fixtures are perfect for this. They can provide you with the ambient light necessary to provide a warm welcoming.
Avoid potlights/downlights, which can create high contrast shadows.
Use accent lighting on artwork.
Consider using tracks lighting to create a wall wash.
A pendant light near the door can create a welcoming area.
Make sure switches are easily accessible.
Use LEDs and CFLs to save money, as these lights are on for extended periods of time.
Stairs and Hallways
Your stairs and hallways should be lit well enough to provide safety for the people that are using it. In your hallways, consider installing fixtures every 4-6 feet is an effective way of lighting the area, defining its forma and shape while also highlighting artwork and textures. Light can also be used to make the space seem more expansive, lighter, and spacious.
Consider varied light sources, such as wall lights, wash lights, but it will all depend on the space of the room and the spacing of your fixtures.
Utility Rooms and Garages
Your utility rooms and garages, such as laundry and work spaces, will want plenty of ambient and recessed lighting. Your utility rooms require task lighting, which can be a combination of track lighting and pendant fixtures of higher illumination. Add some color and illumination to your utility rooms to focus on things such as sorting, mending, and fixing.
Avoid potlights/downlights that create shadows.
Consider installing moisture-proof fluorescent fixtures for full, even light.
Don't place lights directly overhead your vehicles.
Use task lighting for work areas, and over appliances and tables.
Bathrooms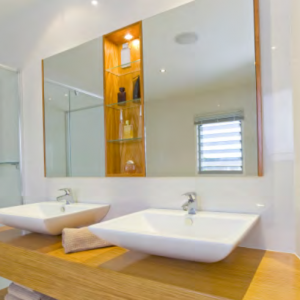 Source: contechlighting.com
The primary objectives of your bathroom are safety, function, and aesthetics, as they are for most rooms. You should have bright light in your bathrooms that is even and shadow-free. We recommend recessed lighting for your bathroom since it frees up space and provides a clean, glare-free look.
Above the mirrors and sinks, you can use a pendants hung from the ceiling or wall sconces.
Make sure strong, neutral/cool light is directed toward your face as you stand in front of the mirror.
Consider adding a small LED light to your GFCI outlets to provide some emergency light at night.
If you have a tub, some dimmable lighting over the head area can be a great addition.
If it hasn't been done already, separate your light switches from your fan switch.
Kitchens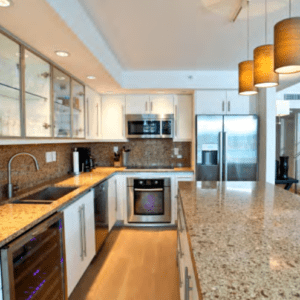 Source: contechlighting.com
Kitchens aren't just places where you cook anymore. They have become a center point for the home and are used for a variety of tasks, including cooking, eating, working, cleaning, and hanging out.
You will need plenty of ambient light, supplemented by some task lighting. You can add undercabinet lights to add visual interest and illuminate your work surfaces, combined with recessed lighting in your ceilings to reduce shadows and glare.
If you have a kitchen island or breakfast nook, you can light it using a pendant light or chandelier (with a dimmer). Dimmers in your kitchen allow you to dim the lights for a more romantic atmosphere or raise the lights for adequate task lighting for hobbies and other work.
You can use undercabinet lighting under the front of cabinets to provide task lighting for your counters.
You use the kitchen a lot, so consider energy-efficient light bulbs like LEDs.
Add multiple lighting layers with separate controls for greater flexibility.
Dining Room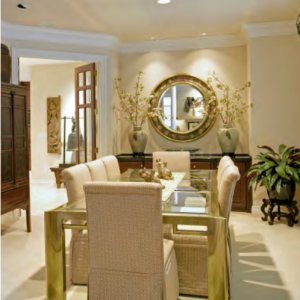 Source: contechlighting.com
Dining rooms should have the most beautiful light fixtures. They are the focal point of the room, so invest in a good fixture for above the table. Typically, you will see a chandelier or some kind of pendant light above the dining room table, but you have other options as well, including track lighting and string pendants. Elegant glass can be used to dim the light and provide an almost candle-like feel.
And as with most rooms, we recommend installing a dimmer so that you can control the illumination levels. For certain meals, you may want a soft glow, but for activities like board games and puzzles, you will want to make sure everything is lit up.
Recessed and wall lighting can help highlight art and other decorations and prized possessions.
If you have a china cabinet or breakfront, you can mount undercabinet lights to highlight your expensive china and silverware.
Wall sconces can create a beautiful effect as well, especially if they are installed on both sides of a decorative cabinet, sideboard, or buffet.
If you have track lighting or recessed lighting, aim the light toward the walls to create ambient light.
Create layers of lighting with chandeliers, pendants, downlights, and sconces.
Living Rooms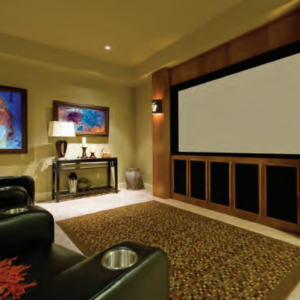 Source: contechlighting.com
The family/living room is usually where families spend the most time. Sometimes the dining room is the living room. In any case, since we spend the majority of our waking hours in the living room, it's especially important to have a lighting scheme that works for you.
Keep in mind the activities that are performed in the living room— watching TV, working on the computer, reading, hanging out, and much more. For the living room, we recommend installing track lighting and adjustable recessed downlighting that can help highlight artwork, sculptures, and architectural details.
Use multiple lighting layers with dimmable light.
Use portable lighting for more flexibility and control.
Use wall washing for bookshelves and artwork to make the space seem more spacious and luxurious.
If you have a fireplace, it always looks good when there are sconces or wall lights flanking it on both sides.
As in the dining room and kitchen, if you have cabinets and shelving, undercabinet lighting can really add to the visual interest of the room.
Make sure that when you are installing your lights, you don't have glare on your TV screen. Use dimmers and lower light levels for these areas.
Downlights, accents, and portable lights, combined with some ambient lighting, can make your living room more intimate and interesting.
Offices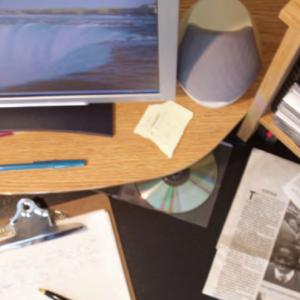 Source: contechlighting.com
More and more people are working from home, which means that the home office is taking on a higher importance. In order to be focused and productive, you will want enough light for reading and other tasks.
You may not need as much ambient light since accent and task lighting can usually provide enough illumination, but some sort of ambient/accent combination should be utilized. Darker offices require more ambient lighting as dark colors absorb more light.
Try to minimize glare, especially on computer screens.
Use direct and indirect lighting to create bright, low-glare light.
Use energy-efficient light bulbs.
Cooler light (3,000 – 5,000K) is better for home offices.
And consider the importance of natural light on productivity levels. You will want to choose your office space wisely, as windows can increase your health, happiness, and productivity.
In one case study, a U.S. post office in Reno, NV renovated their lighting and saw an energy savings of $50,000, but the biggest savings came from increased work productivity. In the years that followed the lighting improvements, the Reno post office became the most productive sorters in the Western half of the country and their machine operators has the lowest error rates. Learn more about How Office Lighting Affects Productivity.
Bedroom Lighting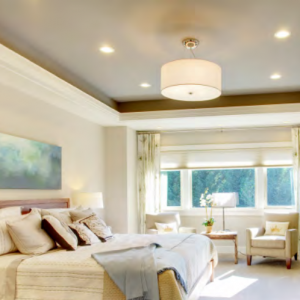 Source: contechlighting.com
The bedroom is an extremely important area to pay attention to. You will want to take several factors into consideration, including the size and scale of the room.
Bedrooms usually have some sort of ambient lighting combined with task lighting for reading and other tasks. Consider adding recessed lighting with dimmer controls above the head of the bed, but avoid installing lights directly above the bed.
Smaller, light-colored bedrooms may not need as much ambient lighting. If you have a lot of mirrors in your bedroom, there may be enough reflective live from other lighting sources to compensate.
If you have darker colors in your bedrooms, you might want to add some more ambient lighting. If you have artwork or details that you want to highlight, consider adding accent lighting.
A game-changer for the bedroom are dimmer and other lighting controls. This gives you the ability to control the light levels for different lights in your room. You can change the lighting situation depending on your mood at the moment.
Other tips for bedroom lighting include:
Consider the scale and height of the room.
Use softer, shaded fixtures for sitting areas.
Use direct lighting for desks, vanities, etc.
Don't install lights directly over the bed.
Try to use light bulbs of lower wattage.
Consider colored bulbs to change the mood.
Make sure fabrics are far away from hot bulbs.
Use fluorescent lights for the closet.
Install dimmers and other lighting controls.
Use flexible lamps for your reading light.
Create ambient light with downlights and pendant fixtures.
Control glare for tasks like reading.
Consider lights that can be changed from uplight to downlight.
Choose efficient light sources, like LEDs and CFLs.
Consider fluorescent lights above closet doorframes and downlights for your walls.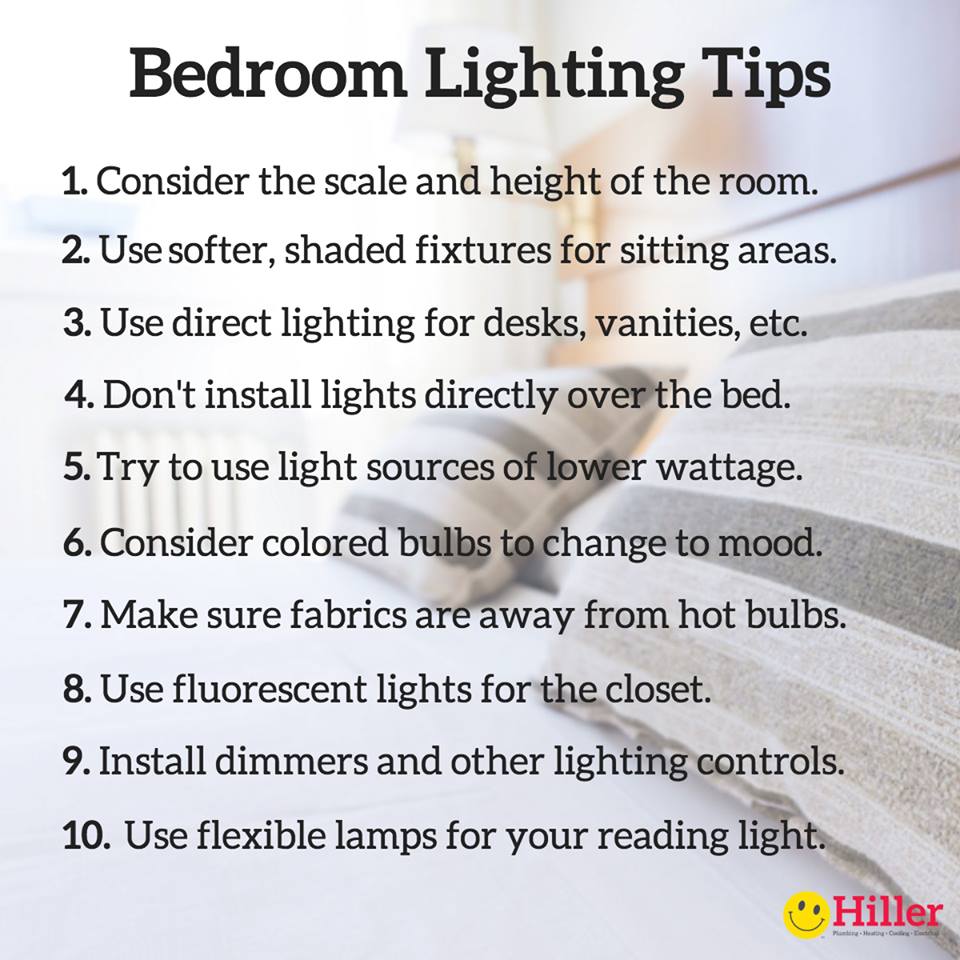 General Interior Lighting Tips
Dimming controls are highly recommended for cutting electricity use and providing more flexible lighting options.
Make use of lighter colors and reflections to create the atmosphere you desire. Consider adding mirrors and reflective surfaces for a shinier and brighter appearance.
Be wary of colored light bulbs. You will want to use these sparingly. Reds and warmer colors are better for creating an inviting atmosphere in dining rooms and living rooms, while blues and cooler colors should be reserved for calmer areas like the bedroom.
The lighting levels in your home will depend on the amount of natural light that room receives. Take advantage of natural light whenever you can, since it can have positive effects on your health and mood.
Low light is better for producing a relaxing and calming effect. Use brighter lights for high-focus areas to encourage activity.
Save money by replacing your incandescent lights with LEDs and CFLs.
Speak with a professional to make sure you are using the right wattage for each fixture and that your lighting combinations make sense for your space.
What Sets Hiller Apart?
Expertise and Quality – we provide ongoing training to all of our electricians and make sure that we use the highest quality products and features.
Peace of Mind – not only do we provide a complete satisfaction guarantee for all of our work, but we also provide unmatched warranties and walk you through all your rebate options.
Availability – our award-winning service is available 24/7, 365 days a year (holidays included).
Speed – we make sure our work is both effective and efficient. All of our projects are completed in a timely manner with minimum disruption to your routine.
Hiller Plumbing, Heating & Cooling handles many different electrical services, including indoor and outdoor lighting. If you are interested in improving or re-doing your home's indoor lighting, give us a call and we'll send a professional lighting architect to your home.
Daily Promotion
Cash for the Holidays – $500 Visa Gift Card
Purchase a New HVAC System & Receive a $500 Visa Gift Card!
Get Promotion