In Two Years, Hiller's Transition to Trades Program Trains over 300
Enjoy reading the latest DIY articles and saving money?
Receive our latest helpful hints, tricks and savings, directly to your inbox.
Posted July 6, 2018
Business Williamson: In two years, Hiller's Transition to Trades program has trained more than 300 soldiers for jobs on the outside
PHOTO: Jimmy Hiller, CEO and President of Hiller Plumbing, Heating, Cooling & Electrical, shakes Jordan Fisher's hand during Friday's ceremony. // RUSSELL VANNOZZI
By RUSSELL VANNOZZI
Jordan Fisher wasn't sure what his next step would be after leaving the military in March.
The Iowa native rose to the rank of Sergeant after spending six years in the U.S. Army, including three years in Hawaii and three more at nearby Ft. Campbell.
A roofer by trade, Fisher knew he wanted to work with his hands. That's when Hiller Plumbing, Heating, Cooling & Electrical's Transition to Trades program caught his eye.
"I had no clue what I was going to do," Fisher said. "It was definitely stressful. This program has alleviated so much of that stress. Before I found out about it, I was all sorts of freaked out."
Fisher was one of several Transition to Trades graduates honored at Hiller's headquarters in Nashville on Friday. After just two years of existence, over 300 soldiers have earned certificates from the program and gained employment.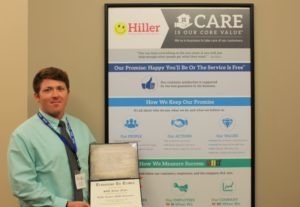 Franklin resident Jordan Fisher. // RUSSELL VANNOZZI
The program was created thanks to an "epiphany" from Ft. Campbell's Chief of Administrative Services Division, Harold Riggins, who learned about Hiller's Total Tech training school in a March 2016 meeting with company owner Jimmy Hiller.
"I thought, 'our soldiers will love this, we've got to make it happen," Riggins said. "It was absolutely needed (for the soldiers) and it's been phenomenal from the outset."
Transition to Trades allows active duty Ft. Campbell soldiers within six months of transitioning out of the military to attend Hiller's Total Tech on their GI Bill.  The goal is to aid military members in finding jobs, whether that's at Hiller or a similar company.
"I knew our soldiers would be a great value to our company, but I didn't realize the value our company would be to the soldiers," Hiller said. "You can see their fear about what to do after the military."
Fisher completed two HVAC analysis classes in one month at Total Tech this spring, and he later took a week-long HVAC installing course. Thanks to the courses, Fisher quickly landed a job as an apprentice HVAC installer at Hiller's Columbia branch in April.
"The classes are extremely hands-on," Fisher said. "They go very in-depth in the classroom and then take you in the lab and show you exactly what they mean."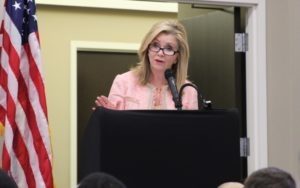 Congressman Marsha Blackburn // RUSSELL VANNOZZI
U.S. Rep. Marsha Blackburn was the keynote speaker for Friday's event. She noted the jobless rate for veterans has declined and said that the program was "the right thing to do."
"You as veterans have the ideal skills needed for today's employers," Blackburn said to the crowd. "You're used to early mornings and you've gotten your hands dirty."
Fisher echoed Blackburn's sentiments, and he said he believes the "never give up" mentality the military teaches will serve him well in his new job.
"The hard work and dedication to the job that I learned in the army definitely translates to this," he said. "When you start a job in this business, you can't stop until that customer has heat or air conditioning, especially those that have illnesses – you can't just leave them without those services."
Fisher is almost three months into his new job and has settled into a Cool Springs apartment with his girlfriend, who attends Belmont University. He hopes to eventually become a general manager of a branch or open his own company, but for now, he's thankful to have job stability.
"Going through Total Tech and realizing it was a legitimate certification that I could take to any job and get hired was a relief," he said. "I know that I can support my family and myself."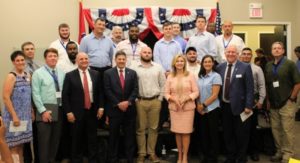 Hiller executives and U.S. Representative Marsha Blackburn pose with Spring 2018 graduates of the Transitions to Trades program. // RUSSELL VANNOZZI
Original article written for Business Williamson by Mark Crook on 6/24/18, reposted here
Daily Promotion
Enjoy Half-Off Preventative HVAC Service Tune-Up
Enjoy Half-Off your Heating Tune-Up this month on us!
Get Promotion