HVAC, Plumbing, and Electrical Gift Ideas
Enjoy reading the latest DIY articles and saving money?
Receive our latest helpful hints, tricks and savings, directly to your inbox.
Posted June 1, 2017
If you are struggling finding a gift that person who has everything, consider purchasing a home maintenance plan or another unlikely, but much appreciated gift.
While it may seem impersonal or odd to buy someone a home maintenance plan or a programmable thermostat for Christmas, it's probably better than the socks, DVDs, or magazine subscriptions you've been pondering.
HVAC Gift Ideas:
Home Maintenance Plan
This is probably the best gift you can give somebody who constantly complains about their heating and cooling costs. With a home maintenance plan, you won't ever have to remember to call a technician to come service their HVAC equipment. It is scheduled automatically.
Besides automated tune-ups for heating and cooling equipment in the fall and spring, these regular maintenance and cleaning appointments can lower utility bills by as much as 40% and can maximize energy consumption by as much as 50%.
Here are some more reasons why you might want to purchase a home maintenance agreement for your friends and family:
Reduce breakdowns by as much as 95%
Lower utility bills by as much as 40%
Reduce the risk of home fires and carbon monoxide poisoning
Extend the lifespan of your HVAC equipment (sometimes doubling its useful life)
Technician will also change air filters and inspect system for leaks and other energy deficiencies.
For only $8.25/month, you can give the gift of a Happy Hiller Club membership:
Precision A/C Tune-Up
Precision Electrical Tune-Up
Precision Plumbing Tune-Up
Precision Heating Tune-Up
In addition to regular tune-ups from your HVAC technician, you will also want to remember to:
Make sure you have the right air filtration system.
Replace dirty air filters every 30-60 days.
Clean around outdoor condenser unit and make sure there is a minimum 2-foot clearance around the entire unit.
Inspect air duct system for leaks and schedule air duct cleaning/sealing if necessary.
Check and repair insulation and air leaks around the home.
Program your thermostat strategically.
Test your GFCI and AFCI protectors every 30 days.
Test the batteries on your CO and smoke detectors every 30 days (and replace the units every 10 years or according to manufacturer recommendations).
Show them you care this holiday season! Call us today to buy a Happy Hiller Club membership for your loved ones:
Nashville: 615-891-5639 • Clarksville: 931-436-9138
Bowling Green: 270-495-6103 • Cookeville: 931-372-2833
Knoxville: 865-824-2695 • Memphis: 901-399-7020
Columbia: 931-381-2413
Our home maintenance plan includes electrical and plumbing tune-ups as well, providing a convenient way to ensure top performance in your home. The small monthly cost of a home maintenance plan will pay for itself in less than a couple of months.
If you know someone who consistently neglects home maintenance, what's better than a smiling Hiller technician who arrives at their home to check in on their most important home features?
Do you know anybody that still uses an old mercury thermostat? Give them the gift of energy savings and increased comfort with a new thermostat. If you do present them with a new thermostat, remember that installation can get complicated.
We recommend hiring a professional to install the thermostat for them. This will make sure that the thermostat is away from any heat sources and aligned properly. Nothing's worse than receiving a gift that remains in its packaging.
Once the thermostat is properly installed, you can expect increased comfort and about 10% energy savings on your heating and cooling bill (when set correctly).
7-day– individual settings for each day of the week.
5-2 day– one schedule for the weekdays and another for the weekend.
5-1-1 day– same as the 5-2 day, but now you can set a different schedule for Saturday and Sunday.
1-week– one schedule that repeats for every day of the week.
Smart Thermostats– these thermostats use machine-learning to adapt to your household's schedule.
With an updated thermostat, you can give your HVAC system specific instructions for how to behave. Consider a "smart" thermostat that uses machine learning to adapt to your family's schedule. You can also track the energy usage and change temperature settings straight from your smart phone.
Here's a list of some of the most popular programmable and smart thermostats:
We can get any model you wish installed in the home of your choosing quickly and efficiently. Contact Hiller for more details on smart and programmable thermostats.
New HVAC System
Buy a new energy-efficient HVAC system for the family member or close friend that has a broken or aging HVAC unit. This is a big purchase, however, so you don't want to take it lightly.
Since there are many options available to you, such as variable-speed, ductless mini-split, multi-stage, and power-vented systems, it's important to speak with an HVAC professional before making a decision.
Tips Before Buying a New HVAC System
Always discuss your options with a professional and vet the company you choose to do the installation thoroughly.
Don't buy a unit online before speaking with a pro. Many HVAC installation companies will only install units that they have supplied. If you don't have a technician size your home for the proper HVAC unit, then you will most likely buy the wrong sized unit. It's not as simple as replacing the unit you currently have with a similarly sized ones (although that's what many HVAC contractors do).
Air conditioners' efficiency levels are measured by its SEER rating. Furnaces and heating systems by their AFUE rating. If you want a high-efficiency model to save money on your utility bills, then it's recommended that you buy an A/C unit with a minimum SEER rating of 14.
For furnaces, choose a unit with a minimum 85% AFUE rating. In fact, energy-efficiency standards set by the U.S. Environmental Protection Agency require that you have a minimum SEER rating of 14 and a minimum 83% AFUE rating for heating systems. Click here for current standards and rules on HVAC equipment.
All HVAC units should have an ENERGYGUIDE label that tells you important information about your appliance's energy use: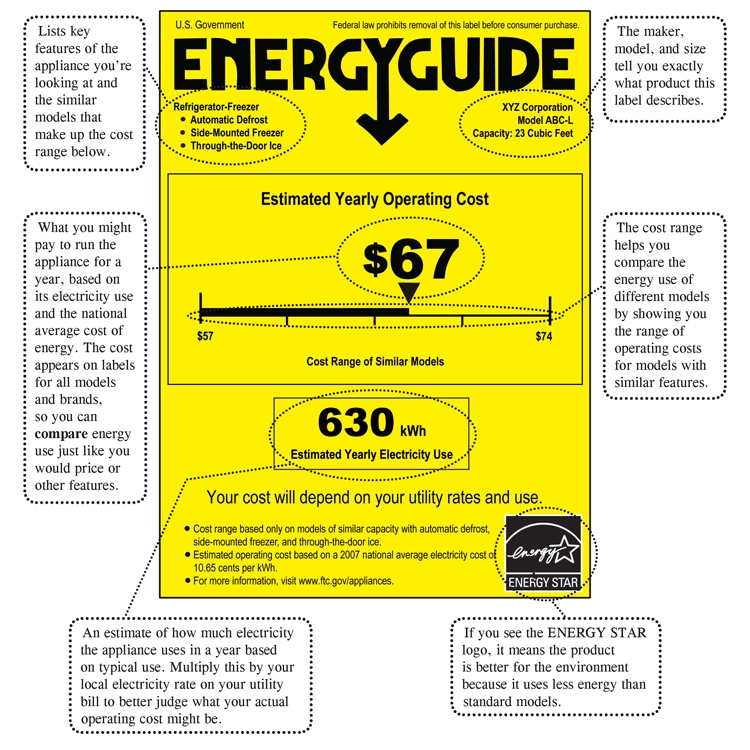 Source: consumer.ftc.gov
Contact Hiller today to speak with a Comfort Advisor.
We are currently offering a Black Friday special on our energy-efficient, deluxe HVAC systems.
HVAC Blowout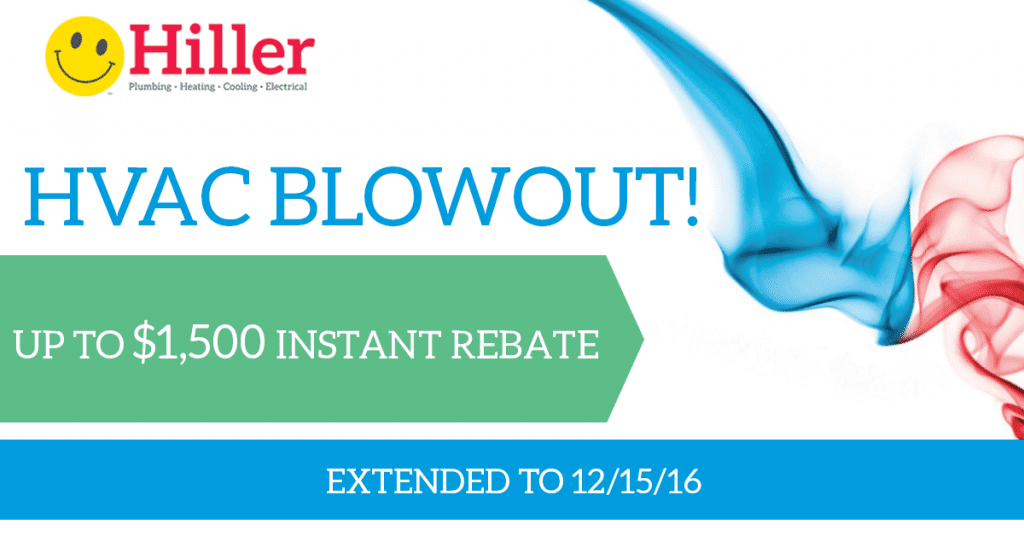 Up to $1,500 Instant Rebate or 12 Months Same as Cash on Select Energy-Efficient Optimum and Deluxe Systems
10-year parts and labor warranty
Most systems qualify for TVA energy rebates.
Save up to 40% on utility costs!
Cannot be combined with any other discounts or offers.
Cannot be used towards diagnostic fee.
AL #00990 #111121 | KY M04924 | TN #40753
Ends December 15, 2016
Air Cleaners and Purifiers
The winter months are synonymous with colds and the flu. This is partly because we spend more time indoors, where the air is often much more polluted than the air outdoors. The perfect gift for allergy-sufferers? An air cleaner or purifier.
Since there are so many different types of air purification systems to choose from, contact a professional to help you with your decision. Hiller has a wide variety of air filtration options to choose from, including air purifiers and air cleaners.
Consider investing in an air cleaner, such as UV germicidal air irradiation if you are looking for ways to improve the indoor air quality in your home.
Click here for tips on improving your indoor air quality.
Allergy sufferers may also be interested in whole-home humidification systems and vacuum cleaners with HEPA filtration.
Walmart is running a deal on Dyson Light Ball Multifloor Bagless Upright Vacuum for $249 (save $140) and the iRobot Roomba 650 Vacuum Cleaning Robot for $375 (save $125).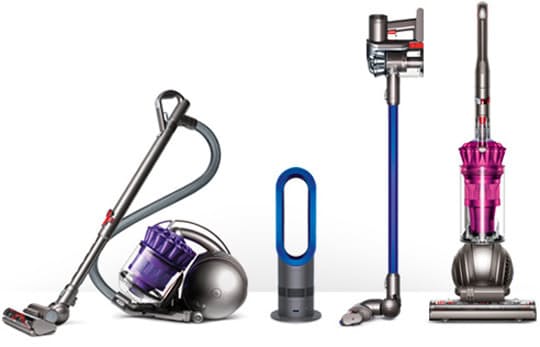 Electrical Gift Ideas:
Backup Generator
Who doesn't want convenient backup electricity in the case of a power outage? And with all those electronics you will be receiving for Christmas, are you sure you have enough power for all of it? The only problem is that generators can get pretty expensive and will require yearly professional maintenance.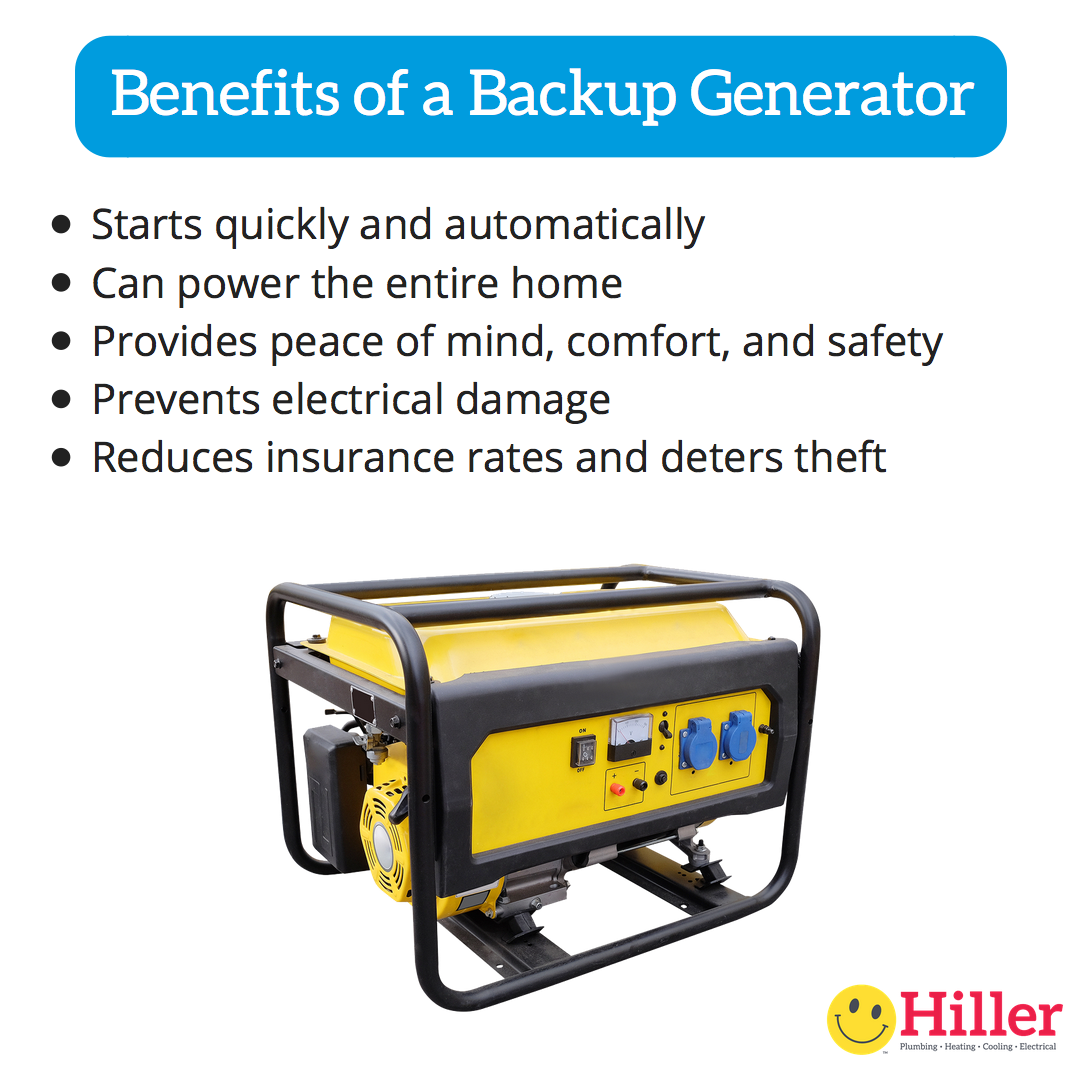 Source: Backup Generator Benefits
This gift would probably be most suitable for close family and friends that desperately need backup power. If you know anyone that relies on medical equipment or other electrical devices, this gift is one of the most thoughtful gifts you can give.
You may be wondering about the price. Fortunately, there are a lot of options available to you. Unfortunately, you want to be careful which generator you choose and who does the installation for you. Click here for a Generator Buying Guide.
Here are some general pricing guidelines to help you make a decision:
5-12 kW generator ($3,000 to $5,000) – Able to power most of your smaller essential appliances, like microwaves, computers, sump pumps, and fridges. It probably won't be able to run your air conditioning system or washer/dryer.
12-20 kW generator ($3,000 to $8,000) – Considered mid-sized. Some mid-size generators contain load-shedding devices that turn off nonessential devices in order to power the essential ones.
20-50 kW generator ($5,000 to $20,000) – Considered a true whole-house generator. These generators are typically powerful enough to energize all of the electronics and appliances in your home, without the need for load-shedding.
Power Protection Special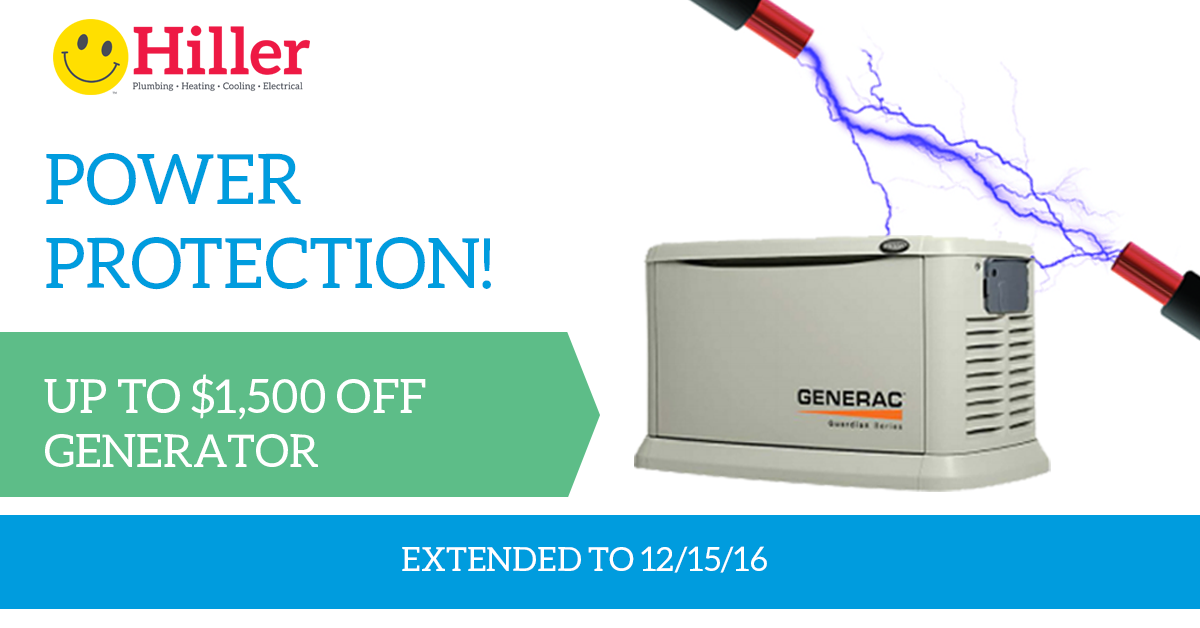 Up to $1,500 Off Whole-House 20KW Generator
Cannot be combined with any other discounts or offers.
Cannot be used towards diagnostic fee.
AL #00990 #111121 | KY M04924 | TN #40753
Ends December 15, 2016
Automated Lighting
If you are interested in an automated lighting device, WeMo gives you the ability to turn on and off any device in your home from your smart phone.
The app is free, but you have to pay for the WeMo plug. Consider pairing your WeMo device with IFTTT (If This Then That) to create rules for your electrical system. For instance, you can schedule your space heater to come on at a specific time or time your lights to coincide with the weather, a sports score, or anything else you can imagine.
You can also use a cheaper alternative (light timers) to automate your lighting schedule. Contact Hiller for help setting up your smart home.
Colored Bulbs, Dimmers, and More
If you are looking to change up the mood and atmosphere of your home, consider all of the lighting options available to you.
Amazon has some Black Friday Deals on light bulbs and fixtures:
Click here for Amazon deals on TVs, home theater systems, gadgets, and more electronics.
Read our Room-by-Room Lighting Guide for tips on lighting fixtures and placement.
Plumbing Gift Ideas:
Water Filter
Water filtration is becoming more and more important. Besides cleaning the water for a better drinking experience, water filters also get rid of heavy metals that can cause damage and stains to your plumbing system.
If you want peace of mind that the water you're drinking is safe and free of harmful bacteria, it is highly recommended that you install a water filtration system. We can walk you through all of your home water filtration options, including:
Faucet Mounted Filters
Under Counter Filters
Reverse Osmosis Water Filtration
Water Testing
Water Softener
Another way you can help improve the water quality for your home and community is by installing a water softening system. These purification devices "soften" the water for your entire home.
Water softening benefits include:
Clean and clear water with no odor
Extended lifespan of water-using appliances, fixtures, and pipes
Elimination of heavy metals and scale buildup
Savings from bottled water purchases
Luxurious skin and hair
Less need for cleaning and personal hygiene products
WaterSense Appliances
The WaterSense label makes it easy to find water-efficient appliances to save you money and make your home more environmentally friendly. With these water-saving devices, you'll save thousands of gallons of water every year.
For additional savings, check to see if your new appliance is eligible for any rebates.
Consider these Black Friday plumbing gifts:
Showerheads
Toilets
Bathroom sink faucets and accessories
Landscape irrigation controls
Pre–rinse spray valves
Flushometer-Valve Toilets
Contact Hiller to install your new plumbing products.
Touchless Faucets
Touchless faucets aren't exactly new, but if you want the convenience of a hands-free faucet, these plumbing fixtures may be the perfect gift idea.
Just make sure that you get a professional plumber to install it for you.
Water System Cleanup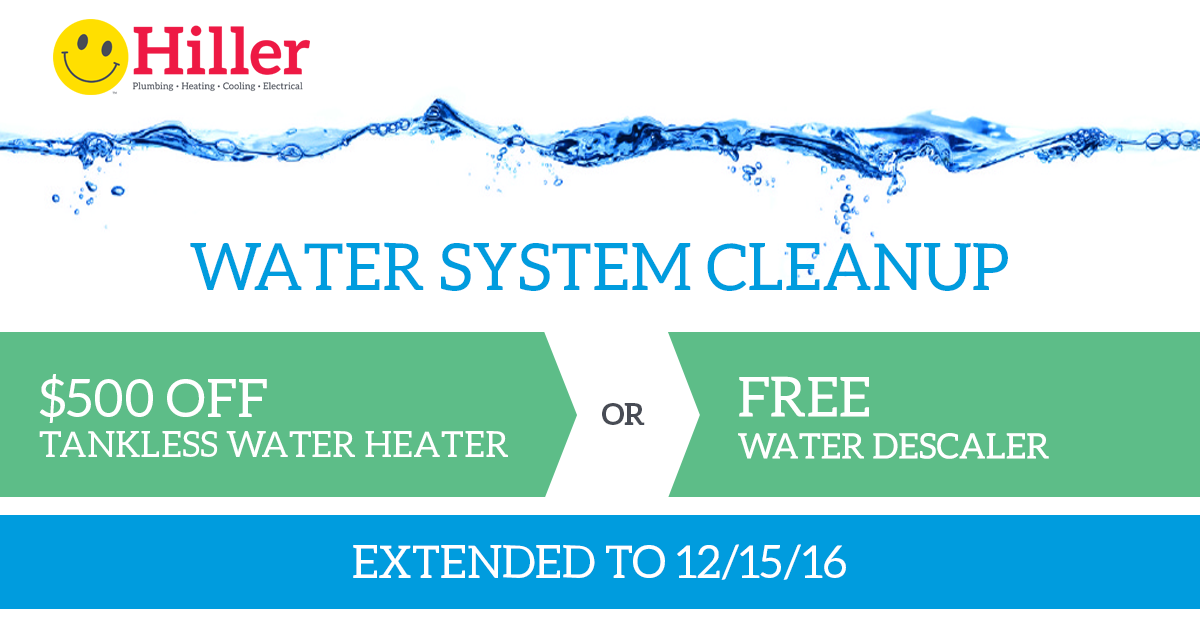 $500 Off New Tankless Water Heater
-OR- FREE Whole House Water Descaler with Purchase of Tankless Water Heater!
Cannot be combined with any other discounts or offers.
Cannot be used towards diagnostic fee.
AL #00990 #111121 | KY M04924 | TN #40753
Ends December 15, 2016
View all of our Black Friday Specials & Promotions!
Daily Promotion
Cash for the Holidays – $500 Visa Gift Card
Purchase a New HVAC System & Receive a $500 Visa Gift Card!
Get Promotion