Freeze Warning: How to Prevent & Thaw Frozen Pipes
Enjoy reading the latest DIY articles and saving money?
Receive our latest helpful hints, tricks and savings, directly to your inbox.
Posted June 1, 2017
Winter brings its own set of home maintenance challenges, especially in areas that experience extended periods of freezing temperatures. The one issue that you want to confront head-on before any inclement weather approaches is frozen pipes. Every year, we receive hundreds of burst pipe calls due to winter storms, but hopefully our guide to preventing frozen pipes can help you avoid the costly damages that come with freezing winter weather.
Preventing frozen pipes will save you expensive repair work in both the short and long term. Cracking is the most obvious and destructive consequence of frozen pipes. The resulting leakage can lead to electrical and foundation damage – not to mention flooding. When you consider the costly damage that water can inflict upon a home, the necessity for prevention becomes even more important.
How to Prevent Frozen Pipes:
Before the first official freeze warning, make sure you consider the following professional tips below:
Insulate Pipes: Always make sure that exposed piping in your yard and piping in cold interior spaces is properly insulated. (Pipes in your attic, garage and basement are all susceptible to freezing.) There are many different options for pipe insulation depending on the type of pipe and where it is located.
For specific information on plumbing pipe insulation options, watch this DIY segment from the professionals at THIS OLD HOUSE:
Seal Leaks: Cold air that sneaks into your home through cracks or leaks can sometimes freeze exposed piping. If you have a known draft around a door frame, window, vent or other area it is best to get it sealed before a freeze. You'll find an array of essential products at your local home improvement store including weather stripping, caulk and spray foam.
Here's a quick video on how-to DIY window and door draft protection:
Open Faucets: If you turn on a faucet (just enough to allow for a constant drip), it will help keep pipes from freezing. While this option is not ideal (it can affect the water bill), it's a great way to prevent frozen pipes during freezing temperatures. Remember that if the faucet in question is connected to a hot and cold line, then both should be turned on to allow warm water to flow through your pipes.
Open Cabinets: Opening cabinet doors in the bathroom and kitchen areas is another simple yet effective means of keeping your pipes from freezing. The open cabinets allow the heated air to circulate around the exposed plumbing, keeping them at a safe room temperature.
Plumbing Maintenance: Scheduling regular plumbing maintenance is always a good idea. A regular seasonal inspection performed by a plumbing professional can help identify potential problems and get them fixed before the first hard freeze.
For a recap, our very own plumbing technician, Chris, shows you the top 5 tips for preventing frozen pipes: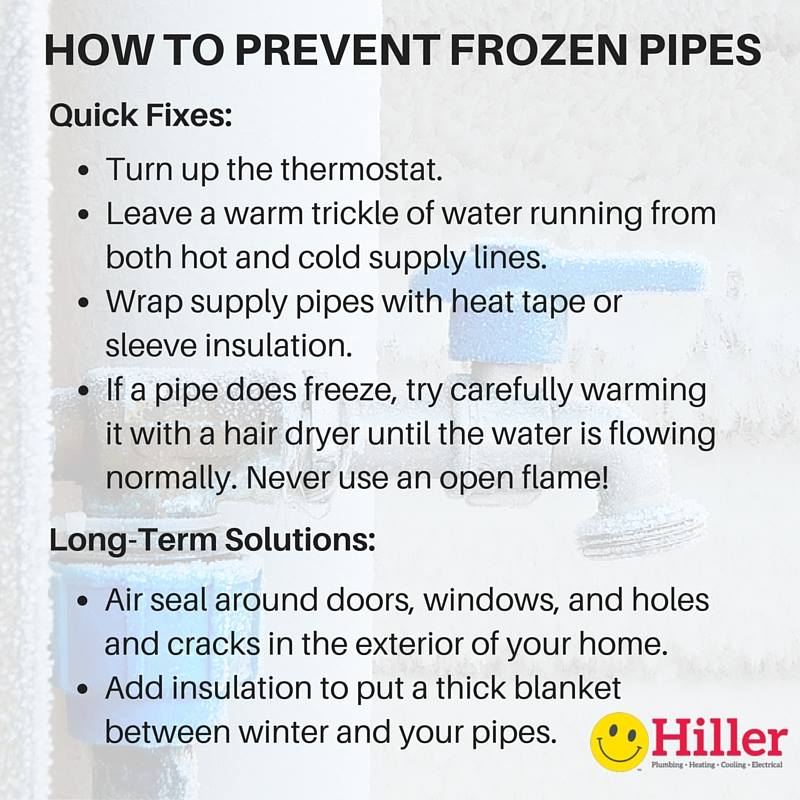 If Your Pipes Do Freeze:
Despite your efforts to prevent your pipes from freezing, sometimes there is no stopping nature. If you pipes do freeze, follow these steps:
First, locate the section of piping that is frozen. You want to start with the frozen sections that are closest to your faucets. Work down the line, from your faucet to the frozen section.
Make sure your faucets are turned on so that when the water thaws, it has some place to go.
If you have a hair dryer, you can thaw the pipe from the outside. Just make sure that the outlet is safe to use and GFCI protected. Do not use a hair dryer in standing water!
Another method of thawing pipes is heating up some towels in a pot of hot water. After dipping the towels in hot water, ring them out before wrapping them around the frozen sections of the pipe.
It's also a good idea to place a portable space heater near the areas of your home that are experiencing frozen pipes. This won't thaw the pipes, but will help keep them from freezing again.
Whatever you do, NEVER use an open flame or extreme heat to thaw frozen pipes! Doing so could cause an explosion and serious injury.
If Your Pipe Bursts:
If you are unfortunate enough to have a burst pipe, follow these steps:
Turn off your water supply at the main valve. Your main water valve can be located in a variety of places. If you have a home with a basement or crawlspace, it is probably located on an interior wall near the front of the house. In this case, it is most likely hiding in plain sight. If your home was built on a slab, the valve might be located near the hot water heater or inside your garage. It may also be located in an underground cement box near your front curb. To learn where your main water valve is, consult you property inspection report or call your local utility company or plumbing professional.
If the burst pipe is a hot water line, make sure to also turn off the water valve at the top of your hot water heater.
Once you have turned off the main water valve, call a plumber.
If your water meter is frozen, contact your local Water Department. If you are in Nashville, call (615) 862-4600 to report a frozen or damaged water meter.
Get a jump on the winter weather before it gets a jump on you. Be mindful of your plumbing situation and always be sure to take the appropriate seasonal precautions.
Although these frozen pipe prevention tips should keep your pipes flowing, if you need any assistance preventing, thawing, or fixing frozen pipe problems, give Hiller Plumbing a call at 844-MYHILLER (69445537).
Some pipes are inaccessible to you and you may end up causing even more damage by attempting to thaw the pipes yourself.
For additional winter weather home maintenance tips, watch our very own Lance Allred, a technician with Hiller Plumbing, Heating and Cooling, show you how to prepare your home for cold temperatures:
Daily Promotion
Enjoy Half-Off Preventative HVAC Service Tune-Up
Enjoy Half-Off your Heating Tune-Up this month on us!
Get Promotion