How to Hang Christmas Lights Properly
Enjoy reading the latest DIY articles and saving money?
Receive our latest helpful hints, tricks and savings, directly to your inbox.
Posted June 1, 2017
During the holidays, it's all about presentation. When it comes to food, wrapping gifts, and decorating the tree, aesthetics is key. However, the most creative task of the season has got to be putting up Christmas lights and outdoor lighting designs.
You pick the lights and the layout, and your home becomes your holiday canvas. There are so many ways your lighting display could go! Will you be a minimalist or create a Christmas extravaganza? Got some ideas on how you want your home to look this year?
We're with you the whole way, from picking the bulbs to the moment when you plug it all in. And if something goes wrong, we've got electrical advice as well. Get ready to deck the halls, and stay safe and stylish while doing it. We're here to help you hang Christmas lights properly.
Create a Christmas Lighting Plan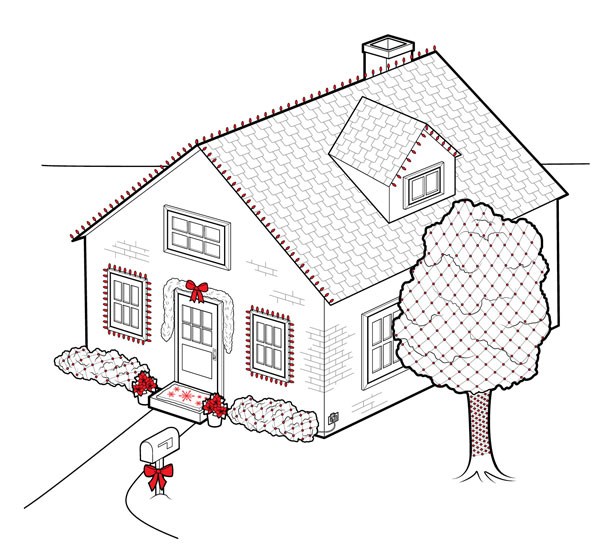 Source: popularmechanics.com
Christmas lights don't put themselves up! Those extraordinary displays you see are most likely done by professionals. Don't get overwhelmed, but there are some important things to consider first.
Christmas Lighting Safety
Thousands of people are admitted to the emergency every year (and dozens die) due to Christmas lighting accidents. Safety is the first thing to consider when planning and decorating your home.
Before you start, make sure you have the proper equipment for the job. Check your lights and outdoor extension cords for damage. If there are frayed wires, damaged insulation, or loose parts, replace them. Make sure all of your electrical products have been tested by an independent testing laboratory, such as Underwriters Laboratory (UL).
Make sure you are very familiar with electrical safety. Go over this Electrical Safety Checklist before you begin.
'Tis the season for lighting… and ladder safety!
The Electrical Safety Foundation International put together this checklist for when purchasing and installing Christmas lights and decorations. Although it wouldn't be the holidays without them, not even Christmas cheer is worth an electrical tragedy.
Always purchase electrical decorations and lights from reputable retailers.
Use lights approved for safe use by a nationally recognized testing laboratory.
Never connect more than three strands of incandescent lights together.
Consider purchasing LED lights, which use less energy and run cooler than traditional incandescent lights.
Before decorating, determine how many outlets are available and where they are located.  Plan your displays accordingly.
Carefully inspect each electrical decoration.  Cracked or damaged sockets, loose or bare wires, and loose connections may cause a serious shock or start a fire.
Follow the manufacturer's use and care instructions that accompany electrical decorations.
Avoid overloading electrical outlets with too many decorations or electrical devices. They can overheat and cause a fire.
Make sure that cords are not pinched in doors, windows, or under heavy furniture, which could damage the cord's insulation.
Do not mount or support light strings in a way that might damage the cord's insulation.
Always unplug electrical decorations before replacing bulbs or fuses.
Turn off all indoor and outdoor electrical decorations before leaving home or going to sleep.
For some more holiday electrical safety tips, see this lighting safety infographic from ESFI:
Ladder Safety
When you are putting up all of that holiday gear, here are some guidelines to follow in order to ensure your safety. The number of injuries caused by decorating is in the thousands this time of year. Getting hurt is not always preventable, but precautions must be taken nonetheless.
Always be sure to follow these safety rules when using a ladder:
Inspect ladder for damage before each use.
Place the ladder on a level, stable surface. Never try to increase its height by putting something underneath it.
Extension ladders should always reach three feet above the point that you need to reach.
Maintain three points of contact while on the ladder.
No matter how tempting, do not use the top-rung of a ladder.
Do not move the position of a ladder while you or someone else is on it.
Do not overload your ladder. Check the maximum load rating and don't exceed it.
Additional Christmas Lighting Safety:
Hang your lights during the day.
Never hang lights in stormy, windy, or wet weather.
Get weather alerts on your phone.
Assess your plan and equipment before you start decorating. Determine how many light strands you need and make sure to follow all manufacturer instructions for how many strands can be connected together.
LED lights emit less heat, last longer, and are more durable. We recommend them.
Hanging lights is a team effort. Always have at least one other person helping you with ladders, lights, tools, etc.
Now that you know the importance of holiday decorating safety, the Christmas magic can begin.
Official Christmas Bulb Guide  
This guide from Popular Mechanics offers a comprehensive understanding of each type of bulb from the classic ceramic to the modern RGB (red, green, blue) LED (light-emitting diode) that can display any color you want. Create a visual in your mind and then either brave the holiday aisle or order online. Picking from the diversity of lighting options is half the fun!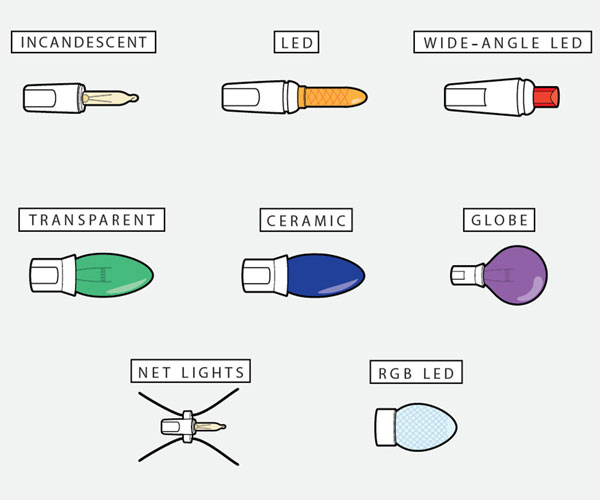 Source: popularmechanics.com
INCANDESCENT – Classic, filament-based bulbs that give off a warm glow.
LED – Last twice as long as incandescents. Can appear cold.
WIDE-ANGLE LED – Nubbed LEDs with concave tips that throw light.
TRANSPARENT – Colored minibulbs with visible filaments.
CERAMIC – Opaque and look as if they've been painted. A classic.
GLOBE – LEDs inside globe-shaped bulbs that stay cool.
NET LIGHTS – Minilights or small LEDs in a webbed circuit.
RGB LED –  Programmable diodes that can display almost any color.
Since there is no standard length for Christmas lights, you will want to know which strands you need and how long they are in order to complete your designs. As a tip, choose strands that have more space in between the lights. They will create more aesthetic shadows and highlights. Sometimes less is more.
When packing up your lights, wrap them around a thick piece of cardboard to avoid an impossible knot.
Layout
After you have checked all of your equipment for any warning signs and have all the equipment you need, the next thing to do is create a plan.
A good way to start your design is to locate the closest outlet to one of your corner eaves and then begin imaging light strands extending from that point. A small and discreet outdoor extension cord will connect the closest outlet to your corner eave, where you will begin the lighting. Sometimes it's best to design as you go. Start with the first strand of lights and line it up taught with your gutter. Use light clips to connect the lights to your gutter (NEVER use nails, staples, or anything metallic).
Now that you have a general feel of your bulb type, design, and color preferences, now it's time for the logistics.
Classic Design 
The three classic areas to focus on are the eaves, trees, and windows. Once you have decided on the color and type of Christmas bulb, you will want to start with the eaves around your home, progress to the windows, and then finish with the trees and bushes.
For a classier look, use a combination of polar-white and warm-white light. Consider the warm-white lights for the house and windows, offset by the white-white in the trees (don't use pure-white). If you are a colored bulb person, don't be bashful. Shower your home in all the colors of the rainbow if you like.
For bonus points, you can line the ridge line of your roof. This is for serious decorators only. Don't go all out your first time; build up confidence over the years.
If you are attaching lights to your entire house, use larger bulbs for the roof and eaves. Smaller bulbs work better for windows, trees, and bushes. The further away the lights, the larger the bulbs should be.
Trees
While you could spend a lot of time and energy hanging lights in your trees, consider focusing your efforts on the house and instead use projector Christmas lights for the trees. You may even want to skip the hassle of hanging lights altogether with these beautiful time-saving laser lights.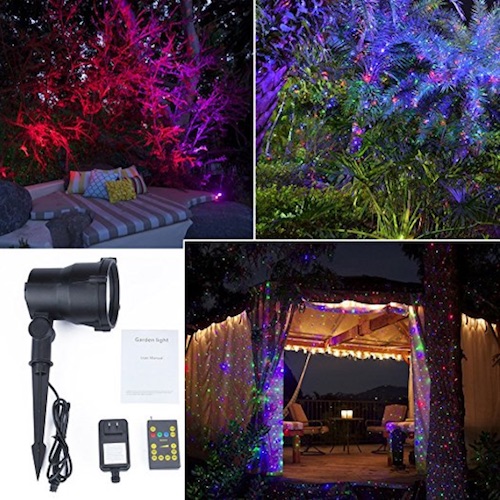 Source: Srocker (amazon.com)
If you do choose to use real Christmas lights, wrap smaller lightbulbs around the trunk and branches, with enough space between each go-around.
Blown fuses and short circuits are common with Christmas lights, mostly due to moisture issues where each strand connects to the next. Seal off the male and female ends with electrical tape to keep them dry.
Minimalist Outdoor Lighting
For those looking for an alternative way to light up their home for the holiday season, consider making an improvement to your landscape lighting. Strategically placed bullet lights, wash lights, downlights, and flood lights can light up your holiday decorations without the need for messy light strands.
Consider a subtler approach by focusing your warm lights on garland, wreaths, nativity scenes, and other Christmas displays.
During the off-season, your landscape lighting will still look beautiful, in addition to increasing home value, security and safety.
To get an outdoor lighting specialist of your very own,call Hiller today. We can help you save money with energy-efficient lighting options, automatic timers, and motion sensors. Our lighting specialists will help you design and implement your outdoor lighting design for an extraordinary display year-round.
If your Christmas lights are lackluster this year, don't discount the magic of driving around town to check out the neighborhood shows.
Here are some Christmas light displays to check out in Nashville and Middle Tennessee.
Daily Promotion
Cash for the Holidays – $500 Visa Gift Card
Purchase a New HVAC System & Receive a $500 Visa Gift Card!
Get Promotion