On Inc. 5000 List Of Fastest-Growing Private Companies For The 11th Time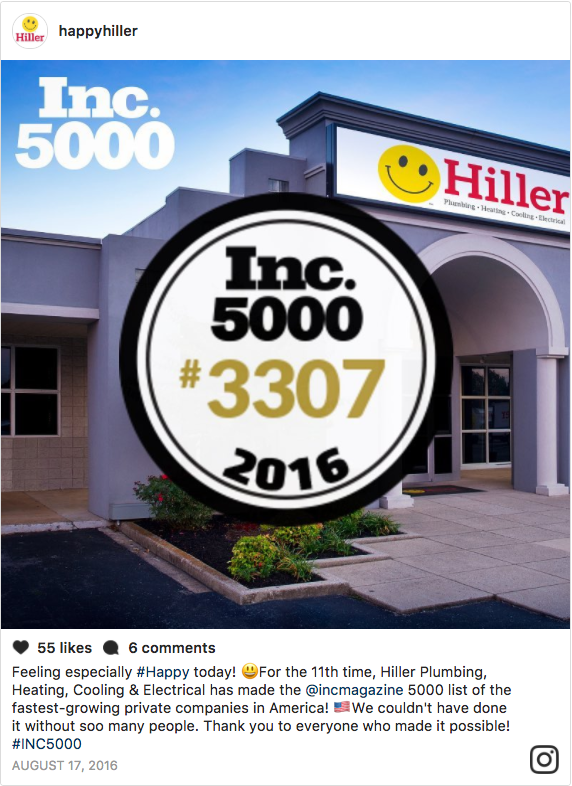 Hiller Plumbing, Heating, Cooling & Electrical (Hiller), the region's premier provider of residential and commercial service and repair, was ranked among Inc. 5000's List of Fastest-Growing Private Companies in America. The 2016 award marks Hiller's 11thinclusion in the Inc. 5000 List.
The Inc. 5000 List honors the top privately held companies in America that attain exceptional levels of growth and are "superheroes of the U.S. economy". With 2015 annual revenues totaling over 90.2 million dollars and 100% growth over the past three years alone, Hiller earned its rank as #3307 of the fastest growing businesses on the list.
"We are honored to be included again on the Inc. 5000 List", said Jimmy Hiller, founder and owner of Hiller Plumbing, Heating, Cooling & Electrical. "I believe we obtained our rapid growth through our dedication to exceptional service, honesty, and integrity. So it is especially meaningful when we receive awards like this that recognize our efforts on a large scale."
Launched in 1990 out of a duplex in Antioch, Tennessee, with a single employee and just $500, Hiller has grown to include over 470 trucks, 12 locations, and more than 600 employees across the southeast. In the past decade alone, Hiller has experienced over 900% growth in revenue.
Hiller Plumbing, Heating, Cooling & Electrical, provides residential and commercial service and repair throughout Tennessee, Southern Kentucky, and Northern Alabama. As the homeowner's premier provider of choice with a 100% satisfaction guarantee, Hiller is Tennessee's largest residential plumbing, heating, air conditioning, and electrical services provider.
Hiller, recently named the fifth fastest-growing private company in Middle Tennessee and "Best in Business" from the Nashville Business Journal, employs more than 600 associates, boasts a fleet of 470 "Happy Face" trucks across 12 locations, and has responded to over 1.4 million service calls. For more information about Hiller, visit https://happyhiller.com or e-mail press@happyhiller.com.
###
Contact: Rachel Brannon
MediaTree LLC
Phone: +1 (615) 925-3392
Email: rachel@mediatreeadvertising.com
Sign Up to Access All of Our DIY Guides for Free
Today's promotions
2021 Pricing on Tankless Water Heaters
We're expecting a shortage of tankless water heaters in 2022. Take advantage of 2021 pricing for this month only!
Get Promotion
LOCATIONS
Priceless Peace of Mind, $16 a Month
Join the Happy Hiller Club and get all the perks of membership: Seasonal tune-ups. Priority scheduling. 100% satisfaction guaranteed.
Learn More