Benefits of a Backup Generator — Protect Your Home During Blackouts
Enjoy reading the latest DIY articles and saving money?
Receive our latest helpful hints, tricks and savings, directly to your inbox.
Posted June 1, 2017
What would happen if you lost electricity for an extended period of time? Think about it. Your lighting, central heating and cooling, appliances, electronics, and general sense of security would be eliminated. Your refrigerated food would spoil and your comfort greatly compromised.
If you need electricity to power medical equipment or work primarily from home you would have to scramble to find an alternate power source. Needless to say, the loss of electricity would have a very significant impact on most people's lives.
If you live in a hurricane-prone area, rely on emergency medical equipment, or operate your business out of your home, a backup generator can protect you from a dangerous and costly situation. Backup generators also protect your family, especially children and the elderly, from extreme temperatures.
A backup generator is a smart way to prevent extended power outages from affecting your quality of life.
Benefits of a Backup Generator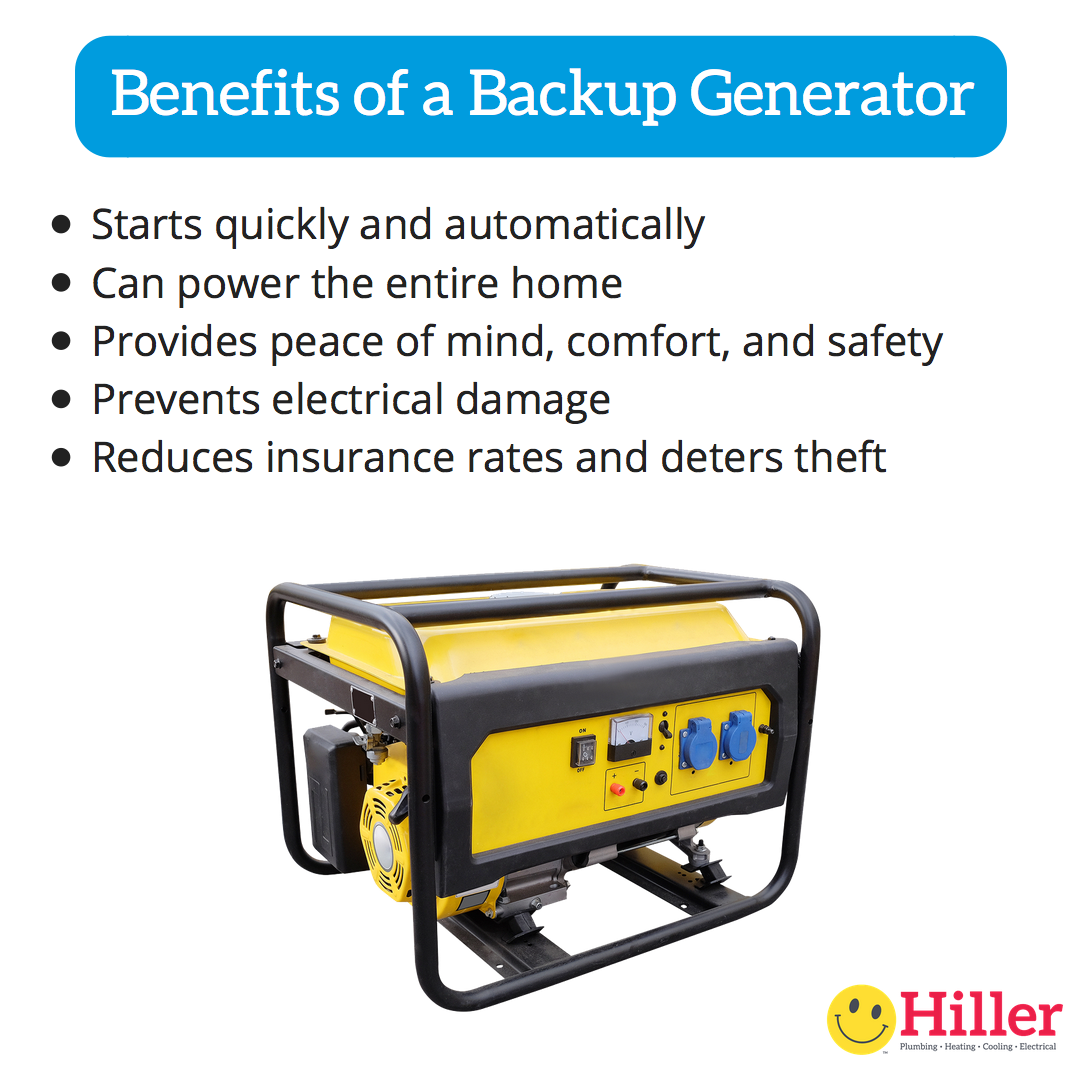 Quick, efficient, and automatic distribution of power
Peace of mind that family and home are safe during emergencies
Uninterrupted use of heating and cooling systems, electronics and appliances
Comfort and safety during storms and blackouts
Protection from hazardous voltage fluctuations and surges when power returns
Significant value added to the home
Deters burglars and thieves
Reduces insurance
A residential backup generator can reduce your homeowner's insurance rate because insurance companies know that having a powered home reduces the risk of theft. Even if no one is home when the power goes out, your backup generator will automatically kick on, making it seem as though the home is inhabited.
Make sure you mention backup generators when first purchasing a policy. If you install a backup generator after you have purchased a policy, call your insurance agent to see if they will readjust the rate.
In addition to potentially reducing your insurance rate, backup generators can power your home for several days, allowing a household to continue to be productive and comfortable. In areas where severe electrical storms and burnouts happen on a regular basis, it makes sense to look into a backup generator.
There are two types of generators:
Backup/Standby/Whole-House Generators
These generators are permanent and remain stationary. They are normally much larger and more expensive, and sometimes need to connect to propane or natural gas lines. Homeowners choose these generators to provide backup power for the entire home.
Portable Generators
Portable generators are, you guessed it, portable. They cost a lot less and are normally used to provide some additional power for tail-gating, parties, garages, sheds, and emergency backup for the most critical appliances. Many portable generators can hook into your home's electrical system so you don't have to run extension cords everywhere.
Use this handy calculator to help select the right generator size for your needs. Be on the lookout for these features as well:
Able to withstand harsh environments
Quiet operation
Ease of use
Energy efficiency (certified by EPA)
Battery included
Fast response to power outages
Air or liquid-cooled engine
Weekly self–test
Good warranty
Other things to consider: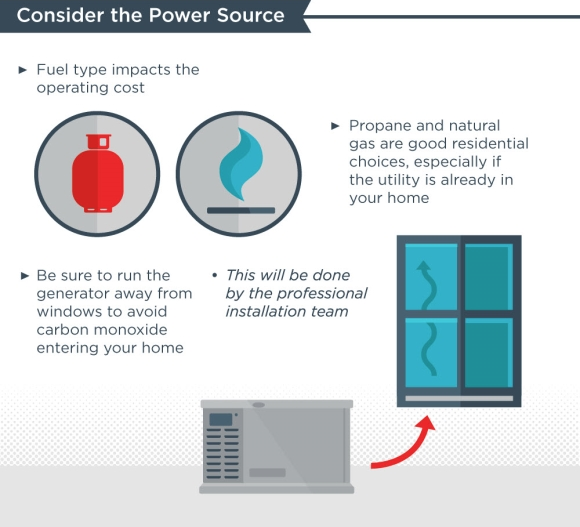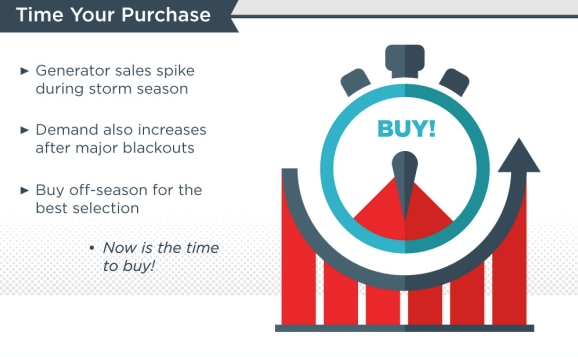 Source: visual.ly
Once a whole-house backup generator has been installed, you'll never have to worry about your comfort and safety being compromised by a blackout.
Having one of these systems installed is definitely an investment, but to households that are affected by frequent power outages, they are essential appliances.
Call Hiller Electrical if you have further questions or need professional advice about a new backup generator for your home.
We offer complete generator installation and repair services of quality brands and:
Straightforward Pricing
Same-Day Repair Service, 24 Hours a Day
Highly Experienced Technicians
100% Money-Back Guarantee
Call Hiller PHCE if you have further questions or need professional advice about a new backup generator for your home.
Daily Promotion
Cash for the Holidays – $500 Visa Gift Card
Purchase a New HVAC System & Receive a $500 Visa Gift Card!
Get Promotion